They say the way to a loved one's heart is through their stomach, and after visiting a few restaurants on this list, you're sure to see why! From dramatic coastal views to lush hidden havens, we've got you covered for wining and dining at some of the most romantic eateries in Santa Cruz County.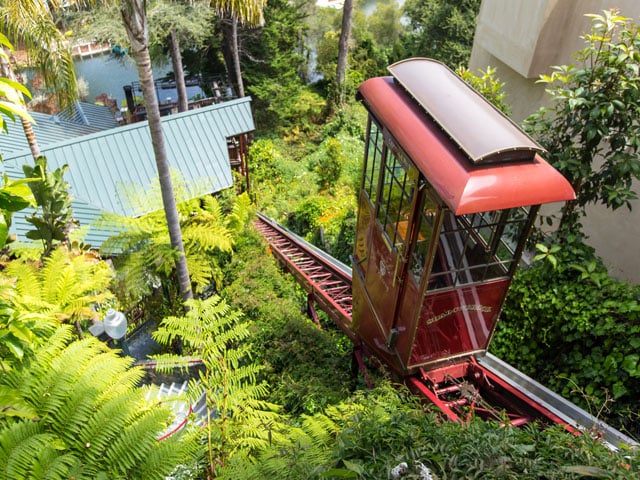 Since 1947, Shadowbrook Restaurant has been known for "romance in dining" and a crowd pleaser for one reason: a night here always feels special. Overlooking quaint Capitola Village, its waterfront location can be reached via red cable car which descends a hillside garden of ferns and waterfalls—it's just as pleasing to stroll the meandering garden path with a stream that flows into a pond in the restaurant. Inside, find quirky accolades with unique features such as aquariums, a massive stone hearth, and towering trees growing up through the ceiling. Meals are no less remarkable with traditional seafood and steakhouse staples including sautéed local sand dabs and a slow roasted Angus prime rib. This is a perfect spot to revel anniversaries, birthdays, holidays, and special occasions; and end the celebration by hailing a complimentary ride back home with one of Shadowbrook's vintage taxicabs.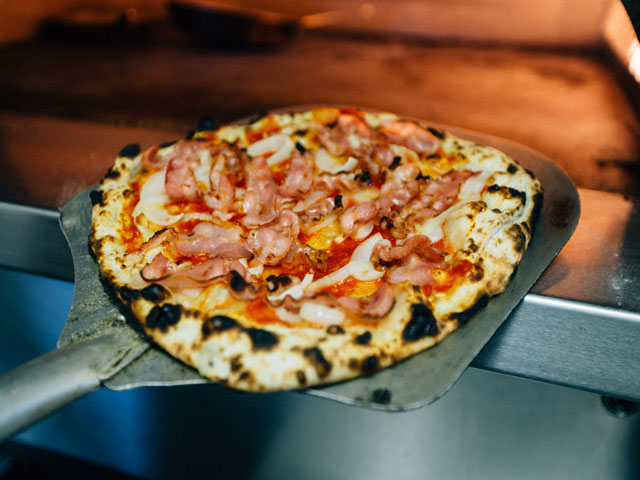 La Posta has been bringing the soul of Italian cuisine into the Seabright neighborhood since 2006. Farm-fresh and locally sourced ingredients are the foundation of their housemade pasta, pizza and Italian and Mediterranean-influenced dishes. Their rave-worthy menu and extensive wine selection are sure to make any night feel like a special occasion. Order a few items and share with your partner – we highly recommend making one of those sharable items their oven baked pizze! For first timers, you are sure to feel like you've stumbled upon a local treasure!
Located in Soquel Village, Vinocruz Winebar + Kitchen focuses on the best of the Santa Cruz Mountains. Enjoy over 50 local wines by the glass, craft beer on tap, and yummy cider! Their award-winning cuisine is all made fresh in-house with an emphasis on quality. Savory burgers, cheese & charcuterie plates, bright salads and more are sure to please! Order a few of their fantastic menu items and pair it with your favorite wine for a romantic afternoon or evening.
Recognized by locals as one of the top restaurants in Aptos and Santa Cruz County for 25 years, Bittersweet Bistro offers an American Bistro Cuisine style dinner menu with Mediterranean influences. Enjoy dinner inside or cozy up on their heated patio. Their award-winning dessert menu features items to share like the Chocolate Trio and Dessert Fantasy, plus favorites including Lemon Napoleon, Bittersweet Chocolate Mousse, Classic Crème Brûlée, cheesecakes, bread puddings, ice creams, and sorbets. Their creative cocktail menu features classics, plus some unique, and even romantic-themed, drinks like First Glance – a perfect cocktail made with Tito's Handmade Vodka, Aperol, agave syrup, grapefruit & lemon juice topped off with sparkling wine – or Tropical Heat – made with jalapeno infused milagro silver tequila, fresh pineapple, jalapeño, lemon juice & simple syrup. Other flirty cocktail favorites include Your Hibs Do Lie, You're Berry Naughty, and Pear Pleasure.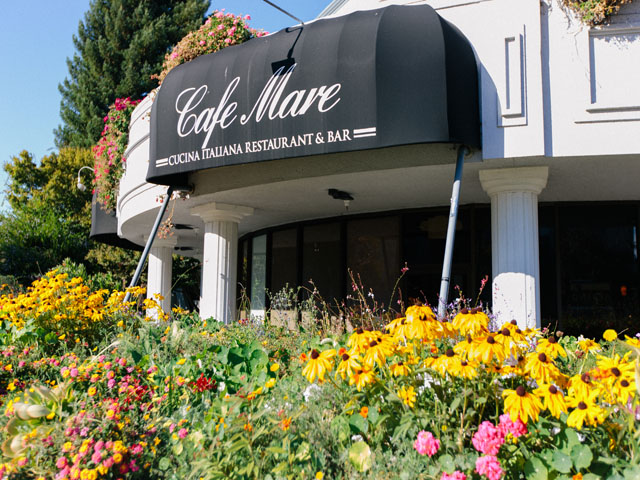 Owner Jean Pierre Luliano, from Calabria, has provided an authentic Italian dining experience in the heart of Downtown Santa Cruz since 2002. Using only the finest fresh, local, and organic ingredients, it is his passion to share the simple goodness that is Italian cooking with recipes straight from his homeland. The Café Mare staff is knowledgeable and happy to provide recommendations from their menu and from their extensive collection of fine Italian and California wines. Dine al fresco or opt for a cozy corner in their large dine-in space.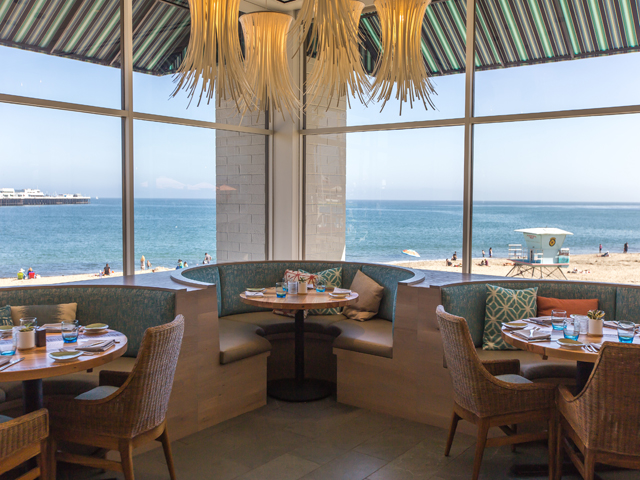 Overlooking the Santa Cruz Wharf and one of the most iconic surfing beaches on the California coast, the Jack O'Neill Restaurant & Lounge adds an air of flirty fun to romantic eateries. The retro-chic dining rooms, named for Santa Cruz wetsuit pioneer Jack O'Neill, offer visitors world-class views of the Monterey Bay underneath stunning light fixtures and a relaxed atmosphere. The menu features delicious California classics with produce sourced in-county. Their fresh caught seafood meets the Monterey Bay Aquarium's Seafood Watch sustainability standards. Grab a drink at the bar and enjoy intimate seating while the surfers catch the waves out the window.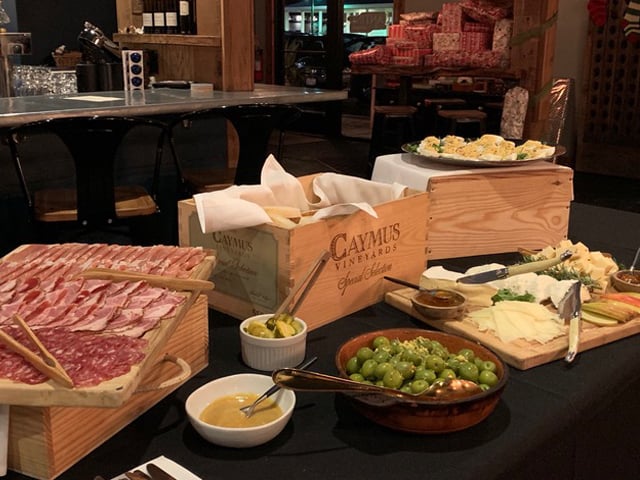 Looking for a romantic spot to enjoy fine wine, craft beer, and tapas? Cantine offers an extensive selection of wine and beer sourced from right around the corner, throughout the west, and across the pond. They make wine approachable and fun – not pretentious or complicated. And the same goes for their craft beer. Honest food prepared simply and with respect to the ingredients; wine that is nuanced and balanced; beer crafted using hand selected ingredients, specifically picked for distinct flavor characteristics in mind and brewed to be flavorful, quality beer. Cantine is a great spot for a low-key date night or ramp it up for a fun evening out with friends.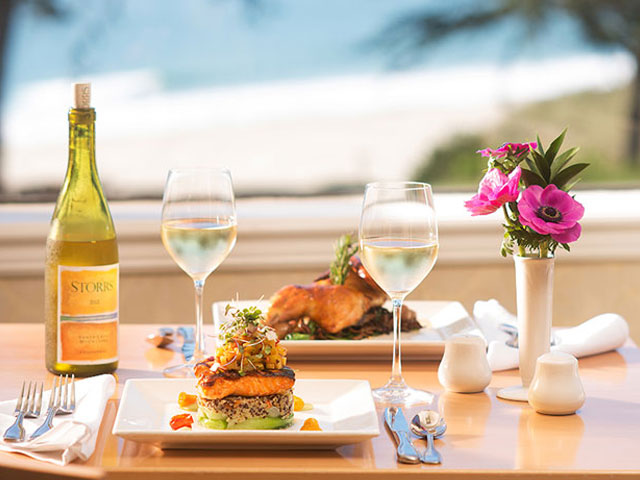 Stunning views of Monterey Bay, the sound of rolling waves, and miles of sandy stretch are the framework for romance at Seascape Beach Resort in Aptos. Their on-site eatery features California coastal cuisines; delightful happy hours inspired by colorful cocktails and live music on the weekends. Sanderlings Restaurant is open daily from 6am to 10pm, so whether you're just starting a romantic day or coupling up for diner, a spectacular view awaits!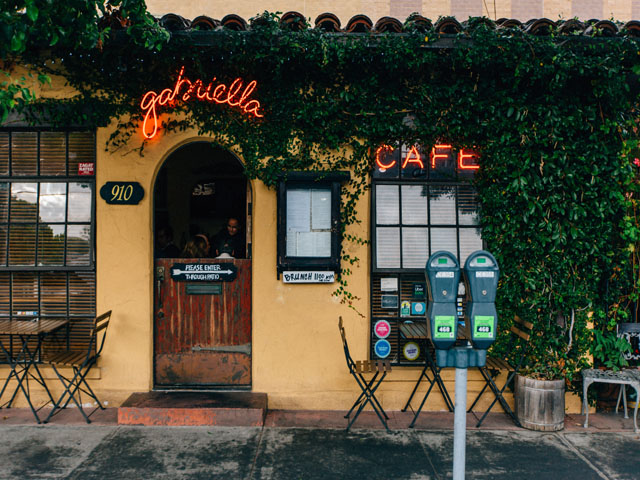 Gabriella Café
Housed in a romantic 1920s building on a quiet side street in downtown Santa Cruz, this impossibly charming café has grown a devoted following with its farm-to-table dishes and intimate dining room that feels plucked from the French countryside. Owner Paul Cocking spent many years as part of the downtown farmers market, and today his restaurant sources nearly all of its produce from local, organic farmers.
Café Cruz
This hidden gem is an oasis of great food and ambiance off bustling 41st Avenue in Soquel. Hidden behind towering green shrubbery, a quiet garden courtyard is set with tables warmed by an outdoor hearth. Inside, the intimate, low-ceiling dining room with open kitchen is a local favorite for date nights and special occasions. Since opening in 1995, the family-owned restaurant has become known for its warm, rustic fare including a signature garlic herb rotisserie chicken, grilled steak salad, seafood specials, and delicious wines and cocktails by the fire.
Located in the heart of bustling downtown, Soif Wine Bar & Merchants serves as the perfect place to start (or end) your date night. Choose from a broad range of varietals from around the world – and a couple of local favorites too! Insatiable bar bites pair perfectly with whatever you're drinking. Like what you're sipping? Take a bottle home! (Visit the Soif Wine Bar & Merchants for current operating status).
Take the romance from the redwoods to sea with a picnic on the beach, overlooking West Cliff Drive or in the Santa Cruz Mountains. Check out where to find the best takeout in Santa Cruz County on our Tasty Takeout blog!