With its deep-rooted art scene, Santa Cruz is highlighted in geometric patterns and splashes of color in the form of vibrant murals. Mural spotting in Santa Cruz can be an all day adventure or simply an opportunity to grab a few minutes of color pop bliss between destinations. From historic downtown Santa Cruz, to the quieter South County, feast your eyes on these artistic masterpieces that highlight this diverse area.
SANTA CRUZ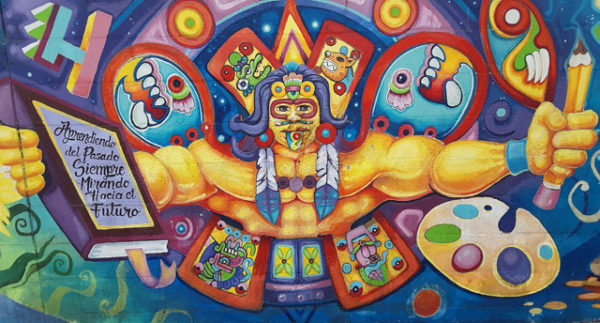 Learning from the Past, Living in the Present, Looking Toward the Future
Composed of seven individual panels, the mural in the Beach Flats neighborhood of Santa Cruz paints a vibrant picture the city's past and acknowledgement of its future. An interpretive sign in English and Spanish explains the significance of each picture. Got kids? Two uncrowded playgrounds adjacent to the mural are the perfect location to visit before or after a trip to the nearby Santa Cruz Beach Boardwalk.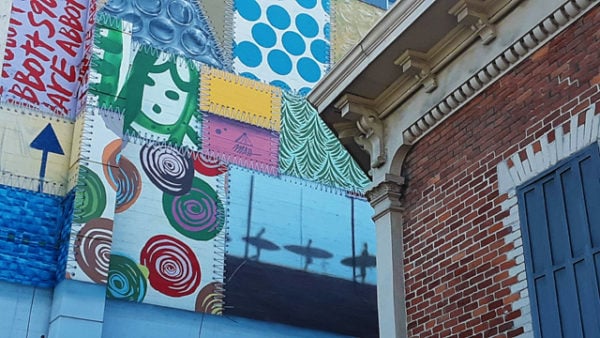 Community Quiltage
In need of a face lift, the Santa Cruz Museum of Art and History located in Downtown Santa Cruz was awarded a grant for artist Thomas Campbell to transform a blank wall into a decorative wall of art. Campbell's work is that of quilt pieces which stich together multiple pieces of the community through history and art. Follow it around the side of the building at ground level, or step into Abbott Square for a larger view.
Black Lives Matter
In conjunction with artist and activist Abi Mustapa, Santa Cruz became the first city in the U.S. to work with city government to paint a BLM mural. Completed by community volunteers, this permanent work is located on Center Street in front of City Hall in Downtown Santa Cruz.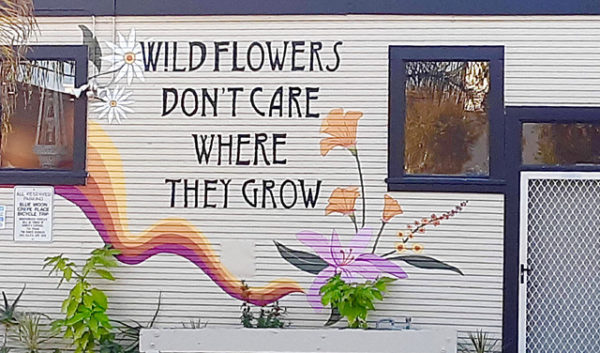 Words of Wisdom
"Wildflowers don't care where they grow." Sage advice from singer/songwriter, Dolly Parton. The owner of Typsy Gyspy boutique located in Midtown, and the owner of the shop next door wanted to share this sentiment with the world. They collaborated with McKella Jo to permanently plant the words on their building. Shop and see the flowers.
Bay in a Bottle
In this unique painting, the artist used a painting technique known as "trompe l'oeil" in this three-dimensional creation which stretches along the side of local grocery store, Shoppers Corner. Bay in a Bottle feels like you can step into the cool blue ocean encapsulated in a bottle.
PLEASURE POINT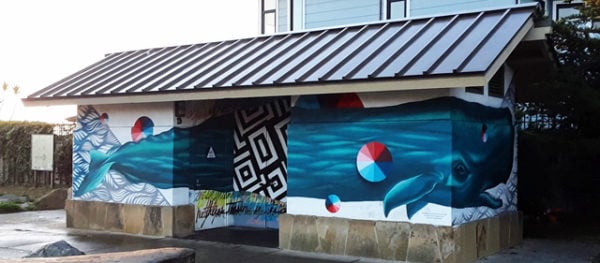 Whale + Waves
Located on East Cliff Drive, Santa Cruz artist Jeremiah Kille utilizes bright colors and geometric patterns to tie together themes of nature and coexistence. A turquoise whale connects to waves of the same hue which surfers catch nearby. This mural was created in honor of his friend Tusher Arte. Want to see more of Kille's work? Check out his equally bright patterned mural on the back wall of Beer Thirty in Soquel.
SEACLIFF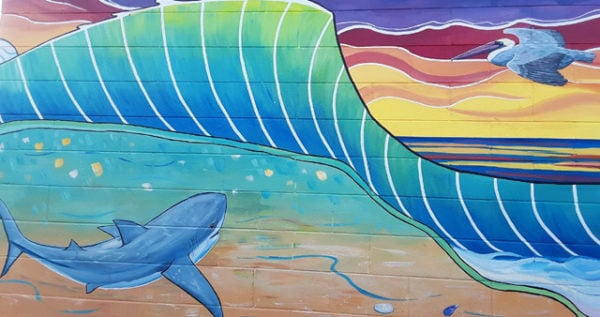 The Sea Meets the Park
Want a place for the kids to let off energy, and engage with art at the same time? The Seacliff Village Park Mural checks both boxes. In fact, artist Anastasiya Bachmanova felt the vibrant colors would inspire artistic creativity for younger audiences while serving as a catalyst for teaching about local conservation. If you want to see the cement ship and look for sharks in person Seacliff State Beach is only a short drive down the road.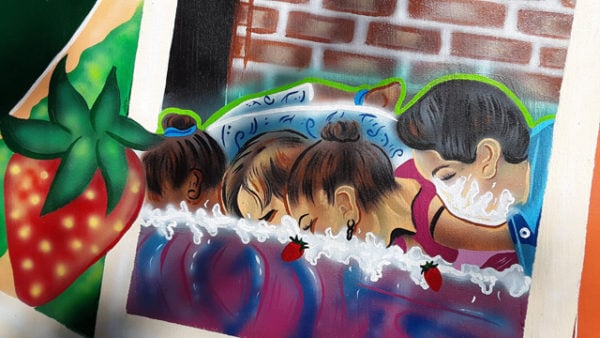 Moveable Murals
In the interest of creativity, the city of Watsonville engaged in a public arts project called Movable Murals. Each piece was created by a different artist and placed outside of city hall. Murals focus on topics such as the regions' history, landscape, and people. Each year the pieces are moved to different locations to offer a fresh perspective. For more information, check the Pajaro Valley Arts website.
Watsonville Metro
"United by Pride, Dignity, and Knowledge" at the Watsonville Metro will remain in place as people come and go. The mural updated this year tells the story of culture and tradition in the community. It was completed as a a collaborative project by artist Guillermo (Yermo) Aranda and local youth.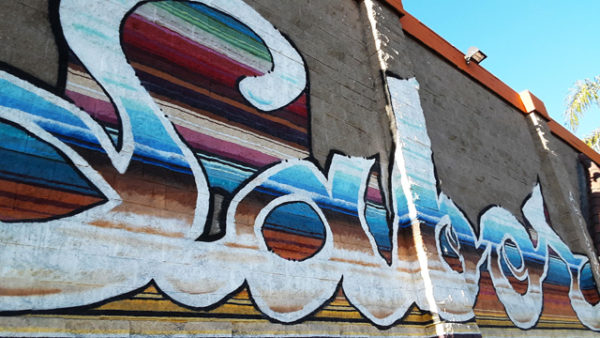 Sabor
In Spanish "Sabor" means flavor. With its bright, strategically placed colors, this 62-foot-long mural pays homage to the artist's roots and the community where it is located.
First Christian Church
Ome Garcia's work uses bold color to create works which tell a story and provides intentionality. His recent project, Watsonville History Mural at First Christian Church, is no different. Rising up the bell tower are snapshots of the area's history from the Strawberry owners who arrived in the early 20th century to the more current struggle for civil rights.
THE VALLEY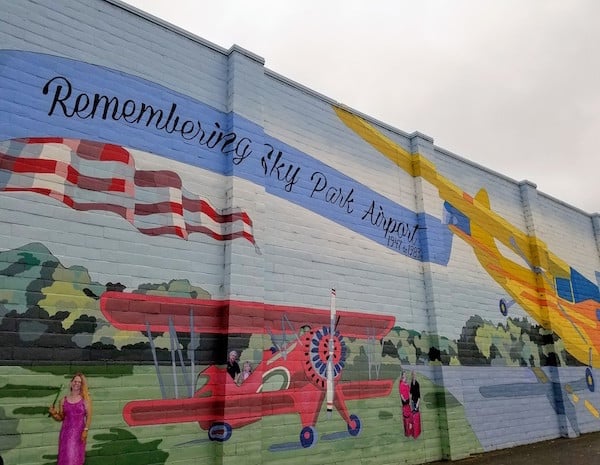 Remembering Sky Park Airport
Located on the back of the Scotts Valley Library, the Sky Park mural pays tribute to the Scotts Valley airport which operated from 1947 to 1983. Organized by Dawn Teall, the mural was completed by community members who volunteered to grab a brush and paint outlined sections on the wall.
James Dean
Alongside the iconic Brookdale Lodge leans an imposing figure, non-other than James Dean. The twenty-foot-tall mural was created by John Cerney.  Each of his pieces are characterized by large cut out panels which use the surrounding area as the background. James Dean supposedly visited the lodge in its prime along with other Hollywood A-listers.
MORE NOT TO MISS MURALS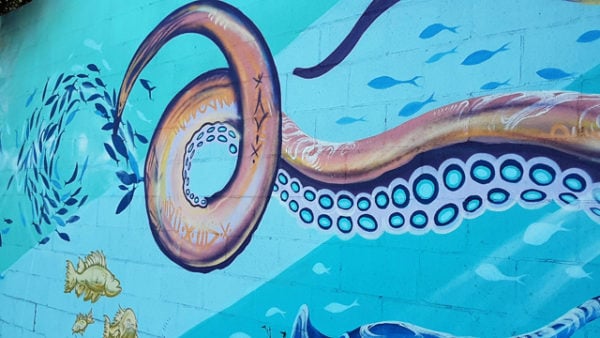 Clean Oceans Mural
It is hard to miss this 500 foot long mural dedicated to bringing awareness to marine pollution. Spanning what seems like the entire length of Mission Street, wide eyed sea otters tangle in beds of kelp can be seen as humans dive for plastic. If you want to dive into this color explosion, it is best seen on foot. Street parking can be found around the corner on Bay St.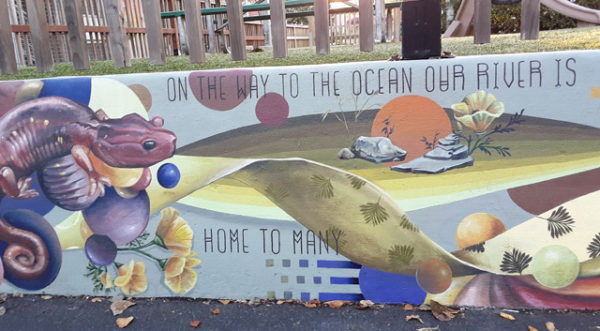 On the River
The San Lorenzo River Walk spans Santa Cruz by following the curve of the river. In preparation for the Ebb and Flow River Festival, artist Sarah Bianco has begun work on a mural at the Tannery Arts Center depicting creatures of the San Lorenzo River. Located behind the main buildings, this work is an ever-expanding piece, so be sure to check it out again the next time you visit to see what magnificent beings are emerging from the paint.