Even as a small town, Santa Cruz is brimming with unique neighborhoods showing off their own personality. Midtown, caught between the Westside and Eastside of Santa Cruz is no different. Take the time to explore the laid-back vibe of this section of the city at a local's pace. From sipping locally roasted coffee to window shopping in stores which showcase hip local character, this walkable corridor located along Soquel Avenue nestled between downtown and Seabright is waiting to be explored.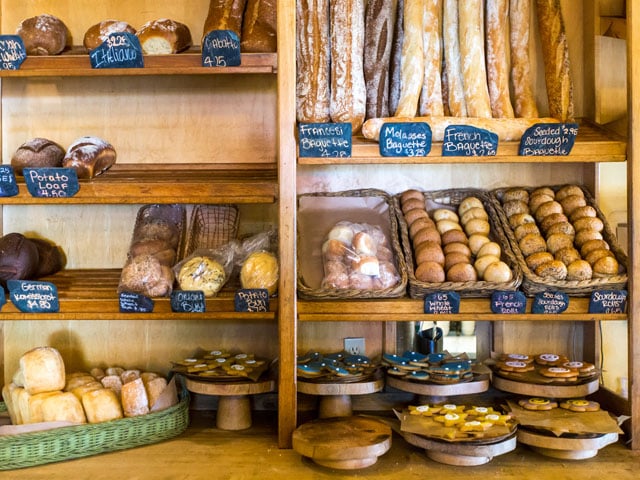 Where to Nosh
The Buttery, a corner café since 1984, is known for its delectable pastries like the marionberry tart, and ham and cheese croissant. Eat on the spacious sun strewn outdoor patio or take orders to go and watch the waves at nearby Seabright Beach. There is limited capacity ordering at the counter. If you want to skip the line order ahead and pick-up at the side window.
For lunch, local favorite Charlie Hong Kong prepares simple dishes packed with flavor. These no-fuss meals have made Charlie Hong Kong a go-to location in midtown. Gluten free, or vegan this establishment has you covered.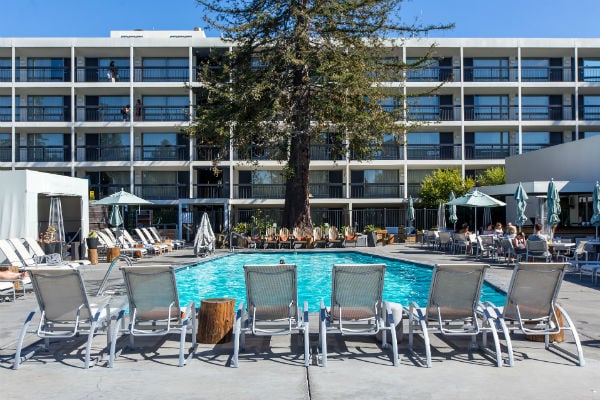 Located in Hotel Paradox, Solarie Restaurant and Bar offers poolside patio dining from pancakes to cocktails. Choose from their full menu using locally sourced ingredients or select grab and go items. Their elegant interior strives to match Santa Cruz's natural beauty. Not a guest, but want to lounge? Day passes for poolside access or Cabanas are available by inquiry.
Lilian's Italian Kitchen is well known for its down to earth meals inspired by home cooking. Don't miss their Sunday Gravy, or a large plate of traditional Fettuccine Alfredo. Their patio opens in time for an early dinner. Love pasta, but it doesn't love you back? All orders can be made gluten free upon request. Reservations recommend Thursday-Sunday, and at least three days in advance.
At Sugo Pasta Bar dinners can create their own meal from a trio of pasta, sauce, and optional toppings. Indecisive types can order house favorites such as the Spaghetti Polpette, thin noodles dunked in tomato sauce and tossed with home-made meatballs. A good choice for families. Everyone can create their own meal with simple ingredients. Gluten free and vegetarian. Outdoor patio dining and take-out available.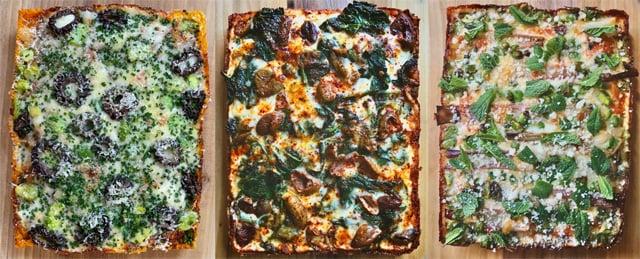 Beer and pizza lovers are rejoicing over the recent Sante Adairius Rustic Ales and Bookie's Pizza matchup. Located at the Sante Adairius Santa Cruz Portal in Midtown, not only does Sante offer its award winning beers (we're talking being included in the Top-10 Ranking for the Best Breweries in the WORLD), but they are now serving the buzzworthy Bookie's Detroit style pizzas. And Bookie's comes with some recognition as well; its owner and chef, Todd Parker, is known for stints as chef at Santa Cruz's Bad Animal and Manresa in Los Gatos – two wildly adored spots.
Looking for the familiar? Known for their steaks and sirloins, Hindquarter Bar and Grill has been serving traditional meat inspired dishes for over fifty years. Limited casual indoor and outdoor seating available. A local favorite. Reservations required.
And for those who might want to stop in for some extra supplies or ingredients to make some meals, Staff of Life and Shopper's Corner are two local favorites known for their quality foods. Staff of Life is a natural foods grocery specializing in organic produce, natural and free-range meats, sustainable seafood, gluten-free and non-GMO products, vitamins, supplements, and more. Shopper's Corner has been a Santa Cruz landmark since 1938 and is known for excellent meats, wines, breads, and produce. If you're a foodie, you'll definitely appreciate their high-quality ingredients and items!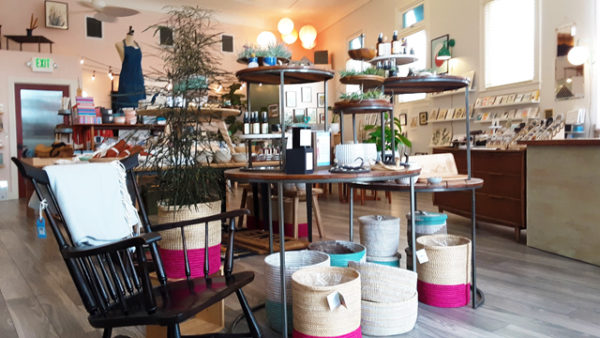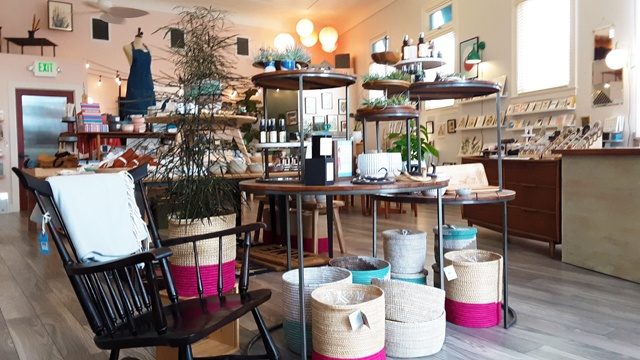 Shop Local
Bright and welcoming, Home/Work stylishly blends local art and home goods which carry a local vibe. Snag one of their popular care packages which each revolve around a theme. Or nab a gift which carries their own brand, Mountain Sea Living.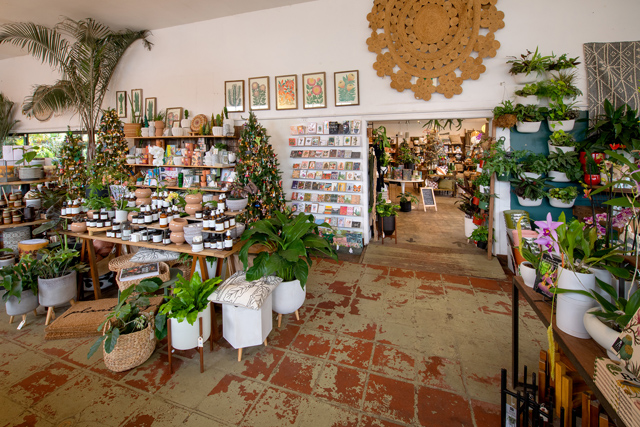 Do you swoon for succulents? Stroll into Dig Gardens on Water Street to let your imagination run wild. This whimsical, bohemian store with an outdoor nursery is sure to inspire any one from beginners to those with a well established green thumb.
Toy store Childish brings together an assortment of ecofriendly toys which foster creativity and imagination sans computer screen. Geared towards ages 3-11 years old.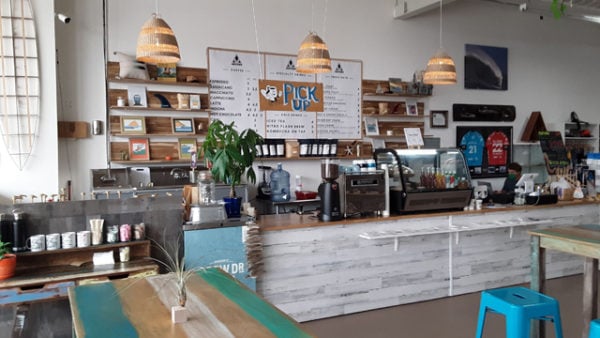 More to Explore
The surf-inspired Midtown Surf Shop and Coffee Bar serves Verve Coffee and prepared food items. Their prime location is a great place to sit and people watch.
The Crepe Place is a venerable midtown location. Patio dining is encouraged in their lush, eclectic garden hung with string lights. Once live music returns be sure to check out the small front room with a small stage. Until then grab a cocktail from their bar with a notable selection of spirts. Rumor has it they serve the best hot toddies in town.
It is hard to miss the familiar façade of the Rio across the way. Although live shows are currently on pause, the Rio has hosted live performances from big time artists such as Yo La Tengo and Patti Smith.
During the summer, don't miss Midtown Fridays Summer Block Parties! These admission-free summer events feature live music, a selection of local eats and food trucks, as well as the opportunity to check out the work of local artists and vendors. Midtown Fridays Summer Block Parties are located at Midtown Square, 1111 Soquel Ave, in Santa Cruz and begin at 5pm. See more info here.