Friendly and progressive Santa Cruz County ranks among the most enchanting and LGBTQ-inclusive coastal destinations in California. Just 75 miles south of one of the world's gay and lesbian meccas, San Francisco, this picturesque string of communities with a backdrop of lush and hilly forests is anchored by a vibrant and diverse university town and famous for its laid-back surfing and beach culture, sustainability-focused ethos, and creative spirit.
Here are just a few of the many reasons this sunny stretch of coast overlooking Monterey Bay is such an idyllic LGBTQ getaway.
YOU CAN BE YOURSELF, AND CELEBRATE YOUR PRIDE
One big reason both local and visiting LGBTQ folks appreciate Santa Cruz is that it's so easy to feel welcome, safe, and included here. Begun in 1975, Santa Cruz Pride is one of the oldest such events on the West Coast. Thousands of queer folks and allies turn out for this spirited event held the first weekend each June in downtown Santa Cruz and featuring a Pride March, a festival, a Dyke Trans March, and post-festival parties and concerts at a few different venues. Note that although Santa Cruz doesn't have any specific gay bars, the city's nightspots are consistently LGBTQ-welcoming, and some—such as the Catalyst live music club, Motiv, and the Blue Lounge—occasionally host community nights and Pride events.
Santa Cruz County is served by a fantastic Diversity Center that sponsors all kinds of community events throughout the year and also provides myriad resources and services, including the region's most comprehensive online directory of LGBTQ-supportive businesses and organizations. And in the hills on the west side of the city, UC Santa Cruz has a highly visible queer community and either hosts or sponsors a variety of events—some open to the public—through its Lionel Cantú Queer Center.
Situated in one of the first states in the country to legalize same-sex marriage, Santa Cruz also a fantastic place to plan a destination wedding—anything from a small elopement on the beach (you just need to obtain a permit from the appropriate city, county, or state agency) to a lavish fete at a grand resort. Given the region's inclusive mindset, you can count on finding local vendors—photographers, bakers, musicians, officiants, venues—who are thrilled to work with LGBTQ couples.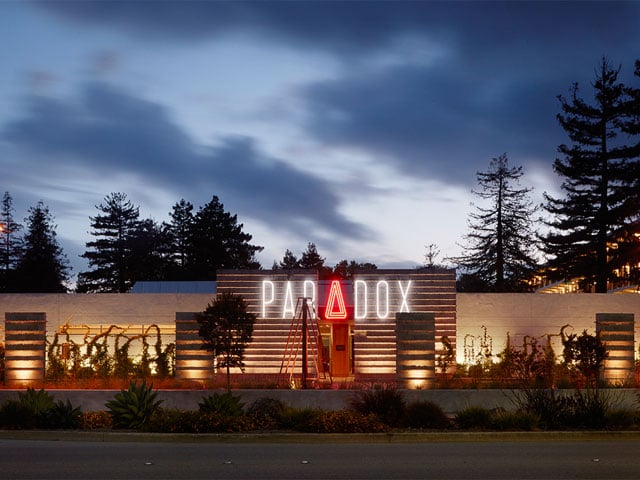 STAY IN A HIP, DISTINCTIVE HOTEL
Offering everything from inexpensive mom-and-pop motels to one-of-a-kind vacation rentals and B&Bs to smartly designed resorts and boutique hotels, Santa Cruz County has plenty of cool lodging options. A regular sponsor of Santa Cruz Pride, the sleek and chic Hotel Paradox—a member of Marriott's distinctive Autograph Collection—offers 170 urbanely designed rooms with reclaimed-wood accents and river-rock shower floors, plus a scene-y pool with cabanas and a fabulous restaurant and bar. Set high on a wooded bluff in the Santa Cruz Mountains, the historic, 200-acre Chaminade Resort and Spa is the ultimate destination for a relaxing, romantic getaway. Dine on creative California cuisine in the View restaurant with its sweeping ocean panorama, enjoy a Simply Zen massage in the elegant spa, hike the property's 3 miles of verdant trails.
Other great options in Santa Cruz include the beachfront Dream Inn, with its fun mid-century vibe and dreamy setting at the foot of Santa Cruz Wharf, and the nearby Beach Street Inn and Suites, a colorful and reasonably priced renovated 1940s property near the water and with a year-round heated pool.
Elsewhere around the county, the brightly painted, Mediterranean Revival-style Capitola Venetian Hotel was built in the 1920s and offers spacious rooms—many with fully equipped kitchens—overlooking Soquel Creek or Monterey Bay. The romantic Inn at Depot Hill occupies an 1870s former rail depot in Capitola and features a dozen lavishly appointed accommodations with plush bedding, fireplaces, and in some cases outdoor jetted tubs. And set on 10 peaceful garden acres in the Aptos wine country, Sand Rock Farm offers five gorgeously appointed, light-filled contemporary suites with Jacuzzis and access to an inviting common deck with a fire pit.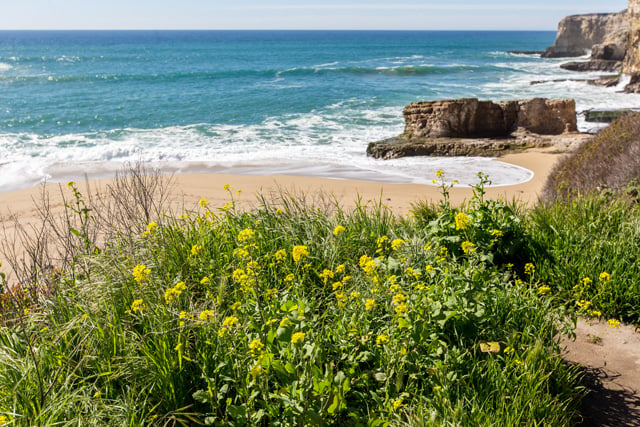 YOU'RE NEVER FAR FROM THE OCEAN
In a county that's rife with opportunities for outdoor recreation and contains nearly 30 miles of spectacular beaches, there's no shortage of opportunities for strolling, biking, surfing, boating, whale-watching, and even dining on or overlooking the water. You'll even find some patches of sand with notable followings among LGBTQ beach goers, many of them just up the coast along scenic Highway 1, such as clothing-optional Laguna Creek Beach and Bonny Doon Beach. Many of the county's 14 state parks are along the ocean. And even when you're exploring the inland parks, such as Henry Cowell Redwoods and the Forest of Nisene Marks, you can still detect the whiff of fresh, salt air.
With its historic Boardwalk amusements and the longest timber-pile wharf in the United States, Santa Cruz boasts a colorful waterfront that's equal parts retro nostalgia and natural beauty. You can admire sea lions and dolphins in the ocean or watch some of the world's most skilled surfers tackle the crashing waves of Steamer Lane, just off Lighthouse Point, where you'll also find the Santa Cruz Surfing Museum. A couple of miles west, you'll find Natural Bridges State Beach, one of the best points along the coast to watch the sunset. It's famous for its Instagrammable sandstone arch and a preserve inhabited by some 150,000 monarch butterflies from late fall through early winter.
East of town along Monterey Bay, Pleasure Point in Capitola is another great place to watch some of the county's top surfers show their moves—surfing legend and wetsuit inventor Jack O'Neill lived along East Cliff Drive. A few miles east in Aptos, Seacliff State Beach is notable for its rich marinelife, which is drawn here by the remains of a century-old ship located just off the end of the park's fishing pier. It now functions as an artificial reef.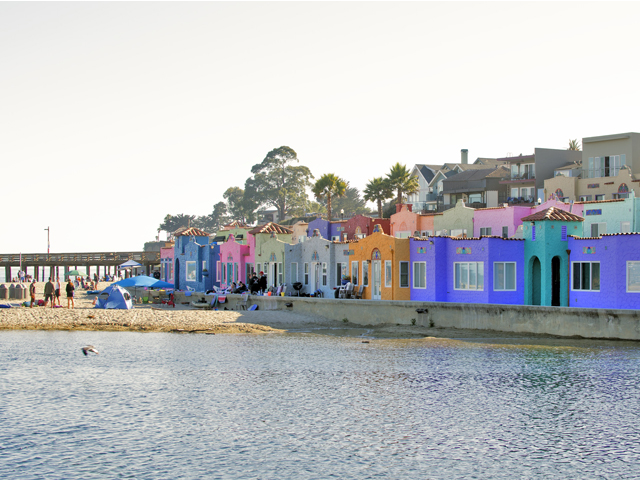 SANTA CRUZ COUNTY ABOUNDS WITH CHARMING VILLAGES AND NEIGHBORHOODS
One of the most enjoyable ways to tap into the region's friendly and artsy vibe is to explore the many pedestrian-friendly neighborhoods, which abound with independently owned eateries and shops, colorful murals and sculptures, and positive energy. A great example of this is downtown Santa Cruz's lively Abbott Square, which is home to a hip food market and the excellent Santa Cruz Museum of Art & History—there are also concerts, outdoor movies, and live music presented in the square throughout the year. Walk along downtown's main commercial drag, Pacific Avenue, along with its side streets, and you'll encounter a wealth of distinctive boutiques and cafes.
Or check out the cool sipping and eating options in Santa Cruz's lively Westside, a redeveloped warehouse district anchored by Swift Street Courtyard and home to some great restaurants and craft beverage makers.
In Capitola Village—considered the state's oldest seaside community—you'll find one-of-a-kind shops proffering all sorts of whimsical wares: sea glass, folk art, saltwater taffy, antiques, and surf gear among them. After satisfying your retail fix, enjoy a bite to eat at one of the bustling restaurants along the Esplanade, which curves along the beachfront. The mid-county community of Aptos Village is another great locale for a stroll, with its pedestrian-friendly town square dotted with inviting shops and eateries, such as the French bistro Cafe Sparrow and the cheerful coffee and tea shop, Norma Jeans.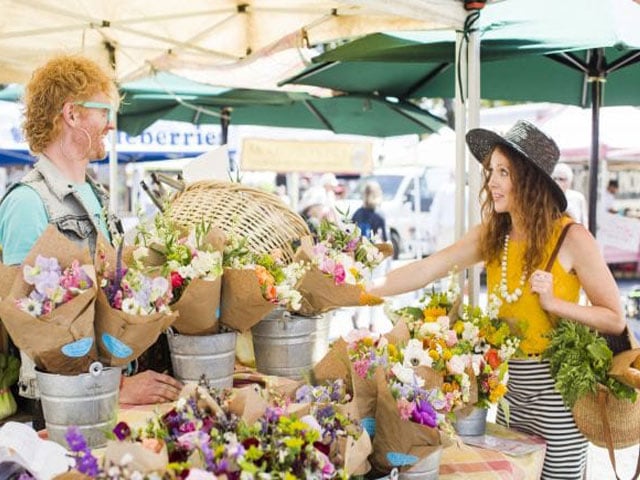 IT'S FUN TO GO LOCAL
If it's a superb food scene that inspires you to travel, this prolific hub of agriculture and seafood offers enough amazing culinary experiences to keep you happily sipping and noshing for weeks. Given the region's embrace of progressive values and its Mediterranean climate, it's not surprising that Santa Cruz County's food scene stands out in particular for its strong commitment to sustainability and locavorism. In these parts, it's easy to eat and drink happily and locally.
The county has several regularly scheduled farmers markets, which provide a nice way to sample produce for which the region is known—think artichokes, Brussels sprouts, asparagus, strawberries, raspberries, apples, apricots, and myriad varieties of sustainably caught seafood. These well-attended events—three of them held in Santa Cruz and others in Felton, Scotts Valley, and at Cabrillo College in Aptos—also provide fun opportunities for people-watching and mingling with like-minded foodies.
Countless restaurants throughout the county specialize in seasonal cuisine that's focused on ingredients grown or harvested within the immediate radius. Consider Soif, a trendy downtown Santa Cruz wine shop and restaurant, or California Grill of the Pajaro Valley in Watsonville, which both work closely with local farmers and purveyors. Other romantic spots with similar approaches include intimate Gabriella Cafe, set in a softly lighted bungalow and serving exceptional farm-to-table fare, and La Posta Via, an acclaimed destination for deftly prepared house-made pastas, creatively topped pizzas, and flavorful grills. When it comes to locally caught seafood, Cafe Cruz in Soquel and Cafe Rio in Aptos are both excellent options. And with three locations in the area, Penny Ice Creamery comes up with its unique flavors (blackberry–sweet corn, Meyer lemon sorbet) by sourcing produce from local farms.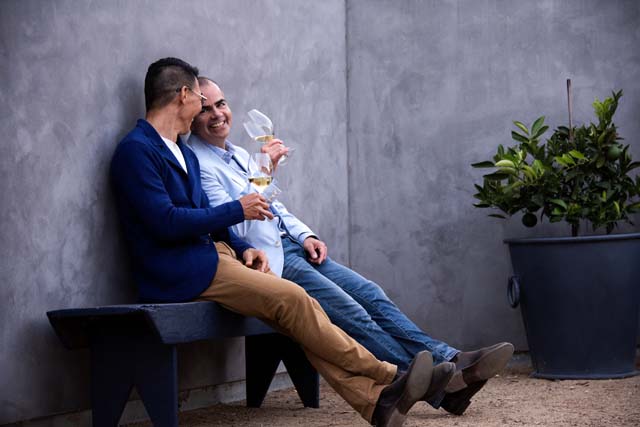 This ethos continues with Santa Cruz Mountain's esteemed winemaking scene, where vintners like Storrs Winery in Aptos and Hallcrest Vineyards in Felton produce complex wines from grapes grown organically. You'll find a number of other great places in the area to sip beverages brewed using organic or sustainable practices, such as the Westside's Santa Cruz Mountain Brewing for craft beer and downtown's Santa Cruz Coffee Roasting, an LGBTQ-popular cafe that's been been roasting and blending delicious espresso drinks since 1978.