All Photos by Molly Ressler
Discovering a mural or a mosaic down a hidden alley or behind a hair salon is a thoroughly satisfying experience. It can generate that same rush of excitement you feel when you stumble upon a great new lunch spot or a rope swing in the middle of the forest. It's these small surprises that keep everyday life interesting and leave you itching for your next adventure.
So here it is. Your next fun adventure: We challenge you to embark on an art-inspired exploration that will take you across Santa Cruz County, one mural and mosaic at a time. Fortunately, almost all of this street art lies within reach of tasty bites, thirst-quenching oases, and some irresistible local boutiques. So, put on your walking shoes, grab your camera, and let's find some public art!
WATSONVILLE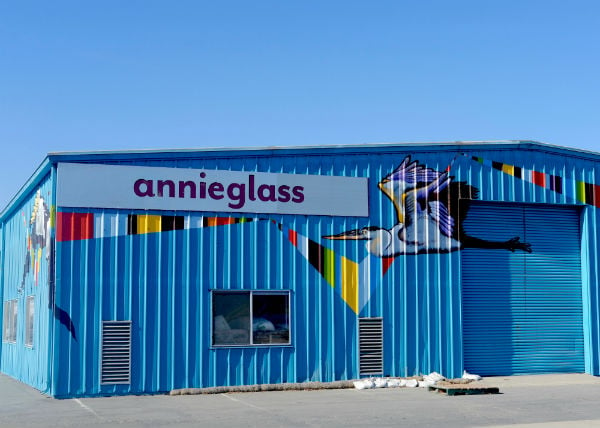 Taylor Reinhold's bold, graffiti-inspired murals decorate local schools, hotels, and the blue aluminum siding at Annieglass. A dinosaur-sized great blue heron and equally giant pelican fly across the building. An owl, his yellow eyes the size of basketballs, spreads its wings across the back of a High Ground Organics Farm Stand and a second pelican watches over the parking lot from the front.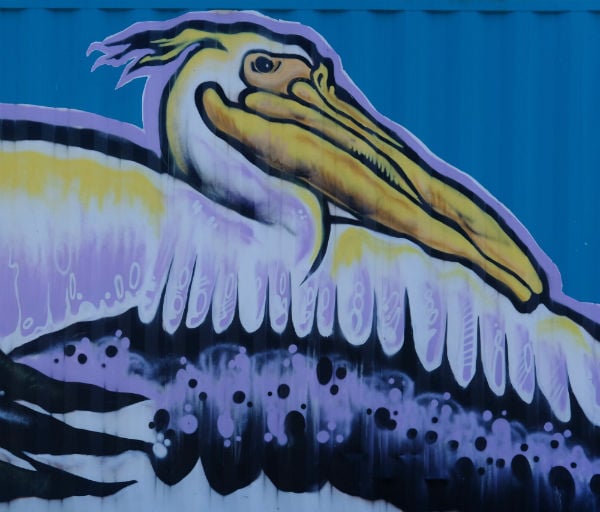 While you're there, marvel at the beautiful and artful designs in the Annieglass factory. And if you ask owner Annie Morhauser about the murals outside, she'll proudly tell you that the artist is her son. (Creative talent obviously runs in this family!)
SEACLIFF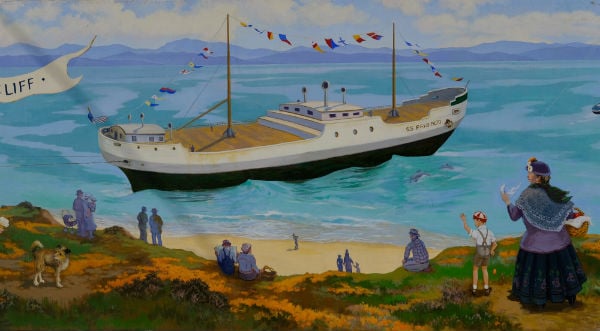 Seacliff State Beach is known for the World War I ship, the S.S. Palo Alto, that's anchored just offshore at the end of a wooden pier. For nearly a century, beachgoers have watched the waves slowly break the ship apart and sink her mighty concrete hull. Back in 2015, Ann Thiermann painted a mural on the corner of Broadway and Center street titled "Tugged In." Excited residents painted across two low walls, watch from shore as the concrete oil tanker is towed in towards the pier. For a short blip, the S.S. Palo Alto was a floating amusement center, complete with a dance floor, cafe, a 54-foot heated swimming pool, and a casino. She lasted all of two summers before a winter storm cracked the hull.
CAPITOLA VILLAGE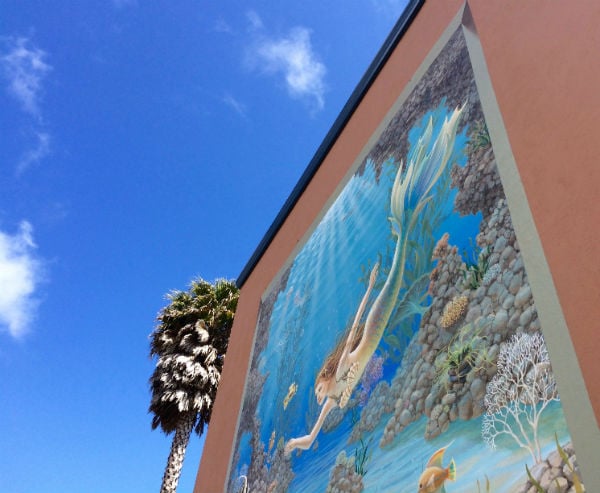 The magical streets of Capitola Village are full of murals. Peek down the alley by Zelda's and find a series of small murals by Beth Cleventine showing the picturesque wharf and Soquel Creek. You'll also find painted tiles lining the esplanade along the beach and a mermaid, several stories high, diving beneath muted rays of sunlight along the Capitola Beach Suites building on Cliff Drive.
PLEASURE POINT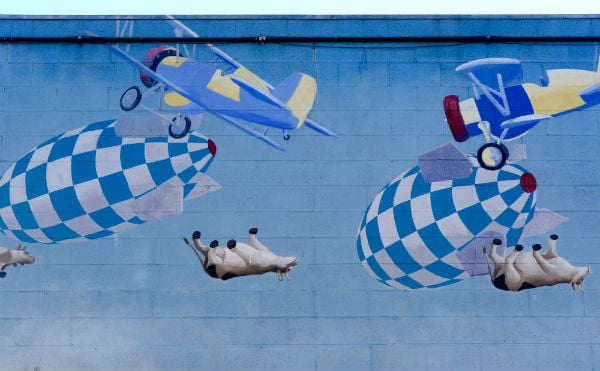 Between 41st and 38th Avenue, just a few blocks from The Penny Ice Creamery and Verve Coffee, are three distinctly unique murals clustered on two neighboring buildings. Along 38th, dairy cows defy gravity, floating amidst biplanes, blue and white checkered blimps, hot air balloons, and men and women piloting a variety of other odd flying machines.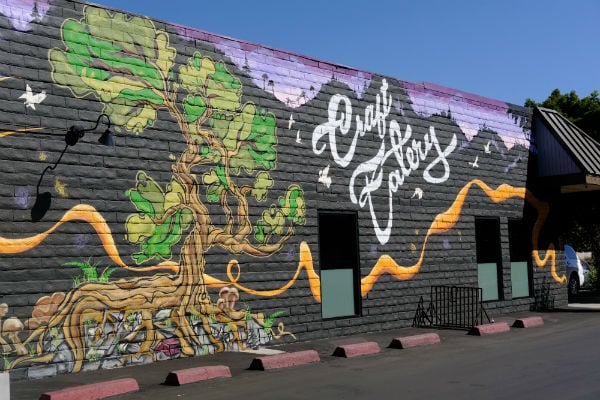 Around the corner, the scene abruptly changes to a cougar overlooking a mountain stream at sunset along the side of East End Gastropub (also painted by Taylor Reinhold.) Rotate towards the 41st Avenue Cinema and you come face to face with dolphins, killer whales, and a majestic blue whale swimming across a brick wall.
SOQUEL AVENUE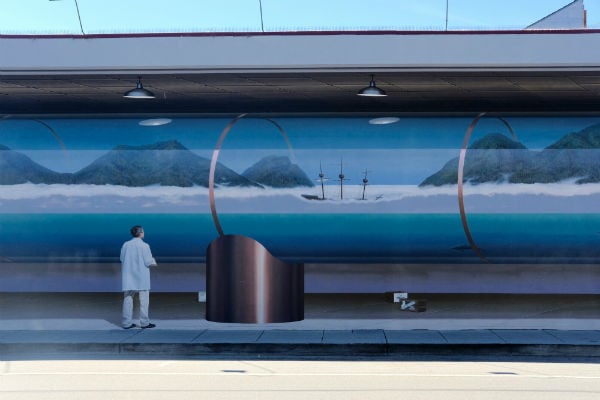 As you're heading into The Buttery for a croissant egg sandwich, take a moment to admire the 3D mural across the street on the side of Shopper's Corner. This 90-foot long mural, titled "Bay in a Bottle" depicts the ocean contained in a long clear tube, monitored by a scientist. Mural artist John Pugh is known internationally for painting in the "trompe l'oeil" style, creating large-scale art pieces that look as if you could step right into the scene.
THE BOARDWALK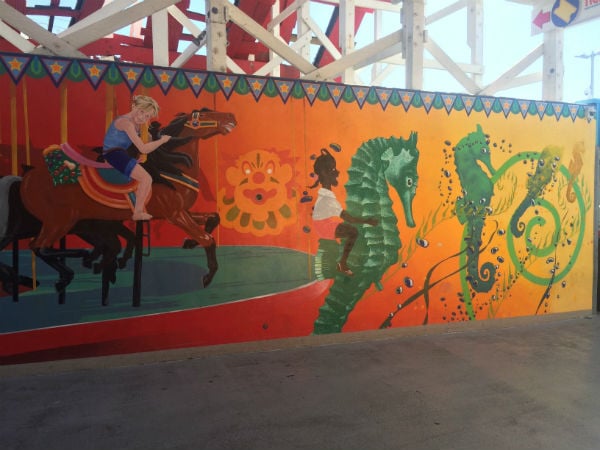 Colorful murals are part of the magic at the Santa Cruz Beach Boardwalk. From Neptune's Kingdom, painted with an underwater scene featuring a giant red Pacific octopus and Great White Shark, to Peter Bartczak's Hawaiian coastline on the side of Cocoanut Grove, murals pop up along almost any blank surface at this seaside amusement park.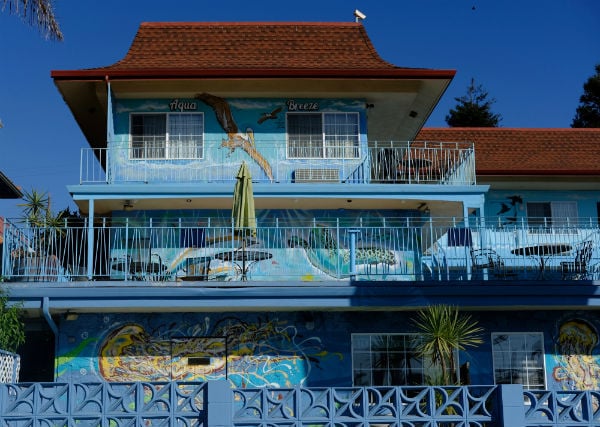 Across the street from the Boardwalk, Taylor Reinhold's signature style shows up again at the Aqua Breeze Inn on Second Street. Local marine life mixes with African giraffes, lions, and parrots against a sky-blue paint job. Yellow and black striped tropical fish swim above a California sea lion and psychedelic jellyfish drift across the first floor.
THE TANNERY ARTS CENTER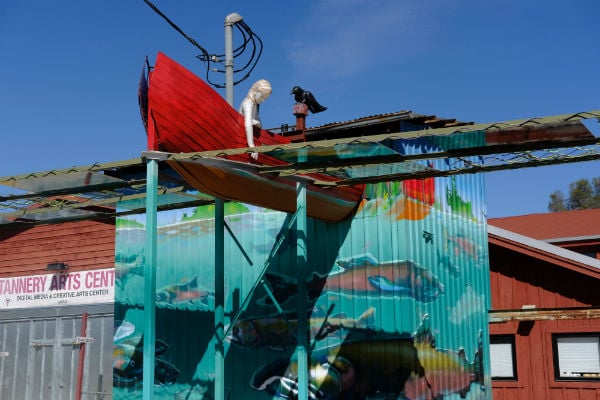 The Tannery Arts Center, a central gathering place for dancers, sculptors, painters, poets, welders, and pretty much any other type of artist you can think of, has (surprise, surprise) some eye-catching murals and mosaics. Situated on the banks of the San Lorenzo River, The Tannery, along with several other local organizations, has been slowly transforming sites along the Santa Cruz Riverwalk as part of an ongoing project called Ebb & Flow. The artistic pathway starts with a mosaic river, winding through three cement pots wrapped in mosaic fish, egrets, turtles, and other local wildlife. 12-foot-high stainless steel trees with stained glass leaves grow out of the top.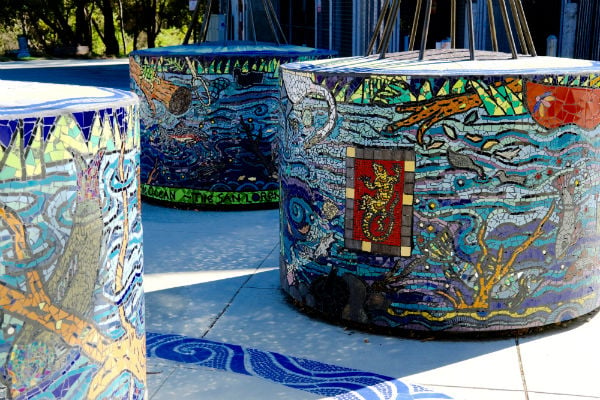 Further into the Tannery's courtyard, a girl in a life-sized red canoe floats above a shed painted with giant steelhead trout. From your vantage point at the base of the shed, perhaps sitting on one of the over-sized cement fish eggs (covered in mosaic, of course), it feels as if you're looking up at the rippling current from the bottom of a riverbed.
THE SAN LORENZO RIVER WALK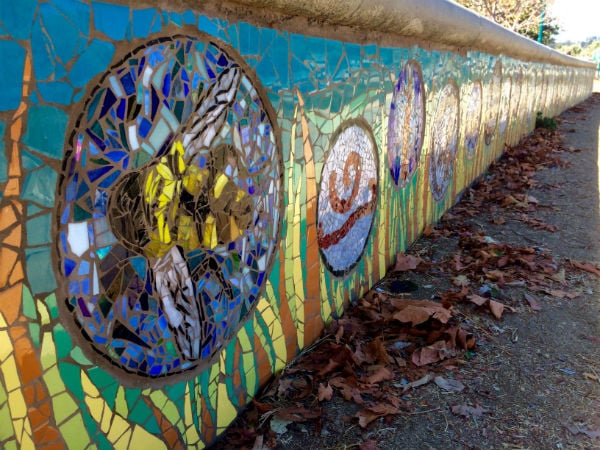 The Ebb & Flow project continues down the Santa Cruz Riverwalk to Downtown Santa Cruz. Mosaic invertebrates nestled between colorful reeds recreate the river's edge. With creative direction from lead artist and teacher Kathleen Crocetti, over 80 local students made the round mosaic tiles filled with fish, larvae, and insects.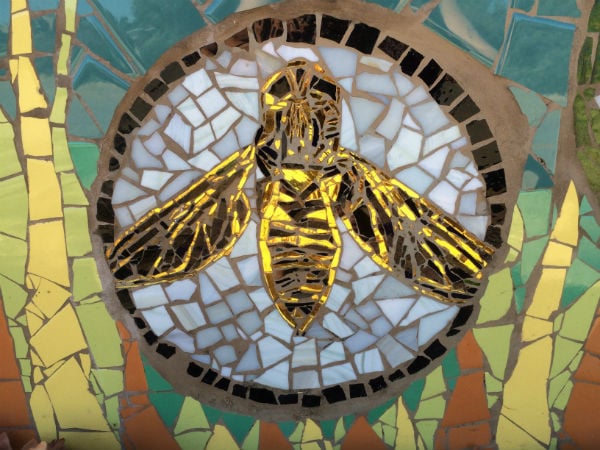 DOWNTOWN SANTA CRUZ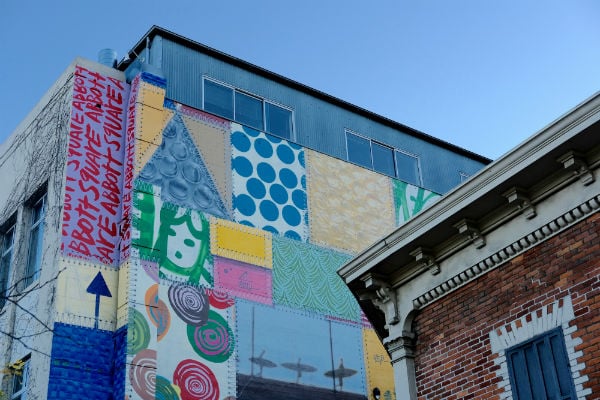 As you peruse the shops and restaurants just off Pacific Avenue, take a detour through Pearl Alley behind the stylish boutique Stripe or down Plaza Lane for some local color. "Song of Santa Cruz" on Cedar Street and a retro surf mural draws your eye to Hula's Island Grill. Further down Front Street, check out the fantastical mural featuring a beekeeper on Firefly Café and Motion Pacific. The heart of the downtown art scene, however, is naturally at the Santa Cruz Museum of Art & History.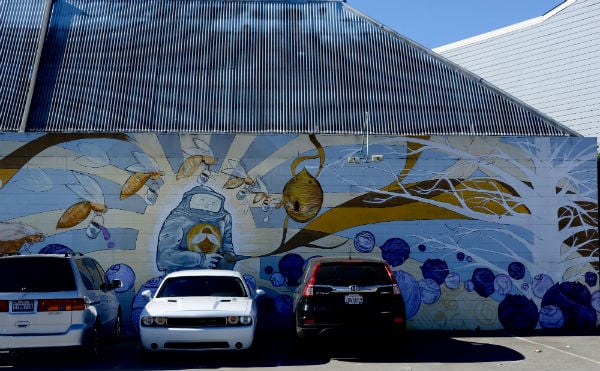 Along one side of the Museum and along the border of Abbott Square, a patchwork quilt blankets the gray cement in cheery pinks, blues, and greens. Designed by Thomas Campbell, the mural represents the unique elements of the community's culture, stitched together with the metaphorical thread that ties all of us together.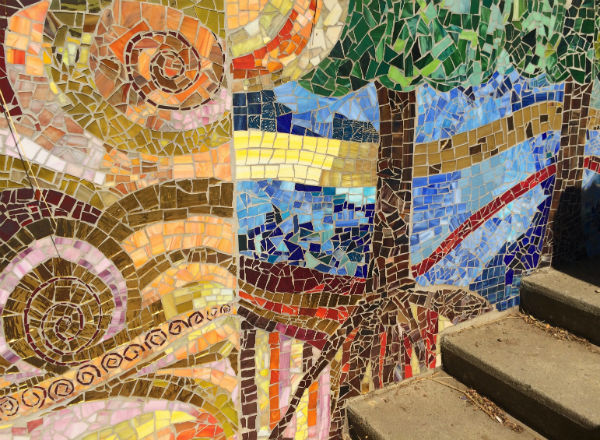 Along Water Street, another large mosaic led by Kathleen Crocetti covers the wall along the sidewalk below the Santa Cruz Mission State Historic Park and marches right up the steps, leading to the mission perched on the hilltop above. Two local students designed the scene and over 200 community members, including students from Ms. Crocetti's 6th grade class, helped create the final product.
THE WESTSIDE
End your murals and mosaics tour on the Westside of North County, bustling with breweries, wineries, bakeries, and delicious restaurants. (We're guessing you've worked up an appetite by this time, right?) Kick your feet up on the mosaic bench at Garfield Park and then check out the black and white mural on the side of Humble Sea Brewery. If you'd prefer coffee or a pastry to craft beer and a sandwich, Companion Bakeshop is just down the street.