Santa Cruz County is a great place to be if you're a craft beer lover. At one point it seemed that every time you blinked a new brewery opened! A bonus? Each one is run by local individuals who are passionate about brewing delicious, unique beer. Many venues have patios, and lots of these allow well-behaved dogs if they are on leash. Ready for a cold one? Start your local beer tour with some of the area's finest: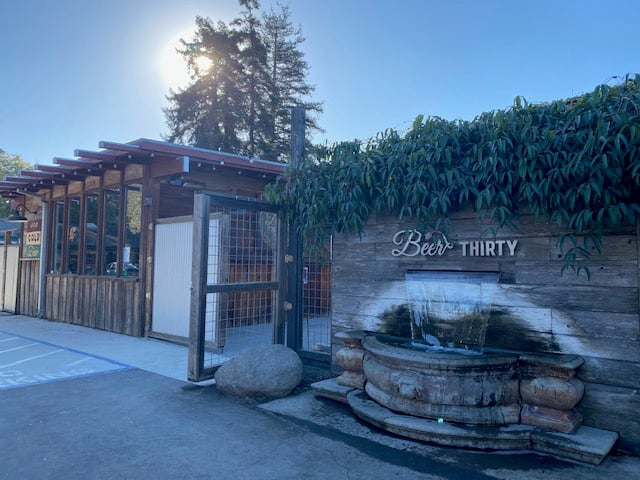 Beer Thirty Bottle Shop & Pour House and Beer Mule Bottle Shop & Pour House
Beer Thirty Bottle Shop & Pour House has been serving craft beer fans in Soquel since 2014. They have 30 rotating taps, and more than 300 takeout bottle and can selections. Neighboring Carpo's Restaurant has opened a window into their dog-friendly beer garden; customers can order from their specialty menu to accompany their beer. In 2020, Beer Thirty teamed up with local Woodhouse Brewing for a Paws for a Cause beer collaboration that raised funds for the Santa Cruz County Animal Shelter (Woodhouse is opening their own taproom at 119 Madrone St. in the near future).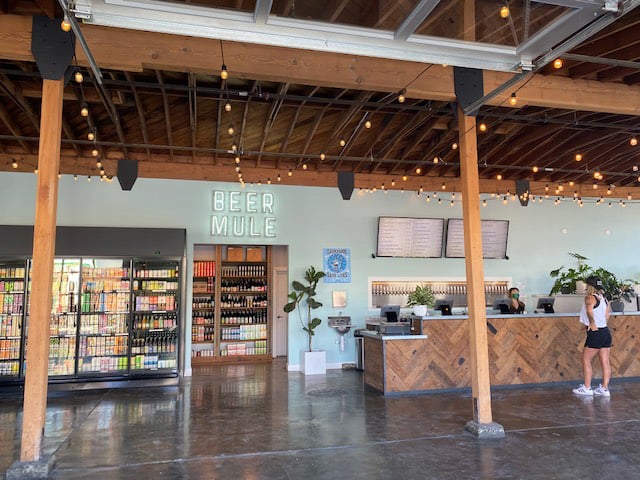 The team at Beer Thirty is also responsible for Watsonville's Beer Mule Bottle Shop & Pour House, located at The Hangar since 2019. The owners aim for Beer Mule to become to Watsonville, what Beer Thirty has become to Soquel: a craft beer destination filled with family, friendships and fun. Beer Mule has 40 rotating draft options (includes ones from more than a dozen Santa Cruz County breweries) including non-beer options like Cider, Kombucha, and Verve Cold Brew Coffee. The most popular beer option is Gold medal-winning tropical West Coast IPA, Mai Tai by Salinas' Alvarado Street Brewery. Beer Mule has lots of packaged beer and wine available in its cold case, and the Butchers and Mule serves food daily out of the venue's kitchen.
Contact info: Beer Thirty, 2504 S. Main St., Soquel, 831-477-9967, Beer Mule, 45 Aviation Way, Watsonville, 831-254-9789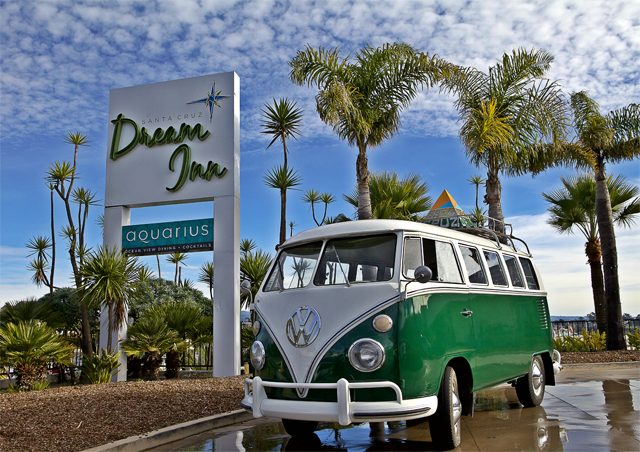 Thanks to Annie Pausch, you can hop on board a vintage bus and enjoy a tour and tastings at multiple local breweries. Annie founded Brew Cruz in 2014, starting with a restored 1989 school bus, "Betty Jane." The name is for her grandmother, a long-time Santa Cruz resident who helped her start the business. The vehicle's history includes housing a family in Yosemite and serving as a San Francisco band's tour bus. Since becoming part of Brew Cruz, more than 11,000 people have been on board Betty Jane. Annie says she loves giving customers a way to unwind, reconnect and bond over "beer, this beautiful place we call home, and each other" and she is proud she started the successful business before the age of 30. In 2018, 'Slowboy' was added to the Brew Cruz fleet for the purpose of brewery tours out of the hotel Dream Inn. A vintage 1964 vintage bus, Slowboy also fulfills Annie's dream of always owning a VW bus.
Contact info: 831-222-0120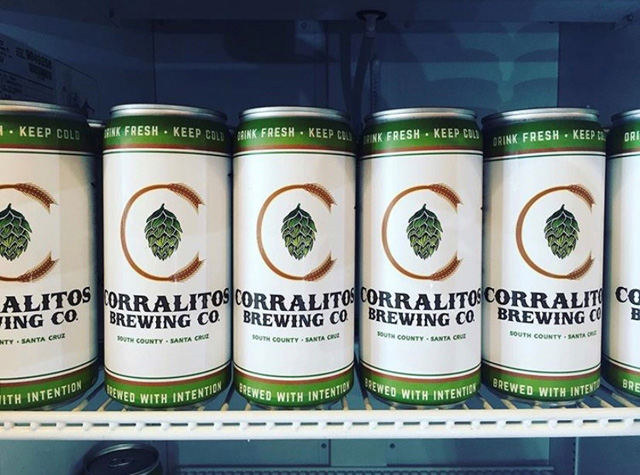 Corralitos Brewing Co.
The South County brewery, located in the Pacific Firewood & Lumber building (a former apple packing shed), specializes in IPA, seasonals and sours. Selections include Hop Kiss West Coast IPA and Richter Red, their house Amber. They have several rotating taps, and food trucks frequently appear at their venue. Brewers Luke Taylor and Mike Smith opened the brewery in 2015.
Contact info: 2536 Freedom Blvd., Watsonville, 831-728-2311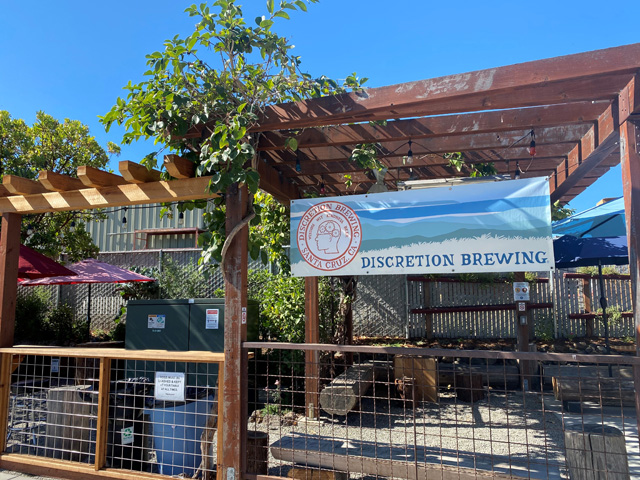 Discretion Brewing
Soquel's Discretion Brewing fits well with our progressive county due to a number of reasons. Among them: their self-proclaimed values are "wisdom, wit, and kindness" and they harness the sun's power to brew their beer. The county's first solar-powered brewery, they also designed their brew system with water conservation in mind. And they have brewed quite a few beers in support of a particular organization. The Woodland Critters series, of which there have been several beers so far, benefits the Santa Cruz County Land Trust. Discretion brews with ingredients that support sustainable farming and gives spent grain to local pigs to reduce waste. Their brewery and brewpub feature an organic, edible beer garden where customers can enjoy food produced in their restaurant, The Kitchen at Discretion. Menu items have been created to pair with Discretion's beers. For their seventh anniversary in 2020, they released the beer "Anniversary 2020," a Saison made with honey from local Walls' Family Honey in Soquel. It was so popular, they brewed additional batches and canned it in their signature 19.2-ounce tall cans and renamed it Encouraging Word.
Contact info: 2703 41st Ave., Soquel, 831-316-0662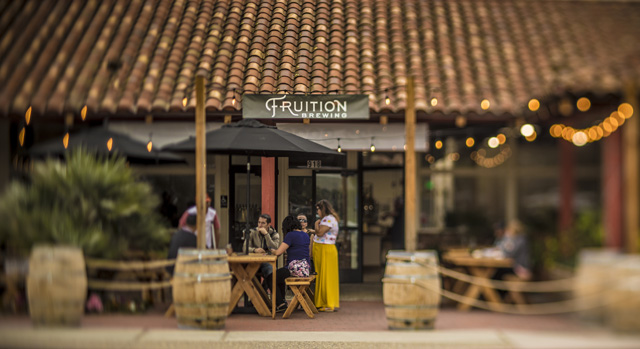 Fruition Brewing
Since opening in 2019, Fruition Brewing has made over 50 variations of their popular session sour, "Snack," featuring fruits, flowers and even herbs and vegetables. Fruition has a wide range of styles including lagers, IPAs, and barrel aged beers. Their taproom in the East Lake Village shopping center has a dog-friendly patio. Co-owners and life partners David Purgason and Tallula Preston source local ingredients as much as possible like Watsonville-grown hops, California-grown grain, and organic (and sometimes 'backyard') produce. David, who serves as head brewer, says they also keep it local by giving their spent grain to the sheep at nearby Garden Variety Cheese. In 2020, they increased the brewery's fermentation space by 50 percent to meet the demand for more fresh beer, especially Snacks.
Contact info: 918 E. Lake Ave., Watsonville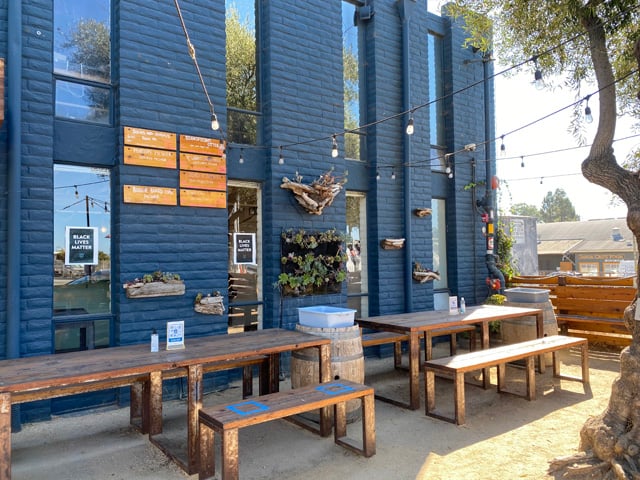 Humble Sea Brewing Co.
Humble Sea Brewing Co. first opened in 2017. Within one year, they were named the third fastest growing brewery in California. When Hop Culture Magazine named them one of the top 10 U.S. breweries in 2019, they highlighted Socks & Sandals, one of Humble Sea's popular and whimsically titled IPAs. Humble Sea offers more than a dozen taps of rotating beer selections and a dog-friendly beer garden. The food menu includes pizza and Colectivo Felix empanadas. Co-founder and creative director Frank Scott Krueger says he and the other co-founders (Nick Pavlina-head of brewing operations, and Taylor West-head of retail) design half of the beers around the concept of getting their fans excited about new releases. They have used ideas like new dry hopping techniques, and smoothie beers. The other half, designed with old world brewing traditions in mind, include six-week slow beers: decoction mashed German lagers, naturally carbonated, horizontally lagered, and poured out of a traditional side pull beer faucet.
Contact info: 820 Swift St., Santa Cruz, 831-621-2890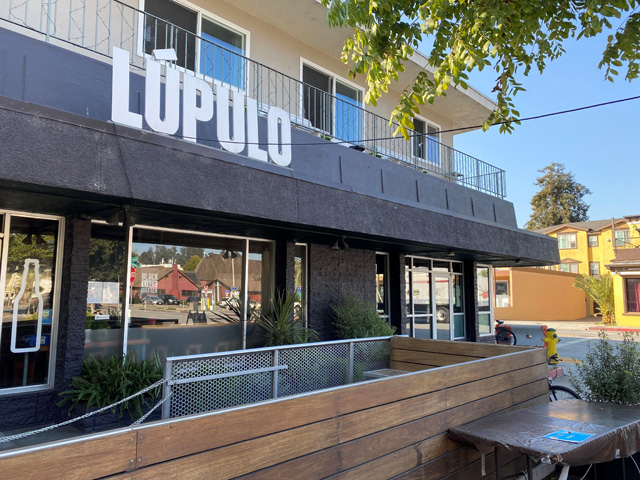 The word Lupulo means 'hops' in Spanish. To further pay homage to their roots in Spain and Mexico, co-owners Noëlle Antolin and Stuyvie Bearns Esteva designed a menu with these influences. With the downtown Santa Cruz farmers market across the street, they are able to use fresh, seasonal ingredients for selections including tapas, hearty tortas, and salads. Lupulo invites customers to "come for the beer and stay for the food." The venue's rotating draft beers includes selections from across the world, but Noëlle says they aim for a heavy emphasis on California breweries. Also, they always have something special for any cider lovers. Lúpulo has been open since 2014.
Contact info: 233 Cathcart St., Santa Cruz, 831-454-8306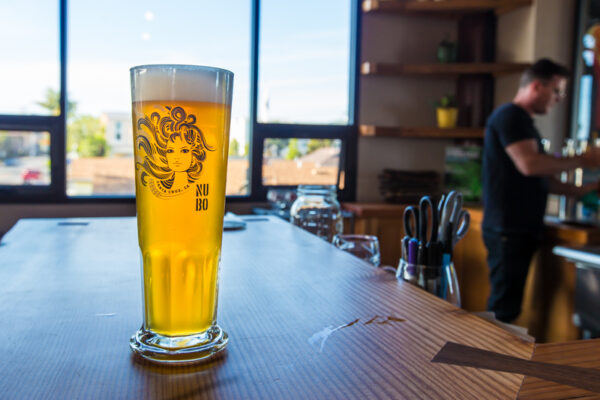 New Bohemia Brewing Company
Flagship beers at NUBO (the nickname for New Bohemia Brewing Co.) include The Fuzz (Japanese White Peach Hazy IPA), Pineapple Express (traditional Bavarian style Hefeweizen with added pineapple puree for an unusual flavor), and Pilsner Soquel, a Czech-Style Light lager. Brewmaster Dan Satterthwaite founded NUBO in 2015. Although Dan is the visionary behind the Pleasure Point venue—and decides on beer styles and food offerings like BBQ with homemade pickles—he has collaborative individuals that help NUBO succeed like his wife, Sarah Ferguson, who co-created the original business plan. Satterthwaite says NUBO is one of only a few breweries that focuses on Czech-Style Lager brewing. They use traditional horizontal stainless tanks to age lagers, and the house lager yeast is the original Budejovice Budvar yeast (think original Budweiser) from Southern Bohemia. NUBO, a "green brewery" (certified with the California Green Business Bureau) is housed in a LEED Gold Certified building and features an outdoor beer garden.
Contact info: 1030 41st Ave., Santa Cruz, 831-350-0523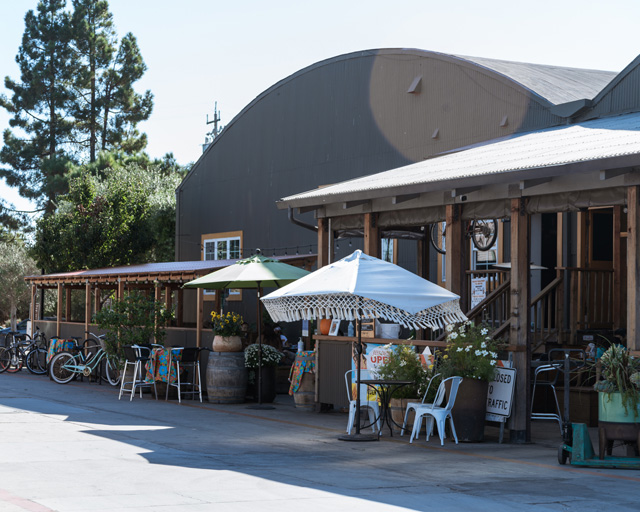 Santa Cruz Mountain Brewing has had a female brewer on their staff since opening in 2005. They have taught many women how to brew. During their 10th anniversary celebration in 2015, they hosted several events including "Strong Women Brew Strong Beer Day" where the women of SCMB led a class for aspiring female brewers. SCMB's beer is brewed with organic grains and hops. The taproom features several rotating taps and they try to have these represent a solid variety since they enjoy brewing all the styles and want all their customers to be happy. Emily Thomas, who co-owns and runs the brewery with husband Chad Brill, says most guests enjoy Pale and IPA styles, but they also provide dark beers. Plus, the fall and winter lend themselves to maltier beers. Customers can bring their dogs to SCMB's large beer garden and enjoy a food menu including their best-selling pretzel with beer cheese spread and ale mustard. Other items include sandwiches with bread from Kelly's French Bakery and meat from artisan butcher and neighbor El Salchichero.
Contact info: 402 Ingalls St. Suite 27, Santa Cruz, 831-425-4900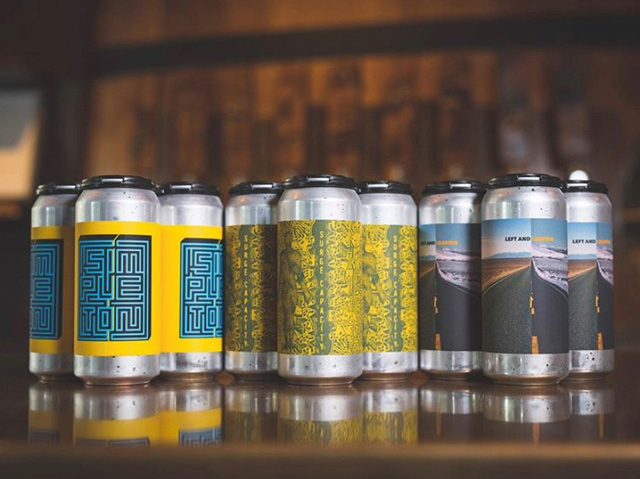 Sante Adairius Rustic Ales
Like its namesake promises, the brewery produces rustic-style ales—many with Belgian influences. Co-owner Adair Paterno's favorite style of beer to drink is Saison. She and husband Tim Clifford started SARA (as it's affectionately known) with a Capitola location in 2012. Now they have a second tasting room in Santa Cruz. The brewery has created selections such as Capitola Sunset (a Saison in celebration of 'insanely mesmerizing pink, orange, and azure Capitola sunsets'), the barrel-aged dark ale Love's Armor (a blend of Farmhouse Noir, which Sante Adairius refers to as 'a darker and stronger take on the saison style,' and Chavez, a robust porter they age on cherries), and the IPA Prism Schism.
Contact info: Flagship location (temporarily closed) 103 Kennedy Dr., Capitola, 831-462-1227, Second location 1315 Water St., Santa Cruz, 831-201-4141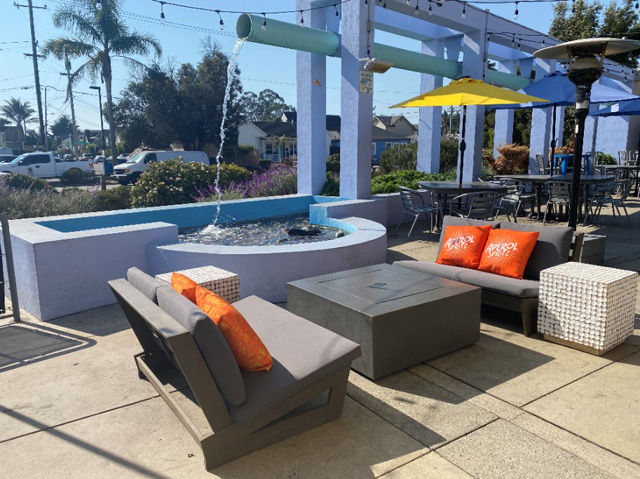 Seabright Social
Brewpub Seabright Social is at the former location of Seabright Brewery. Co-owners Jason and Keiki McKay (owners of Aptos-based Cantine Winepub) and partner Jon Bates bought the brewery and restaurant in 2020. After extensive remodeling, they launched a new food menu but kept the popular Seabright Brewery draft beers. Selections rotate and range from Pilsner to Stout. They also offer a hard seltzer "The Sheriff Hard Seltzer;" Keiki emphasizes this is homemade with no corn syrup. Other drinks include wine, cocktails, cider, and Kombucha. Popular dishes include street tacos and fish and chips. Seabright Social features a large, dog-friendly patio with lots of seating including fire pits that are great for lounging.
Contact info: 519 Seabright Ave., 831-426-2739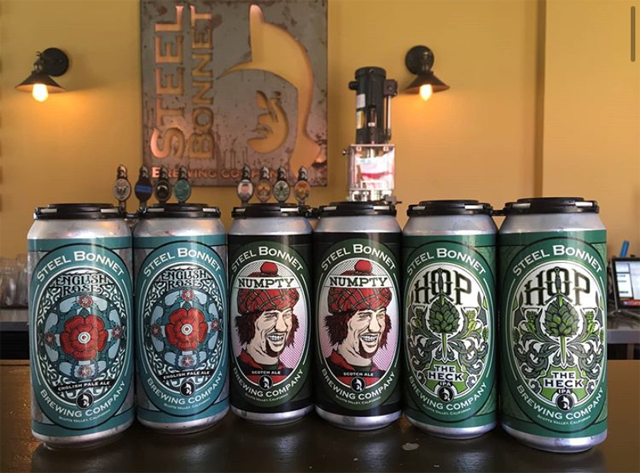 Steel Bonnet Brewing Company
Scotland natives Donald and Sue Cramb own and run Steel Bonnet, which was Scotts Valley's first brewery. The Crambs strive for their brewery and tap room to provide the same sense of warmth, family and community as the local pubs they experienced growing up in Scotland. The beers they serve are primarily American and British Ales. Since opening in 2015, they have had a continuous rotation of local food trucks sell food, including fish and chips, outside the taproom. Steel Bonnet started as a "Nano" brewery (producing small batches). In 2020, they began setting up a larger production facility in Salinas with a 15-barrel brewhouse and 120 barrels of fermentation/conditioning capacity. This enables them to expand tap room offerings and grow their barrel aging program.
Contact info: 20 Victor Square, Scotts Valley, 831-454-8249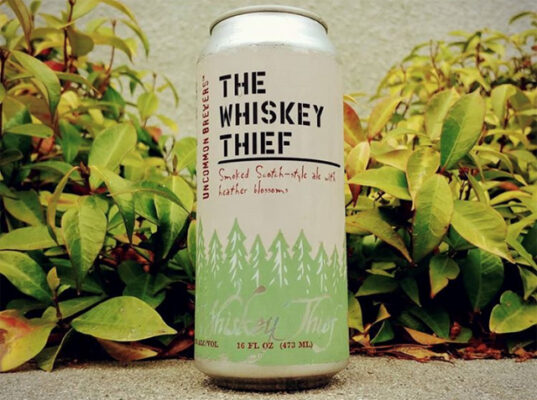 Uncommon Brewers
Owner and head brewer Alec Stefansky, who founded Uncommon Brewers in 2007, says his goal with Uncommon Brewers is to brew the beers as if they are liquid art. Uncommon started canning their beers almost immediately, making them one of the first breweries in the country to do craft canning. The beers are generally European oriented and malt-forward. Alec encourages beer fans to try them if they're looking for something 'different and refreshingly uncommon.' You can find Uncommon Brewers beer on shelves and taps around town, and coming soon, Uncommon spirits too!
Contact info: Brewery (production only) is at 303 Potrero St. Suite 40-H, 831-621-6270