Cool coastal fog and warm sunny days are characteristics of this classic California region. This combination sets the mood for inspirational meetings, venues and activities designed to keep groups focused and productive while allowing for rest and rejuvenation. These hotels and resorts utilize their surroundings: close proximity to a seaside amusement park, live music, newly built outdoor spaces designed for entertaining, forested hikes on private property, and seasonal farm-to-table dinners all add a personalized touch to the guest experience.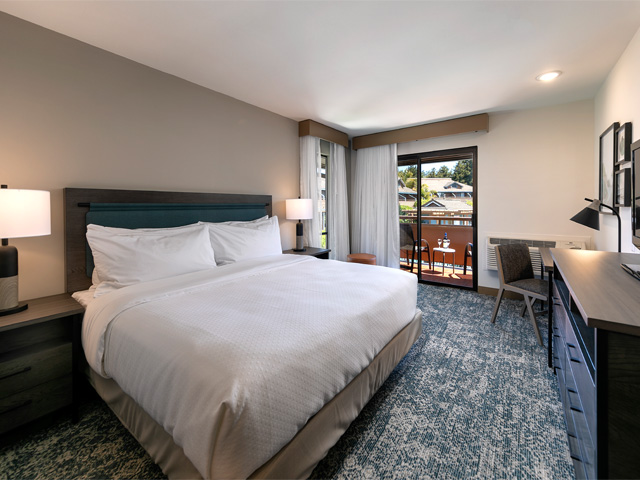 Hilton Brand Debuts in Mid-County
Six miles south of Santa Cruz, a new Tapestry Collection by Hilton debuted in summer 2022, with a remodel and rebrand. The renovation focused on the use of natural materials, landscaping enhancements, and the introduction of modern accents that transformed the property into a refuge for travelers and destination for the community. Keeping true to its boutique hotel roots, the Seacliff Inn's unique personality, personalized services, and unmatched experiences will continue to provide the home-away-from-home travelers have been searching for. Meeting space includes the Monarch (Capacity: 10-12 conference style; Square Footage: 282), Seabreeze (Capacity: 16-18 conference style; Square Footage: 475) and Seacliff (Capacity: 50 theatre/80 classroom/150 banquet /50 U-shape conference style; Square Footage: 2,379) rooms, and a lush garden patio and sparkling koi pond for outdoor receptions.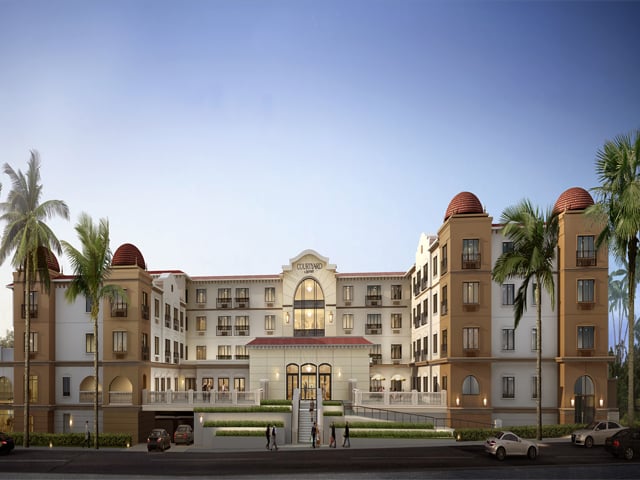 Courtyard by Marriott Santa Cruz at the Beach is Now Open
A brand new hotel has opened this month in Santa Cruz's Main Beach area. A 151-guest room Courtyard by Marriott featuring a mixture of Kings, Double Queens, King Suites and Double Queen Suites with views of the ocean, San Lorenzo River, and the Santa Cruz Mountains debuted in October 2022. The property is within walking distance to the Santa Cruz Beach Boardwalk, Monterey Bay National Marine Sanctuary, Santa Cruz Wharf, and scenic West Cliff Drive. Each room features 55-inch televisions and a variety of amenities. Three expansive meeting rooms, a pre-function area, and a stylish 2500 square-foot outdoor patio combine to offer an array of choices for memorable and productive mingling spaces. An onsite restaurant, The Bistro will open for breakfast and dinner and feature a full bar with a total capacity of 72 guests. An outdoor pool and fire pits bring ambiance to another outdoor setting, and the soon-to-open onsite Spa Nalini will feature a variety of treatments from facials to massages.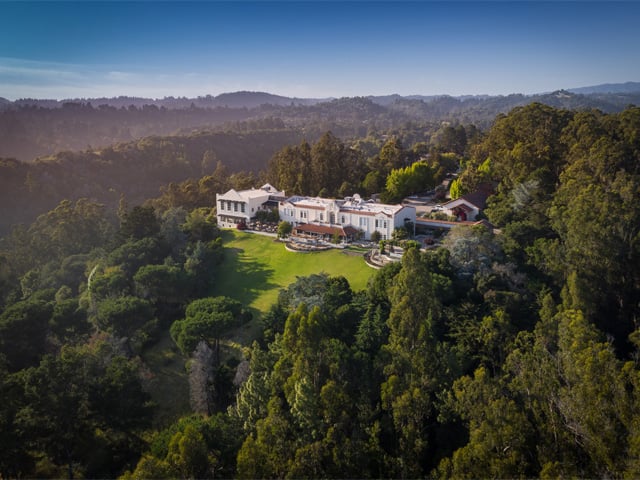 Chaminade Resort & Spa Unveils Renovations
Once a private home and later a Catholic boys school, the Chaminade Resort and Spa is honoring its history with its current renovation – another phase in the evolution of this heritage property. The resort's pool area has been transformed with the addition of a second pool, poolside food truck and bar, enhanced cabanas, and a patio area dedicated to outdoor firepits. The expanded pool area joins other newly upgraded entertainment amenities including live music six nights a week, a full-service spa, state-of-the-art fitness center, miles of hiking trails through a eucalyptus and redwood forest, tennis courts, and more. Built in 1930 and tucked in the Santa Cruz Mountains overlooking breathtaking views of the Monterey Bay, the renovations embrace the integrity of the iconic Spanish Revival architecture by connecting the interior design to the architectural heritage in a modern style, while also featuring the stunning natural surroundings of the property. Pool enhancements merge the first phase of renovations which were recently completed: a new entry, lobby, restaurant, event and meeting spaces, and outdoor social spaces were refreshed with contemporary perspective, ensuring that the interiors meld harmoniously with the exterior. The onsite restaurant – The View – maximizes views of the sweeping horizon, and a new fireside lounge invites guests to relax in built-in banquettes around an iconic fireplace, designed to be reminiscent of a traditional Hacienda-style home. Spanish-style lounge chairs are complimented by a simplistic built-in banquette, while woven leather dining chairs are accompanied by minimal sofa booths. The lighting fixtures celebrate traditional Mission-style design, with forged iron, warm-toned shades, and handwoven leather detailing. With 12,000 square feet of indoor conference space and flexible outdoor event spaces, the Chaminade Resort combines modern luxury and a sophisticated setting while catering to the needs of conference attendees.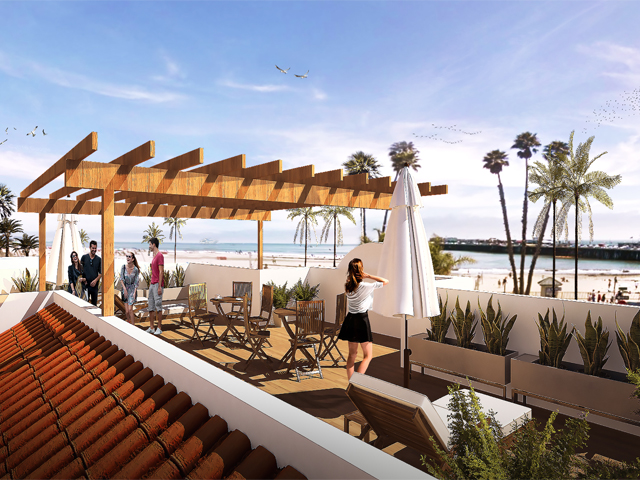 Marea Sol Hotel to Open in Santa Cruz's Beach Area
A four-story, Spanish-style colonial property in the center of Beach Street in Santa Cruz is set to open in fall 2022. This boutique hotel will include 38 rooms and 11 two-room suites, retail space at street-level, flexible meeting space for smaller groups, a pool deck, and a separate rooftop deck for enjoying the over 300 days of sunshine in Santa Cruz. Located across the street from popular Main Beach, and the Santa Cruz Beach Boardwalk, Marea Sol is embracing a classic, luxurious, but approachable style in keeping with the Spanish-style exterior architecture of whitewashed walls and a terracotta tile rooftop. Balconies off some guest rooms will offer magnificent views of a few of Santa Cruz's most iconic points-of-interest, including the beauty of the Monterey Bay National Marine Sanctuary. Guests can enjoy a short walk to the Santa Cruz Beach Boardwalk, the Santa Cruz Wharf, and scenic West Cliff Drive.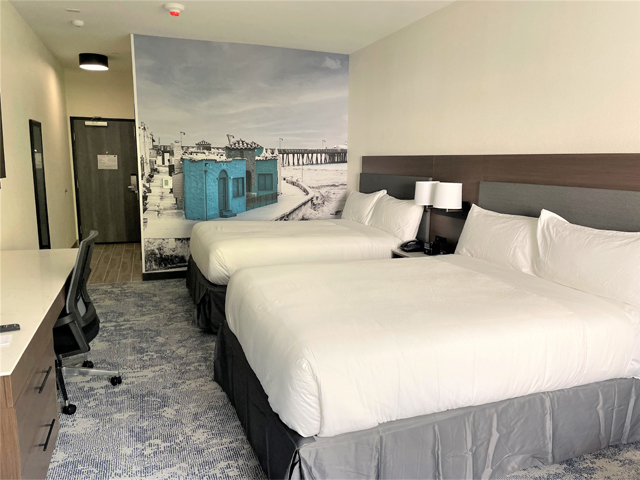 La Quinta Inn & Suites by Wyndham Santa Cruz Opens, Steps to the Boardwalk
The La Quinta Santa Cruz, a newly built 60-room hotel, sits minutes away from the legendary Santa Cruz Beach Boardwalk and historic Cocoanut Grove. Spacious and comfortable guestrooms with generous workstations and complimentary Wi-Fi make the La Quinta a perfect option for business travelers. In-room amenities such as microwave ovens and mini-fridges enhance your stay. Views of the Monterey Bay can be seen from the Deluxe, Premier, and Supreme rooms and suites.