In this scenic town, there are lots of amazing restaurants with spacious patios to enjoy delicious food and drinks. Across Santa Cruz County, there are also countless activities to partake in—especially outdoors! Let's explore a few venues that make it easy with their combination of an excellent patio and close access to a few fun activities.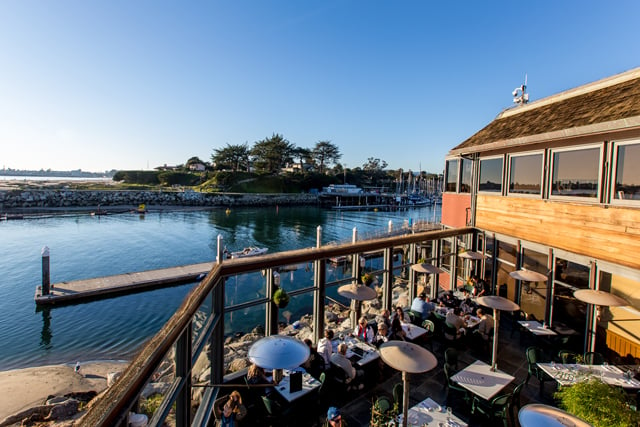 Patio and food: The Crow's Nest patio has been a favorite spot for several decades. When locals are asked about great outdoor places to savor good food and an unbeatable view, their answer often includes The Crow's Nest. There are three areas to choose from: the downstairs patio off the main restaurant, the upstairs deck off the restaurant's Breakwater Bar & Grill, and the newest one—a large tented space (created during the pandemic) which has grown increasingly popular. Downstairs or in the new tent, customers can select upscale selections ranging from crab cake and calamari appetizers to signature mocha-rubbed filet mignon, New Zealand rack of lamb, seafood fettucine and lobster tail. Other popular items include fish tacos and meat or salmon burgers. Upstairs there is a smaller menu, but it also features lots of delicious options including appetizers, sandwiches, and salads. All of the outdoor areas are comfortable. You feel like you're literally on the beach, and almost like you can reach out and touch the sailboats gliding in the harbor. Note that The Crow's Nest gets busy on beautiful days and evenings so consider making reservations.
Nearby activities: With its beachfront location, one perfect activity after a Crow's Nest meal is taking a walk on the beach. If you're dining there for breakfast or lunch, you can choose to make it a "beach day" or "beach afternoon" and play volleyball or frisbee, or just sunbathe on a towel or blanket. The Santa Cruz Harbor is steps away, and this is a pleasant area to take a walk. Want something more active? The SUP Shack, also in the harbor, is a terrific resource for stand-up paddle boarding—either taking lessons or renting a board. They have kayak rentals too. Another fun activity: hopping on a two-hour cruise led by Chardonnay Sailing Charters.
Patio and food: The restaurant at DeLaveaga Golf Course underwent major renovations which were completed in 2020. Now there is a large wrap-around deck that offers different views from the main deck, and views from any seat on both decks are spectacular. From the main deck, you can see the area's majestic trees and canyons, and parts of the back nine holes. From the wrap-around deck, you have views of the front nine holes, eucalyptus groves and oak trees, and—on days when the weather is clear—the ocean. There are outdoor heaters for the outside dining areas. The menu includes popular breakfast dishes like Huevos Rancheros, eggs Benedict, breakfast burritos, sand dabs and eggs, and We Tater to You (homemade tater tots with eggs). For lunch, choose from several sandwiches like BLT and TBLT, Angus burgers, Out of the Garden vegetarian burgers, French Dip, and Crab/Shrimp Louie. There are daily homemade soups and specials, too.
Nearby activities: Locals and visitors alike enjoy the on-site golfing. There is an 18-hole championship golf course, first designed in 1968, plus practice facilities. For disc golf, there are a couple choices: the Muni course with 18 holes on the front nine of the main golf course (golf carts are available) and the Historic and Infamous course with 28 holes plus an archery course Also, there are several hiking and biking trails. If you're looking for more golf with great eats, Mackenzie Bar & Grill at Pasatiempo is another option for meals (some tables have nice window views)—with optional golf before or after.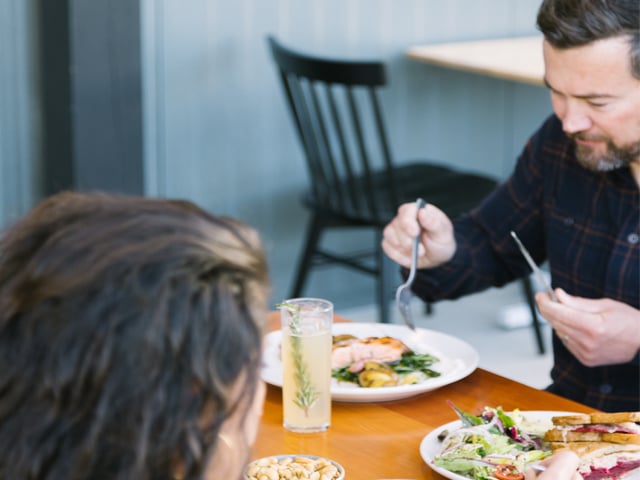 Patio and food: Venus Spirits opened its original Westside tasting room in 2015. Venus greatly expanded its offerings and seating capacity when it built and opened a new complex in 2020. The tasting room—which also serves as a bottle shop—has moved to the new location. The restaurant Venus Spirits Cocktails and Kitchen is in the same building as a warehouse which houses a brewhouse and distillery with an annual production capacity of 50,000 cases. Customers have several outdoor seating areas to choose from, all with heaters or umbrellas. There is a semi-covered side patio, picnic tables with bench seating, and smaller tables at the tasting room, and a covered side patio at the full-service restaurant (plus a temporary front patio they created to adapt to outdoor-only seating during the pandemic; this will eventually be removed). Relaxing outside, customers can relish handcrafted cocktails like signature gin and tonics with homemade tonic, and the Gun Smoke with ingredients like Wayward single malt whiskey, walnut liqueur, chocolate and angostura bitters, and charred cinnamon. Non-alcoholic specialties include house ginger beer and house cucumber lime coolers. Food choices include popular cornbread and crispy Brussels sprouts appetizers, and sandwiches such as a signature burger and a crispy chicken and bacon sandwich. Restaurant entrees include grilled New Zealand salmon and vegetarian elote chile relleno with Oaxaca cheese and Romesco sauce.
Nearby activities: After savoring food and drinks at Venus, you can explore Swift Street Courtyard which has several breweries (including Santa Cruz Mountain Brewing), wineries (such as Santa Cruz Mountain Vineyard, Silver Mountain, and Sones), and shops (like Cameron Marks and artisan butcher El Salchichero). In the mood to be in nature? Just down the road is Natural Bridges State Beach, a fantastic place to spend time. At different times of the year, visitors have opportunities to catch a glimpse of various creatures including Monarch butterflies, seals and otters, whales, and shore birds.
Patio and food: On Capitola Beach's waterfront, Paradise Beach Grille is a magnificent place to relax. There is an outdoor patio where patrons can sit and appreciate views of the ocean plus the neighboring colorful Venetian-style buildings. Another bonus is the outdoor fireplace. After the original owners closed the restaurant in 2020 and put the building on the market, local restaurateur Charles Maier (The Crow's Nest and Santa Cruz Diner) purchased it and reopened later that year. The menu includes a top-selling coconut prawn appetizer, Caesar salad, clam chowder, seafood entrees such as fish and chips or prawn linguini, and filet mignon. Drinks include selections from many local Santa Cruz Mountain wineries.
Nearby activities: Since you're already at Capitola Beach, how about doing some surfing, fishing, or people-watching? Or perhaps you're in the mood to do some shopping. There are countless storefronts to browse like The Craft Gallery, whose rich history spans more than five decades. The venue sells pottery, jewelry, garden décor, and a variety of fun and unique items including ones that make perfect gifts.
We also want to briefly mention the Dream Inn's Jack O'Neill Restaurant & Lounge. The front patio is only open on Friday and Saturday nights, but it's an ideal place to keep in mind for hanging out after an afternoon stroll on West Cliff Drive or after spending time at Santa Cruz's Main Beach.