Santa Cruz is undoubtedly the quintessential California beach town. Surfers tote their surfboards through local neighborhoods on their way to the beach. Families relax on the sand as kids splash and play in the water. Screams of delight drift above the waves from riders on the seaside rollercoaster, awakening nostalgic memories of summers past and inspiring a new generation. But while Santa Cruz is the classic spot to dig your toes into the warm sand and soak up the sun, the fun only begins at the beach. Santa Cruz has been described as "A classic beach town with a boardwalk and surfer vibe," citing its classic amusement park and relaxed atmosphere.
GETTING HERE: Arrive at San Francisco International Airport (SFO) and drive approximately 70 miles/113 km south to Santa Cruz County (recommended: drive via Scenic Highway 1 – Pacific Coast Highway).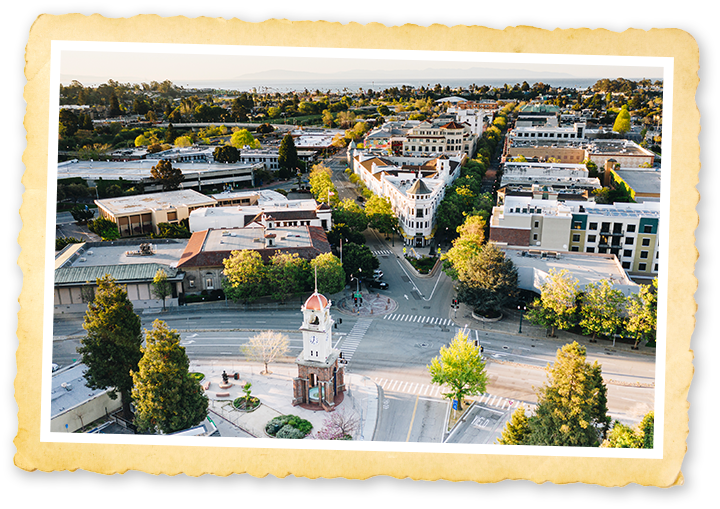 Morning
Start your day off with sweet and savory breakfasts at Walnut Avenue Café or Zachary's restaurant in Downtown Santa Cruz, where everything is homemade and where the locals like to hang. After breakfast, stroll scenic West Cliff Drive, and stop at the Santa Cruz Surfing Museum, overlooking the dramatically beautiful surf spot Steamer Lane. Golfers can enjoy a round at DeLa­veaga Golf Course or at Pasatiempo Golf Club, both offering ocean views.
Mid Day
Explore the fascinating marine life exhibits of the Seymour Marine Discovery Center at Long Marine Lab. Snap a selfie next to Ms. Blue, one of the world's largest displayed Blue Whale skeletons and tour the marine mammal research facility. Stop in at the admission-free Monterey Bay National Marine Sanctuary Exploration Center and then walk the half-mile long Santa Cruz Wharf nearby. Enjoy lunch at the iconic Stagnaro Brothers for epic seafood, or enjoy outside patios at The Picnic Basket or Ideal Bar and Grill in the beach area.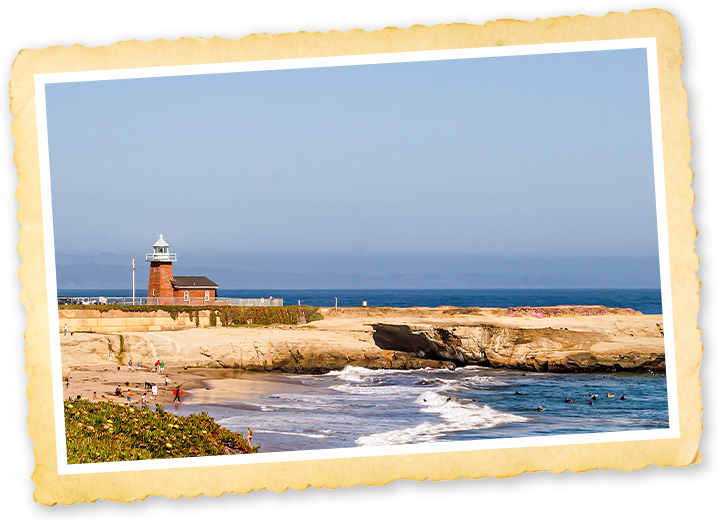 Afternoon
Ready for some outdoor adventure?  Explore the coastline of Santa Cruz with Kayak Connection or SUP Shack at the Santa Cruz Harbor for a gor­geous adventure and a little exercise. No visit to Santa Cruz is complete without a spin on the Giant Dipper Roller Coaster at the Santa Cruz Beach Boardwalk.  For a more mellow spin, opt for the historic Looff Carousel and grab a brass ring.  Catch your breath afterward on the sand at Main Beach before finishing off the afternoon at the
Don't leave Santa Cruz without checking out the numerous unique shops Downtown and beyond. Visit Pacific Trading Company and Sockshop and Shoe Company for stylish finds.  Pick up a vacation read at the legendary Bookshop Santa Cruz.  Home/Work and Dig Gardens have furnishings and décor that promise to make your living space cuter. Treat your inner child to an artisan ice cream cone at the Penny Ice Creamery or a cookie at Pacific Cookie Company.
Evening
For a scenic dining experience, visit the Crow's Nest for a bite to eat while you watch the sailboats in the Monterey Bay.  Looking for authentic cuisine?  Treat your taste buds to exotic Mediterranean fare at Laili, fresh organic noodle bowls at Charlie Hong Kong, or savor an eclectic wine menu and delicious appetizers at Soif Wine Bar & Restaurant in Downtown Santa Cruz.