Through the legacy left by late wetsuit pioneer Jack O'Neill to the eponymous surf wear that sports his name, there are countless ways Santa Cruz County is synonymous with California's official sport. Santa Cruz's place in history as the birthplace of mainland surfing in the United States lives on. In the spirit of Aloha, surf schools espouse the benefits of surfing and its lifestyle to visitors and corporate meeting attendees. Get acquainted with two local and legendary surfers who have earned cred on the waves as talented watermen – and learn the basics, benefits, and finer points of surfing life.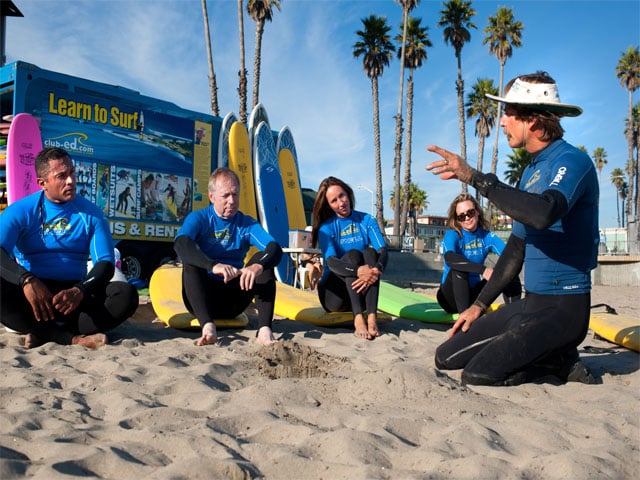 Ed Guzman – Club Ed Surf School
In 1969 at the age 12, Ed Guzman began surfing at San Francisco's Ocean Beach, and continues to surf nearly every day of his adult life. Having lived in Santa Cruz since 1986 has given him intimate knowledge of the local surf breaks.
Ed has surfed the smallest to the largest waves on earth, including breaks in mainland Mexico and Baja, Costa Rica, Nicaragua, Peru, Chile, Philippines, Bali, Java, Sumatra, Fiji, Samoa, Tahiti, Australia, Maldives and frequently Hawaii. He competes both locally and internationally in short boarding, long boarding, tube riding, Stand-Up Paddling and big-wave tow-in surfing.
Ed has been teaching water sports professionally for nearly four decades, including 7 years as the Outdoor Recreation Programs Director at Fort Ord, where he also coached a winning Army Surf Team. Ed headed the University of California at Santa Cruz surfing program, earning him the honorary title "Professor of Surfing."
Ed's grandmother, Dorothy Becker, was the first woman to perform a headstand on a surfboard in 1915. She was taught surfing by David Kahanamoku (the famed Hawaiian surfer and Duke Kahanamoku's younger brother) while competing in a national swim meet in Hawaii.
Today you can find Ed on Cowell Beach in front of the Dream Inn Santa Cruz where his blue caravan is outfitted with wet suits, booties, and surfboards, ready to teach an impromptu lesson.
Ed says there is absolutely a correlation between learning to surf and challenges of the work world.
"Nearly half of the surfing lessons at Club Ed Surf School are group lessons, including corporate groups, school groups and large groups of many different affiliations," he said. "Work, play, relationships, and life all require an honest effort. To be successful, one must have professional guidance nearby – similar to a project manager mentoring a new employee," he said.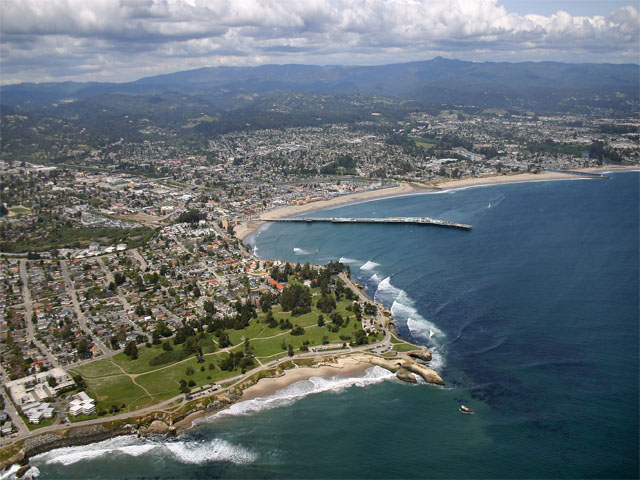 One of the advantages of learning how to surf in Santa Cruz from a surf school is the setting: the Monterey Bay National Marine Sanctuary is a tremendous source of pride for locals. At 6,094 square statute miles, the Monterey Bay National Marine Sanctuary covers an area larger than that of Yellowstone National Park. Stretching along 276 miles of California coastline, its nutrient-rich waters are home to diverse marine life where humpback whales breed, calve, and migrate, coral colonies flourish, sea kelp form underwater forests, and shipwrecks whisper the stories of maritime history.
"People are people, we are all different and have different capacities for learning and being comfortable in the water," he said. "Corporate executive or not, the ocean is not biased and will equalize the opportunity to succeed or fail."
His best advice for a corporate meeting attendee learning how to surf? "As in life: Find your center, and your rhythm will follow."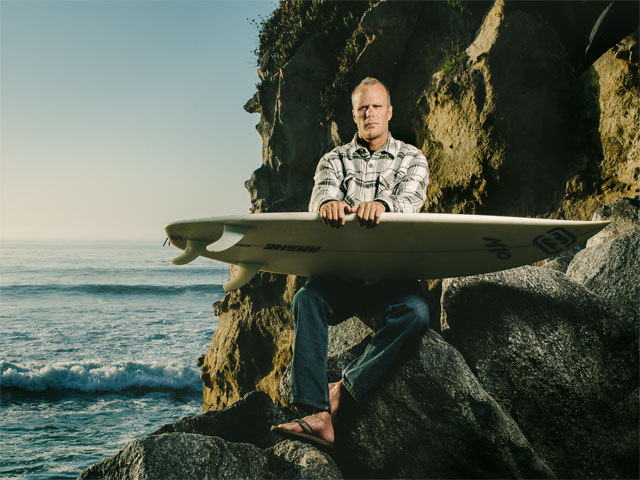 Richard Schmidt – Richard Schmidt Surf School
Local Santa Cruzan Richard Schmidt is respected among those in the surf community as a legend. He started his career as a lifeguard on the beaches of his hometown of Santa Cruz more than forty years ago while teaching surfing. Each winter he competed in Oahu's Triple Crown of Surfing, earning two first and two third-place finishes in Hawaii during the 1989 – 1990 season, the best competitive season anyone from California ever had. During winter, the North Shore of the island can see winter swells as high as 50 feet.
Richard embodies the laid-back, west coast vibe Santa Cruz is known for: his calm demeanor and patient approach to teaching lends itself to The Schmidt Guarantee: that every surf school student will stand up and ride down the face of a wave during their first lesson.
Richard "shares the stoke" – his love of surfing – through his surfology: learning to harness the energy of the waves through art and science, and appreciating the "liquid playground" that is the Monterey Bay.
His instructional surf-based programs have grown to include year-around surfing and stand-up paddleboard lessons, SUP marine tours, ocean safety classes, and winter surf and yoga retreats in Nosara, Costa Rica. Additionally, his "Learn To Surf & Ocean Safety" instructional video was hailed by Surfer Magazine as "the best how-to video ever released." He was also consulted for an included in the book Fifty Places to Surf Before You Die, which was published in 2019.
Richard's corporate group surfing lessons are popular with executives of all ages and athletic abilities. Approximately 75 percent of Richard's business consists of group lessons, and he hosts roughly 30 companies a year for group surfing and teambuilding experiences.
"Corporate group surf students push themselves out of their comfort zone, but having supportive co-workers helps to reinforce a spirits of teamwork, and the experience ends up being more rewarding as a result," said Richard. "Most often they rise up to the occasion and overcome any fears they have of the ocean. There is a level of camaraderie that elevates the students in the corporate groups."
Although surfing in the mainland birthplace of California's Official Sport may seem daunting to some, surf schools in Santa Cruz are supportive environments that encourage learning and self-sufficiency.
"Give it your best effort and don't compare yourself to others as everyone learns at a different pace. It's harder for some students and others catch on easier so come in with low expectations and just have fun," Richard advises.