Something about wildflowers in spring causes us to buzz with excitement. Waiting for the peek-a-boo of color that begins to dot shaded trails and rolling hillsides. Once wildflowers bloom, there is no shortage of locations in Santa Cruz County to spot their vibrant colors. Some of these flowers can be viewed in a few steps, while others require a short hike. Pack a picnic lunch or round up the kiddos for some down-in-the-earth exploration of this year's must-see wildflowers.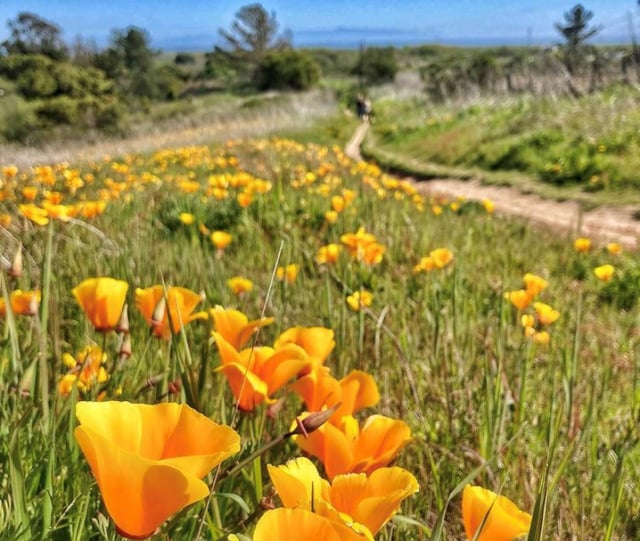 You can enjoy a rainbow's palette of wildflowers in Wilder Ranch right from the main parking lot. If you have more time, look for the purple Pacific hound's tongue, Trillium and Irises, and golden Jewelweed, which bloom in late spring on shaded trails. Orange bursts of California Poppy are hard to miss as they populate the hills leading down to the coast. Wild daffodils can be seen from afar.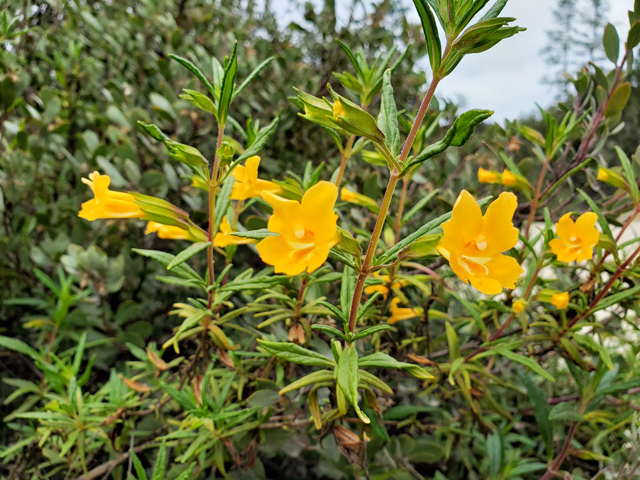 With a diverse ecosystem, Quail Hollow has wildflowers which range from the sticky monkey flower to vibrant yellow bush poppies. Keep an eye out for Indian Paintbrush clinging to sunny-sided rock faces and Hairy-Leaf Ceanothus, which prefer the shade. Connect Woodrat, Sunset, and Lower Chaparral Loop, and you will be amazed by the views as much as the natural beauty around you. Park in the large dirt lot by the old Ranch House.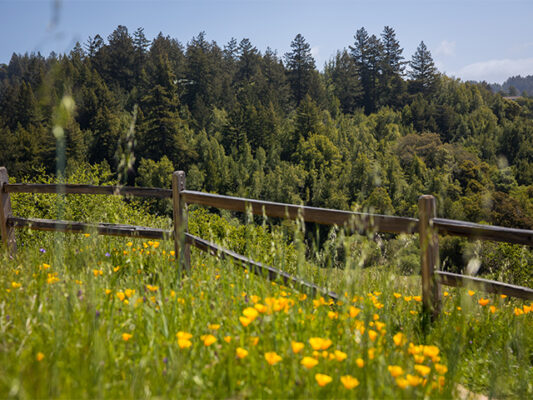 West Glenwood Preserve has been a protected space since 2013. The blue loop trail weaves in and out of woodlands where you can spot Pacific hounds tongue growing under oak trees. White popcorn flowers and California buttercup dot low-lying hillsides. Lupine's purple petals can be seen in sunny open expanses. Free, limited parking can be found on the street next to the trailhead or in a larger lot a half-mile down the road across from Scotts Valley High School. Open to bikers, hikers, and dog walkers.
The Santa Cruz Sandhills in Henry Cowell State Park are endemic to Santa Cruz County, meaning this unique ecosystem is only found in our coastal corner of the world. The sandhills are just as they sound, making this an especially fun hike for little ones who may rather be at the beach. And they'll love the fact that 15 million years ago, the Santa Cruz Sandhills were at the bottom of the ocean. Today, this 'beach' in the mountains is home to several plants and animals found nowhere else. Keep your eyes peeled for the Santa Cruz Wallflower, Ben Lomond Spineflower, Ben Lomond Buckwheat, and Bonny Doon Manzanita. Although found throughout Santa Cruz County, the orange blooms of the Sticky Monkey Flower also love the sandy soil and full sun of this strange ecosystem.
A drive along the country roads of Corralitos often lead to fresh orchard blooms on the trees and on the ground. Hames Road and Pleasant Valley are gorgeous during the spring and make for a perfect Sunday drive. And with the abundance of vineyards and wineries in the area, you'll be happy to stop for some afternoon sips. Further south, another great drive is along San Andres Road. With wildflowers, agriculture fields, and peeks of the ocean, this is a not-to-miss journey in South County.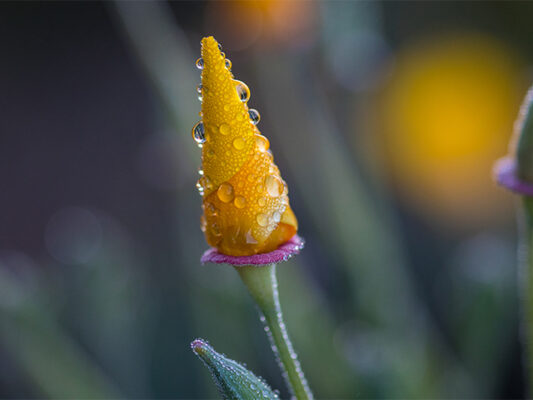 From the moment you step into Pogonip, wildflowers are waiting to greet you. Although mostly in the sunnier parts of the open space, woodland blooms can be found on the more forested trails. Parking can be located on Golf Club Drive or the UCSC Upper Campus near the firehouse on the weekends.
Located behind the Natural History Museum, find the Garden Learning Center. These four small gardens group plants native to the California Coast. Open year-round and free to visit.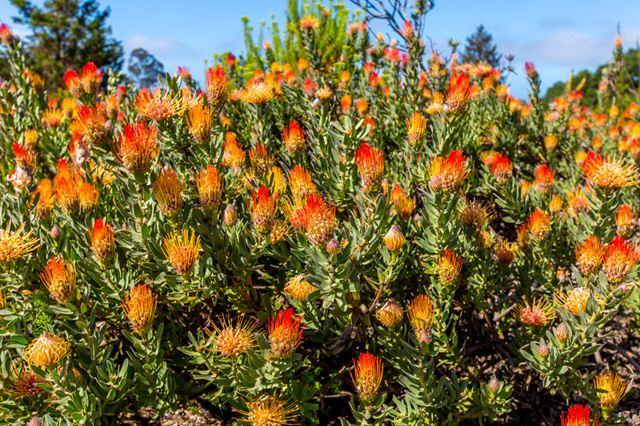 Flower aficionados and succulent lovers alike will find abundance at the UCSC Arboretum. With six gardens covering 135 acres, the Arboretum contains rare and threatened plants of scientific interest from California to New Zealand. Follow the paved paths between each of the gardens as you keep an eye out for hummingbirds and butterflies. There are plenty of benches and open spaces ideal for picnics. $5 for adults, $2 for children over six. Plan for more time than you think you will need.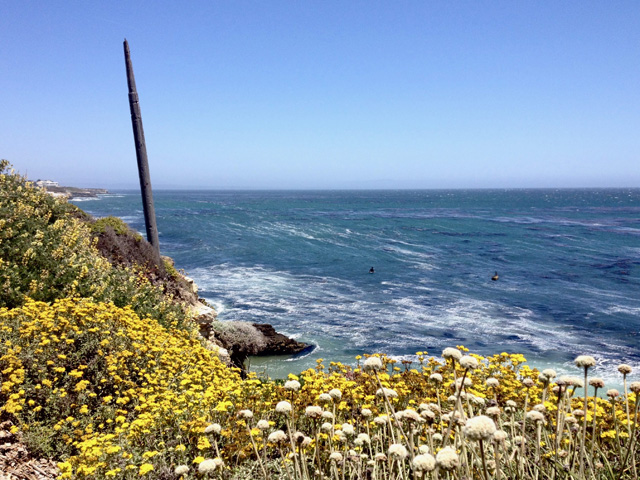 The one-mile paved trail encircling the Seymour Marine Discovery Center skirts the Pacific Ocean. Add native plant gardens to the mix and you have the best of both worlds.
Flowers make wonderful bouquets, but please take only pictures. It's important to stay on designated trails and not trample the blooms. If you want to have a reminder of your trip both Norrie's Gift Shop at the Arboretum and Wilder Ranch State Park sell seed packets and plants that you can enjoy all year long.