Ocean waves? Check. Hikes with stunning vistas? Yup. Forest tours 150 feet up in the trees? We've got that too. From biking the newly opened coastal trail to ziplining through the redwoods, Santa Cruz is a place where both adrenaline junkies and those looking for the town's laid-back vibe can play. All that's required is a sense of exploration.
Sea
Catching waves or gliding by beds of kelp, the ocean is its own watery playground. Take surfing lessons with either Surf School Santa Cruz in Capitola or Club Ed in Santa Cruz. Club Ed also rents surfboards, boogie boards and wetsuits to tackle the waves on your own by the day or hour. Rent a kayak or stand up paddleboard to try and catch a glimpse of sea otters and sea lions. And if watching the sunset with a glass of wine is more your style, why not try it aboard a 70 foot yacht on the Chardonnay? Lovers of wildlife will want to book a trip with Stagnaro's for fishing or whale watching tours. If catching dinner is your vibe Santa Cruz Charters offers trips which include instruction and gear.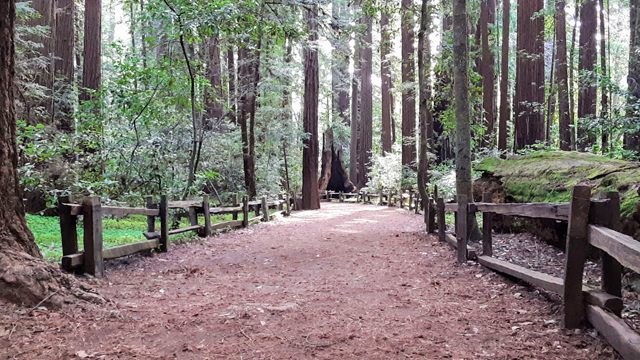 Land
Santa Cruz is no stranger to hiking trails which weave through more than fourteen state parks. The recently opened Heart of Soquel Parkway offers an accessible path which follows Soquel Creek and provides a unique opportunity to explore this town known for its antique shops and wine tasting.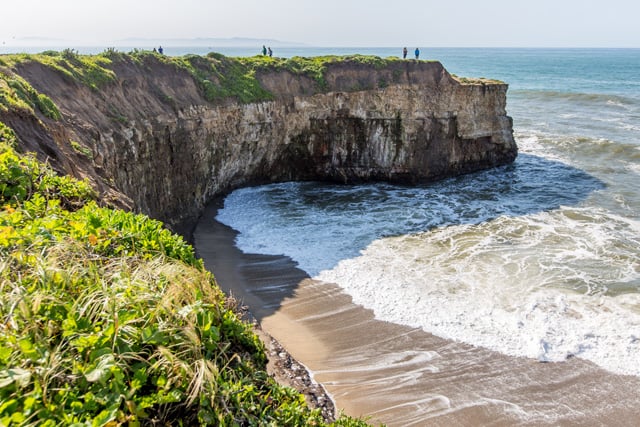 Those who enjoy scenic ocean views can wander the Old Cove Landing Trail at Wilder Ranch State Park or East and West Cliff which both offer multi-use paths for walkers and bikers. For those who want to see towering redwood trees, Nisene Marks, Pogonip, and Henry Cowell Redwood State Park are the places to be.
Tidepoolers can take their time exploring at Natural Bridges State Beach. Accessing the tidepools requires a short walk along the beach and sandstone cliffs. Remember to be aware of your surroundings and plan your visit around low tide.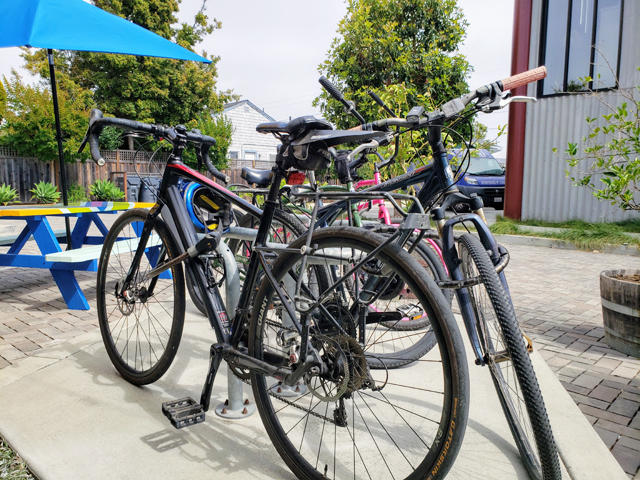 Prefer ten speeds to shoes?
Mountain bikers can whip through miles of dedicated trails in Wilder Ranch, Nisene Marks, and Pogonip. For those not familiar with the local trails, contact The Ride Guides for professional mountain biking guides and coaches who are committed to helping guests discover their dream trail among Santa Cruz's superlative singletrack. Whether you're a first-time mountain biker looking to develop a few skills and explore the coast, or a seasoned rider looking for a challenge, The Ride Guides will customize a tour to suit your needs.
Those who prefer seeing scenery at a slower pace, the Coastal Rail Trail is a flat paved path which starts in Westside Santa Cruz and ends close to Natural Bridges Beach State Park. The Seymour Marine Discovery Center has a large path perfect for strollers and beginner bikers which extends to Wilder Ranch State Park.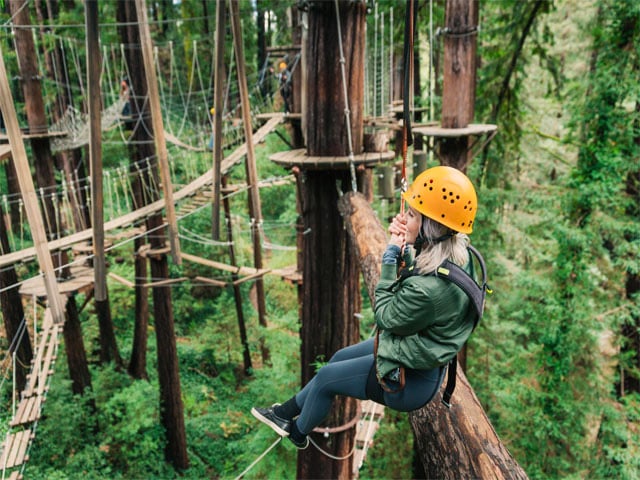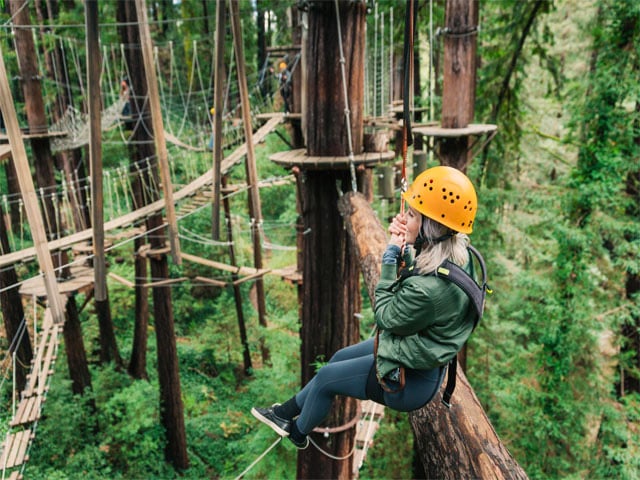 Air
Maybe traveling eighty feet in the air through redwood canopies is how you ride. Mount Hermon Adventures has options for guided or individual tours recommended for those aged ten and above. If you prefer ocean views at 18,000 feet Go Jump Santa Cruz will provide a once in a lifetime view of the Monterey Bay. Prefer to watch the naturals take flight? Birdwatchers and families can take advantage of beautiful locations to enjoy birds in Santa Cruz County.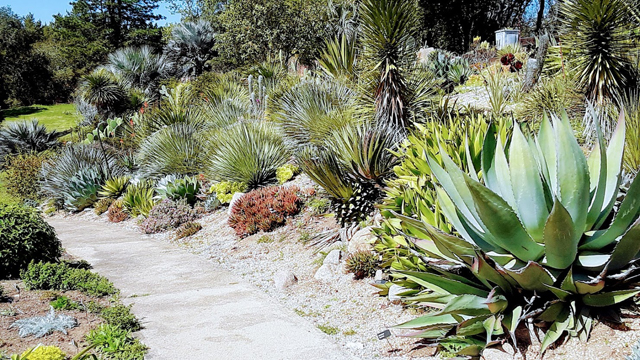 Relax
Looking for a little more solitude? Walk the grounds of the UCSC Arboretum and Botanic Garden or head up the coast to the small town of Davenport and watch the waves from the bluffs. You may even spot migrating whales.
However you travel, remember to do it safely and don't forget to enjoy the journey.