While many artists take inspiration from their surroundings, environmental artists incorporate the natural environs into their artworks, transforming the landscape into a virtual open-air gallery. You've seen examples: stacks of rocks precariously perched along trailways, and dazzling sand sculptures that lure camera-wielding crowds. The next time you're out and about in Santa Cruz County, keep an eye out for the following artistic displays.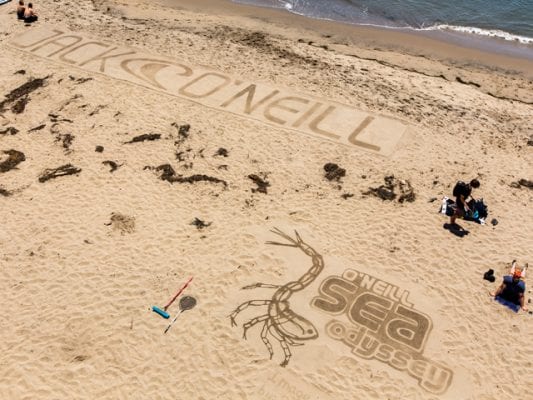 Enter Sandman
With nearly thirty miles of shoreline, Santa Cruz County's most popular earth-based medium is available in droves. Visitors to Main Beach and Cowell Beach have likely enjoyed a sand sculpture by local artist Bill Lewis. These are not the everyday sandcastles that most of us quickly assemble with plastic buckets and repurposed coffee cups. Under the moniker Santa Cruz Sand, Lewis delights beachgoers with elaborate, sand-based creations such as sea creatures, vehicles, and holiday themes. "Most people visiting the beach won't see a sea turtle or giant squid, but it is interesting to know they are out there," says Lewis who recently shaped a 16-foot great white shark. Lewis' sculptures can take anywhere from 3-7 hours to create, and are crafted using simple tools such as trowels, plastic utensils, a garden sprayer, and frisbee. In addition to sand, Lewis uses only materials found on the shore including sea water and shells to shape the creations that he hopes contribute to the beach's sense of joy. "Visitors come here wanting to have a good time," offers Lewis. "The sand sculptures capture the spirit of Santa Cruz. Its beach, beauty, and creativity."
While Lewis often provides beachgoers with lighthearted fun, Cat McDaris' beach designs reflect the ocean's quiet, contemplative essence. Armed with a garden variety rake, McDaris can often be seen shaping bold, large-scale mandalas along the ebbing tide. If you're lucky enough to catch one, you'll appreciate how the ephemeral, zen-like nature of her creations can enhance an early morning stroll or inspiring sunset.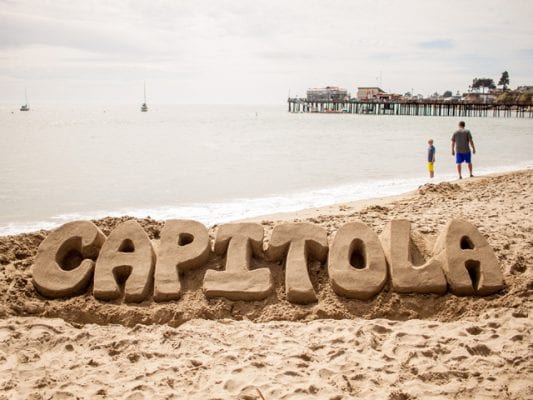 Each September, beachgoers also can marvel at numerous sand art creations sculpted at the Capitola Beach Festival. The second annual fest includes a sand sculpture contest that fills Capitola Beach with creative sculptures and displays. Think you've got the right stuff—and shovels—to craft your own creation? The public is encouraged to participate.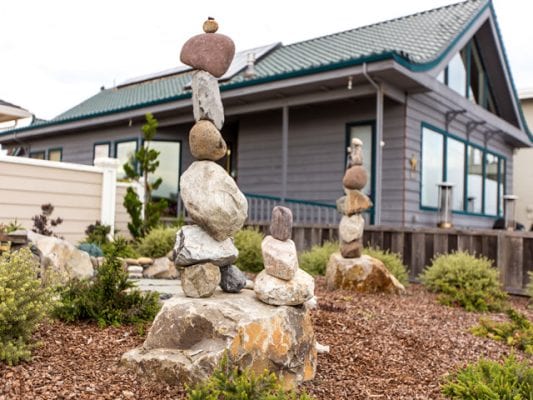 Rock of Ages
It's not just sand art that's filling photo streams. Images of rock art are stacking up, too. On social media, #rockstacking displays over 60,000 images of gravity-defying creations. Yet, it's hardly a new trend. Stone stacking is a prehistoric tradition that spans cultures who used earthen piles to mark burial sites, serve as shrines, and aid navigation. Today, you'll see still spy rock stacks—often referred to as cairns—used as direction markers along trails. Yet, the stacks that often attract the most attention are those skillfully constructed for aesthetic purposes. Each spring in Llano, Texas, master stackers from around the globe gather to compete in the rock stacking world championship.
Back in Santa Cruz, you're likely to spy inspiring examples at locales such as West Cliff Drive. The seaside promenade is dotted with balanced rock stacks that coax pedestrians to pause and admire. Keep an eye out for these earthen artworks around Mitchell's Cove, a scenic, pup-friendly beach. While many rock stacks serve as markers on unclear trail crossings, you'll often see sculptural creations adding to the visual spectacle of natural features such as redwood groves and waterfalls. Watch for examples en route to Berry Creek Falls in Big Basin Redwoods State Park.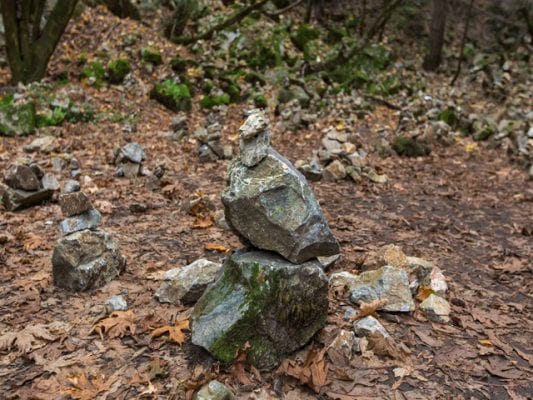 The most impressive rock display lies hidden in the Pogonip, a hillside open space preserve located alongside UC Santa Cruz. Situated behind historic, overgrown kilns found on the namesake Lime Kiln Trail, you'll discover hundreds of wondrous stacks tucked into a moss-shrouded quarry. Meander carefully through the stacks, and you'll notice personal notes tucked in between rocks by previous visitors. Bring a pad of paper and pen, and leave your own dedication!
Looking for more local art to rock your world? Check out our site to discover the many inspiring artists in Santa Cruz County.