Did you know that the Santa Cruz area is home to one of the oldest wine growing regions in California? The Santa Cruz Mountain appellation-lauded for its high elevation, ocean influence, and varied microclimates-enjoys more than 200 vineyards, 75 wineries, and, maybe most importantly, zero hassle. Here, it's the scenery that will take your breath away, not the crowds or tasting fees. Santa Cruz wineries are small, intimate and family-run, and, oftentimes, your glass will be filled by the winemaker or owner themselves. From urban tasting rooms to spectacular country settings, the following wineries should be on your radar and on your next Santa Cruz County itinerary.
Before you visit the wineries or tasting rooms, please call in advance for reservations, current operating status (i.e.: outdoor tastings only or special hours), and for any safety protocols being implemented. #LetsCruzSafely
CORRALITOS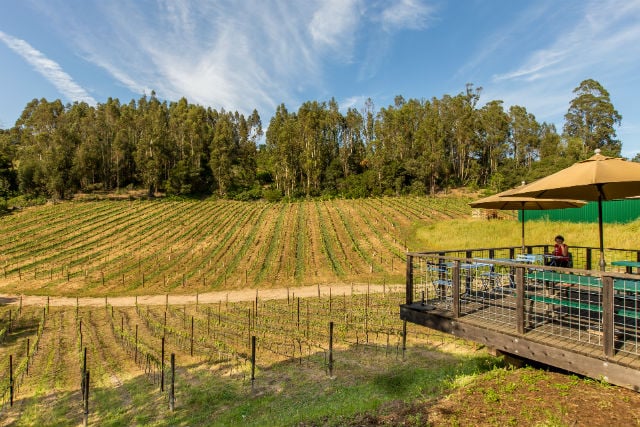 Alfaro Family Vineyards + Winery
Tucked into the rolling, vineyard-covered hills of Corralitos, this stunning property delivers that quintessential wine country experience. You'll sip award-winning Pinots, Chardonnays, and other varietals while being surrounded by gorgeous vistas. Grab a seat on one of their outdoor patios and welcoming staff will guide you through a tasting as you relax. Gather up some friends, load up on the cheese and crackers, and enjoy the perfect day in the vineyards!
Nicholson Vineyards
Another bucolic stop along the Corralitos Wine Trail, Nicholson Winery is situated in the peaceful, former apple-growing region of Pleasant Valley. Acres of Chardonnay and Pinot Noir vineyards and Tuscan olive groves hint at the deliciousness awaiting you inside the tasting room. Available to sample are not just Nicholson's elegant, estate wines but also their smooth, extra virgin olive oil that's made with hand-picked fruit from the Tuscan olive trees outside.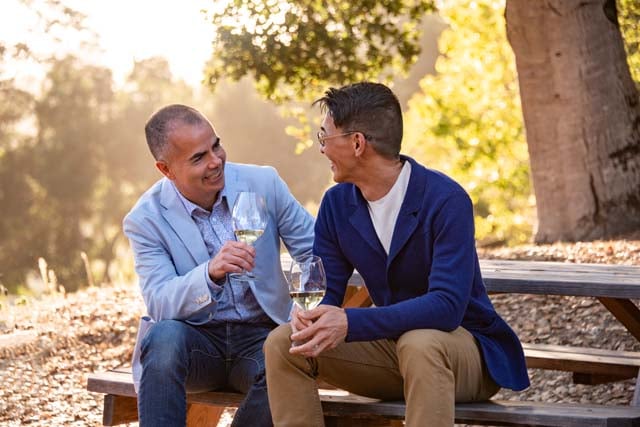 Storrs Winery & Vineyards
Storrs Winery has been a beloved fixture of the Santa Cruz wine scene since it was founded by U.C. Davis grads Stephen Storrs and Pamela Bianchini-Storrs in 1988. Until recently, their cozy tasting room in the Sash Mill complex was the only spot to sample their collection of handcrafted wines. Now, visitors are welcome to a striking new tasting room on the couple's sprawling estate in Pleasant Valley. Set amidst rolling hills, the serene property features a modern, 6,800-square-foot concrete "barn" with tasting room and sunny outdoor terrace bounded by vineyards and a forest of swaying eucalyptus.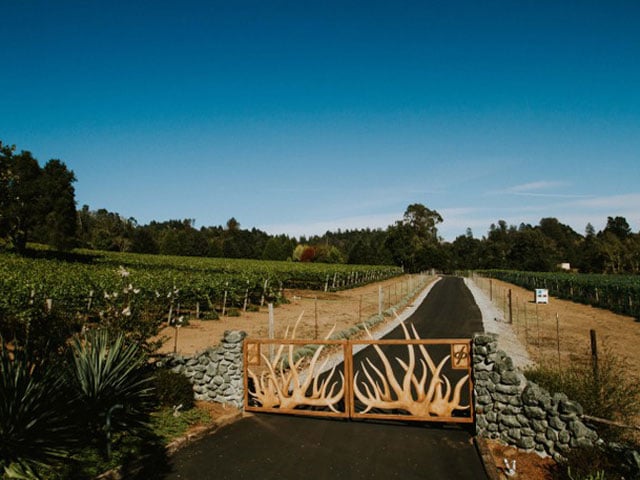 Lester Estate Wines
Nestled amongst the valley's rolling hills, Lester Estate Wines is another award-winning vineyard on the Corralitos Wine Trail. Each of the wines are an individual expression of both the land and the winemaker who made them. Due to an extremely limited production, the wines are available exclusively via their Wine Club and tasting room.
SOQUEL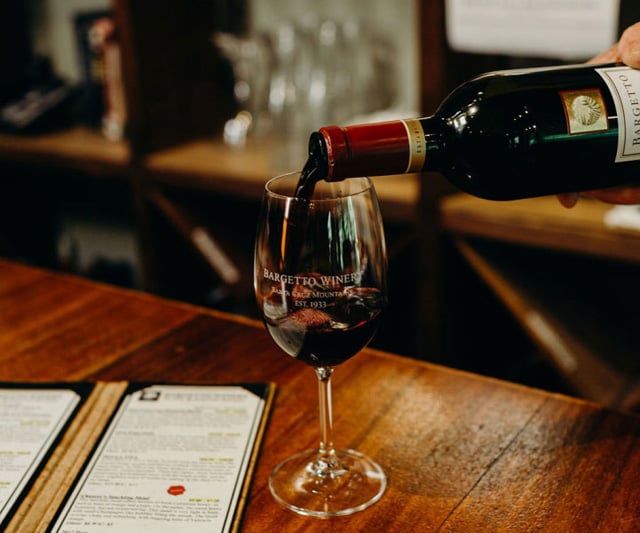 Bargetto Winery
History and scenery abound at this historic winery perched directly above lush Soquel Creek. Established in 1933, Bargetto is the oldest winery in Santa Cruz County, and is still operated by the same family. Belly up to their beautiful wood bar, compare differing vintages and vineyards of Pinot Noir, and enjoy dramatic river views through floor to ceiling windows. Or take your glass out to an airy light-strung patio that is an in-demand spot for wedding parties. Don't miss their popular mead that's made from 100% natural honey.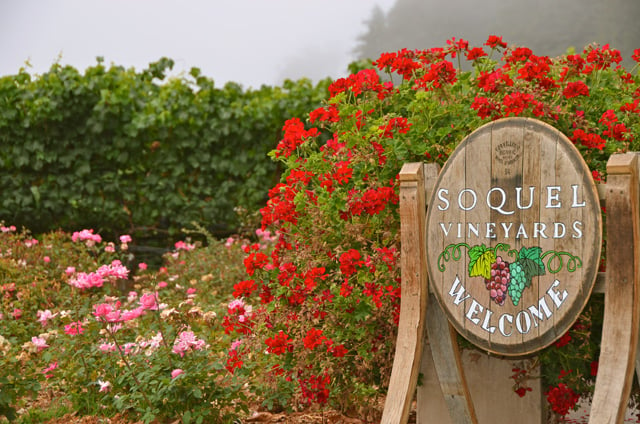 Soquel Vineyards
Soquel Vineyards was established in 1987 when twin brothers Peter and Paul Bargetto, and their childhood friend Jon Morgan decided to develop their own label and ended up producing some of the best wines in the Santa Cruz Mountains Appellation. The three acre hillside vineyard is full of interesting touches (like the winery doors made from an old 12,000-gallon redwood tank salvaged from the original Bargetto Winery) and boasts some amazing Monterey Bay views. Couple this beautiful estate vineyard with their award winning wines and its sure to be a forever favorite.
Wargin Wines
Wargin Wines is a boutique family winery that prides itself on bringing Italian wine life to the Central Coast, specializing in Italian varietals, Petite Sirahs and specialty grapes. Their Soquel tasting room is surrounded by antique shops in the quaint Soquel Village.
NORTH COUNTY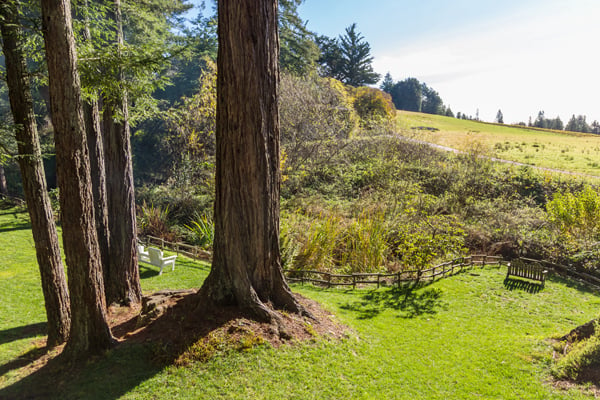 Beauregard Vineyards
Housed in a historic cabin-like structure that once served as a popular general store and bar, Beauregard's cozy tasting room on Ben Lomond Mountain feels like a vacation in the woods. The fourth generation family winery excels at Cabs, Zin, Pinots, and Chards in a setting that will make you swoon. The wood-fireplace warmed interior oozes mountain charm while an adjacent lawn is dotted with redwoods and lawn furniture and enlivened by a rippling, year-round creek.
WESTSIDE
Silver Mountain Vineyard
Silver Mountain Vineyard has been crafting fine wines in the Santa Cruz Mountains since 1979 and has a distinct passion for organic and sustainable practices. Enjoy boutique, urban wine tasting on the Westside of Santa Cruz, or experience the impressive redwood vistas from their summit vineyard high in the Santa Cruz Mountains. These handcrafted and organically grown wines carry a quality, complexity, purity and richness of flavor that is sure to please the palate.
MJA Vineyards
Follow the sounds of Hawaiian tunes and a happy crowd to this lively tasting room where the aloha flows as freely as the wine. Bon vivant Marin John Artukovich, the MJA of MJA, farmed coffee on the Big Island before the allure of winemaking brought him to California. With yummy Cabs, extended evening hours, and a convivial atmosphere, MJA has fostered a family-like feel among its patrons (small plaques that bear the names of regulars line the bar). Grab some grub from one of the nearby restaurants or markets, nab a glass of wine, and cozy up around the lively fire pits out front.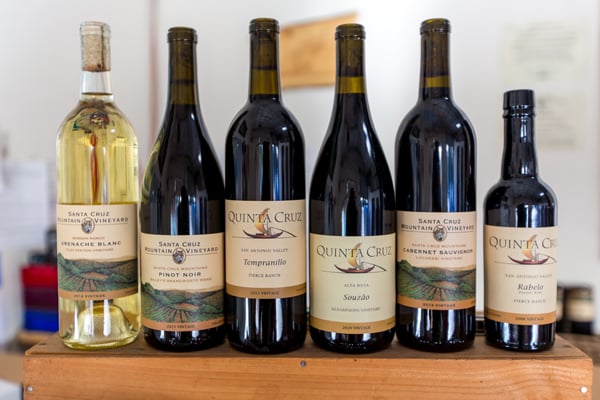 Santa Cruz Mountain Vineyards
Craving the perfect food pairing? Head to Santa Cruz Mountain Vineyards where a foodie staff has been pouring food-friendly wines since 1975. In the European tradition, oak and alcohol have been dialed back to let the characteristics of the varietals shine through. Ever tried a Souzão? Their second line of wines, Quinta Cruz, exclusively features varietals from the Iberian Peninsula, a first for a California label! Just don't leave without inspecting the tasting room bar. Built from hunk of redwood from owner Jeff Emery's Bonny Doon backyard, it's dotted with 400-year-old acorns preserved in the wood.
Sones Cellars
The first thing you'll notice at this fun, easy-going tasting room and winery is a tapped wine barrel marked with a sign that reads "Beware, protected by hedgehog with attitude." Influenced by European markets, Sones invites patrons to purchase a repurposed spring top Belgian beer bottle and fill it again and again with their delicious Hedgehog Red. "It's our pizza blend wine," says owner and winemaker Michael Sones. Want to decide what goes into the blend? Join the wine club, and twice a year, you'll get to vote for your favorite grapes. It's not the only wine they produce-check out the floral white blend, Canción del Mar-but it's definitely the most fun!
DOWNTOWN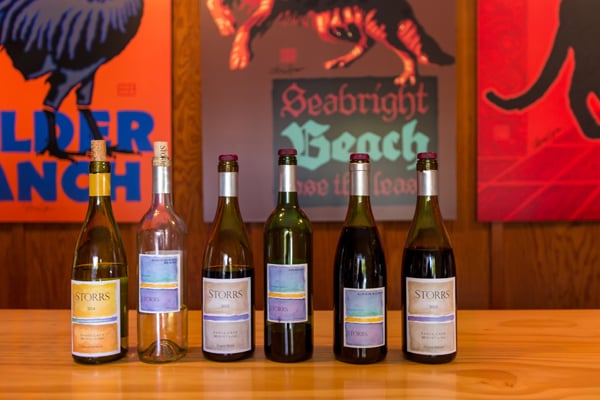 Storrs Winery + Vineyards
Seek out this charming tasting room in the Old Sash Mill for exceptional examples of Santa Cruz's most prevalent varietals: Chardonnay and Pinot Noir. Winemakers Pamela & Steve Storrs opened the winery in 1988 making it one of the region's first urban wineries. Their Santa Cruz Mountain Chardonnay, a crisp refreshing sipper that's not overly buttery or oaky, is a local staple that was awarded Best Chardonnay of Region and a gold medal from the 2016 California State Fair. In addition to their Santa Cruz tasting room, Storrs also welcomes visitors to their organically-farmed estate vineyard and winery in Corralitos which is mentioned above.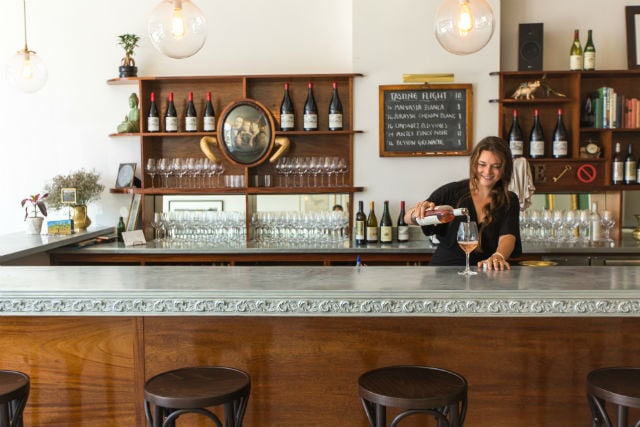 Birichino
Birichino, prounouced, biri-kino, meaning "naughty" in Italian, is a name you won't soon forget. Alex Krause and John Locke founded Birichino in Santa Cruz in 2008. Drawing on a combined four decades making wine in California, France, Italy, and beyond, they are focused on attaining the perfect balance of perfume, poise, and puckishness. Their aim is to make delicious wines that give pleasure, revitalize, and revive and their stylish tasting room in the heart of Downtown Santa Cruz hits all the right notes for some afternoon sips.
SANTA CRUZ MOUNTAINS
Regale Winery & Vineyards
Inspired by Italian landscapes and old-world villas, Regale Winery is an escape to another world. Experience a selection of boutique wines handpicked by their winemaker, as well as some limited-production wines. The Tuscan charm, beautiful fountains, vine-covered arbors, heirloom roses, olive trees, and outdoor fireplaces make this dreamy Santa Cruz Mountain winery a must-see. And they also host weddings and corporate events!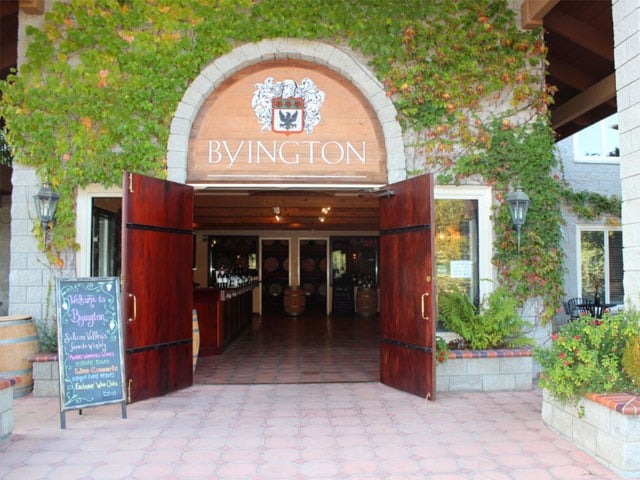 Byington Vineyard + Winery
The scenic, mountainside road that winds up to this destination winery is half the fun. You'll arrive at a handsome mansion surrounded by seven acres of rolling Pinot Noir vineyards and a sweeping view of the entire Monterey Bay. In addition to tasting through numerous Pinots, you can also tour their awesome, underground wine cave. There are also picnic areas, BBQ grills, and bocce ball courts that are available to reserve in advance. Bring the pups, the kids, and some BBQ fixings, and make a day of it!
HONORABLE MENTIONS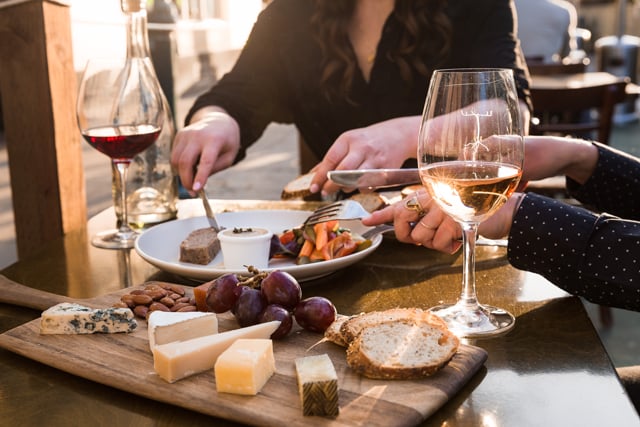 Wine & Dine
Wine lovers won't want to miss a wine and dine experience at Soif Wine Bar & Merchants in Downtown Santa Cruz. Taste, enjoy and leave with a bottle – this unique restaurant has a passion for wine and food pairings. Another favorite is Shadowbrook Restaurant in Capitola. Enjoy the one-of-a-kind atmosphere at the romantic riverside restaurant. In the Aptos area, stop by Cantine for an extensive selection of wine and beer sourced from the area, throughout the west, and across the pond. Their Tapas Menu is a who's-who of best wine and beer pairings – Cheese and Charcuterie Grazing Box, Sweet & Spicy Cauliflower, Oven Roasted Brussels Sprouts, Kelly Bakery Focaccia, and more. For wine events, annual festivals, and more, check the Events page.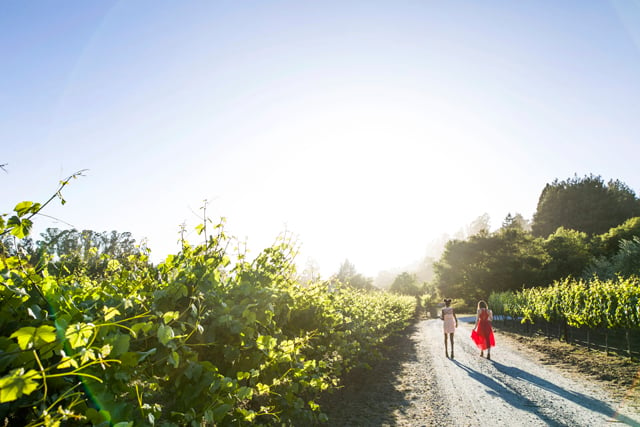 Need another reason to hit the Santa Cruz wine trail? Oftentimes, you won't be able to spot these wines outside of their respective winery. To maintain the quality of both the product and experience, many local wineries limit their wholesale distribution and instead sell directly to their customers via their tasting room and wine club. It's more personal and it helps support a healthy, local, independent winemaking community. Of course, you can find many Santa Cruz wines at local restaurants and wine bars and we encourage you to ask staff about their local selections. Santé!
Update Summer 2021