Sunsets in Santa Cruz are an event. There's a collective pause and everyone gets into position to mark the day's end with a fiery display. Yet, because not all of Santa Cruz faces west toward the setting sun, you'll want to plan accordingly for the best views. Below, are eight favorite spots to catch a spectacular sunset!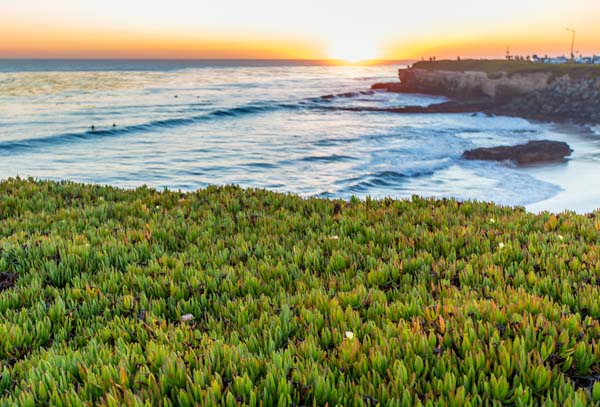 West Cliff Drive is a perfect example of why the California coastline is so special. The dazzling waterfront promenade extends three miles from the Santa Cruz Wharf to Natural Bridges State Beach-another spot on this list-lending front-row views of the glorious Monterey Bay. Come sunset, West Cliff's ice-plant-blanketed bluffs, sandy coves, and craggy marine terraces fill with camera-wielding crowds eager to witness the setting sun bathe the coast in golden light. A fan favorite is Lighthouse Point, overlooking Lighthouse Field State Beach, aka, Its Beach.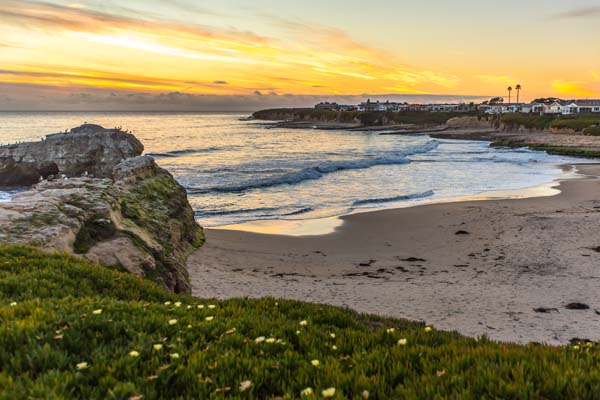 Migrating monarch butterflies, colorful tide pool creatures, and a prominent remnant of the beach's namesake "bridge" are but a few natural wonders found at this beach and seaside parkland. Spectacular sunsets are another. A not-so-closely-guarded secret is a 20-minute, waterfront parking lot that doubles as a vista point with amazing sunset views. Do like the locals: grab a seat atop the roof of your car, wrap yourself in a warm blanket, and watch the sky turn vivid shades of orange and purple over the iconic, pelican-topped arch.
Given the promising name, this south county gem is a no-brainer at sundown. Thanks to a wide sandy expanse backed by Tatooine-worthy dunes (for you Star Wars fans) and scenic hilltop bluffs, you can pick from numerous vantage points to relish big, violet-tinted skies reflected in the sheen of the wave-washed shore. Stay the day or make it an overnighter: the large day-use area is equipped with shaded picnic tables and BBQ grills, while a nearby campground welcomes RVs and tent-bound campers with 85 sites just steps from the beach.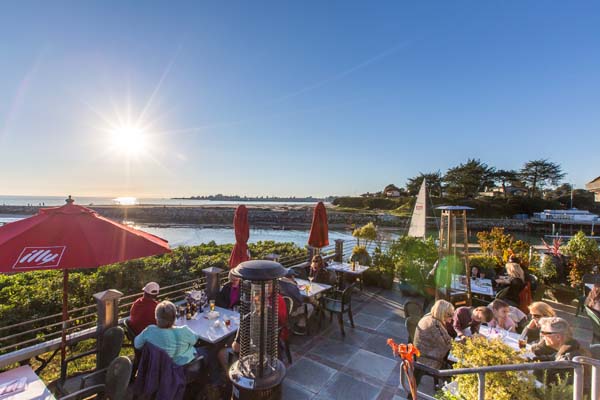 Situated at the mouth of the Santa Cruz Harbor, Harbor Beach offers numerous spots to settle in at sunset. Spread out on a blanket amidst the catamarans parked on the sand, or find a spot along the rocky breakwater as sailboats drift by. Across the channel, race splashing waves to Walton Lighthouse, whose setting at the jetty's end offers an auspicious site for watching the sun sink into the distant horizon. Prefer sunsets paired with service? Then, head to the second-floor patio at the adjacent Crow's Nest for sunset drinks and the same stirring views.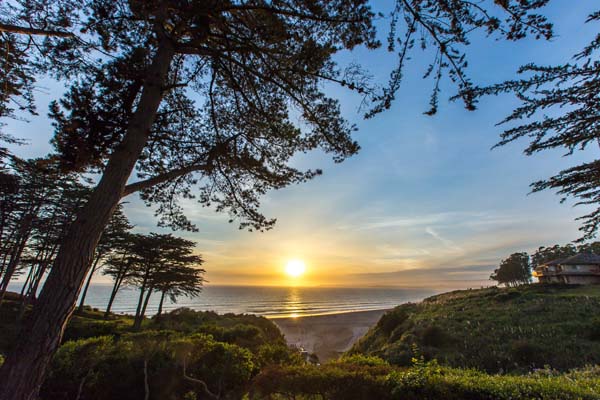 Seascape Beach Resort offers an envious setting overlooking miles of wide sandy beaches. Take a stroll on a scenic path that winds through the property's pond-filled gardens and skirts dramatic coastal bluffs that turn a golden hue at sunset. Overnight guests aren't the only ones treated to this magnificent setting. This bluff-top resort's signature restaurant Sanderlings welcomes the public with an al fresco patio that sports exceptional sunset views framed by silhouetted cypress trees.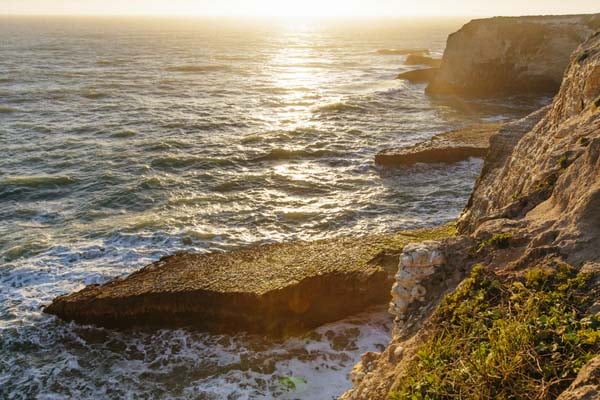 While much of Santa Cruz faces south across the Monterey Bay, the coastal bluffs that parallel Highway One immediately north of town offer dramatic west-facing views of the Pacific Ocean. Translation: the perfect place to be at sunset! Numerous turnouts along the highway offer access to hidden pocket beaches-Shark Fin Cove, Panther Beach, and Bonny Doon to name a few-all strung together by a bluff-top trail that ambles along the long defunct Ocean Shore Railroad tracks. While nothing beats burying your toes in the golden sand of a secluded beach, the bluffs above offer the best vantage point for watching the sun dip into the cool, blue Pacific.
The remnants of a WWI ship lend extra drama to sunsets at this Aptos favorite. The concrete-constructed SS Palo Alto sits at the end of a 500-foot wooden fishing pier, a reminder of a bygone time when the grounded vessel served as a spirited dance hall and eatery for Prohibition-era revelers. In early 2017, the deteriorating ship was tussled by strong winter storms, yet visitors can still marvel at the wave-lapped remains-a popular spot for brandt's cormorants, brown pelicans, and the always-fun-to-say sooty shear-waters-as well as dramatic sunsets from the first half of the pier and high atop adjacent coastal bluffs.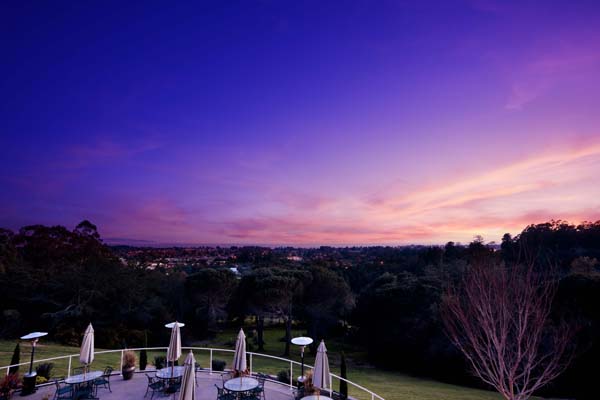 Chaminade Resort + Spa's aptly-named The View is a prime spot to be at sundown. Situated in the foothills of the Santa Cruz Mountains, this easily-accessible property features numerous outdoor terraces with big, sweeping vistas of Santa Cruz and the Monterey Bay. Those same views are illuminated with brilliant shades of purple and orange at sunset. Cozy up around one of the many fire pits and enjoy the evening's brilliant display!
Have a favorite sunset spot not included on this list? Tag your pics with #VisitSantaCruz for a chance to be featured on our Facebook, Instagram and Twitter!
Updated 2022
Photos by Garrick Ramirez & Courtesy of Chaminade Resort + Spa