It's impossible to talk about all the excellent bites around town, but here is a roundup of five restaurants with some of the best bites we've tasted in the county. They are located in Capitola, Downtown Santa Cruz, the Seabright district, and Westside Santa Cruz. What makes a great "bite," anyways? Interesting question…we'd say it's most often an appetizer or shareable small plate, but occasionally a salad or other dish rises to the occasion. Hope you can visit some of these restaurants soon; on to the food and Bon Appetit!
Shadowbrook
Capitola's Shadowbrook Restaurant has been serving happy customers since 1947. Upon arrival, take a nice winding-path walk down to the restaurant, stopping to view waterfalls, or ride the unique tram. It's the ideal environment to celebrate special occasions with the family or with romantic partners and has a large, excellent wine and liqueur list. Coming from nearby? Reserve free shuttle service via the restaurant's old-fashioned taxicab and arrive in style. There are seven dining rooms on different levels, including one that feels like a greenhouse. The Rock Room bar/lounge features walk-in service (no reservations accepted) and its own menu with dishes like wood-fired pizza. There are three outdoor decks/patios. Shadowbrook has so many tempting first courses, it's hard to choose. A must is the Bacon-wrapped Prawns; the combination of tender, grilled seafood with smokey meat and dipping sauces is hard to beat. The Baked Brie, encased in flaky pastry and accompanied by jalapeno jelly, is another satisfying dish. The lovely Creamy Artichoke soup includes chicken stock and leeks. Don't fill up too much, because Shadowbrook's entrees and desserts are also delectable.
Gabriella Café
Since 1992, Gabriella Café has been providing downtown Santa Cruz diners with tasty dishes that showcase seasonal produce from places like Davenport's Rodoni Farms and Watsonville's Live Earth Farm. The intimate setting is a great date spot. Portions are generous, and there are many shareable items. Crispy Cauliflower, a garlicky dish close to my heart, is almost always on the menu. Seasoned with ingredients like chili oil and pine nuts, it's a magnificent blend of texture and flavor. Pan Amore is a customer favorite that's always available. The selection features housemade focaccia bread with goat cheese and roasted garlic plus other rotating components like spinach pesto or duck pate or Romesco sauce made from sweet peppers. The Brussels sprouts, a house specialty, are also a first-rate bite. They are made with a sweet apple gastrique and toasted nuts—on different occasions, they used macadamia and hazelnuts and both worked well. Sometimes Gabriella has a roasted beet salad with arugula and cheese on the menu; don't miss this if you see it. Entrees include fabulous meat, seafood, and pasta. There are rotating extraordinary housemade desserts; past selections have included Strawberry Hazelnut Bread Pudding and Chocolate Tres Leches Cake with chocolate pomegranate bark.
Soif Wine Bar & Merchants
As its full name suggests, Soif is heavily focused on high-quality wine. But the popular restaurant—located in bustling downtown Santa Cruz—also serves top-notch bites and an array of cocktails. Some customers visit regularly for the signature burger or fried chicken. Others enjoy ordering small plates and larger appetizers, a fun way to sample lots of tantalizing offerings such as the Cheese Board and Charcuterie Board, which have been on the menu in various incarnations since 2002. The Cheese Board usually features a variety of cheese (sometimes domestic, sometimes international) plus bread, nuts, seasonal fruit, and quince paste. The Charcuterie Board has rotating savory items made on-site such as Liberty Duck or Llano Secco pork rilletes and other preserved meats and housemade pickles. You can complement these dishes with the restaurant's incredible wine choices which feature French, Italian and California vintages, and buy bottles to take home from the retail wine shop attached to the dining room. Prefer cocktails? Soif's drinks include housemade bitters and infused spirits.
La Posta
La Posta Restaurant has been serving fresh housemade pasta, pizza and Italian/Mediterranean-influenced dishes utilizing farmers market ingredients since 2006. It's a down-to-earth Seabright neighborhood spot with food worth raving about. The Blue Heron Farms salad, a menu mainstay, features nutty Parmigiano Reggiano shaved directly on top of each salad before it's served. Fresh local lettuce from Corralitos-based Blue Heron Farms is the star. Blue Heron has a special micro-climate which creates fantastic lettuces and other produce. Staff make the salad's sherry-shallot vinaigrette by hand with a whisk every day. Ingredients include robust Spanish sherry vinegar, Belle Farms olive oil, and shallots from the local farmers' market. Don't miss La Posta's levain bread, which comes in white (sourdough) and brown (walnut/rosemary) varieties. Each bite is wonderful, dense, and savory. It's so popular among customers that you can purchase take-home loaves.
Avanti Restaurant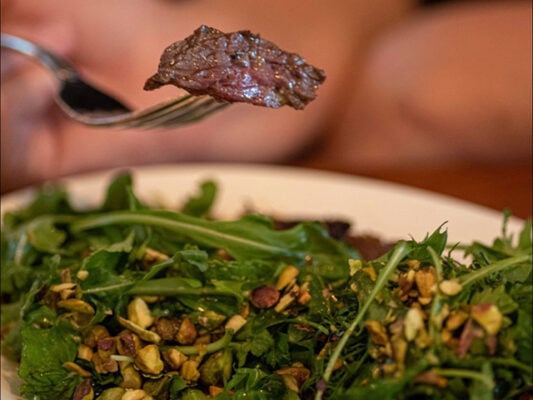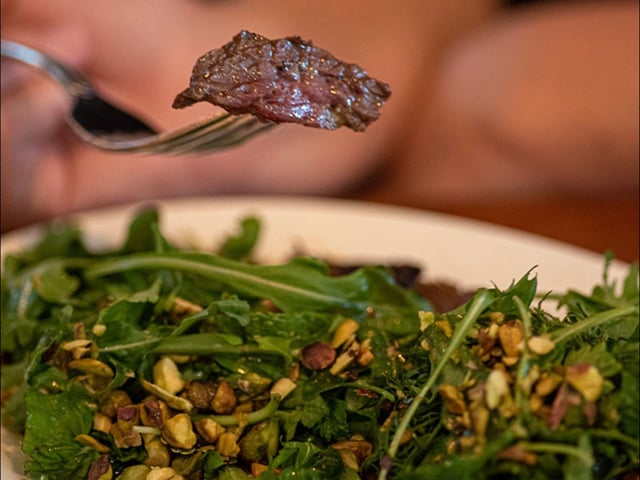 Avanti Restaurant offers farm to table California cuisine in a laid back yet sophisticated environment. There is an abundant high-quality wine selection plus local craft beer and cocktails. A delightful enclosed garden room is at the front of the Westside Santa Cruz restaurant; there is also a spacious outdoor patio. First courses shine, like Roasted Cauliflower, an interesting combination with dates, pickled onions and greens. Ingredients provide an enjoyable sweet and sour contrast. Pistachio Steak is another scrumptious small plate with grilled hanger steak (organic and grass-fed, like all the beef utilized at Avanti), lots of pistachios, black garlic vinaigrette, and fresh local greens; the tangy and filling salad is perfect to share. Also recommended is Melted Cheese with roasted peppers and leeks, accompanied by mini grilled homemade sourdough toasts. Warning: the bubbling, decadent concoction made from sheep cheese is addictive. Make sure you share this rich dish so you can still order entrees like fresh, made-in-house pasta or local seafood and housemade desserts featuring organic ingredients.