The wineries of the Santa Cruz Mountain Appellations feature lush, landscaped grounds, vineyards, heritage tasting rooms, and stylish patios where smaller groups can opt for corporate retreats and offsite events. Whether you want your corporate retreat to be held outdoors with a view of the Monterey Bay framed by vineyards, or inside a California-rustic tasting room with a relaxing but upscale west-coast vibe, there is a winery in Santa Cruz County that will offer the perfect setting for your needs.

Here are seven wineries corporate meeting planners should know about:
The Bargetto family's heritage of winemaking in Santa Cruz County precedes Prohibition. The third generation of Bargettos now operates the winery, which is the oldest continuously operating winery in the Santa Cruz Mountains.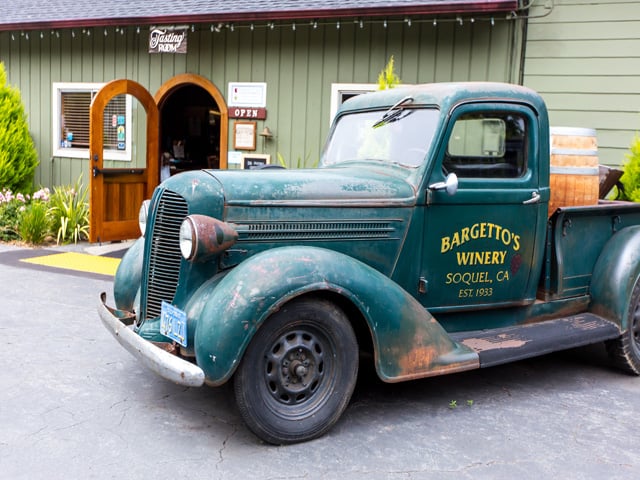 The Bargetto Family's rich history started in the Piedmont region of Italy and migrated to the San Francisco Bay Area. Switching from winemaking to farming fruits and vegetables when Prohibition began, brothers, Filippo and Giovanni Bargetto's 1927 harvest of Zinfandel and Charbono grapes was "irresistibly good" and the family returned to producing wine.
Today, the winery specializes in estate grown varietals from the Regan Estate Vineyard in the Santa Cruz Mountains including Pinot Noir, Merlot, Pinot Grigio, Chardonnay, and several Italian varietals. The La Vita blend combines Dolcetto, Nebbiolo, and Refosco – northern Italian red varietals grown locally – resulting in a "complex wine of elegance and structure."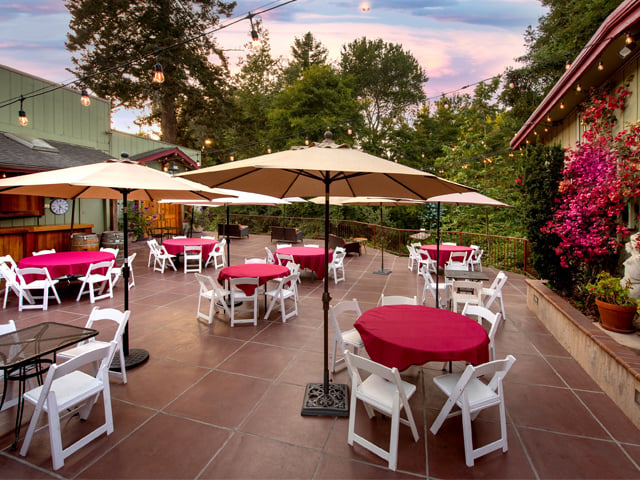 Open daily for tasting from Noon to 5PM, Bargetto Winery not only hosts leisure groups but is a perfect setting for corporate meetings and small groups too. Its creekside location offers a peaceful setting where meeting attendees can unwind following a long day of work and teambuilding activities. Options include the courtyard patio which can accommodate 125 guests or the La Vita room which can accommodate 35 attendees.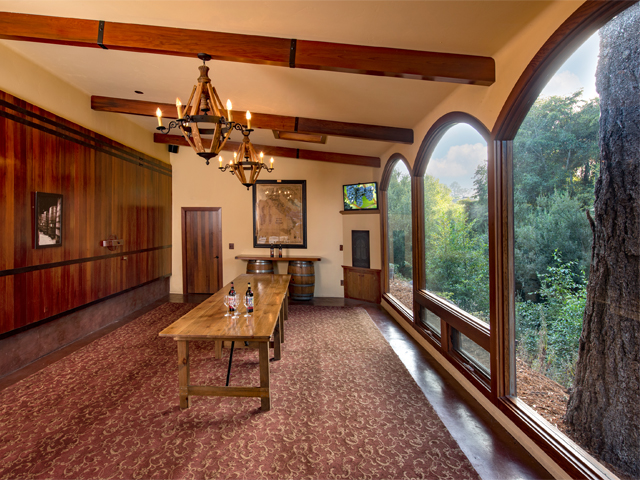 A tasting room housed inside a completely renovated clapboard house on the north coast of Santa Cruz County pays homage to the town of Davenport's history when lumber was loaded from the wharf onto small ships headed to San Francisco. The modern décor illustrates how far this former whaling town has come since its diminutive post office began operations in 1874.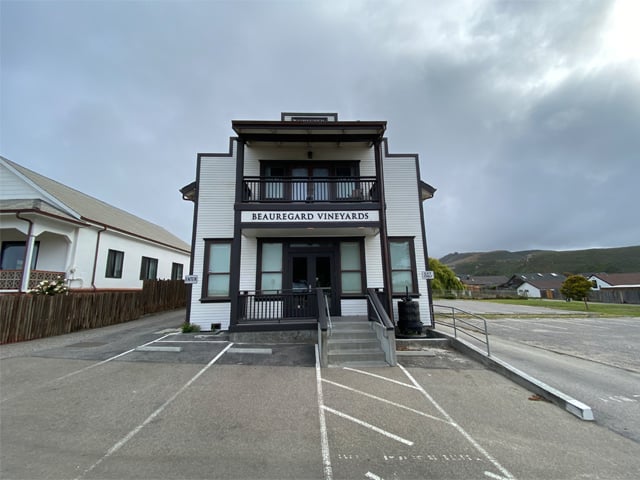 Beauregard's Slow Coast Wine Bar is located just across California's iconic Highway 1 from the ocean and offers magnificent views and lots of options for corporate groups for up to 60 guests. Teambuilding activities can take the form of In-Depth Wine Tasting, Wine and Cheese 101, and a Wine and Oyster Experience. Dinner or lunch is also available.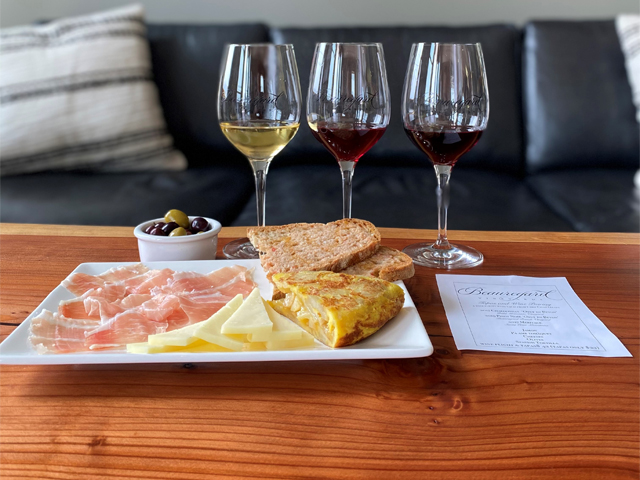 Although not technically a winery, Cantine Wine Pub in Aptos Village has earned a reputation in mid-county as a gathering spot for meetings and retreats. A small sunny deck with an outdoor gas firepit, blankets, and a view overlooking Aptos Creek is an option for an outdoor gathering. Inside, Cantine can accommodate corporate groups and events with full-seated capacity at 65. For socials and mingling, receptions can comfortably accommodate 125 guests.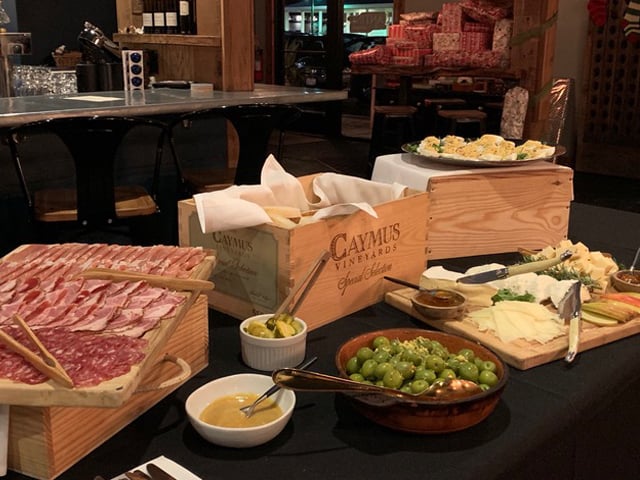 Silver Mountain Vineyard offers two options for corporate groups: a picturesque location in the Santa Cruz Mountains and a tasting room on Santa Cruz's westside in the Swift Street Courtyard, which features a more urban feel.
The Santa Cruz Mountains location boasts an amphitheater with beautiful flower gardens, and a deck overlooking redwood forests – perfect for watching the sunset.
The tasting room in town is surrounded by boutiques and eateries in a bustling square beloved by locals. The Swift Street Courtyard – once a processing facility for vegetables grown on the north coast – has been transformed into a spirited spot with nearby coffee shops, tasting rooms, and a colorful parade of locals and families.
An idyllic region in South County, the Corralitos Wine Trail features family-owned wineries, surrounded by redwood trees and apple orchards. This bucolic area of the county – on the inland side of Highway 1 – is located on the southern, coastal end of the Santa Cruz Mountain Appellation and provides a quiet, rural experience for meeting attendees.
Here are three wine trail spots to try:
On a sprawling vineyard in bucolic Corralitos, Lester Estate Wines offers private wine tastings for groups up to 50 in a rustic-yet-luxurious tasting barn. Other than Saturdays when public tastings are hosted, the Tasting Barn can be booked for corporate events and can be customized to meet the groups' needs. The tasting barn can accommodate up to 100 guests for standing cocktail events.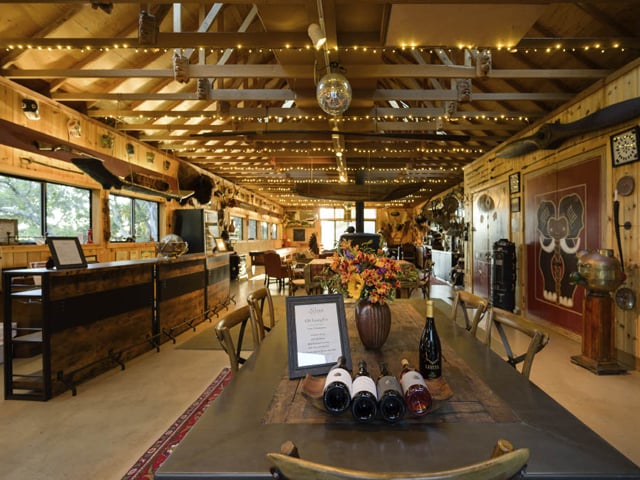 For a more intimate experience, an exclusive wine cellar room can accommodate private groups up to eight people.
Outdoors, partially-shaded patios offer another way to experience the winery with amazing views of the countryside. Dinners can be hosted for upwards of 120 people.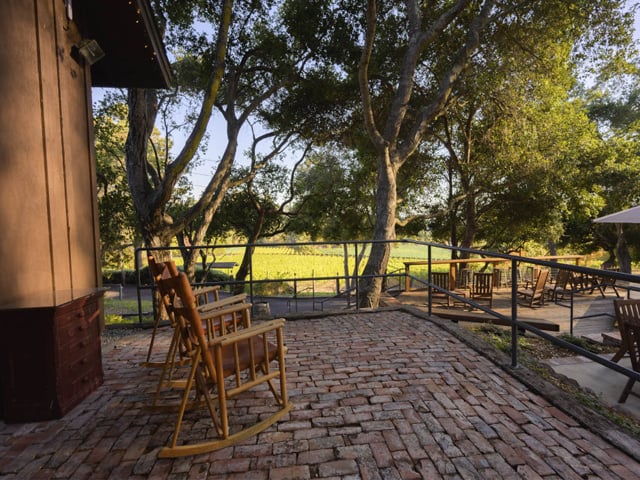 Team building opportunities and after-business ways to unwind include vineyard and ranch "hikes," lawn games, tasting on the vineyard lawn, or corporate picnic events.
Family-owned Nicholson Vineyards is the perfect location for small groups. A California-contemporary new tasting area surrounded on three sides by large windows sits adjacent to the main tasting room, providing an intimate space for an off-site meeting or flavorful repast.
Up to 24 guests can use the Garden Room with seating for 12 at the table and up to 20 with side seating. The room is available for semi-private tastings, weekend lunches, or exclusive use on weekdays for small corporate groups and business meetings. Wifi is optional, so for groups that want to have a more intimate gathering without the distractions of a more formal conference setting, Nicholson is your spot.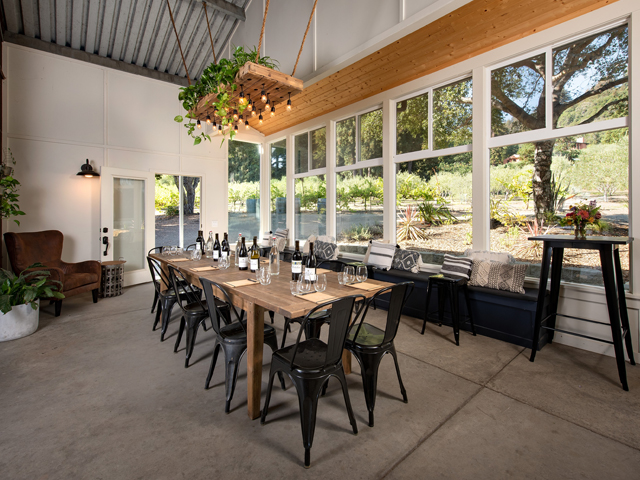 The outdoor patio can accommodate 12 tables and up to 48 guests comfortably. Adjacent to the vineyards, this sunny setting has the option to enjoy shade under awnings and umbrellas.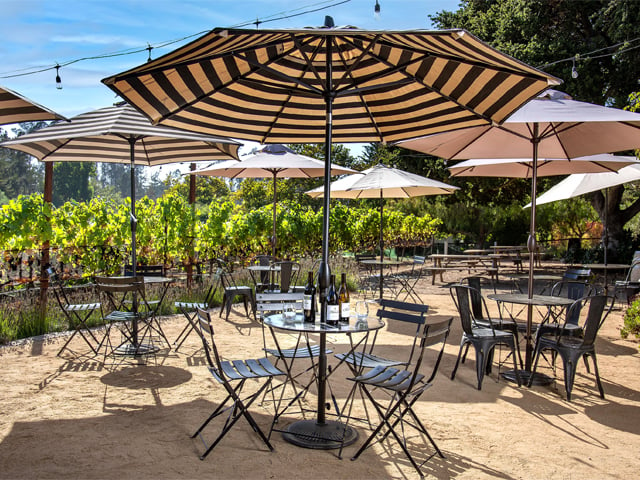 The Oak Grove is the third spot conference and meeting attendees can gather for tastings and wine-related events. Outdoor tables under heritage oak trees flanked on either side by vineyards and olive trees is a picturesque area for up to 80 guests.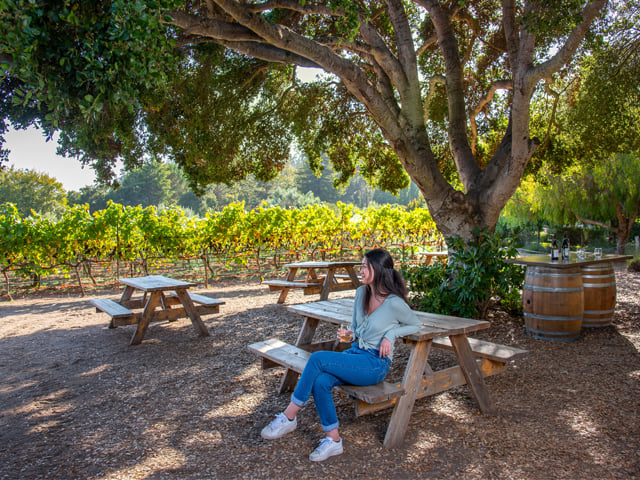 The Nicholson Family are 11th generation Californians, with Spanish and Italian ancestry. Farming is intrinsic to their family roots. Following the Spanish settlement of the Monterey Bay region, Mexico began granting land in California in 1822. The site of Nicholson Winery is comprised of the borders of two grants; Ranchos Los Corralitos and Soquel Augmentation. Each piece of land was family-run and developed with an emphasis on ranching, including cattle pastureland, farming, timber management, and areas of natural brush. By the late 1800s, the ranchos were consolidated and an emphasis on farming began. By 1909, the Pajaro Valley was producing and shipping more apples than any other region in the world. Nicholson's present-day vineyards are planted where apples grew for close to 100 years.
First planted in 1995, the estate vineyards are visible from the main tasting room and are constantly evolving to produce Chardonnay and Pinot Noir, as well as other varietals such as Viognier, Syrah, Petite Sirah, and Zinfandel. Nicholson Vineyards produces 1,500 to 2,000 cases annually, concentrating on small lot production using estate-grown fruit and other special vineyards primarily from the Central Coast.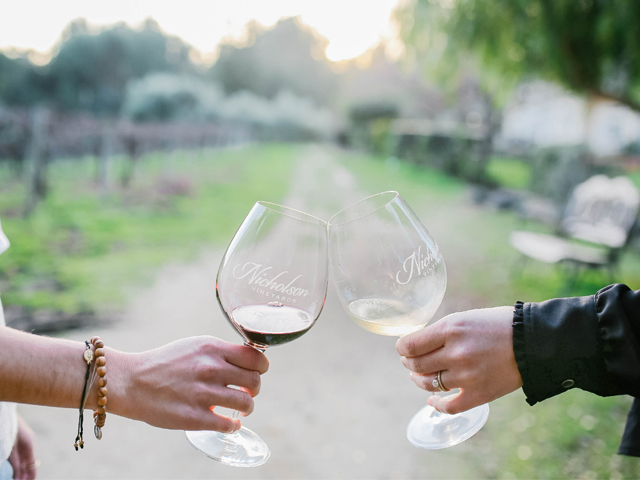 With biodynamic and organic farming at the forefront, Storrs Winery & Vineyards can host small corporate groups on weekdays and weekend evenings. Wine tasting on an overlook with views of Hidden Springs Estate Vineyard is one favorite spot for guests. Relax on redwood picnic tables and learn about the sustainable practices Pam and Steve Storrs have adopted.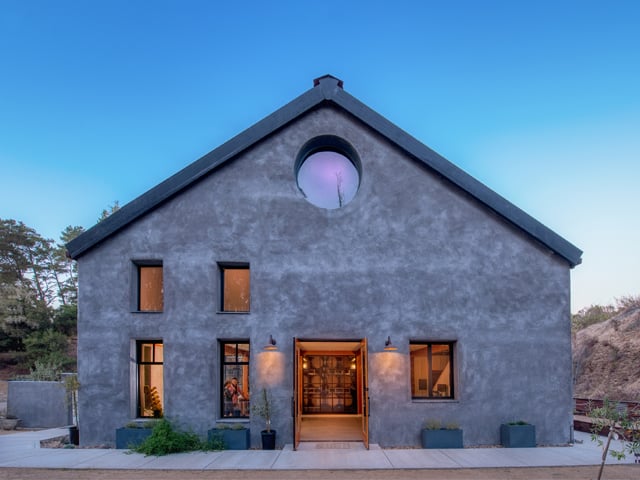 Working with the Natural Resource Conservation Service, the ground was graded to slow run-off from rainfall and mitigate erosion. A UC Santa Cruz research-based groundwater recharge pond allows the winery to capture rain to send to a nearby aquifer. A portion of the land is fenced to protect growing vines from deer and other local animals which are still able to migrate along the edges. Beneficial insects and pollinators are attracted by the hedgerows, native grass filter strips, and wildflowers, while the soil is prevented from entering the adjacent riparian corridor to support the salmon that spawn in the watershed. Mounted barn owl boxes and raptor perches overlook the vineyard to reduce the population of gophers and ground squirrels that plague other vineyards, and bluebird and bat boxes attract birds that feed on leafhoppers and coddling moths.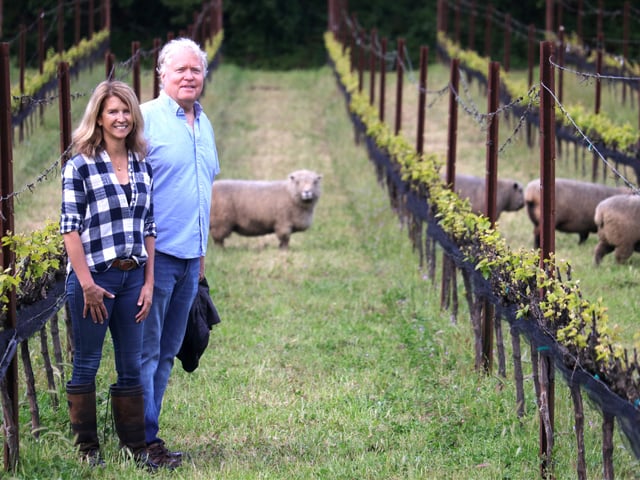 A small flock of babydoll Southdown sheep control weeds in the vineyard. An added benefit of these sweet ewes is the enhanced biodiversity of the soil in the form of helpful bacteria and mycorrhizae from the microflora in the ruminant gut of the animals helps enhance the flavor profile of the resulting wines. More complexity and greater minerality, add to the taste. Look for wool comforters for sale in the winery's tasting room and you won't have to look far for their source.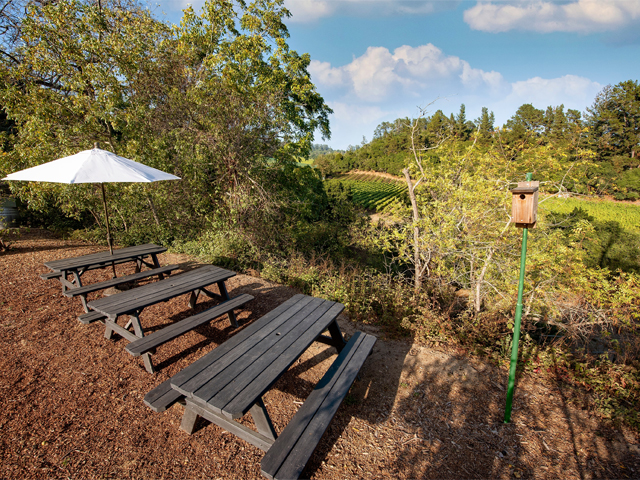 A customized experience for small corporate groups can include vineyard tours with talks about biodynamic and organic farming, winery tours, and exclusive wine tastings. A bocci court adjacent to the indoor tasting room offers another form of teambuilding. Groups of up to 48 guests are welcome.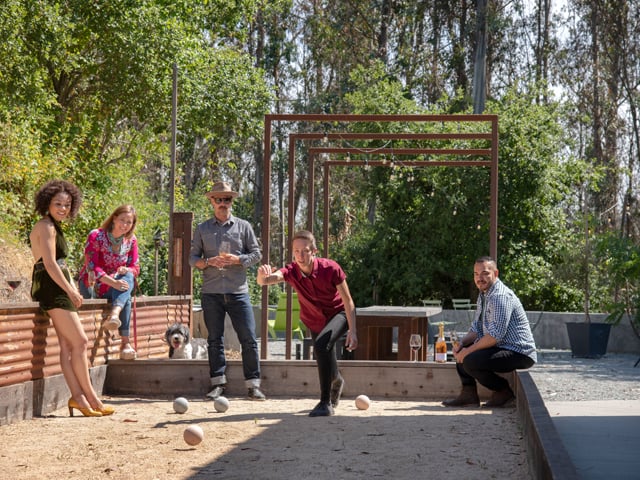 The team at Visit Santa Cruz County looks forward to welcoming you back! Until then, be sure to follow Meet in Santa Cruz on LinkedIn for the latest news and information!