Adventure Retreats for Corporate Outdoor Lovers
Summer is here, and what better inspiration than summer camp to plan for a corporate meeting or retreat in the great outdoors. A majestic forest not only serves as a quiet, introspective setting, it also provides exhilarating teambuilding opportunities. Opt outside and choose a forested setting nestled amongst coastal redwoods for your next gathering.
Here are a few options to choose from:
Kennolyn Camp offers two very distinct settings for corporate groups. Aside from its relaxing, peaceful environment nestled amongst 450 acres, Kennolyn features facilities and activities for all types of team building.
Let's take a deeper dive into what this unique place can offer:
Fashioned after a quaint old Western town with polished amenities built into a redwood forest, Stone Creek Village at Kennolyn is an exclusive retreat for your corporate group or meeting because the property only hosts one group at a time. Customizable menus, décor, and teambuilding activities add to the personal touches that can be created for each and every group. Get creative with only-at Stone Creek activities like a group campfire under the stars, a volleyball tournament, a pool party, classic field day games, team building on a high ropes course, a night hike in the redwoods, or an archery competition. Overnight retreats at Stone Creek Village are available for between 20 and 65 guests. In addition to corporate and teambuilding retreats, destination weddings, family reunions, personal growth retreats, or other types of getaways can be planned.
An elegant, Spanish-style estate, the Hilltop Hacienda at Kennolyn boasts panoramic views of the mountains and the Monterey Bay. Expansive outdoor sites and timeless indoor spaces can accommodate over 100 guests comfortably. Complementing the Spanish architecture are fountains, courtyards, an expansive lawn, terraces that overlook the ocean, lush gardens, and a pristine redwood forest.
Corporate groups can also add camp activities for a fee. Options include a ropes course, camp team games, arts and crafts, hiking, tennis, basketball, ping pong, and more.
For an exhilarating post-meeting experience, Mount Hermon Adventures can take attendees for a close-up tour of heritage trees in a coastal redwood forest. This unique activity is specific to the Santa Cruz Mountains, and safely zipping through a forested paradise is their specialty! Breathe in the fresh air of a wooded habitat, and marvel in the quiet solitude of the forest – until the breathtaking adventure begins!
This two-hour experience, narrated by a tour guide providing ecological information about the forests of the Santa Cruz Mountains, includes full gear, a safety course, six zip lines, and two suspension bridges hung serenely above a babbling creek amongst towering redwoods. Zip your way from canopy to canopy on this eco-friendly course and enjoy tree line views before safely returning to the forest floor. Photos are encouraged!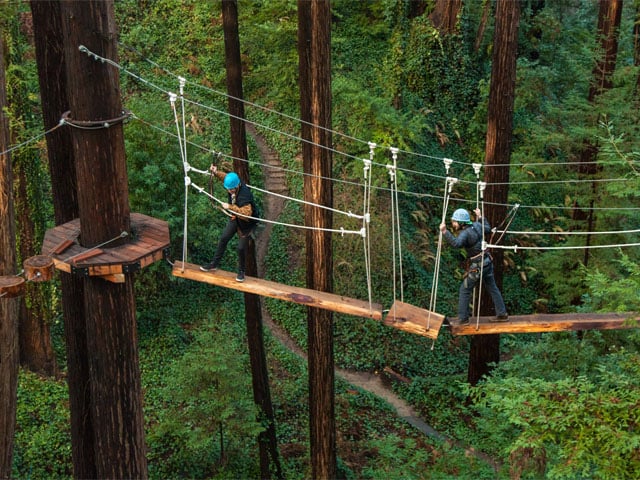 For adrenalin-seeking meeting participants, a progressively challenging course features rope and timber obstacles suspended between the redwood trees high above the forest floor. Guests can test their mettle – and their fitness level – with two zip lines and 40 elements up to 80 feet in the air during this two-hour excursion.
Corporate groups can also add camp activities for a fee. Options include a ropes course, camp team games, arts and crafts, hiking, tennis, basketball, ping pong, and more.
On a private hilltop covering 300 acres, the Chaminade Resort & Spa enjoys unparalleled views of the Monterey Bay and mountains. Over three miles of trails take hikers through lush private redwoods and a eucalyptus forest. Corporate groups can recharge with a fresh-air hike, or early-bird overnight meeting attendees can opt for a trail run at dawn.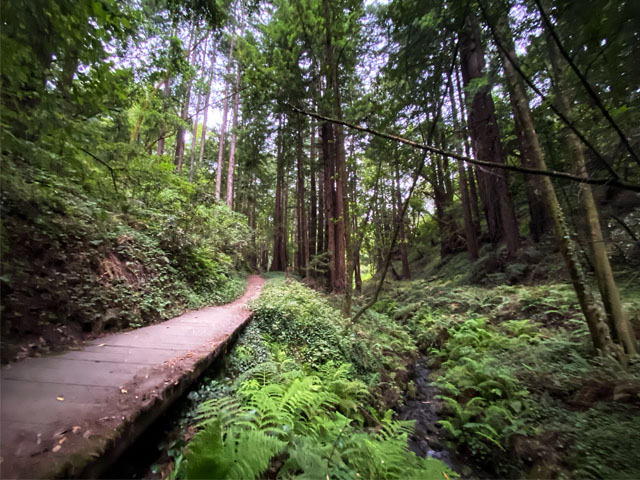 Included onsite is a ropes course which can stretch and strengthen everyday abilities and challenge team members to work together, and foster a sense of trust, responsibility, and learning.
Other onsite options for corporate meeting attendees include corporate cooking lessons, wine, and craft chocolate tastings, scavenger hunts, s'mores under the start, and more.
The team at Visit Santa Cruz County looks forward to welcoming corporate meetings and retreats in 2022! Be sure to follow Meet in Santa Cruz on LinkedIn for the latest news and information.