Santa Cruz County has the perfect recipe for fun and tasty picnics: a spectrum of fabulous restaurants that do great takeout food and countless spots with unbeatable scenery. Here are a few matchups to explore.
Davenport Picnic with Pier View
Whale City Bakery on the coast has lots of high-quality to-go options. Since you won't have to wait long before enjoying your picnic, you might order something warm like crab cakes, a Pigeon Point Pesto Burger or a Reuben with beer-battered onion rings. Sandwiches come on delectable homemade bakery bread. The fried appetizers like artichoke hearts and calamari are very popular; what is it about fried food and feeling the wind in your face as you look out at the ocean, that go so well together? Other choices include an outstanding goat cheese and beet salad, and of course you need to grab some legendary croissants (savory and sweet), muffins and other goodies like a house specialty cinnamon twist or bear claw. As its name might suggest, the business was originally a "bakery only" (expanding to a full restaurant in the 1990s) and tantalizing baked goods are one of the specialties. There are flavorful, strong espresso drinks as well.
If you walk across the street you will have a very scenic place to eat your food. Be careful as you cross the highway as some people speed as they are driving up or down the coast. As you hang out at the cliffs, savor the views of the old Davenport Pier and the ocean. We highly recommend this for a sunset picnic. By the way: don't expect to see an actual pier; what remains from the original pier built in 1934 are large cement pillars that are partly underwater. The sparkling ocean and the striking remnants combine to create an interesting aesthetic that's popular with photographers.
Affordable Asian Fusion with Harbor Backdrop
Charlie Hong Kong has a bounty of choices for delicious, affordable takeout lunch. Carolyn and Rudy Rudolph opened CHK in 1998 and have always been dedicated to providing the community with healthy, organic flavorful food—including many vegetarian and vegan options—in abundant portions. The restaurant uses 500 pounds of locally grown organic produce daily. This produce is featured on Signature Bowls (which include noodles or rice); veggies are also an add-on for other dishes. The most popular Signature Bowl is Spicy Dan's Peanut Delight with organic veggies and spicy organic coconut peanut sauce. You can add toppings such as organic teriyaki salmon. The Rice Bowl section of the menu features selections with proteins such as hormone-free pork or free-range chicken breast. Kids love the Teriyaki Chicken Rice Bowl.
Grab your takeout and head to the Santa Cruz Harbor, which is part of the Monterey Bay National Marine Sanctuary. The harbor is a perfect spot for picnicking, with many benches and tables to choose from. As you enjoy your food, you can watch the boats, gaze at the water (always relaxing), admire sea birds, and even see an occasional sea lion depending on the season. The main entrance to the harbor is off Fifth Ave. but another equally interesting harbor spot is by Walton Lighthouse on the other side (by East Cliff / Seabright Beach).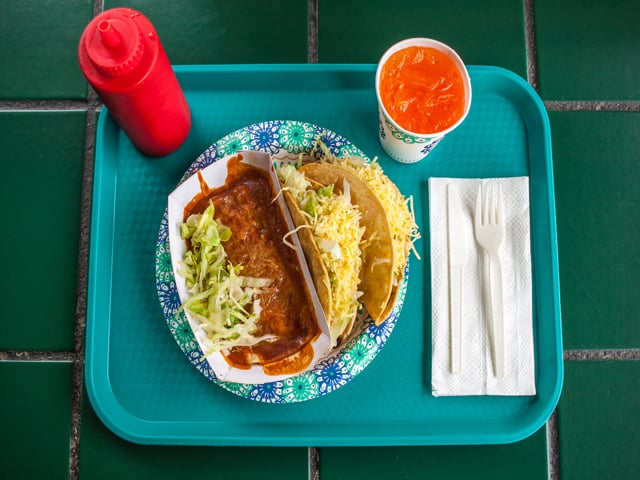 Classic California with Ocean Views
If you are craving a classic California matchup: tacos and ocean views, visit Las Palmas Taco Bar near the Santa Cruz Wharf. The original Las Palmas Taco Bar started in 1955 when Martin Mendez, Sr. and his son Martin Jr. opened one of the first taco bars of its kind in San Jose, California. Widely known for their crispy tacos and authentic fast food theme, Martin Jr. and his son Rick Sr. brought their family idea to Santa Cruz in 1975. Rick Sr. met his wife, Liz, at the original Las Palmas, who started the 4th generation of the family business. Their son, Ronnie, has been working alongside Rick Sr. to keep Martin Senior's dream alive.
Pick up the to-go food and head down the road to picturesque West Cliff Drive for a picnic. There are many points to choose from; a few highlights are Lighthouse Field State Beach, the grass field near popular surf spot, Steamer Lane, or several benches along West Cliff's bicycling and walking path which extends for three miles.
Unique Sandwiches Amidst the Redwoods
Surf City Sandwich has a classic Santa Cruz vibe and its own unique spin on Santa Cruz food. The venue includes vintage surfboard décor, live surf cams, and a vast sandwich selection. Prefer traditional choices like grilled cheese or a cheeseburger? SCS does great versions of both. Other selections include scrumptious hot sandwiches like Pork Belly Banh Mi, a beer-battered Crispy Cod Wrap in a spinach tortilla; and the vegan Lotus. Cold sandwiches include the immensely popular Johnny Utah with ingredients like smoked turkey, chipotle mayo and smoked gouda; and the vegetarian Caprese. Sandwiches come with choice of housemade, addictive potato chips or a fresh, appetizing side salad. Garlic fries and tater tots are also on the menu. Local residents Paul and Elaine Figliomeni opened Surf City in 2015.
It might take you a while to choose from the large SCS menu, but once you have the food in hand, just drive four miles down Soquel Drive until you hit Aptos Creek Road. Make a left, drive a little under a mile, and you'll be at the infamous Forest of Nisene Marks Park. With over 30 miles of trails and roads, Nisene draws lots of visitors for hiking, running, and biking. You'll be surrounded by all kinds of awe-inspiring nature including majestic redwood trees. Eat your takeout food soon after you arrive at one of the park's picnic tables, or if you're in the mood to explore or get exercise, save your lunch to enjoy either during a hike (eat on the trail or creekside while you rest) or for post-hike sustenance. Watch the ground for yellow banana slugs; there are many at Nisene.
Classic Capitola Combo
Capitola institution, Gayle's Bakery, has many tempting choices. Gayle's has been making customers happy with baked goods and savory items for several decades. Menu items rotate; some excellent sandwiches for takeout lunch are Italiano Ficelle (ingredients include salami, ham, provolone pepperoncini and vinaigrette) and its vegetarian counterpart Caprese Ficelle (fresh mozzarella, tomatoes, basil, balsamic vinaigrette) or Almond Tarragon Chicken Salad Croissant. There are also fantastic packaged salads like the Salmon Niçoise or Caesar with or without chicken. Yummy side dishes include Deviled Eggs or a bag of Crostini (buttery seasoned toasts made from Gayle's baguettes). If it's breakfast or brunch you're craving, don't miss the croissants with scrambled eggs and optional bacon or ham. No matter what your entrée is, a Gayle's picnic wouldn't be complete without adding dessert from the bakery: perhaps a classic or seasonal cookie, a chocolate éclair, or a slice of one of its many signature cakes.
Once you leave Gayle's, you don't have far to go before you'll reach Capitola Village, the site of two different picnic areas. At Esplanade Park, there are grass areas and benches to savor your food as you watch the nearby ocean waves or watch people strolling through the Village. During the summer, you can even find free concerts on select nights at the Esplanade. Another relaxing picnic spot: walk down to the sand and spread out a blanket or towel at Capitola Beach.
A Few More Picnic Spots
Santa Cruz County has beautiful surroundings and some of the best food around, so we need to mention, briefly, a few more combinations:
Stop at the aptly named The Picnic Basket for sandwiches and salads with fresh, seasonal ingredients, then take your gourmet lunch across the street—either to Santa Cruz's Main Beach next to the Boardwalk or to a bench on the Santa Cruz Wharf where you might see a sea lion.
Do a breakfast picnic by ordering takeout from the Walnut Avenue Café, renowned for its Benedicts, French Toast and more (the lunchtime Portobello & Pepper Jack is also worth mentioning!). Then it's just a hop, skip and a jump to Mission Street/Highway One, where you travel a little over three miles until you hit Wilder Ranch, where many people congregate on the front lawn for picnics. There are 34 miles of hiking, biking, and equestrian trails too.
Go to Bruno's Bar and Grill in Scotts Valley for specialties like a sandwich with pulled pork topped with coleslaw or third-pound burgers that come in many varieties. Drive just a few minutes and you'll be at Henry Cowell Redwoods State Park, a local treasure whose popular hikes include the easy .8-mile Redwood Grove Loop Trail.
In South County? Get takeout from Watsonville's California Grill — the owner grows all the produce — and drive a couple miles to enjoy your lunch while sitting outdoors at the Watsonville Plaza, where you'll find many benches to choose from.