You don't need a wetsuit to dip into Santa Cruz's vibrant surf culture. Mainland U.S. surfing began here in 1885, eons before Jan and Dean serenaded SoCal beach goers. More than a century later, our flourishing surf scene continues to generate waves of excitement. To help get you stoked on the local surf culture and heritage, we've assembled a surf-themed guide to Santa Cruz. Follow along and you'll be soon throwing shakas, grinding poke bowls, and maybe even going toes on the nose.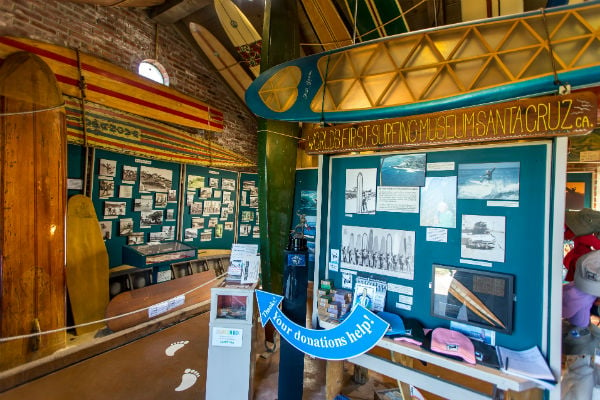 HOW SANTA CRUZ BECAME "SURF CITY"
It all began with three Hawaiian princes. In 1885, the royal trio were vacationing in Santa Cruz when they convinced a local lumber mill to fashion surfboards from redwood logs. Before long, the princes were out in the Monterey Bay, teaching locals how to catch waves. In the 1950s, the burgeoning sport got a huge boost when the late surf legend Jack O'Neill moved to Santa Cruz and introduced the wetsuit, a revolutionary neoprene garb that transformed surfing into a year-round and world-wide phenomenon.
You can learn this history and more at the Santa Cruz Surfing Museum, the nation's first institution dedicated to preserving surf heritage. The exhibits-housed in the red-brick Mark Abbott memorial lighthouse-detail over 100 years of surf culture from the surf-rock fueled beach parties of the 1960s to an alarming, shark-chomped surfboard.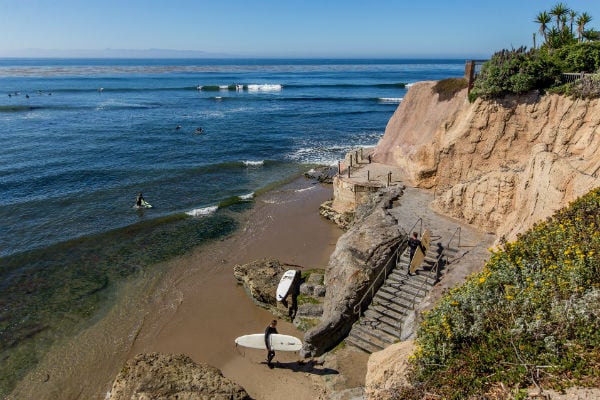 MARVEL AT THE PROS
The Santa Cruz Surfing Museum sits at Lighthouse Point overlooking Steamer Lane, a world-famous surf break where waves can reach heights of 16 feet and above. Join the crowds gathered along the fence-lined bluff and marvel at skilled surfers shredding the sizable swells below. The Lane also plays host to numerous annual surf contests including the O'Neill Coldwater Classic, Longboard Invitational, and National Scholastic Surfing Association youth surf event.
In the surf-tastic neighborhood of Pleasure Point, stroll the blufftop promenade paralleling East Cliff Drive, and you'll not only pass the tribute-embellished former home of Jack O'Neill and the adjacent park named in his honor, but you'll also spot scores of surfers riding long rolling waves into shore. Make sure to stop at The Hook, a legendary surf break at the intersection of East Cliff and 41st Avenue that draws a crowd of awestruck onlookers.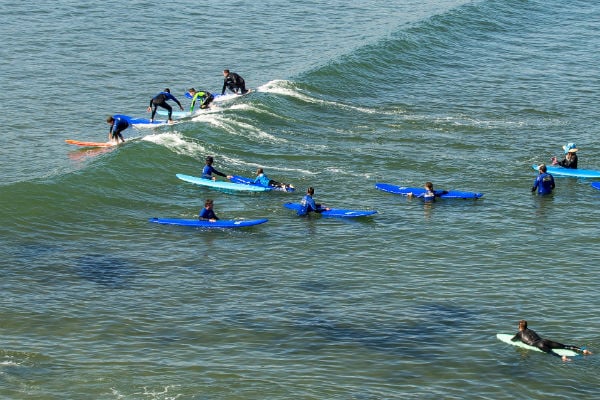 GO TOES ON THE NOSE
Even with the impressive waves at Steamer Lane, Santa Cruz County is an ideal spot to learn to surf. Club Ed and Richard Schmidt-a local surf celeb who went from riding inflatable beach mats at Cowell Beach as a kid to braving the massive waves at Mavericks-teach groms out on the gentle rolling waves of Cowell Beach. In the quaint historic village of Capitola, one of the West Coast's first beach resorts, the sheltered Capitola Beach is perfect for beginners. Steps from the beach's gentle breaks, the one-stop beach boutique Capitola Beach Company will have you looking your best in and out of the water with surf lessons that teach technique and etiquette so you don't look like a kook out there.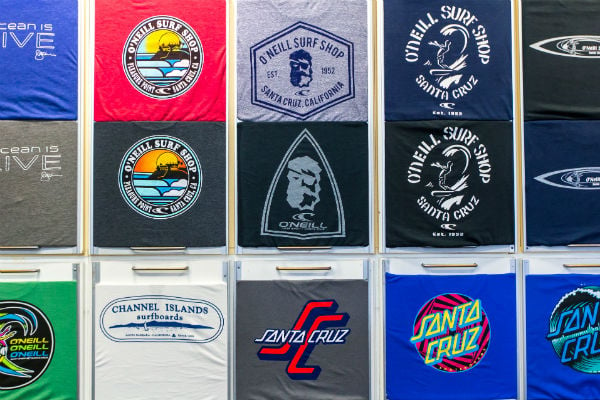 SURFIN' OUTFITTERS
Surf culture is reflected all over town, perhaps most notably in the surf-themed caps, tees, and hoodies adorning most locals. Jack O'Neill opened Santa Cruz's first surf shop at Cowell Beach in 1959. Today, three locally owned O'Neill Surf Shops-in Pleasure Point, Downtown, and at the Santa Cruz Beach Boardwalk-continue that legacy with modern surf gear and apparel including the brand's world-famous wetsuits. Also in Pleasure Point, Freeline Surf Shop has been a vital part of the Santa Cruz surf community since its opening in 1969. At the downtown surf and skate shop Berdels, you'll find stylish duds from local independent designers including Uroko, Thieves, and Ventana.
EPIC GRINDS
Every surf town has its killer beachside grub to fuel the next surf sesh. Steps from its famous namesake, contemporary surf shack Steamer Lane Supply nourishes a steady stream of surfers, cyclists, and families with creative panini-pressed quesadillas, vibrant poke bowls, and seasonal agua frescas. In Pleasure Point, the humble-looking Point Market wraps up some of the best breakfast burritos in the county. Choose from 16 varieties-from Thai to tofu-and enjoy it on the stepped seating at nearby Pleasure Point Park with a prime view of the surfer-filled waves below.
At Hula's Island Grill + Tiki Room, you can celebrate the three Hawaiians that brought surfing to Santa Cruz with Mai Tais and luau-worthy dishes fit for a prince in a fun atmosphere brimming with Hawaiian and surf decor. Down the street, check out Brian Barneclo's "Surfin Bird," a colorful mod mural that encapsulates Santa Cruz's beachside bohemia.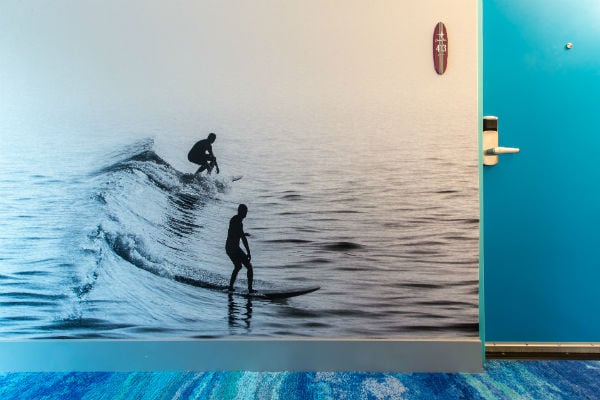 OVERNIGHT SURF SHACK
Surf fans will want to take shelter at the Dream Inn, a sleek waterfront property with a retro-mod surf motif. Situated at Cowell Beach-immediately adjacent to the site of Jack O'Neill's first Santa Cruz surf shop, a designated California Point of Historic Interest-the hotel features 165 guest rooms each with sweeping views of the Monterey Bay. In the downstairs Jack O'Neill Lounge, check out the memorabilia that pays tribute to the late surf legend…after you pull yourself away from the spectacular front-row views of Cowell Beach and Steamer Lane beyond.
Updated June 2020