Outdoor activities and a vibrant community life make Santa Cruz County a natural destination when you're flying solo.
When you're ready for some adventuring on your own, Santa Cruz County offers a host of fun options in the great outdoors, from beach cruising to exploring the redwood forest. After an action-packed day, the laid-back ethos and bustle of the business districts make it easy to hang out and get a feel for a place so famous it has its own logo.
Any ultimate beach town experience, solo or otherwise, begins with waking up near the water so you can take in the serenity of morning by the sea. The Sea and Sand Inn and the West Cliff Inn make great places to start the day since you can step out the door and take a walk on West Cliff Drive to enjoy awe-inspiring views of Monterey Bay. Grab a cup of coffee at Steamer Lane Supply and watch the local surfers ply the world-famous waves of Steamer Lane, then pop into the tiny Santa Cruz Surfing Museum for a gander at riveting historic photos of Gidget-era surf culture in the beach town that started it all.
An afternoon of shopping and museum going in downtown Santa Cruz offers plenty of variety. Browse an eclectic collection of home goods, apparel and gifts at Stripe, then check in at Berdels to experience Santa Cruz style. For lunch on Pacific Avenue, stop in at Snap Taco for a creative take on everyone's favorite food. The Magical Animal (ginger glazed pork belly and kimchi) and the Fun Guy, with crispy mushrooms and romesco, are just two popular tacos on a menu chock full of tantalizing choices.
Farther up Pacific Avenue, Bookshop Santa Cruz is the city's beloved well-lighted place for books. Browsing, and even sitting and reading for a spell, are welcome here, and Bookshop stocks a robust section on local history for the curious. Ready for an afternoon pick-me-up? A few steps away, Lulu Carpenter's and Verve offer local coffeehouse experiences and unparalleled people-watching from their comfortable patios.
Down a side street off Pacific Avenue, find Abbott Square and the Museum of Art and History, where you can catch up on the history of Santa Cruz in the Santa Cruz County History Gallery and check out innovative art exhibits and community experiences like Frequency: Festival of Light, Sound and Digital Culture. Afterward, the gourmet Abbott Square Marketplace offers an intriguing selection of cuisines, from vegan to burgers, in an open-air setting that fills with convivial locals on weekends and evenings. Check the Abbott Square Marketplace page on Facebook for information on live music and other events under the stars (remember to bring a jacket—Santa Cruz evenings can be chilly).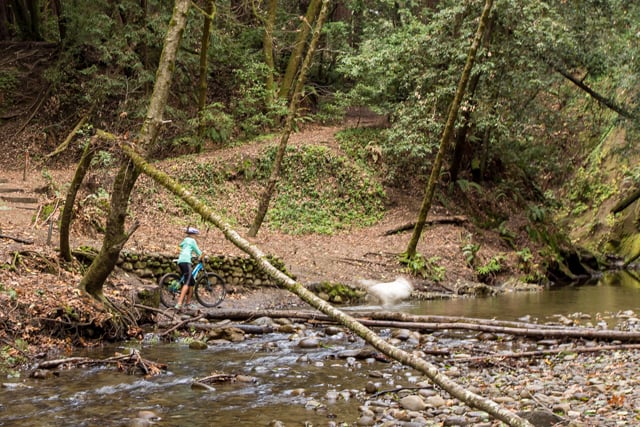 For a different kind of adventure, start the morning renting a traditional or electric mountain bike or cruiser from Epicenter Cycling. (The Aptos location is just outside the entrance to Forest of Nisene Marks State Park, a popular local mountain biking destination.) Renting a cruiser from the Westside location for a day of tooling along the coast from Santa Cruz to Capitola is a fabulous way to see the local sights, including the Santa Cruz Harbor and the slice of surf town nostalgia known as Pleasure Point. If it's a Sunday, save your morning appetite for the Live Oak Farmers Market, a year-round affair featuring local produce, food trucks, coffee and pastries.
Capitola itself is a postcard-perfect seaside hamlet of warrenlike streets lined with shops and eateries. Do some exploring, then climb the Depot Hill Steps (all 86 of them!) for a good look across Monterey Bay and a peek into one of the area's oldest and most charming neighborhoods. Afterward, head to Gayle's Bakery and Rosticceria, a county institution since 1978, for an excellent sandwich or salad and one of the spectacular desserts (the berry tartlette is always a pleaser).
For more outdoor fun, explore Santa Cruz County's famed redwood forests on a hike. We recommend Henry Cowell Redwoods State Park for its loop of magnificent old-growth redwoods (keep an eye out for the small albino redwood, an intriguing anomaly) and an extremely rare ecosystem known as the Santa Cruz Sandhills. Henry Cowell is also a wonderful introduction to the old logging town of Felton, which boasts a small but lively commercial district that has undergone a renaissance in recent years.
Maybe you want to up your adrenaline quotient on this trip with a surf lesson, rock-climbing excursion or mountain bike ride. The professional guides at Adventure Out have you covered, and the group setting makes for extra fun. You can always relax tired muscles later with a spa treatment and poolside rejuvenation at picturesque Chaminade Resort & Spa.
After all, this is your vacation—you can do it any way you want.