Extending a half mile into the Monterey Bay, situated between the colorful Santa Cruz Boardwalk and the surfer-filled waves of Steamer Lane, the Santa Cruz Wharf offers some of most thrilling views along the California coast. At 2,745 feet, it's the longest wooden pier in the United States, resting on over 4,400 Douglas-fir pilings. Built in 1914, the timber centenarian continues to offer a timeless Santa Cruz experience. Stroll its wooden walkways-ideally with a cup of clam chowder in hand-and discover fresh-seafood eateries, local gift shops, nature and history displays, fun seasonal events, and of course, those famous barking sea lions.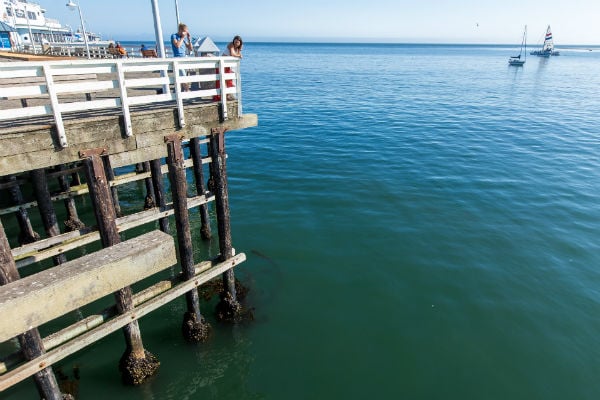 EXPERIENCE THE MONTEREY BAY
More than a touristed spot to shop and dine, the Santa Cruz Wharf immerses visitors in the natural splendor of the Monterey Bay National Marine Sanctuary. Explore the wharf's lengthy expanse-which spans from the shoreline to an intertidal zone to open sea-and you're likely to spy seabirds, seals, sea lions, and if you're lucky, dolphins, otters and whales. Plunk quarters into one of the many powder-blue telescopes that dot the wharf and zoom in on the bay's flourishing sea life.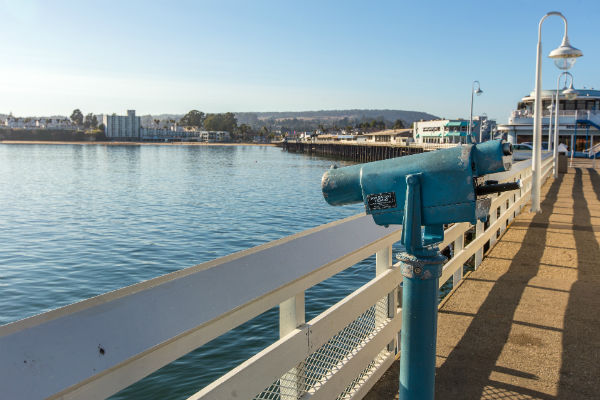 Want to experience the bay up close in person? Rent a kayak or join a guided tour from Venture Quest Kayak whose staff will suit you up with everything you need to explore the bay.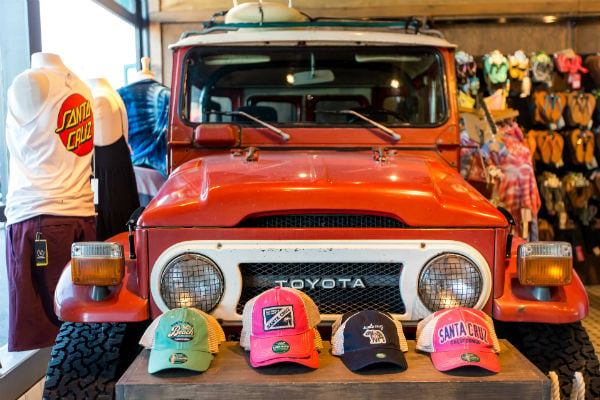 SHOP
The Wharf is chock-a-block with gift shops and boutiques brimming with beach apparel and breezy seaside decor. You can outfit yourself like a local at Nolands on the Wharf and Surf City Santa Cruz which stock surf and skate apparel from all the major labels. Nearby, Made in Santa Cruz is a fun repository for Santa Cruz goods including artwork, books on local history, and a wide range of apparel.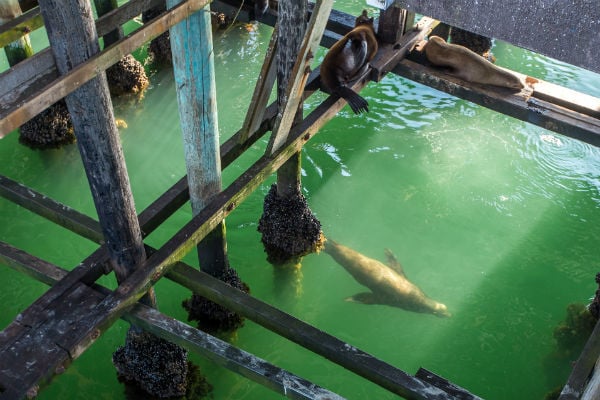 EAT + DRINK
It's impossible to stroll the Wharf and not crave seafood. You'll pass fisherman reeling in halibut, sardines, and sand dabs that immediately call to mind a sizzling pan and a knob of butter. And did you know that anyone can fish from the Wharf, no license required? Stagnaro Bros. has been peddling fresh seafood since 1937. Today, you can belly up to their bustling open-air seafood market and order a crab cocktail and clam chowder-don't forget the oyster crackers-or snag a seat in the adjacent table-service restaurant made to resemble a grand ocean liner.
With the Santa Cruz Beach Boardwalk within earshot and view, don't be surprised if you start hankering for a candied apple. Luckily, there's a taste of the Boardwalk on the Wharf thanks to Marini's, the over-a-century-old candy shop filled with buckets of taffy and the sweet aromas of cotton candy and housemade chocolates.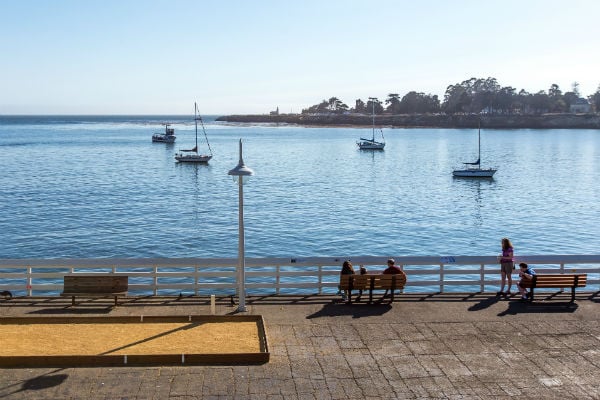 Local residents take note: Tuesday night is Local's Night with two hours free parking with validation. For regular parking rates plus a list of free days, check out the Wharf's site.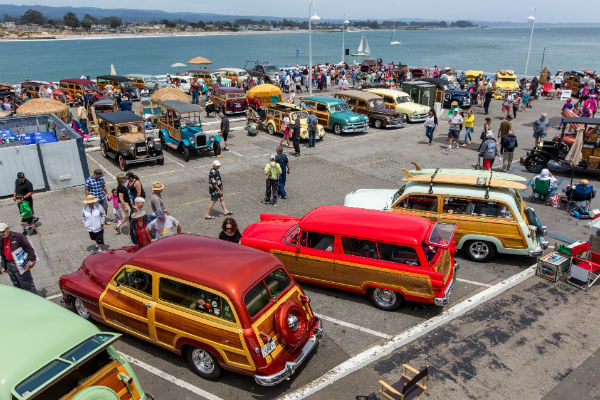 SEE WHAT'S HAPPENING ON THE WHARF
Although many large events are still on hold, the Wharf is a favorite venue spot for local gatherings, typically playing host to many popular events throughout the year. Check our calendar for updates on upcoming events including the Wharf-to-Wharf marathon, Aloha Outrigger Races and Polynesian Festival, and the incredibly popular Woodies on the Wharf which fills the wharf with over 200 classic, wood-adorned vehicles from the 1950s and earlier. We hope to see the safe return of Wharf-hosted events soon!