Hidden from plain view, the wildly scenic San Lorenzo Valley is worth seeking out. Named for the river that winds its way from the crest of the Santa Cruz Mountains to the Monterey Bay, the lush valley hides magnificent redwood forests a mere three miles from the Santa Cruz Beach Boardwalk. Swap your flip-flops for hiking boots and explore its centuries-old redwood groves, early California lore, atmospheric roadside shops & eateries.
PLAY
Henry Cowell Redwoods State Park
To fully appreciate the scope of Santa Cruz's natural splendor, consider that the county encompasses millions of the oldest, tallest living trees on earth AND the Monterey Bay. Henry Cowell Redwoods State Park provides an easy way to experience the majestic redwoods with a short loop trail that immerses you in an awe-inspiring grove.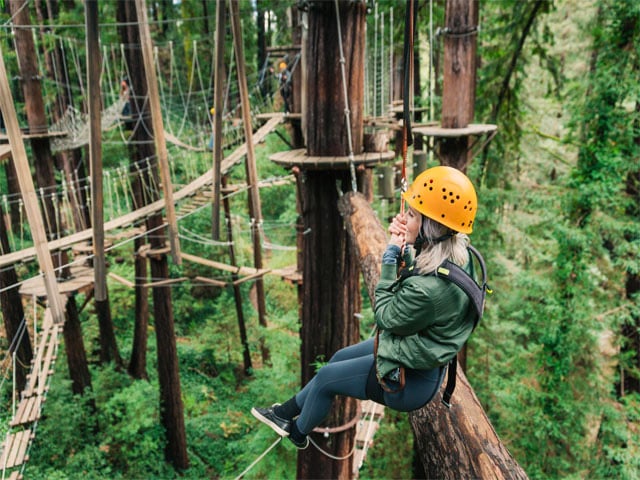 Redwood Canopy Tours
Want to get a different perspective of the redwoods? Try viewing them from 150 feet off the ground as you zip just below the canopy. This outfitter leads informative 2-hour tours of the redwoods with six exhilarating zip lines and two sky bridges along the way.
The San Lorenzo Valley Museum
The San Lorenzo Valley oozes with the allure of early California. It's hard not to be captivated by the former logging center's rough-and-tumble history. Housed in the valley's oldest church building, this museum lends a great intro to the whos, whats, and whys of the region with its permanent collection and rotating exhibits.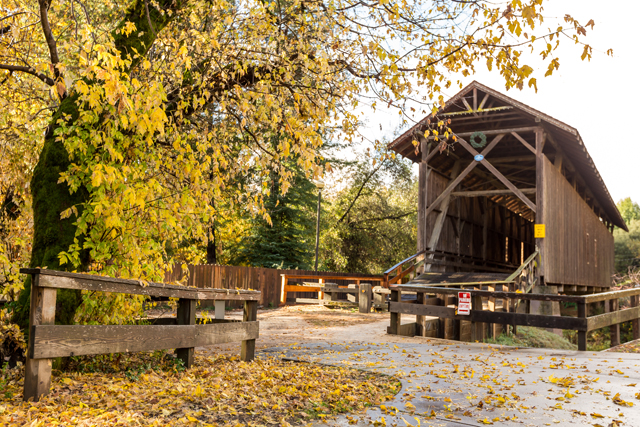 Felton Covered Bridge
Wonderful historic structures dot the wooded San Lorenzo Valley. The most impressive might be this 80-foot long bridge in downtown Felton whose cover protected its trusses from eroding weather. Built-in 1892 as the primary entrance to the former logging town, it is considered to be the tallest covered bridge in the nation. It's been closed to traffic since 1937 and today serves as a unique pedestrian bridge.
Roaring Camp Railroads
Part theme park and part museum, Roaring Camp Railroads is a great way to immerse yourself in the area's history and allure. You need hardly be a train nut to enjoy an open-air ride through the redwoods aboard an impressive, historic steam engine. You also don't need a train ticket to wander its fun, Old West grounds filled with false-front buildings, a general store, and gold panning. They really do it up for the holidays, so check their site for upcoming events.
Santa Cruz Mountains Art Center
This extensive arts resource rests along the banks of the San Lorenzo River. There's a gallery that's open to the public as well as regular studio workshops for both kids and adults. Check with the Art Center for current hours and offerings.
Boulder Creek Golf & Country Club
This picturesque 18-hole-course is set within the redwoods near Big Basin Redwoods State Park. The scenery speaks for itself, but regulars return for their beloved bent grass greens. There's a full-service restaurant & bar that's open to the public as well as conference and lodging facilities.
SHOP
Mountain Feed and Farm Supply
It's probably quicker to list the items that this comprehensive shop doesn't stock. Captivating buildings and gardens sprinkled with antique cars and jukeboxes teem with supplies for every small scale food production imaginable: pickling, cheese making, beekeeping, chicken plucking, wild game hanging, and kombucha brewing, just for starters. They're complemented by a selection of modern kitchen and housewares that would make Sur La Table envious.
Felton Farmer's Market
Come spring you can stroll the second oldest farmer's market in Santa Cruz County in downtown Felton. Check them out from May through October on Tuesdays from 1:00 pm to 5:30 pm.
STAY
There's a number of quaint properties with picture-perfect cabins nestled under towering redwoods. Masood's Lodge, Jay's Timberlane, and Fern River Resort Motel each offer cozy cabins throughout the year. Quality Inn & Suites Santa Cruz Mountains has 25 modern rooms ringed by Douglas Fir trees and the recently renovated, yet historic, Brookdale Lodge is another great choice along Highway 9. Looking for a B&B experience? Fairview Manor offers redwoods, seclusion, and a full American style breakfast. In Bonny Doon, Flipjack Ranch is a unique B&B experience, as it's a real working farm! The tree-house like accommodations are any Instagrammer's dream and the morning menu is largely farm (and foraged) to table. And for those looking to simply sleep among the redwoods and the stars, reserve a campsite at Henry Cowell Redwoods State Park.
Updated April 2021