A bubbly brunette with a background in fashion, Jaclyn Bridges of Queen of Succulents (@queenofsucculents) hated dirt when she received her very first succulent from a friend's mom. "I wasn't a plant person at all," recalls Bridges. "I didn't even like touching mushrooms at the grocery store."
Succulents, though, were different. Her first succulent "looked like little roses" and Bridges decided to snap a photo of her new plant and post it on Instagram. This was April of 2016 and now, Bridges has over 120K followers and sells individual succulents and artistic succulent arrangements full-time. The fashionista turned succulent whisperer now gets her hands dirty on a daily basis and has turned her yard into a mini-succulent nursery.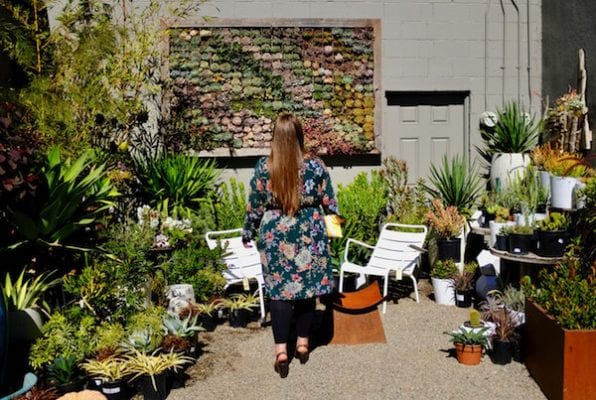 On a warm, sunny October morning, Bridges showed me around DIG Gardens, a bohemian garden shop near downtown where she sources some of her succulents and gets artistic inspiration for her live custom arrangements. While exploring the lush nursery behind the shop, Bridges shared some pro-tips for growing healthy, happy succulents, where to find the best succulents in the county, and what she loves most about Santa Cruz.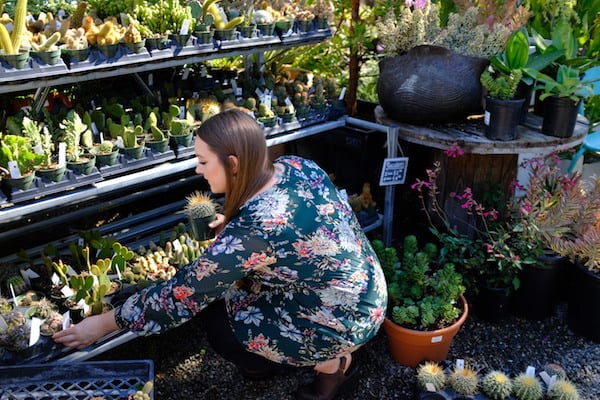 How did you go from fashion to succulents?
My best friend brought succulents from his mom's house in Escalon where I grew up. I knew nothing about plants. I'd never grown a tomato or sprouted a seed. I didn't even enjoy touching dirt. But then I got these little succulents that looked like little roses. I decided to go on Instagram and look up #succulent. I found two girls doing a challenge where you post a different colored succulent every day of the week. I realized that I had all the colors but yellow right in my own backyard.
That challenge got me excited—it made me realize there was an entire community of succulent lovers. Within a few months I realized I really liked taking the succulent photos so I switched from fashion to succulents. My fashion account was Queen Mab so I became the 'Queen of Succulents.'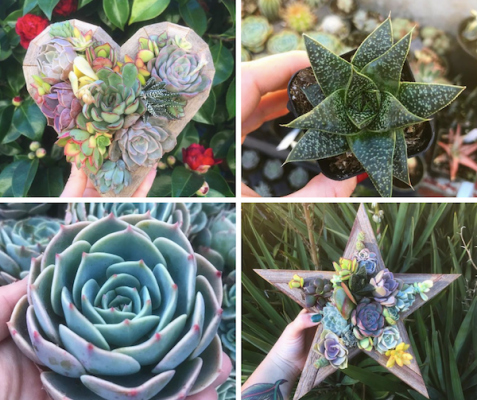 Can you talk about how you use your Instagram following to raise money for worthy causes?
I like to use my platform to help others. I do a lot of auctions to raise money for people in our community. For example, Gloria is a really funny woman in the succulent community and when her husband became ill, the community was able to band together and raise over $10K in just two days! It blew my mind.
The reason I do what I do is because of the people that I'm helping. I'm currently creating a wooden California planter for an auction. The money will go to a 'succulent sister' in Hawaii who's been diagnosed with breast cancer. That's what brings me joy. I love to make arrangements that help others. I also try to support local businesses when I can. I buy my pumpkins from Rodoni Farms [to make succulent pumpkins] and source most of my succulents from local nurseries.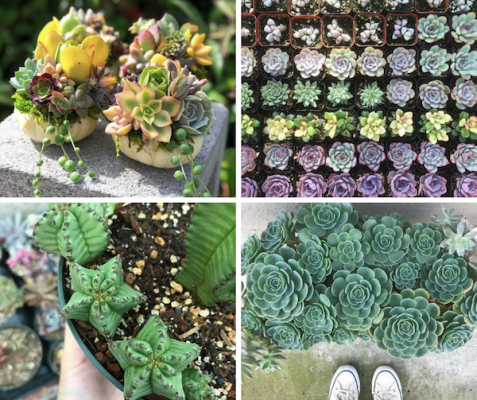 What's your favorite succulent?
My favorite is the Echeveria. I also love the Pachyphyllum ovarium or lavender pebbles and anything with stripes.
Where are your favorite Santa Cruz succulent spots?
I love walking down Pleasure Point and through the neighborhoods. I've taken incredible photos of succulents at people's houses. Near Capitola Village there's a whole block full of succulents. I also like to visit Far West Nursery in Capitola and DIG Gardens is one of the most special places.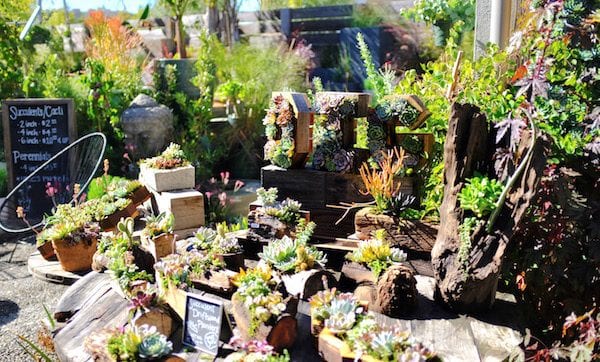 Can you share some pro tips for growing succulents?
I make my own soil. I get my pumice from @SexySucculents [on Instagram] and mix it with coconut husk shreds and any type of soil I can find. You can also start with cuttings—literally just stick it in the soil and wait.
The main thing is, you have to pay attention to the plant. If the soil is still wet, don't water it even though it's been two weeks. You only want to water the succulent when the soil is completely dry. You don't need to water them that often but when you do, drench the soil. You don't want to just sit there and mist it because that doesn't get to the roots. You really want to soak it which is why you want good drainage.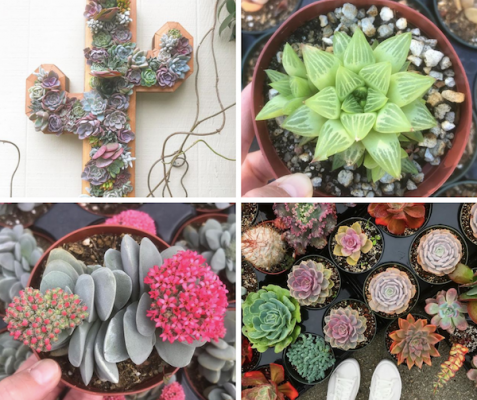 What's your favorite way to unwind here in Santa Cruz?
It's not very unique but I love walking along East Cliff or West Cliff. No matter what kind of day you're having it always gets better by walking in nature plus I get to "succulent stalk."
Why did you choose to live in Santa Cruz?
I chose Santa Cruz because my dad grew up in Watsonville so we always came to visit family in this area multiple times a year. I was pulled in at a young age by the mystical redwoods next to the ocean and I loved downtown! The entire town has an energy that I just can't get enough of. The beauty of Santa Cruz inspired me to spread it across the nation. So I do just that with my photos and actually selling succulents from our area.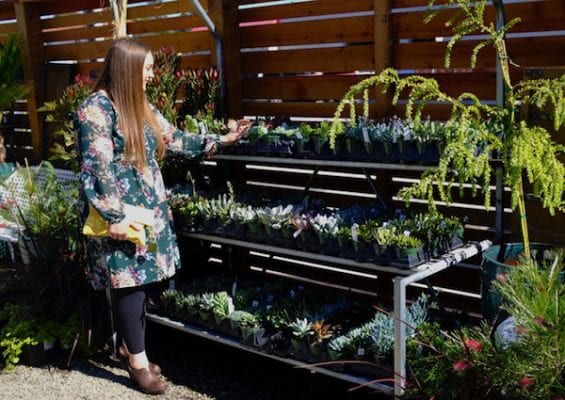 Where to find Jaclyn and her inspiring world of succulents:
You can find Jaclyn's hand-picked (and sometimes home-grown) succulents and gorgeous succulent arrangements online on her Etsy shop. And don't forget to follow her on Instagram for daily photos, arrangement tutorials, succulent care tips, giveaways, and more.
(This interview has been edited and condensed for clarity.)