Santa Cruz may be the second smallest county in California by landmass, but don't let its size fool you! There are 29 miles of coast, seemingly endless trails to hike, a vibrant art scene, loads of attractions, great farm fresh foods, innovative eateries, wildlife galore, and a surf vibe that won't quit! And although we share a lot of Santa Cruz County love on our @VisitSantaCruz Instagram page, we've rounded up a few of our favorite local Instagrammers who give a great insider's look at this beautiful place we call home!
Whether you're a resident looking for new spots to explore or a savvy traveler who knows locals are the best tour guides, take a look at these 10 Local Instagrammers who consistently share gorgeous views, hidden gems, and their inside look at Santa Cruz County.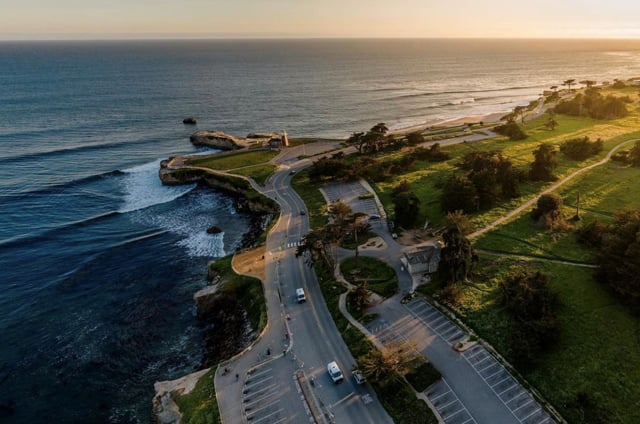 BEHIND THE LENS: Ben Ingram (the man behind @BenIngramVisuals and @HelloBenIngram) incorporates his background in landscape photography with drone images and visual storytelling (@HelloBenIngram), all while helping couples create memories through unique experiences specific to Santa Cruz County (@BenIngramVisuals).
INSTAGRAM VIBE: If you enjoy dramatic landscapes, ocean images and unique perspectives, @HelloBenIngram is the page for you. Did you ever dream of flying as a child? Well now you can take in all those views you dreamed about thanks to images captured by drone, helicopter, and fixed wing aircraft.
PERFECT DAY IN SANTA CRUZ: Start with a sunrise while enjoying Cat and Cloud Coffee, take a flight over Santa Cruz through Specialized Helicopter, and end the day with a sunset sail aboard the Chardonnay. If I can squeeze a surf/mountain bike ride in there too, that would be fantastic.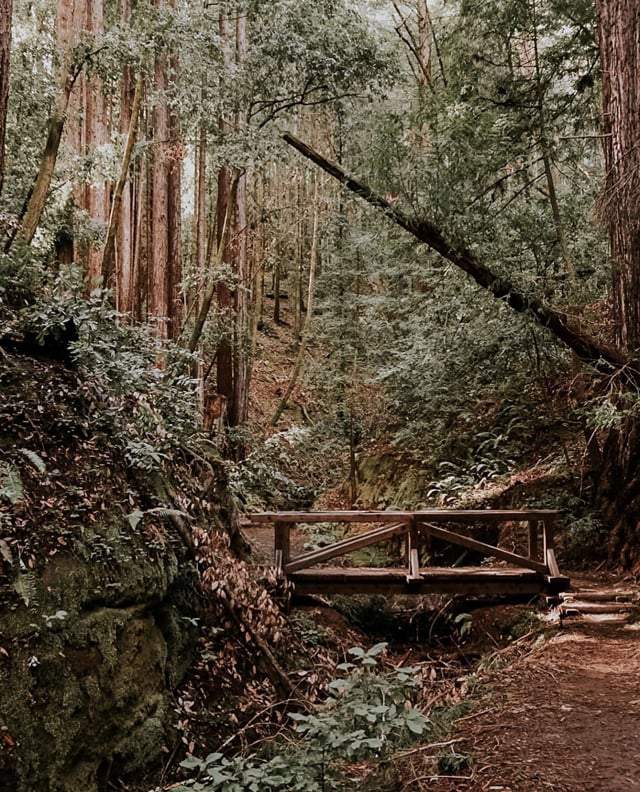 BEHIND THE LENS: @carynhewlett lives in Santa Cruz with her husband and their dog, Penny Lane. She loves nature and the outdoors, and will always stop to admire the little details, like a blooming flower or the leaves blowing gently in the wind. When she's not out exploring, you can find Caryn sipping on a glass of Bargetto Winery rosé and experimenting in the kitchen.
INSTAGRAM VIBE: Looking to find the best trails in the county? Check out @carynhewlett's feed for dreamy redwoods, tranquil beach trails, and other local adventures. Keep an eye out for her print shop, coming soon!
PERFECT DAY IN SANTA CRUZ: Grabbing a breakfast burrito at The Point Market to eat overlooking the ocean, followed by a hike through the majestic redwoods in The Forest of Nisene Marks. Next, relaxing while watching the sunset at Seabright Beach before heading to Lillian's Italian Kitchen for a delicious Italian meal.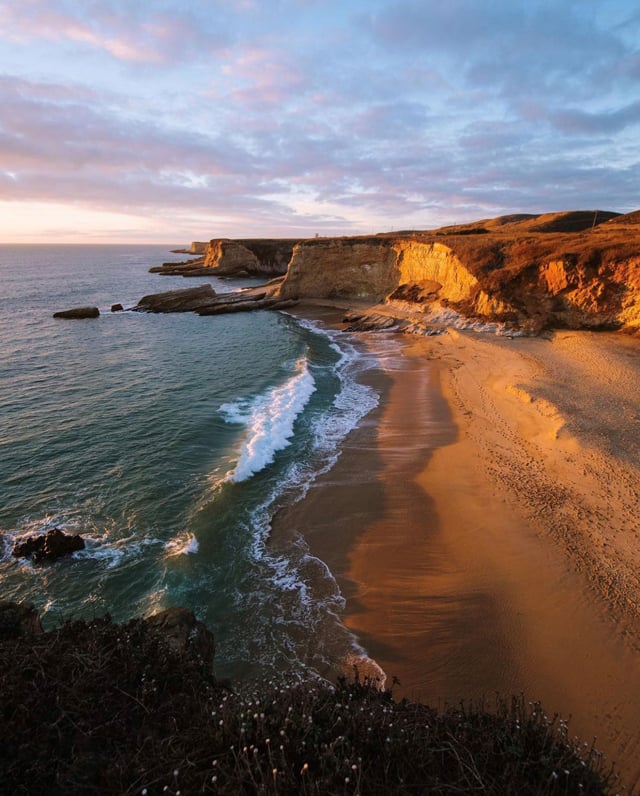 BEHIND THE LENS: Daniel (@dgsc) was born and raised in Santa Cruz, CA. He's a freelance outdoor & commercial photographer whose work aims to capture the fleeting moments of beauty that nature provides. Outside of photography – he enjoys golfing, surfing, and independent movies.
INSTAGRAM VIBE: Daniel's Instagram vibe is a mix of coastlines, surf, and the occasional mountain adventure. On most days you can find him chasing golden hour up and down the coast via IG stories.
PERFECT DAY IN SANTA CRUZ: Daniel's perfect Santa Cruz day would be: taking his dog on a morning beach walk, getting in the water to surf in the afternoon, shooting photos at sunset, and a Tacos Moreno burrito or Spicy Dan's bowl from Charlie Hong Kong for dinner!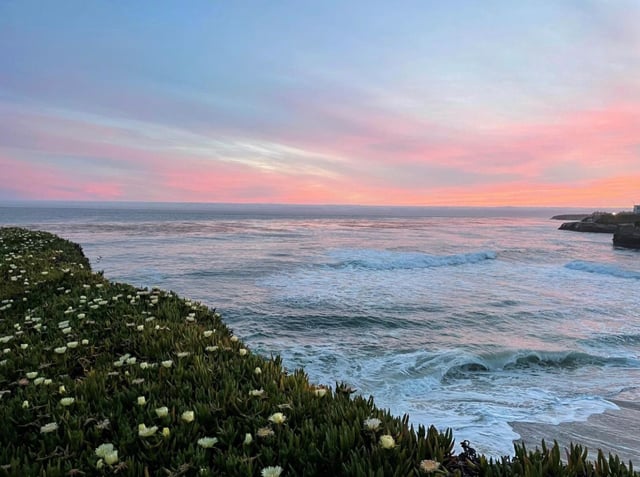 BEHIND THE LENS: Krista moved to the Santa Cruz Mountains in 2011 to soak in nature and live among the redwoods. She is an avid hiker and runner and loves having so many pristine trails within minutes of home.
INSTAGRAM VIBE: As a nature lover, Krista turns to Instagram to share the outdoors with her friends and her community. Additionally, Krista has run every day since December 31, 2019 and uses Instagram as a way to catalog that journey.
PERFECT DAY IN SANTA CRUZ: The perfect day in Santa Cruz begins with a sunrise run out at Wilder Ranch along the bluffs. After running, a quick stop at Verve on Fair Avenue is a must for a warm Bowl of Soul en route to breakfast. Breakfast of course takes place at Harbor Cafe where I am predictable and always order the Huevos Rancheros. The main part of the day would be filled with tide pooling along pleasure point with my two toddlers. To close out the day I would watch the sunset above Santa Cruz from the lookout at UC Santa Cruz.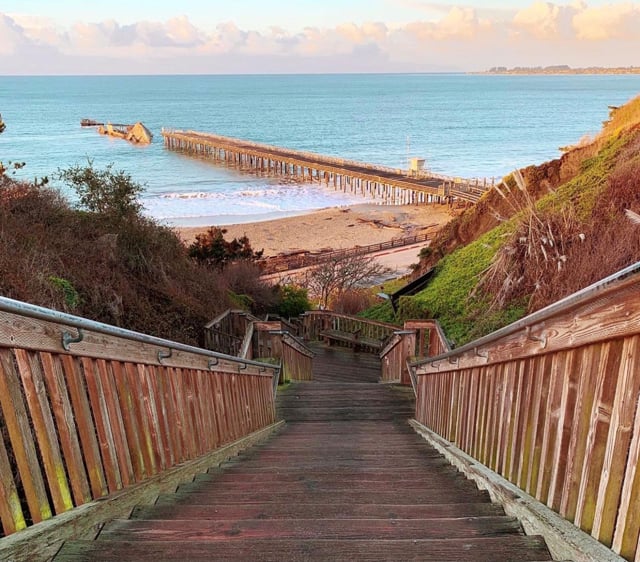 BEHIND THE LENS: What was supposed to be a one-year fling with Santa Cruz has turned into an 18-year (and counting) full-fledged love affair for @kathleenfitz. She adores new adventures, enjoys baking for her family and will raise a glass of champagne for any reason she can find.
INSTAGRAM VIBE: Her motto is "Love where you live." You'll find pops of color and a quiet joy in her captures of life in this beach town she feels lucky to call home.
PERFECT DAY IN SANTA CRUZ: My ideal day in Santa Cruz would include some of my favorite things: banana pancakes at Cafe Brasil, a nature hike at Pogonip, shopping at Lyons and Melrose boutique, a stroll around Santa Cruz MAH, truffle fries and cocktails at 515 Kitchen & Cocktails, ice cream (topped with toasted marshmallow fluff, always) from The Penny Ice Creamery, and end on any one of our dreamy beaches to catch the sunset.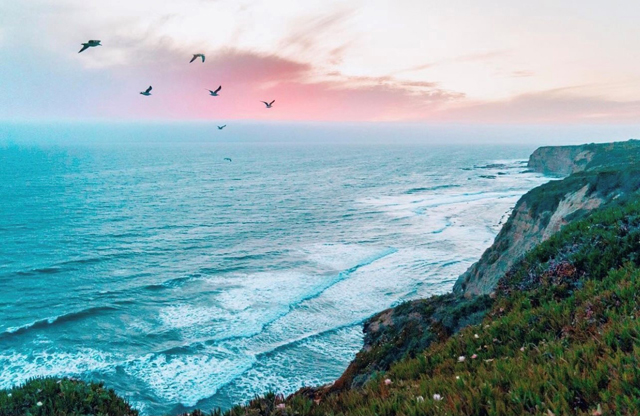 BEHIND THE LENS: Natalie has always had a knack for landscape photography, typically spending time on high peaks and snow-covered mountains. After moving to Santa Cruz 3 years ago she quickly became obsessed with the gorgeous coastline and wild beauty of the ocean. When she's not chasing sunsets in Santa Cruz you can find her surfing or roaming around California in her old Bronco with her dogs.
INSTAGRAM VIBE: Love sunsets and wild places? For dreamy coastal views with a dash of adventure travel, and landscapes for days check out @natgerding on Instagram.
PERFECT DAY IN SANTA CRUZ: My ideal day in Santa Cruz starts with a dawn patrol surf session at Cowells with friends, followed by coffee and breakfast burritos at Cat & Cloud Westside. Then I'd take the dogs for a nice chill hike in Pogonip, there are so many cool trails up there including one that goes to a hidden Koi pond. After that, lunch at Steamer Lane Supply (their burgers and fries on the weekends are amazing – add cheese and avocado for extra goodness). Top it off with an evening photoshoot/hangout up the coast near Davenport or Waddell for sunset!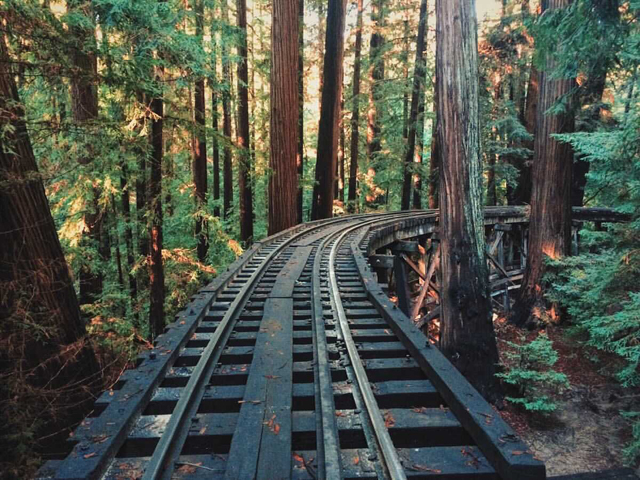 BEHIND THE LENS: Monica is a life-long local who was born and raised in Santa Cruz. She is a passionate writer and photographer who recently returned to her hometown to pursue her Ph.D. in Literature at the University of California Santa Cruz after road-tripping across the country for almost a year. You can find Monica hiking in the redwood forests, hammocking on ocean cliffs, and reading old literature.
INSTAGRAM VIBE: Monica's Instagram, @SantaCruzBucketList features iconic must-see locations as well as secret spots you have to see to believe hidden all over Santa Cruz County. Looking to add awesome items to your bucket list? Look no further than @SantaCruzBucketList for a curated collection of uniquely Santa Cruz experiences. Whether you love surfing, redwood hikes, delicious food, or Victorian architecture, there is something for everyone in Santa Cruz and @SantaCruzBucketList tries to share those experiences with locals and visitors alike.
PERFECT DAY IN SANTA CRUZ: My perfect day in Santa Cruz County would begin with taking a Salted Caramel Latte from 11th Hour Coffee out to the cliffs in Davenport to watch the sunrise over the ocean. Then I would hike somewhere like the coastal bluffs of Wilder Ranch State Park or the redwood forests in the Fall Creek unit of Henry Cowell State Park. After exploring one of our impressive state parks, I would grab a Chipotle Chicken Burrito from Steamer Lane Supply and eat while watching the surfers at West Cliff in the shadow of the lighthouse. Finally, I would spend the rest of my day exploring Downtown Santa Cruz and finish my perfect day at Abbott Square with dinner and drinks listening to live music!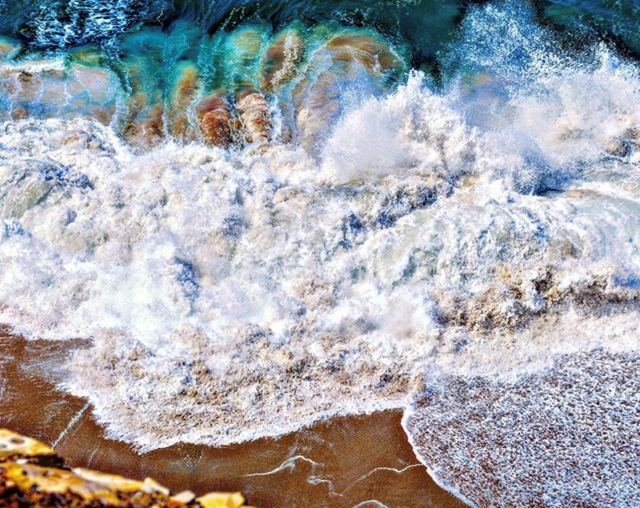 BEHIND THE LENS: @septemberwren is an East Coast native who moved to Santa Cruz after falling in love with the town on a cross-country trip. She loves sad songs, (secret) beaches, and oat milk lattes.
INSTAGRAM VIBE: @septemberwren's vibe is all about the present moment. The infinite beauty of an overlooked wildflower or wave.
PERFECT DAY IN SANTA CRUZ: @septemberwren's perfect Santa Cruz day is a drive up the coast. Fish and chips from Whale City Bakery and a seat on the cliffside.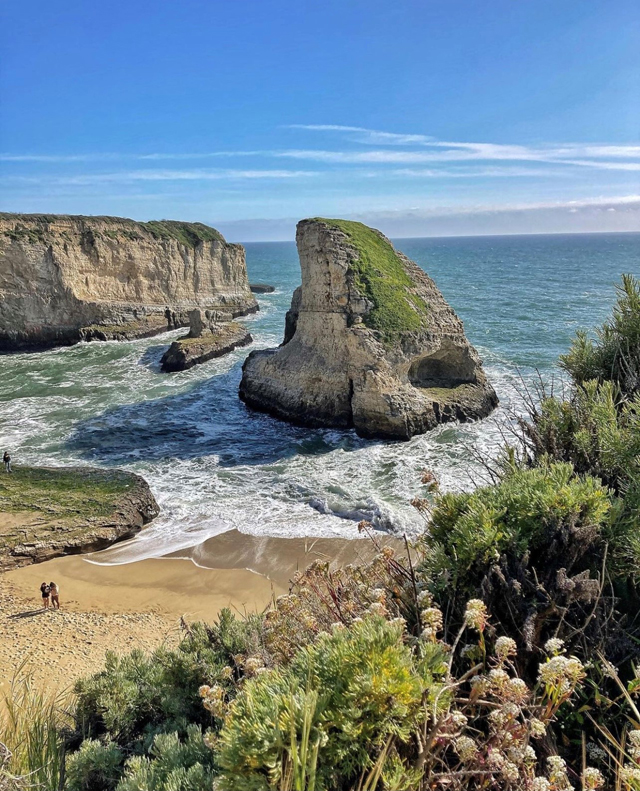 BEHIND THE LENS: @summerstar_ originally from Kona, Hawai'i has always had a love for nature and the outdoors. She feels incredibly lucky to have spent the last 15 years in Santa Cruz and loves sharing all the beauty this area has to offer!
INSTAGRAM VIBE: Check out @summerstar_ if you love hiking in the redwoods, catching a breathtaking sunset, or exploring the beautiful California coastline. You'll often find her adventuring around Santa Cruz or nearby, enjoying sunny days by the ocean, spending time in the trees and capturing the magic of nature.
PERFECT DAY IN SANTA CRUZ: Her ideal day in Santa Cruz would start with a morning hike through the enchanting forest of Nisene Marks State Park. Next, relaxing at locals favorite Sunny Cove Beach on a warm day followed by watching a colorful sunset with the wildlife on the cliffs at Wilder Ranch. She aims to spread the aloha wherever she goes!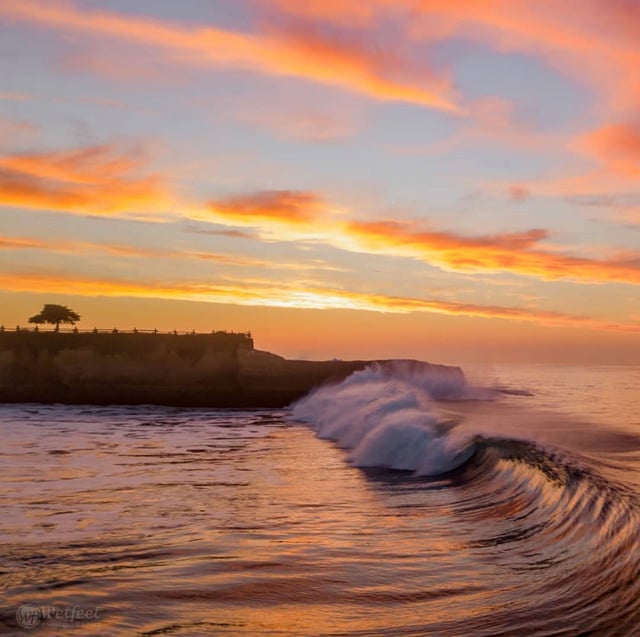 BEHIND THE LENS: It's rare to find @wetfeetphoto without a camera in his hand, capturing glimpses of this unique piece of coastline we call Santa Cruz.
INSTAGRAM VIBE: Looking for local beach scenes or surf culture both in and out of the water? Head on over to @wetfeetphoto for some local fare.
PERFECT DAY IN SANTA CRUZ: Alarm goes off well before dawn, take a peek out the window to get a sense of where the sunrise will be best. Surf check. Head on out and grab a few snapshots of one of the many iconic locations we have around Santa Cruz. Surf check. Run by the Pleasure Point Market on the way home for a breakfast burrito before a quick photo editing session. Surf check. Waves look fun but it's a little crowded, so it's time to take the dog for a walk through the neighborhood and shoot some 35mm. Surf Check. More detailed editing session, develop some black and white film from the week. Surf Check. Time for a sunset surf session (camera on board). Post surf dinner from Taqueria Vallarta and a cold beer.