All Photos by Garrick Ramirez
If there was ever a time to celebrate a severed, screaming hand, this past Halloween-themed month of October seemed like the right one. The blue Screaming Hand, that indelible icon of skateboarding culture, celebrated its 30th birthday with creation of an eye-popping exhibition at the Santa Cruz Museum of History & Art (MAH). Created in 1985 by Santa Cruz graphics artist Jim Phillips, the howling appendage-which has been emblazoned on t-shirts, skateboards, and stickers all over the world-is honored with a fitting tribute to its influential legacy.
Last year, NHS, the local skateboard company for which the logo was originally created, assembled over 200 prominent, international artists to reimagine the Screaming Hand in a variety of mediums. Paintings, illustrations, and sculptures comprise the fun exhibit that recently returned to Santa Cruz after touring more than 25 cities around the world.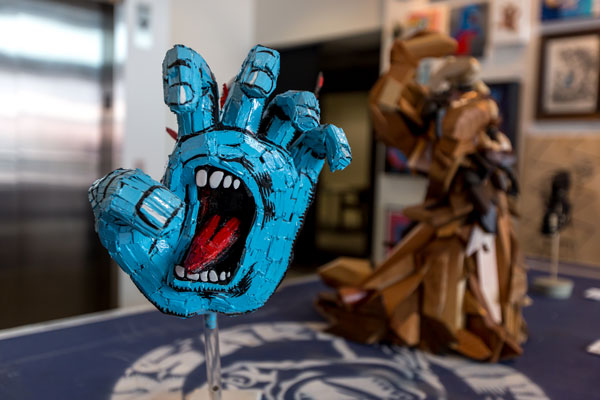 The Screaming Hand show includes Phillips' original works along that of his son, Jimbo Phillips, and even his 14-year-old grandson. But the most enjoyable aspect of the show might be the creative, new reinterpretations of the Hand produced by contemporary artists such as Jeff Meadows, Tosh Woods, and graffiti artist Bigfoot One. Even if you're not familiar with the artists' names, you're likely to recognize a few of their signature styles applied to the world-famous graphic. We love the functioning lightbox piece that visualizes an x-ray version of the Hand, complete with a wide-open toothy mouth.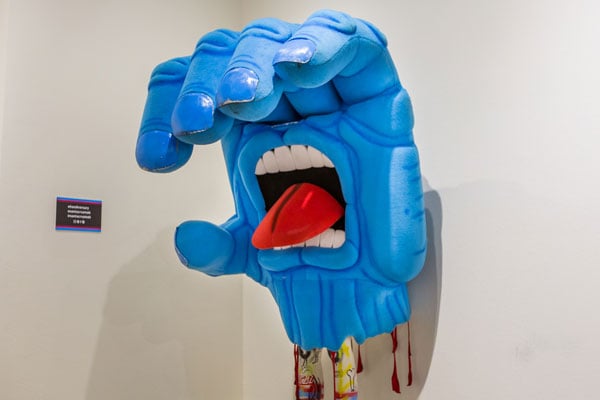 There's also an adult-size costume version that would transform a willing participant into an grotesque, oversized Muppet.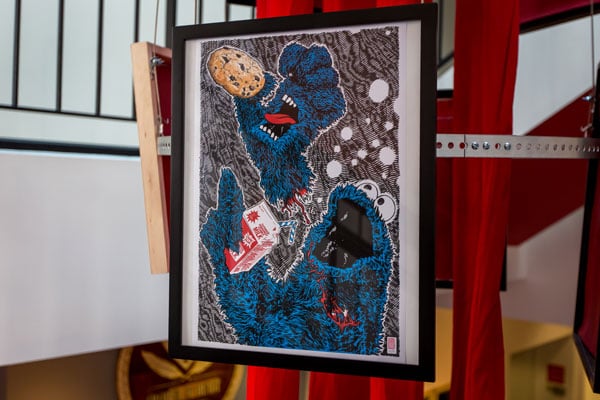 Even Cookie Monster gets in on the action with an illustration of his furry, mouth-emblazoned palm grasping for a cookie.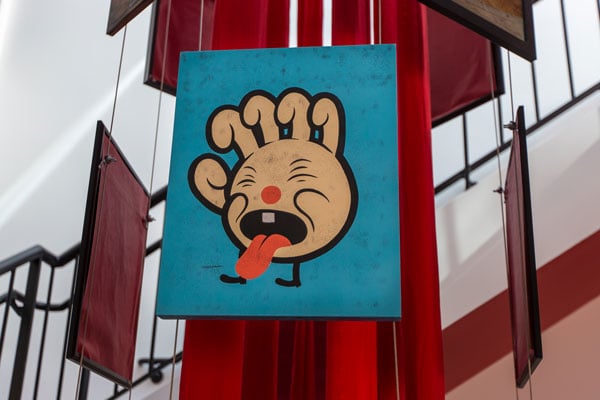 Jim Phillips, and the images he created, are legendary in the skateboarding community. A graduate of Santa Cruz High School, Phillips began publishing his artwork in local surf magazines in the 1960s. Throughout the 70s and 80s, Phillips served as art director for Santa Cruz Skateboards where he created thousands of familiar images, the most famous of which became the blue Screaming Hand.
"I'm often asked where I got the idea for the Screaming Hand," Phillips says explaining its origin. "As I sat at my drawing table and clenched my left hand, I penciled a sketch, thinking about how powerful the hand is, how artists have used it in gestures to express emotion. Then I thought about it being even more expressive if it had a mouth right on the palm, and how much more if it was screaming!"
Skateboard and surf graphics are fleeting, and it's rare for an image such as the Hand to remain commercially relevant for so many years. Yet thirty-one years later, the Screaming Hand has proven timeless. Think of it as "The Scream," Edvard Munch's famous expressionist painting, for the skateboarding community.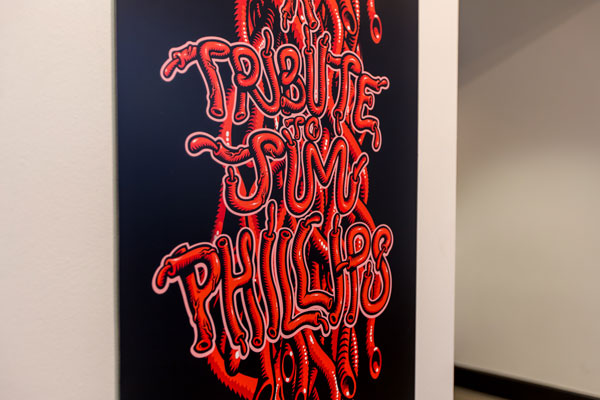 The Screaming Hand exhibit is currently on display and runs through March 26, 2017. Note that the show contains occasional cartoonish gore and adult subject matter. Parents may find some images inappropriate for children.
If you're looking for other MAH-related fun, be sure to check out the upcoming POWER HOUR of fun event featuring a non-stop hour of minute-long, back-to-back, awesomely fun experiences.
All Photos by Garrick Ramirez