All Photos by Garrick Ramirez
One glance at Jared Leake's surf-filled artwork and it's clear the former East Coaster was lured west by endless summers and the California dream. "The warm climate, outdoor culture, and epic Pacific Ocean are what drew me out," he says of his decision to move to California in 2011. Today, the Santa Cruz transplant makes the most of his adopted home through surfing, trekking local trails, and creating contemporary artwork that captures the good vibes and striking scenery of the local landscape in a new way. We asked him to share a little about his process, where he goes to get inspired, and where he finds the perfect pint of local brew.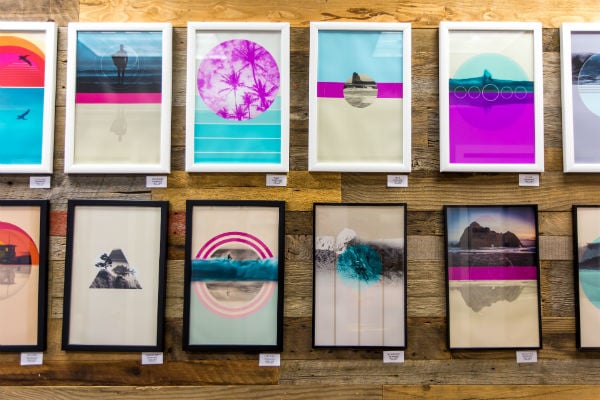 A NEW VIEW OF THE SANTA CRUZ LANDSCAPE
Jared's artwork takes two shapes, each a creative manipulation of his outdoor photography which features numerous Santa Cruz beaches. For his sleek, retro-tinged digital prints, he pulls individual aspects of a photo-soaring pelicans, a lifeguard station, a surfer dropping into a cresting wave-and embellishes them with multihued shapes and designs that call to mind classic surf posters. "I wanted to do something different with photography," Jared explains. "By taking one element of a photo and putting it in a new context, it becomes the focus."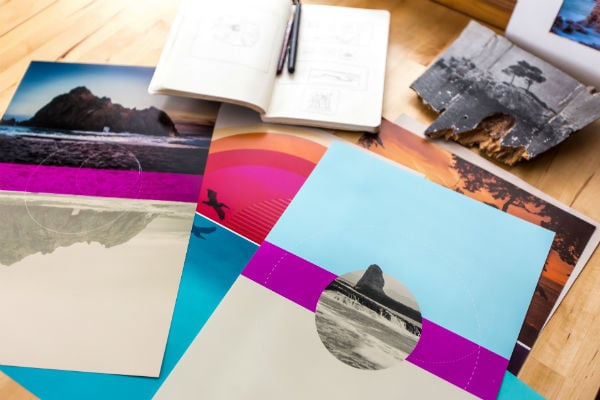 His wood pieces apply the same concept but via a more tactile process. Using a photo transfer method and locally found wood-driftwood or old fence posts, for example-he imprints black-and-white images onto weathered fragments creating beautiful photographic sculptures.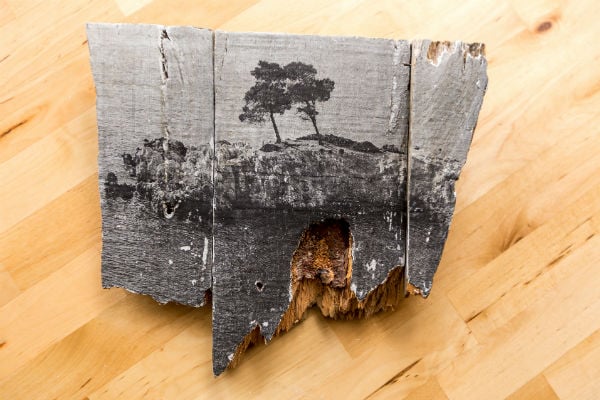 Jared shares his artistic skills by teaching visual art and digital photography to high school students, fostering the next generation of local artists. A flourishing local art scene is part of what drew him to Santa Cruz. "There's a large, diverse group of people who are creating art in Santa Cruz," he says. Jared also points to the wealth of local art resources like First Friday-"Downtown is bumping!"-and The Tannery Arts Center which he recommends as a great spot for art classes.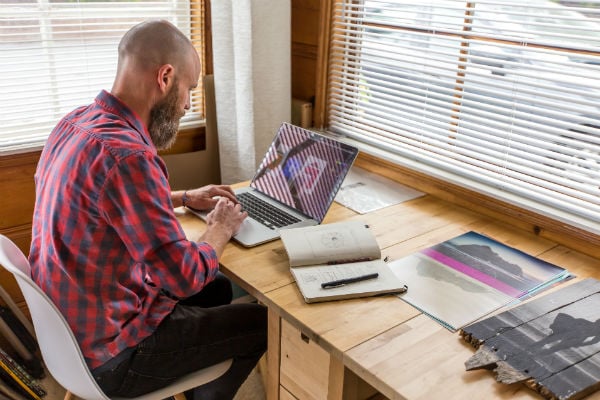 JARED'S LOCAL RECOMMENDATIONS
When he's not teaching high schoolers art or creating his own, Jared's out in the surf and on the trails that fill his artwork. Here are some of his recommendations for where to soak up the local scenery and culture.
The Go-to Beach:
I love the big, beach feel of Manresa State Beach with its wide stretch of sand. It's also a good, mellow spot to surf and have your own space. Closer to my house, I also catch waves at the Point and 26th Avenue Beach in Pleasure Point.
Favorite Hiking Spots:
I'm training for a marathon so I do a lot of trail running at the Forest of Nisene Marks. I'm also planning a multi-day backpacking trip at Big Basin Redwoods State Park. Recently, another art teacher and I took a group of high school kids on a art-and-photography field trip to Big Basin and a few Davenport beaches, stopping for treats along the way. The raspberry croissants at Whale City Bakery are awesome!
Good Photography Spots:
In my neighborhood, I shoot surfers at the Point and Two Six (referring to 26th Avenue Beach). But I love going north toward Davenport. I pull over and scrambling down to beaches like Shark Fin Cove with its amazing formations.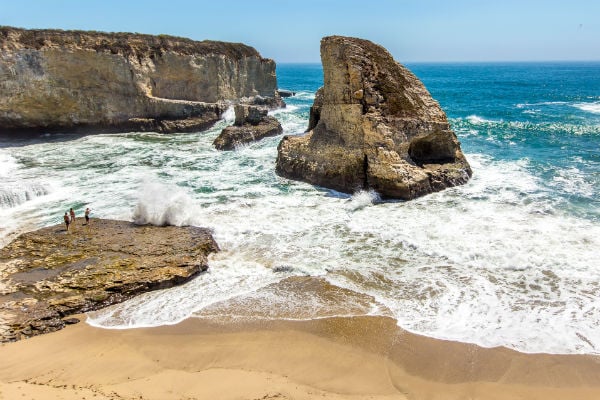 Shark Fin Cove in Davenport
The Best Grub:
I go to Coffeetopia for bagels and coffee, Suda for fish tacos, and East End Gastropub for burgers and beer. I'm a big beer guy, so I'm frequently at Corralitos Brewery and Discretion. Uncle Dave's Rye IPA is killer.
You can find Jared's artwork at local shops including Artisans & Agency. His work is also available online at jaredleake.com. To discover the other resources and destinations that comprise our vibrant arts and culture scene, check out the listings on our site.