Photo by Molly Ressler
Santa Cruz County boasts acres of beautiful farmland, from pumpkin patches and strawberry fields to vineyards and apple orchards. Even though we might pass by one of these crops when driving north towards Davenport or south through Watsonville, for most of us, farmland stays on the outskirts of our imagination. We rarely know which plot of land our food came from, much less the farmer who grew it.
There are many folks here in Santa Cruz, however, who want to change our relationship to food, including those who transform basic ingredients into a treat for our taste buds. If you're looking for a truly local meal with fresh-picked ingredients harvested from the farm down the road, the garden out back, or even the restaurant roof, these Santa Cruz spots won't disappoint.
Keeping Bees in Business at Bargetto Winery
John Bargetto didn't set out to become a beekeeper, but after years of buying honey by the truckload to make Bargetto Winery's Chaucer's Mead, he decided it was time to start experimenting with his own hives. "I wanted to know what honey from our own vineyard would taste like," says John.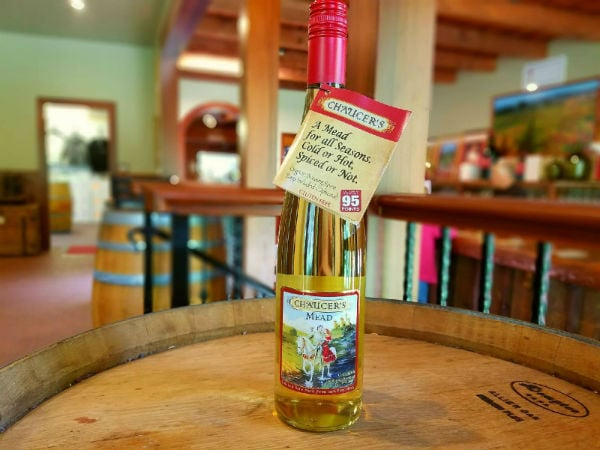 Photo Courtesy of Bargetto Winery
The new hives are located on 40 rolling acres of sustainably grown grapes out at their Regan Estate Vineyard in Corralitos. While grapes don't provide nectar for the bees, the adjacent apple orchards oblige. Unfortunately, the new Regan hive operation is still too small-scale for the public to enjoy, but John hopes eventually he'll have a large enough honey crop to share with the community.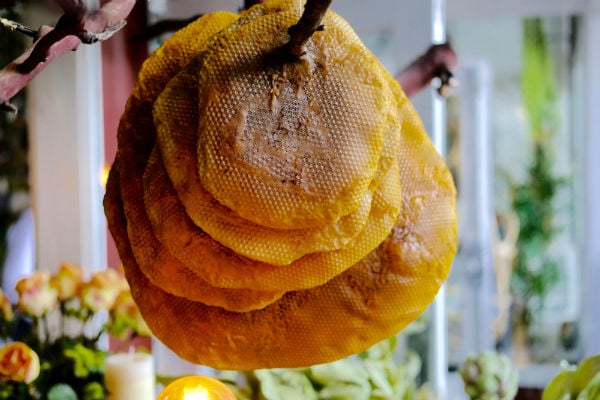 Photo of Honey Comb Courtesey of Hive and Hum
Making their own honey is just one example of the Bargetto family's dedication to honoring the unique terroir that results in their flavorful, well-balanced wines. John plans in the future to hold farm-to-table dinners in the middle of the vineyard, immersing guests in the landscape that shaped their glass of Pinot or Chardonnay. The winery currently offers harvest dinners each fall, featuring food from local farms and paired, of course, with Bargetto wine. They have also been known to participate in Chaminade's seasonal Farm to Table dinners so be sure to watch for next season's schedule.
Spotlight on Local Agriculture at Chaminade's Farm to Table Dinners
For the last 10 years, Chaminade has offered Farm to Table dinners at their hilltop resort overlooking the wooded slopes of Santa Cruz and a glimmering blue ribbon of the Monterey Bay. These dinners are not only a chance to meet the farmer, winemaker, and chef behind your five-course meal, but are also an opportunity to connect with someone new across the table. "You're encouraged to sit across from people you don't know," says Casey Dakessian, Chaminade Food and Beverage Director. "The concept is you sit down as strangers and walk away as friends because you've just broken bread together."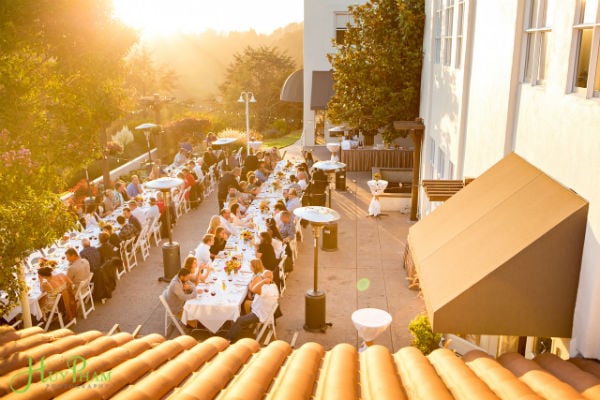 Photo Courtesy of Chaminade Resort
Chaminade's Executive Chef, Nick Church, creates the meal around whatever ingredients the featured farm can provide. "It's a great setting for Nicholas," explains Casey, "because he can go outside the box and personalize the menu." This is a unique chance to put a face to the name of a local farm and truly taste the flavor of Santa Cruz.
Farm to Table Wine Dinners are offered seasonally and go through the month of October. To see dates, find more information, and reserve your seat, visit Chaminade's website.
Tasting the Chef's Garden at Seascape Beach Resort
Karl Staub, the Executive Chef for Sanderlings at the Seascape Beach Resort, puts both his culinary and gardening skills to use when creating dishes for the restaurant's rotating menu. Eighteen years ago when he first came on as chef, Karl started growing herbs behind the Sanderlings kitchen in a 10×10 sloping plot. He has now transformed the space into a multi-tiered 60×60 foot vegetable garden. "It's just something I enjoy doing," says Karl. "I try to find at least 20 minutes of my day to go out there to water, weed, and harvest."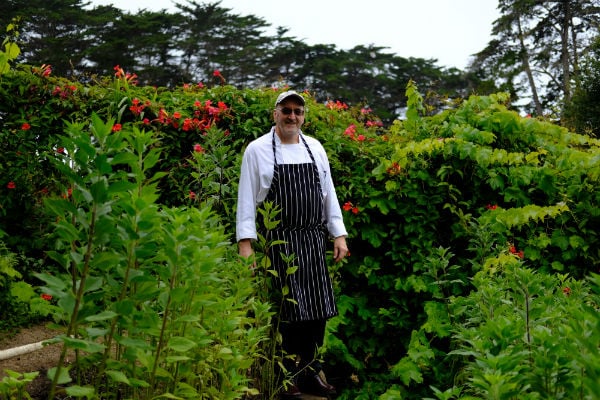 Photo by Molly Ressler
The garden features a rotating crop of herbs including basil, pineapple sage, tarragon, Italian parsley, and marjoram. Specialty cocktails at the bar often feature rosemary and mint and Karl uses a tasty combination of herbs to make a house vinaigrette drizzled over burrata, prosciutto, and heirloom tomatoes in the summer.
Besides a wide variety of herbs, Karl grows fresh vegetables like jalapeños, pumpkins, corn, and sunchokes (also known as Jerusalem artichokes). He's kept the same sunchokes crop going for three years, replanting the eyes of the small, white tubers after each harvest. Come late August and early September, the sunchokes will become a tasty staple at the restaurant in everything from vegetable purees to a slightly sweet, nutty side to their fresh seafood entrees.
Cultivating Flavor at Shadowbrook's Rooftop Herb Garden
Shadowbrook is full of unexpected experiences, starting with the journey down to the restaurant's front doors. There's a cherry red gondola that will quickly ferry you down the steep hillside in comfort, or for those who are up to it, two paved paths wind down through a lush landscape of palm trees, draping greenery, and tropical ferns.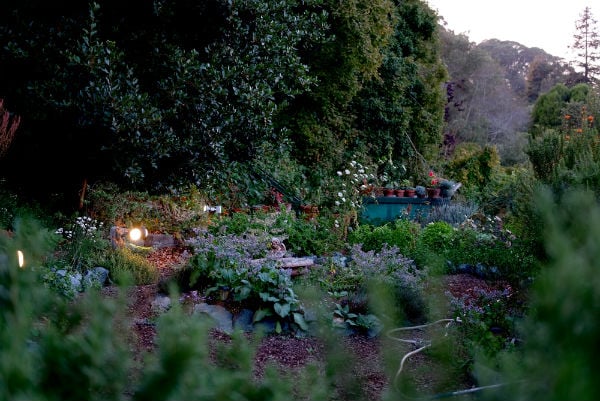 Photo by Molly Ressler
If you choose the path to the left, you'll meander down to the backside of the restaurant. Here, tucked away in a tidy 25×50 foot plot, is Shadowbrook's herb garden. While you can't walk through the garden, a deck lined with benches and herb-filled planters welcomes you to sit for awhile and take in the fragrant sage and oregano or taste a pinch of mint and basil.
First planted in 1976 (the restaurant opened in 1947), the garden actually sits right on top of the turf roof of their kitchen. Carol Fuegel, the Head Gardener now for 20 years, maintains the garden and works closely with Chef Roger Gowen to ensure the garden is meeting the culinary needs for the kitchen year-round. Shadowbrook's signature drinks like the Basil English Cucumber and the Coconut Lavender Lemonade feature the garden's fresh herbs, as do many of their tasty main dishes. Much of the basil goes into the restaurant's housemade pesto and other herbs add bursts of flavor to menu items like the clam chowder, pork prime rib and fresh grilled salmon.