Combine a warm climate with limitless scenery and a bounty of artisan breads, cheeses, and wine, and you have the recipe for a perfect picnic. With 29 miles of beaches, Santa Cruz County has no shortage of scenic locales to spread out on your favorite picnic blanket. But for added comfort and larger gatherings, you'll want picturesque spots with designated picnic areas equipped with tables and possibly BBQ grills. Below, we've listed a few of our favorites and organized them by setting so you can plan your dream picnic! And of course, the sand is always a great option too!
Garden
If it's scenery and solitude you're after, look to the UC Santa Cruz Arboretum. The lush Westside oasis is open to the public and features a handful of picnic tables tucked under hulking shade trees situated between a redwood grove and the colorful blooms of the Australian Garden. On weekdays, the only sound you're likely to hear are the melodies of birdsong and the rustling leaves of mature Narrow Leave Peppermint trees. Keep an eye out for the elusive white hummingbird that darts amidst nearby bushes along the park's famous Hummingbird Trial.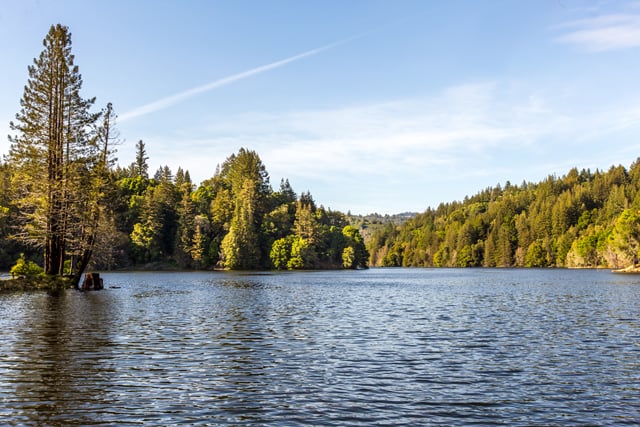 Lake
Want to picnic on an island? Head to the Loch Lomond Recreation Area. In addition to outdoor activities such as boating and fishing, this gorgeous, forest-shrouded lake features numerous picnic areas with BBQ pits, including an especially scenic locale on diminutive Clar Innis island (accessible only by rental boat available at the lake's boathouse). There are also two group picnic areas with large BBQ pits that you can reserve for your next outdoor bash ($70/day). If you plan to crack open some local craft beer or wine, you'll need an additional permit ($5 for 1-5 adults, $50 for +5 adults). For reservations, contact the lake's staff at least one day in advance at 831-335-7424. Please note, Loch Lomond is open from March 1 through Labor Day and then Saturdays and Sundays though mid October of each year.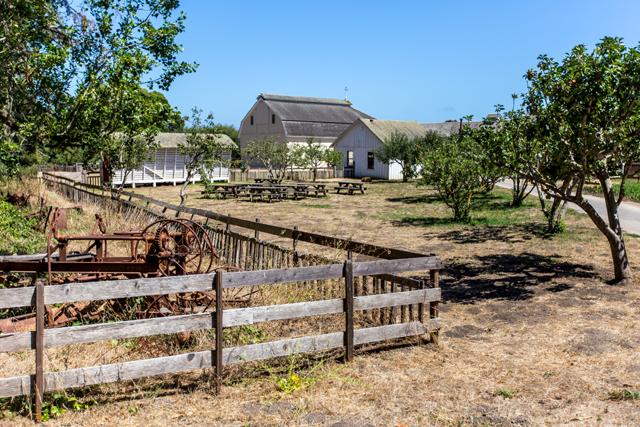 Farm
Wilder Ranch State Park invites visitors to silence their phones and unplug in an idyllic setting full of gardens, livestock, old barn structures, and a striking pair of Victorian homes. It's also a great place to picnic thanks to a small apple orchard that's strewn with wooden picnic tables. Little ones will appreciate the goats and horses munching on grass in the adjacent corral as well as clucking chickens in the coop across the way. The park hosts regular Living History days and holiday events that bring the historic ranch to life with fun farm demonstrations.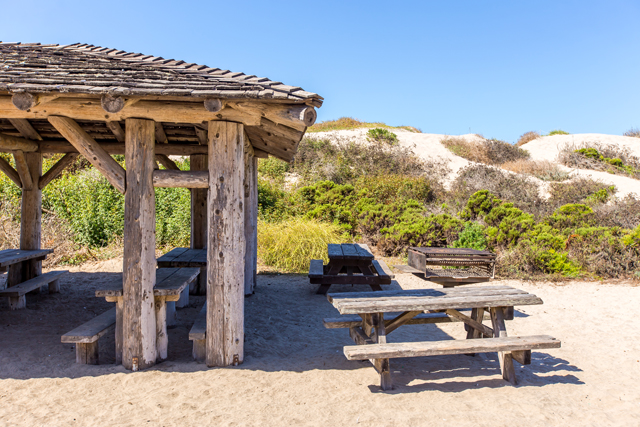 Beach
If you want to feel sand underneath your feet, Seacliff State Beach and Sunset State Beach are your spots. Both have a large number of sheltered picnic tables and BBQ grills set right over the beach (although at Sunset, there are beautiful but opaque sand dunes sitting between you and the water). The tables at Seacliff fill up fast while Sunset tends to be a little quieter. Both parks offer reservable spaces for large groups including weddings, and corporate events (permit fees apply). To reserve a spot for your next event, contact the park system's special events coordinator at 831-464-6290.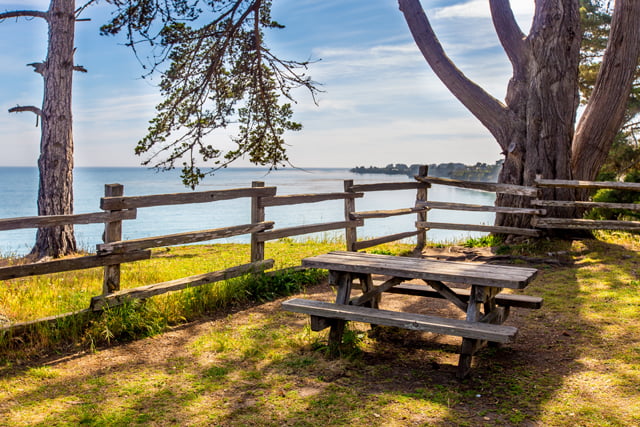 Waterfront Bluffs
At New Brighton State Beach, you'll find a beautiful picnic area perched on a grassy bluff dotted with cypress trees and overlooking the glistening Monterey Bay. There's only one catch: you need to be a registered camper to park there, otherwise you'll need to lug your picnic goodies from the lower level beach lot. On a slow day, you can try to sweet talk the rangers into letting you drop off supplies. Better yet, snag one of the enviable campground spots and make it an overnighter. If you're feeling lucky, you can also try and nab the coveted (read: 1-2) picnic tables on the bayfront bluffs at Sunset State Beach (along Shell Road), Manresa State Beach (adjacent to the main parking lot), and East Cliff Drive (at 41st Ave and 33rd Ave) in Pleasure Point.
Blanket on the Sand
And of course, if you want to pull out your beach blanket, the 29 scenic miles of coastline welcome your on-the-sand picnic adventures. Just remember, pack your trash, no glass or alcohol permitted on beaches, and do not feed the wildlife.
For more fun picnic ideas, click here for additional information.