All Photos by Garrick Ramirez
Oh, the carefree life of a winery dog. It ranks high on our list of reincarnation fantasies. Yet in Santa Cruz County, which is home to over 70 family-owned wineries, you needn't wait until the next go-round to enjoy a breezy life of leisure. Treat yourself-and your pooch-to a taste of the good life at the following dog-friendly tasting rooms.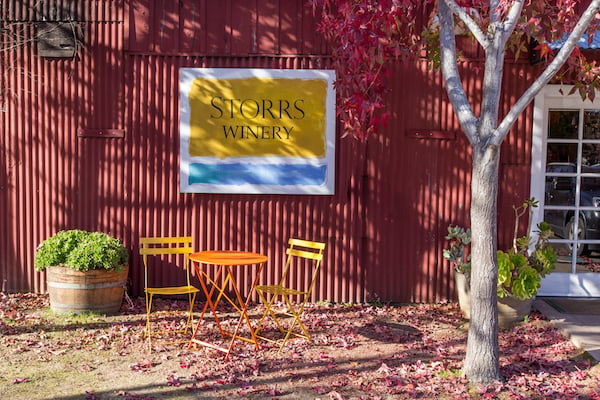 SANTA CRUZ
This cozy tasting room welcomes dogs-and pigs!-on their outside patio set amidst the historic Old Sash Mill. You'll enjoy award-winning pinots and chards while your canine companion takes five with dog treats and water. If you and your pup perfer countryside and vineyard views, opt for their brand new tasting room located on their Corralitos property in Pleasant Valley.
Santa Cruz Mountain Vineyard
Leashed pets are welcome in this open tasting room and cellar where they'll find doggie treats and water bowls. Meanwhile, their owners should seek out a luscious, dry Grenache Rose that's only available in the tasting room from now through the end of summer.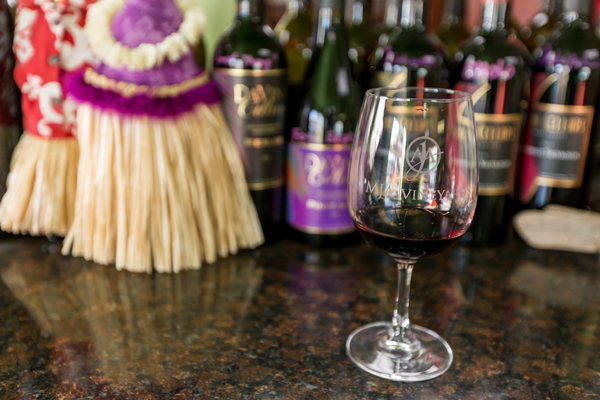 MJA Vineyards
This Hawaiian-spirited winery spreads the aloha to four-legged friends by welcoming them inside the tasting room and on a lively, fire pit-warmed deck. You'll be handed samples of exceptional cabs while dogs taste through treats and water. No word on if anyone gets a flower lei.
Whether your looking to taste 2,100 feet up in the Santa Cruz Mountains, or in the heart of the Westside of Santa Cruz, Silver Mountain Vineyards welcomes pooches big and small. With their passion for organic and sustainable practices, Silver Mountain prides itself on "living in harmony with mother nature" – no wonder pups are welcome! And if you venture up to their vineyard, be sure to ask about their "Triple Green Canopy," a multi-purpose solar array that is one of the largest in the Santa Cruz Mountains.
Sones Cellars
Dogs may be a regular sight at this Westside tasting room, but everyone's talking about hedgehogs. Taking a cue from the wineries of Old Europe, Sones invites customers to refill swing-top bottles with the house wine on tap, Hedgehog Red. The zin-and-petite-sirah blend changes throughout the year, so each visit offers a taste of something new.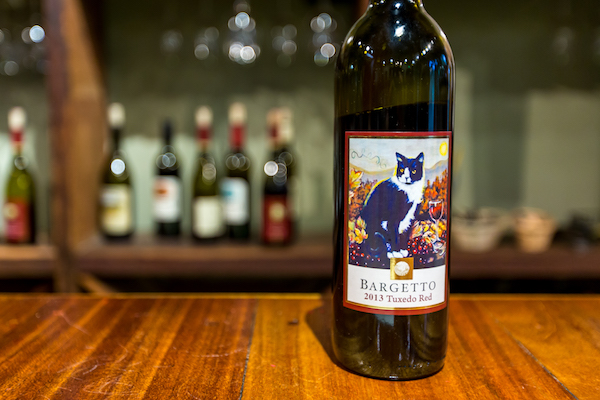 SOQUEL
Santa Cruz's oldest winery invites pet owners to enjoy a glass of wine on a beautiful patio perched directly above Soquel Creek. Nab a seat and toast your pup with a glass of Tuxedo Red, a delicious sipper that honors Bargetto's former black and white tuxedo cat, Tux.
Enjoy a scenic redwood-lined drive up the hillside to this lush, vineyard setting with sweeping views of the region at this hilltop winery that feels worlds away, but is just 10 minutes from downtown Soquel. You and your pup can enjoy sweeping views of the Monterey Bay and surrounding region with a glass in hand.
Wargin Wines
Dogs are welcome in the charming tasting room, but, like you, they may prefer relaxing on the shaded, landscaped patio out front. It's a pleasant spot to kick back and enjoy a flight of Wargin's unique Italian varietals.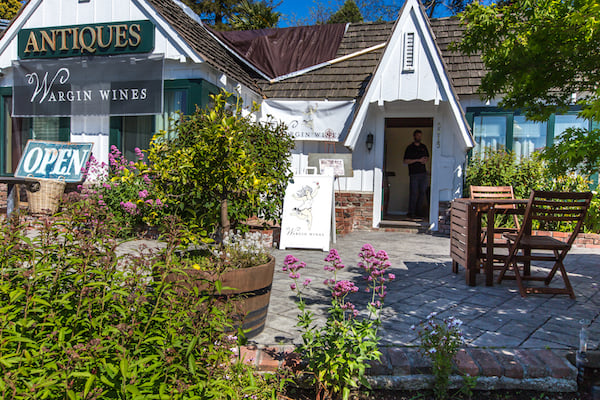 CORRALITOS WINE TRAIL
It's Pinots and pups at this picturesque winery tucked into the rolling hills of the Corralitos wine country. Leashed dogs get water bowls and dog treats, you get single-vineyard wines, and everyone is treated to an expansive outdoor patio with dramatic vineyard views.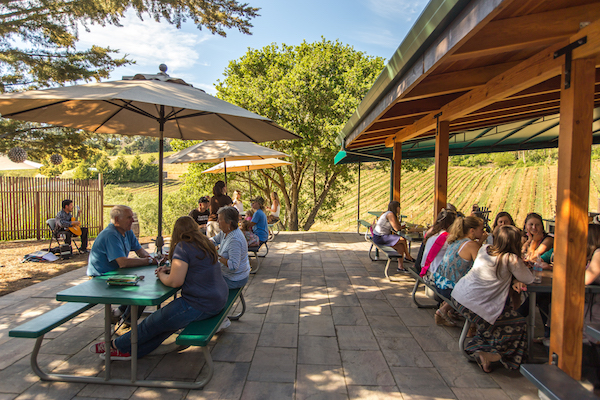 All though, not on the Corralitos Wine Trail, Cantine is a not-to-miss tasting room in neighboring Aptos. Offering an extensive selection of wine and beer sourced from right around the corner, you can enjoy their patio overlooking the trees around a firepit and small bites.
Estate wines and olive oils should lure epicures to this idyllic vineyard and tasting room in the foothills of the Santa Cruz Mountains. Pups aren't allowed inside the tasting room, but they'll hardly mind while lounging on a scenic patio and picnic area enveloped by peaceful Pleasant Valley.
Enjoy your tasting in the Pleasant Valley district of historic Rancho de los Corralitos. Overlooking their organically-farmed estate vineyard, you'll enjoy their award-winning chardonnay and pinot noirs while your pup enjoys the view of the quarry.
NORTH COUNTY
Bonny Doon Vineyard
This far-out Davenport winery, aka The Dooniverse, welcomes earthlings and their well-behaved pets with witty, delicious takes on Rhone varietals (Clos de Gilroy, anyone?). There's plenty of room for pups to wander a casual tasting room equipped with picnic tables and water bowls, but note that it's BYODT: bring your own dog treats.