While all sand can sculpt magnificent castles, and bury small, wiggly toes, some beaches are just better suited for kids—and their beach gear-wielding parents. Easy access, gentle waves, and clean, spiffy restrooms top the list of non-negotiables. A nearby ice cream shop wouldn't hurt, either. Here are six suggestions for where to enjoy a successful beach day with your swimsuit-clad kiddos.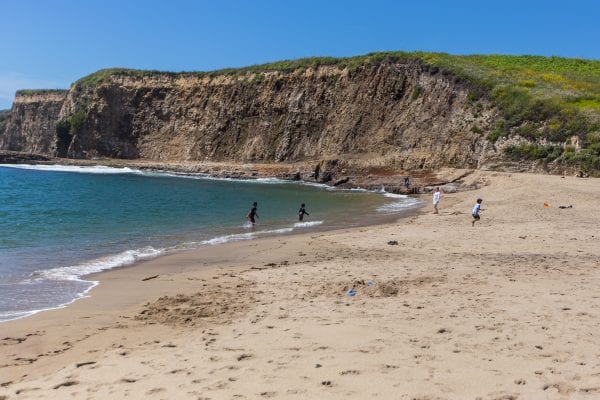 Fronting the wild Pacific, as opposed to Monterey Bay, Davenport sports some of the most unique and striking coastline in the county. Yet, many beaches are notoriously hard to reach, sitting at the end of steep, rocky dirt paths. Thankfully, Davenport Landing is easily accessed via a short and level walk to the sand where kiddos can run free amidst a picturesque setting backed by dramatic coastal bluffs.
X-Factor: Budding marine biologists can spy green anemones, scuttling crabs, and dazzling starfish amidst rocky pools during low tide.
Nearby Treat: On weekends, seafood lovers can slurp shellfish at the adjacent American Abalone Farms. If the closest things your kids get to seafood is goldfish crackers, they'll still enjoy being able to see—and sometimes touch—live abalones, and take home a shiny, pearlescent shell.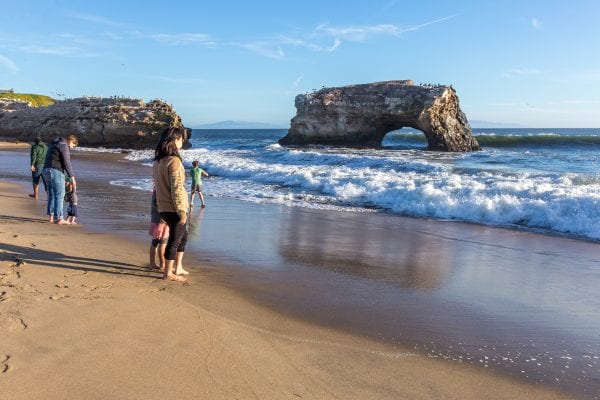 This iconic, white sand beach sits at the end of dazzling West Cliff Drive, offering convenient access to a large beach cove bounded by sandy slopes (ensuring little ones don't have far to wonder). Plus, a rocky shelf to the north hides pools brimming with sea creatures. Behind the beach, a cluster of picnic tables and BBQ grills offers reason to pack a cooler, and an adjacent visitor center features nature exhibits and kids activities.
X Factor: A short nature trail leads to a Eucalyptus-shaded sanctuary for migrating Monarch butterflies.
Nearby Treat: While there's little within immediate walking distance, Kelly's Bakery dishes up sweet confections, sandwiches, and ice cream scoops just a few blocks away.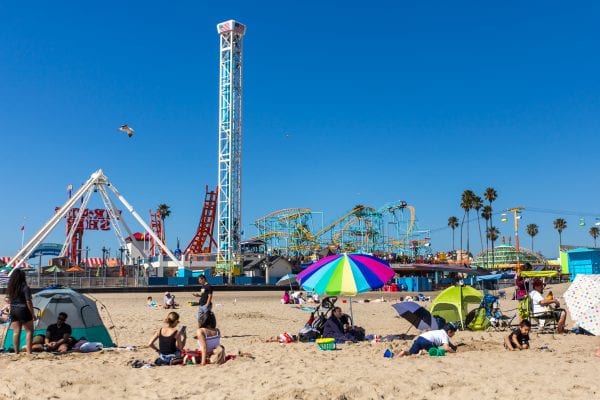 As its name suggests, Main Beach is at the heart of Santa Cruz's seaside action, linking the Santa Cruz Beach Boardwalk, the Santa Cruz Wharf, and the mouth of the San Lorenzo River. Expect a bustling, vibrant scene on warm, sunny days as families congregate to enjoy the surrounding big-ticket attractions. Plus, you needn't have a perfect serve to enjoy watching pros battle it out at beach volleyball courts.
X-Factor: During the summer, the Boardwalk hosts free, live bands and outdoor movies on the beach. Check the schedule for this year's lineup.
Nearby Treat: Beach Street, the main drag that fronts Main Beach, is chock-a-block with shops and eateries. The Picnic Basket offers wholesome grub and coveted scoops from The Penny Ice Creamery. Just a skip from Beach Street find crispy tacos, super burritos, and of course, the kid-favorite, quesadillas, at Las Palmas Taco Bar.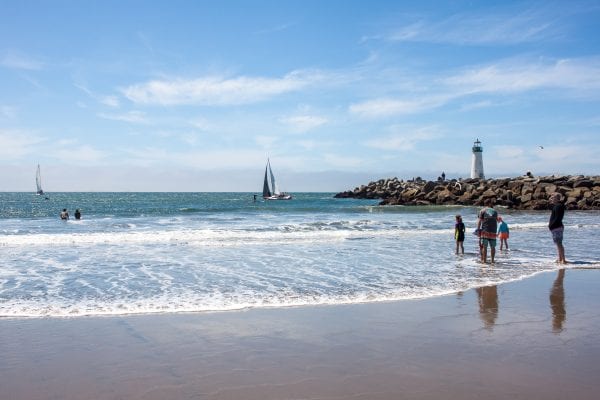 In addition the usual surf and sand, this scenic patch alongside Santa Cruz Harbor packs a ton of activities for kiddos. Bounded by a jetty marked by the Walton Lighthouse, the beach features a steady stream of sailboats that is fun to watch. Little ones will also want to plant themselves on the human sundial to witness their shadow mark the date. Visit on a Saturday between 10 a.m. – 12 p.m., and you'll enjoy the strumming tunes of throngs of ukulele players who gather once a week to serenade lucky bystanders.
X-Factor: Harbor Beach offers a twofer, connecting to adjacent Twin Lakes State Beach which offers more room to spread out, and enviable fire pits to linger a little longer.
Nearby Treat: Crow's Nest Beach Market is a one-stop shop for affordable eats, beach essentials, and soft serve!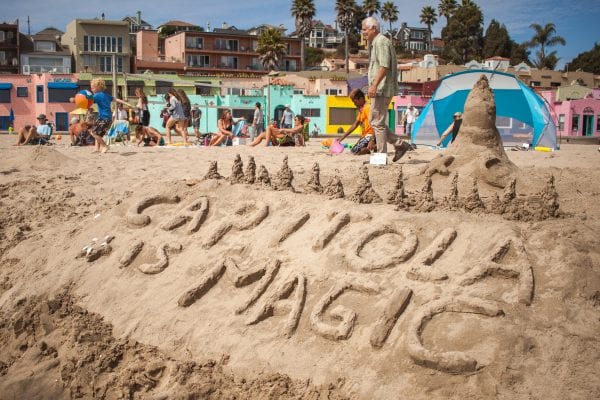 Centrally located within Capitola-by-the-Sea, Capitola Beach is the de facto playground for the charming village. Gentle waves provide plenty of warm weather fun, and the ideal conditions for pint-sized surfers learning the sport. Capitola Beach Company offers the gear and lessons to get your grom on a board, and riding waves into shore. The adjacent Capitola Wharf provides another way to stretch your legs, and enjoy a different perspective of the shoreline.
X-Factor: During summer, when Soquel Creek flows through Capitola Beach, boogie board-equipped youngsters line up to ride the slow-flowing stream as it meanders through the sand, and out to the rippling tide.
Nearby Treat: Take your pick of the village's many waterfront eateries including The Sandbar and Grill, Zelda's on the Beach, Margaritaville, and Sotola to name a few. A half-mile up the road, the seemingly endless assortment of sweet and savory items at Gayle's Bakery ensures that adults and picky eaters are happy.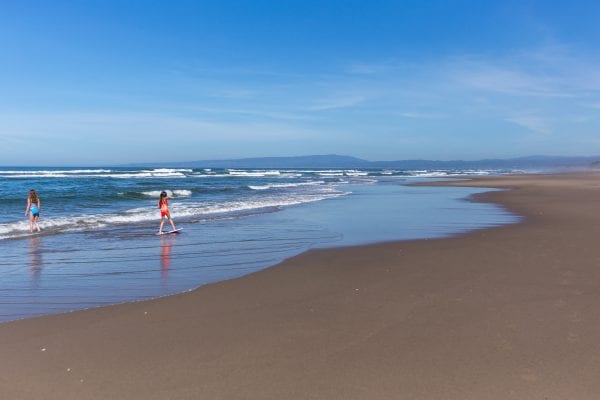 Located on a remote stretch of south county, this white-sand stunner is blissfully removed from the hustle-and-bustle of beaches closer to town. Backed by tall sand dunes, the expansive beach never feels crowded. Plus, the relative tranquility means you're likely to spy wildlife such as sandpipers and furry sanderlings scooting across the sand. The beach is a picnic lover's dream with numerous facilities and BBQ grills dotted throughout the property, including blufftop locales with sweeping views of the water.
X-Factor: With 91 campsites, Sunset is the only beach on this list where you can pitch a tent, and stay the weekend.
Nearby Treat: Unless fields of Brussels sprouts are your kids' idea of a treat, you'll want to pack a picnic basket with more kid-approved provisions. Afterward, stop by Martinelli's Company Store for free tastings of sparkling apple cider in a variety of flavors and combinations.