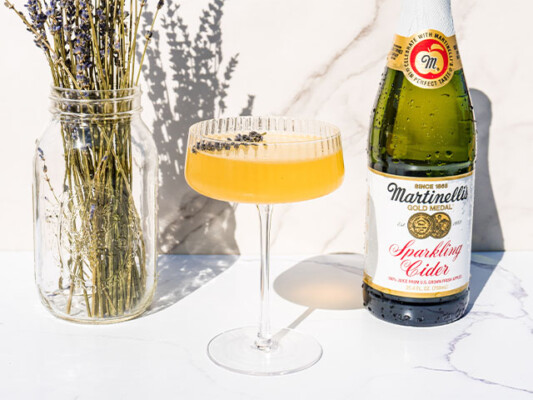 This year, S. Martinelli & Company is celebrating its 155th anniversary! Founded in 1868 and still family-owned and operated, this sweet business remains headquartered in agricultural-rich Watsonville. Martinelli's debuted a family-friendly tasting room in 2016, where visitors can enjoy free samples of Martinelli's juices, sparkling ciders, mulling spices, and limited-edition products. Just in time for summer, the company partnered with a local artisan distillery to create a series of cocktails to commemorate their century-and-a-half-plus birthday.
Combining Santa Cruz-based Venus Spirits' Gin No. 1, fresh lemon juice, honey syrup, a dash of lavender bitters, Martinelli's Classic Sparkling Cider, lemon peel and a lavender sprig for garnish, the American 75 is described as fruity, bright, sweet, crisp, floral, aromatic, and refreshing. The base of the drink can be made ahead, refrigerated, and Martinelli's can be added just before serving.
Once producing champagne hard cider using apples from California's first commercial orchards, Martinelli's shifted production once Prohibition was enacted. During this time in history, the company grew exponentially, encouraging Americans to "drink their apple a day." Today, visitors to the tasting room can view archival photos, vintage machinery, and an historical film shown at the tasting bar.