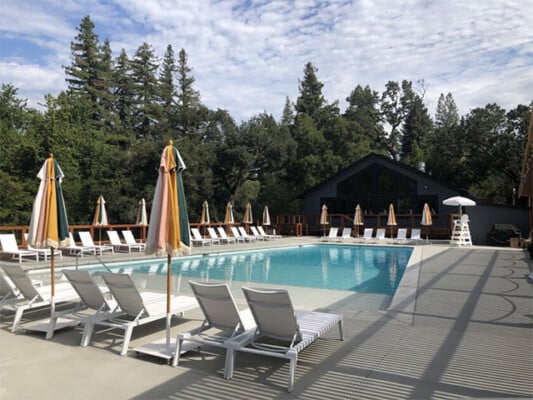 Reimagining a former resort, the historic Trout Farm Inn has reopened after the property lain dormant for several years. Now, the redwood-rich San Lorenzo Valley is the hottest spot in the region to splash and nosh anew.  
Debuting in 1903, guests of the original Trout Farm Inn would fish for rainbow trout in the nearby ponds. The property began operating as a roadhouse in 1947, however following a 2016 kitchen fire demolished most of the main building, new ownership decided to lovingly restore the resort, starting with the generously sized saltwater pool. An expansive new deck surrounding the pool overlooks Zayante Creek adorned with 12 custom cabanas. A smaller saltwater soaking pool is designed to cool off visitors who want to lounge in shallower depths. Menus feature casual comfort food and independent craft beers served alongside kombucha, wine and hard seltzer. Poolside yoga, live music, and after-hours events are also offered.
Day passes are $25 for adults.