Hosting your next event at Hilton Santa Cruz – Scotts Valley has never been easier. Check out our full itinerary for inspiration and ideas on how you can maximize your time here in Santa Cruz County!
Relax and retreat for your corporate team building, conference, or meeting at Hilton Santa Cruz! Group offers now include complimentary upgrades to redwood view rooms, food and beverage discounts, and locally themed welcome amenities to each guestroom on check in day.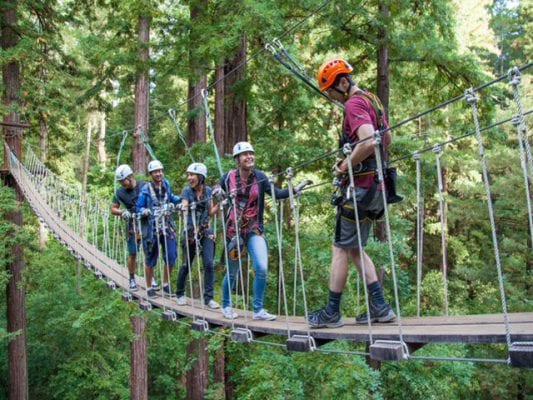 Can't get enough of the redwoods at Hilton? After your meeting, get up high in the redwood canopy at Mount Hermon Adventures! Just a quick drive down the road from Hilton, Mount Hermon Adventures can take your group on a thrilling zipline adventure or put their skills to the test on an aerial ropes course. This is team building at its finest and the experience of flying through the trees is something your attendees won't ever forget.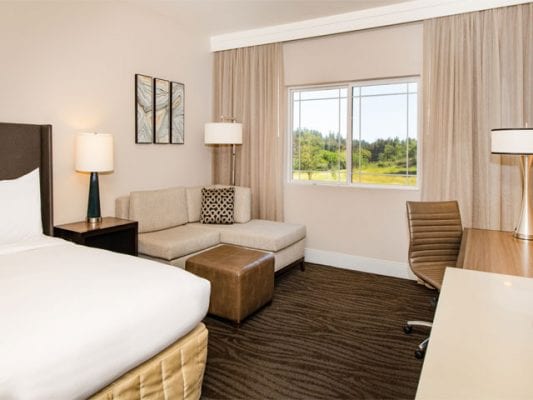 When your full day on the ropes course comes to a close, have your attendees take some time for themselves in Hilton's Pure Wellness Rooms. When it comes to providing a wellness experience while you travel, the Pure Wellness Rooms are the best the area has to offer. This hypoallergenic environment provides purified air and allergy friendly bedding, plus views of the surrounding Santa Cruz mountains. Hilton Santa Cruz's Pure Rooms enhance your well-being so you can sleep better and be your best for your next event.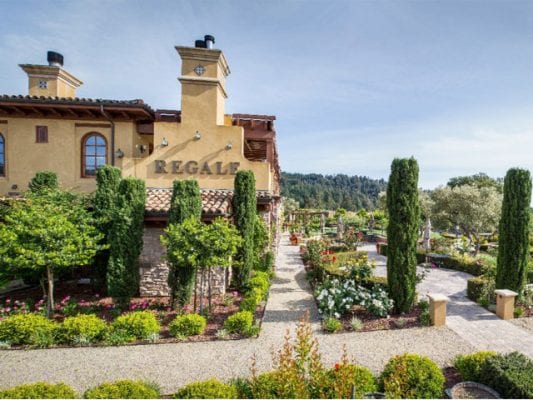 After a good night's rest in the Pure Wellness Rooms, your attendees will be ready for an afternoon of fun and relaxation at Regale Winery and Vineyards! Tap into your team's fun side with blind wine tasting classes, bocci ball, and Pinot Pong! Or sit back and enjoy the breathtaking views of their vineyards and the Santa Cruz mountains. Regale will work with you to create a customized event that is both unforgettable and meets your needs.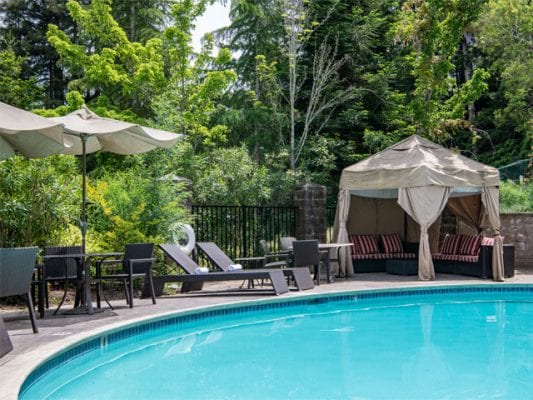 Looking to stay onsite for a day's activities? Hilton Santa Cruz offers team building activities that will encourage your associates to thrive! From charitable bike building and donation to indulgent wine blending parties, your team will be challenged to use creativity and communication to build the trust and cohesion necessary to succeed. You can't go wrong with the indoor and outdoor spaces available including their fourth floor pool patio with expansive treetop views.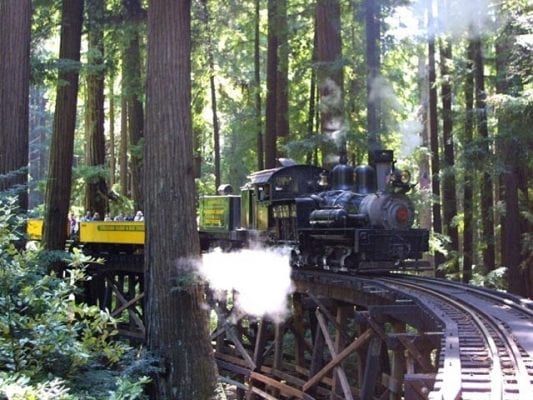 To finish out your event at Hilton with a bang, check out Roaring Camp Railroads! Just an easy drive from Hilton Santa Cruz, Roaring Camp is the perfect place for your final day of activities. Have your meeting in the gorgeous Bret Harte Hall or in the surrounding forested picnic grounds, then all aboard the steam train for a ride through the redwoods. Round out the day with a meal from their Chuckwagon BBQ and some line dancing!
Whether you're looking to stay onsite or spice up your event with some new activities, Hilton Santa Cruz – Scotts Valley has your covered for a comfortable stay and easily accessible team building activities!