Dream Big, Think Small (Meetings) in Santa Cruz County!
Let's break it down: as corporations seek out more personalized service when it comes to meeting planning, what better way for attendees to unplug from the hustle and bustle of a large space than with a small-scale gathering in a calm, relaxing beachside town? Take a break from big-city venues and convention halls in northern California's favorite beach town: smaller gatherings can be more impactful and more cost effective. As the second smallest county in California, Santa Cruz County can offer customized experiences for small groups and meetings.
(Little) Toes to the Nose with Richard Schmidt Surf School
As the birthplace of mainland surfing in the United States, Richard Schmidt Surf School offers corporate groups an authentic "Surf City" experience. Private surfing lessons in groups as small as three guests can provide an epic wave-riding adventure with a patient, experienced instructor. Corporate attendees at all levels of surfing can learn from the best: Richard himself is a professional surfer.
"When you harness the ocean's energy by catching a wave, you experience moments of sheer adrenaline and excitement. In between waves, that excitement turns into a feeling of serenity, as you observe sea otters swimming by or pelicans gliding along with a wave," he explains. "Sitting out there and realizing that you are one with nature can be a spiritual experience."
Connecting with nature is part of what keeps him heading back into the waves for more; that and his deep connection to the water. In addition to surf lessons, Richard also offers group stand-up paddle boarding lessons and tours.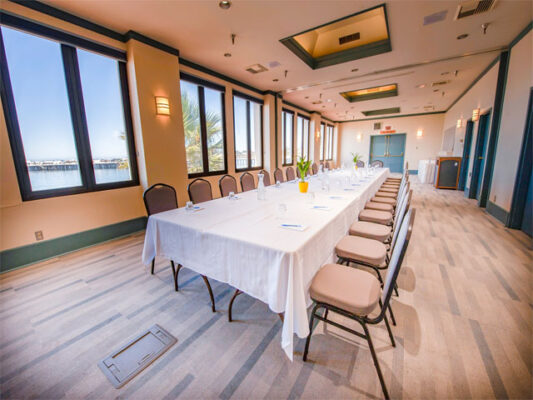 Micro Events at the Santa Cruz Beach Boardwalk
Known for evoking nostalgia and hosting special events for over a century, the Santa Cruz Beach Boardwalk – the west coast's Coney Island – can offer meeting planners micro-events for up to 30 guests. Using the boardwalk itself as a special event space, conference attendees can unwind adjacent to the Giant Dipper Roller Coaster, at tall-boy banquet tables with an ocean view. Or opt for the outdoor fire pit area where small groups can enjoy the warmth of their own private fire pit on the boardwalk plaza while sipping wine and gazing at the ocean. Another favorite spot for small groups is the Aloha Terrace Picnic Area, a festive venue with a grassy area and beach view adjacent to the arcade. Picnic tables with umbrellas and a spot for banquet tables make this a perfect setting for corporate groups. The Beach Oasis includes a wooden deck patio and a private fenced beach area with easy access to the boardwalk. Private beach cabanas are also available. Beach games like cornhole and delicious eats round out the fun!
Small-Batch Organic Welcome Gifts From Hip and Chick
Treat your conference attendees to some self-care upon their arrival! Plant-based hand sanitizer, soy candles, CBD-infused muscle cream, coffee-and-cream scented travel sets, and other goodies for meeting attendees' welcome bags can be arranged through Hip & Chick Organicks. The mother-daughter team behind Hip and Chick creates luscious batches of sugar scrubs, oils, butters, lotions, and other items all stylishly packaged at their Pleasure Point studio using natural, quality ingredients. Assembly some individual gift bags to distribute at a welcome social hour or arrange with the hotel to place the welcome bags in attendees' rooms before check-in!
The team at Visit Santa Cruz County looks forward to welcoming you back in 2021! Be sure to follow Meet in Santa Cruz on Twitter and LinkedIn for the latest news and information.