With over 1,000 slips granting immediate access to Monterey Bay, the Santa Cruz Harbor is a boater's paradise. Plus, it offers boatloads of fun for landlubbers, too! In addition to a marina full of magnificent vessels, you'll find waterfront eateries, sandy beaches, and boundless land and sea recreation. Set sail for the Santa Cruz Harbor, and discover a variety of seaside activities that are sure to float your boat.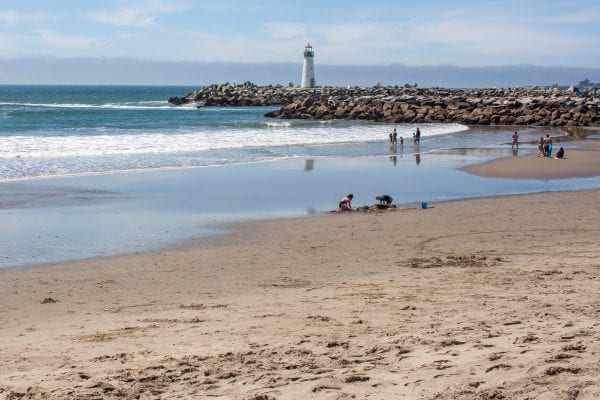 WHAT TO DO
Beaches
Situated between the harbor jetty and the San Lorenzo River estuary, Seabright State Beach offers a sweeping stretch of sand lapped by rippling waves. Follow a walking path that skirts the harbor atop the breakwater, and you'll arrive at Walton Lighthouse. The 41.5 foot beacon was dedicated in 2002, and named in honor of Derek Walton who served as a merchant marine and was lost at sea during World War II.
Harbor Beach is a cozy, pocket beach that extends east of the jetty and connects to Twin Lakes State Beach. Its scenic locale featured postcard views of Walton Lighthouse, and billowing sails propelling boats out to sea. A trio of beach volleyball courts attract bystanders, as does the weekly serenade of the Ukulele Club of Santa Cruz which gathers throngs of strumming musicians each Saturday from 10 a.m. – 2 p.m.
Public Art
At Harbor Beach, you're also likely to spy unique art pieces. Inlaid within a plaza overlooking the volleyball courts, a human sundial coaxes visitors to plant themselves on the appropriate month, and watch their shadow mark the current date. Also, don't miss a topographical sculpture of the Monterey Bay—located between the Crow's Nest and Beach Market—which details the contours and surprising depths of its grand, underwater canyon.
Sea Life Viewing
The Santa Cruz Harbor is officially part of the Monterey Bay National Marine Sanctuary which provides refuge to an astounding diversity of marine mammals, sea birds, and plant life. From the shore, watch for harbor seals, swaying giant kelp, and, on occasion, humpback whales and playful dolphins.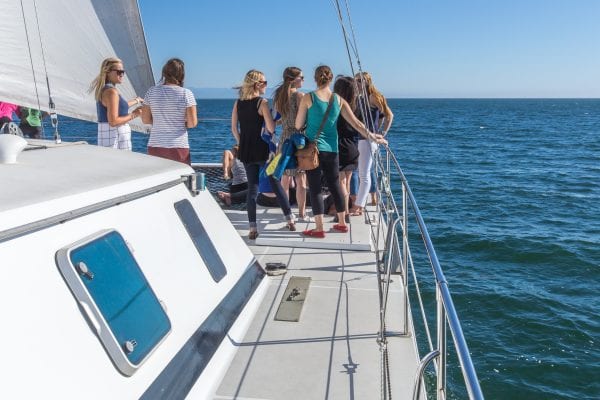 HOW TO GET ON THE WATER
Sailing & Fishing Charters
While the harbor offers launching facilities and moorage for hundreds of personal vessels, you needn't own a boat to cruise the sea life-filled waters of Monterey Bay. Numerous charter outfits line the harbor, offering a variety of outings including scenic bay cruises, whale watching, and fishing trips:
Plus, don't miss the opportunity to set sail during the popular Wednesday Night Regattas which draws a lively crowd from March through October.
Kayaks & Stand-Up Paddleboards
The harbor provides an ideal launching point for self-propelled watercraft such as kayaks and stand-up paddle boards. Cruise the harbor, or paddle out to the wharf alongside the Santa Cruz Beach Boardwalk, and enjoy up-close views of seals and sea otters along the way. Kayak Connection offers kayak rentals, classes, and guided tours, while the SUP Shack is your go-to for stand-up paddle board rentals, classes, tours, and a summer kids camp.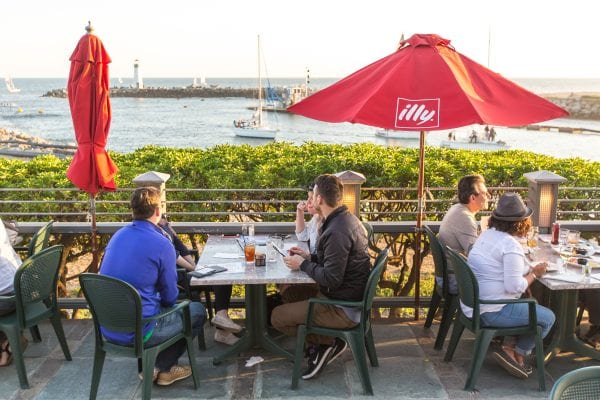 WHERE TO EAT
Perched on the sands of Harbor Beach, this bustling, 50-year-old institution draws regulars and visitors alike with waterfront vistas and classic seafood dishes. Upstairs, the always-swinging lounge features bar & grill fare, live music, and a sunny outdoor deck overlooking Monterey Bay. Don't miss their Thursday night Summer Beach Parties with BBQ and dancing on the sand.
Beach Market
This alluring one-stop shop has you covered with a counter crammed full of casual meals and snacks, in addition to a covetable assortment of beach essentials and coastal-inspired home goods.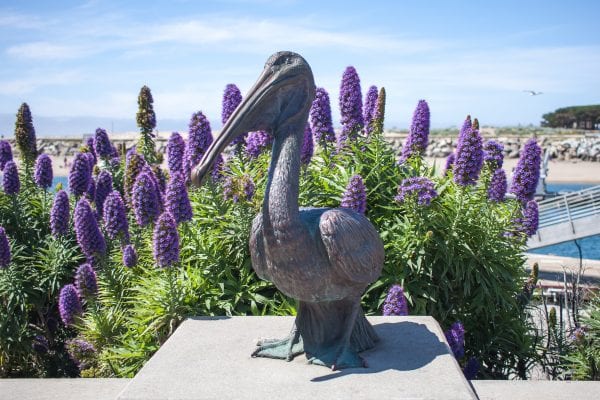 KNOW BEFORE YOU GO
Parking
The harbor offers three paid lots ($1.25/hr) that are open to the public. The most central lot is located at 5th Ave. & East Cliff Dr. where spots fill up fast. You'll also find a limited number of free parking spots surrounding the harbor and Twin Lakes State Beach, but note that many require a permit during summer months.