People love Wilder Ranch State Park. Hikers and mountain bikers come from all over to explore its 34 miles of trail winding through oak-crowned meadows and redwood ravines and to gape at its stupendous views of Monterey Bay. But many visitors also come to savor the gentler charms of the old farm complex, a tidy arrangement of whitewashed barns and restored old homes sheltered in a valley out of the reach of the brisk ocean breeze. Here goats, chickens and draft horses go about their peaceful daily business, the antique tractors snooze in their garage and time putters along like a Model T on Highway 1, cheerfully oblivious to the line of modern conveniences piled up behind and itching to take over.
A Place for Happy Cows
Long before Europeans arrived, Wilder Ranch was home to tribes of Ohlone-speaking indigenous people who migrated seasonally between the backcountry and the shore. During the Mission years (1790s through the 1830s), Wilder Ranch was part of a huge swath of land between Santa Cruz and Año Nuevo to the north where the sheep and cattle of the Santa Cruz Mission grazed. If you look up from the Wilder Ranch State Park parking lot toward the mountains, you can see benchlands that look like happy cow country—away from the direct chill of the coast but not too hot, either. The Visitor Center has great information on these periods.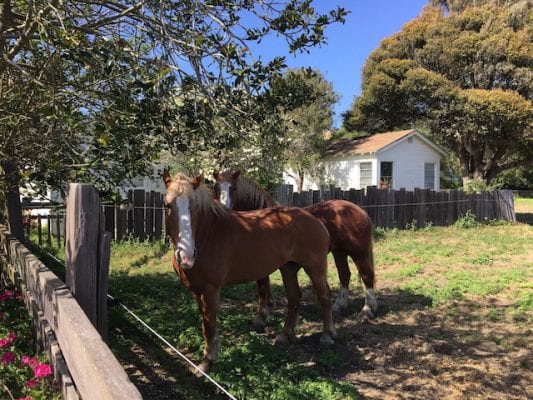 To reach the cultural preserve, walk down the short (300 yards) stretch of asphalt leading from the parking lot to the old Coast Road, itself a piece of history: this is the predecessor to Highway 1. Ranch tours happen every weekend day at 1pm, and special event days feature homemade ice cream, games, hay rides, tours and living history demonstrations of skills like blacksmithing.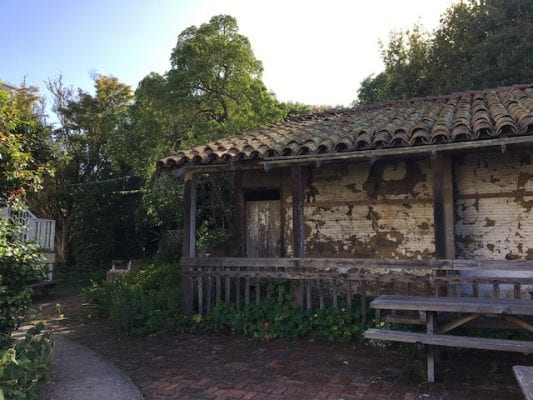 The oldest building in the cultural preserve was built by Wilder's first dairy operators—but that's not really what the Bolcoffs were known for. Jose Antonio Bolcoff was actually born Osip Volkov in Siberia; he'd jumped ship in Monterey in 1815 and quickly established himself in the upper echelons of Mexican Californio society, even winning the hand of Maria Candida Castro, daughter of a prominent settler. He and Maria built the Bolcoff Adobe—probably used as a dairy barn or work building on the farm—and a house (located where the parking lot is now) where their 17 children were born.
Fun fact: the tiles on the roof of the Bolcoff Adobe are a physical record of the indigenous laborers at the Santa Cruz Mission. Workers formed the tiles by molding the still-wet clay over their thighs, then allowing the tiles to dry in that shape. Bolcoff, who oversaw one phase of the Mission's secularization, had the tiles brought to his new ranch.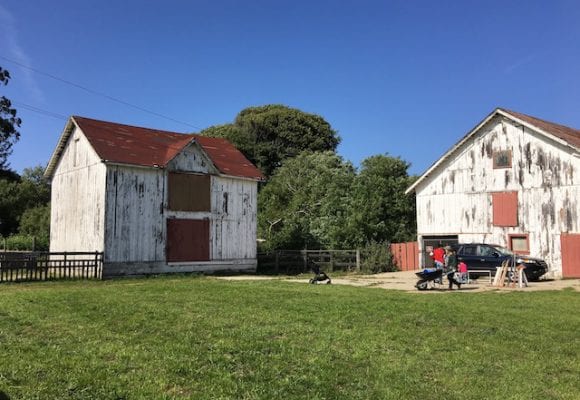 Serious dairying didn't start at the farm until the 1850s. California's population exploded as Easterners and Midwesterners rushed west in search of gold, bringing with them certain expectations and appetites—including a demand for milk and everything made from it. Dairies popped up all over the hinterland surrounding San Francisco, and those the farthest out turned to items like butter and cheese that, unlike fresh milk, could make the trip to market without spoiling.
Into this opportunity stepped one Moses Meder, an enterprising lumberman who had arrived in San Francisco on the first Mormon ship to drop anchor in California. Meder became something of a one-man bank in Santa Cruz, holding people's savings for them, extending credit and buying lands. (He also had philanthropic impulses and perhaps some sympathy for fellow religious minorities: he donated some of his land in Santa Cruz for a Jewish cemetery under the condition that he and his family be welcome to spend eternity there also.) Meder took possession of the farm in a foreclosure and set to dairying in earnest in 1854, expanding on the Bolcoff's operation by building the dairy barn and a creamery that has since burned down.
Meder's butter fetched nearly $1 per pound in San Francisco—a huge sum at the time. The plain but sturdy and prosperous-looking Meder House, pictured below, was his home.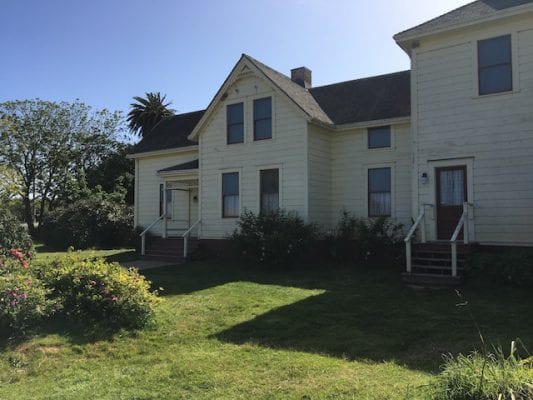 Engine of Innovation
Wilder Ranch as we know it today really came into its own in 1885, when a Connecticut transplant named Deloss D. Wilder took sole possession of the farm complex and gave his innovative instincts free rein. The resulting prosperity sustained the Wilder clan for five generations. With a herd of 300 Durham, Jersey and Ayrshire milking cows, Wilder Creamery continued the farm's proud tradition of making famous butter, and all the while Deloss Wilder was figuring out ways to make production more efficient and profitable.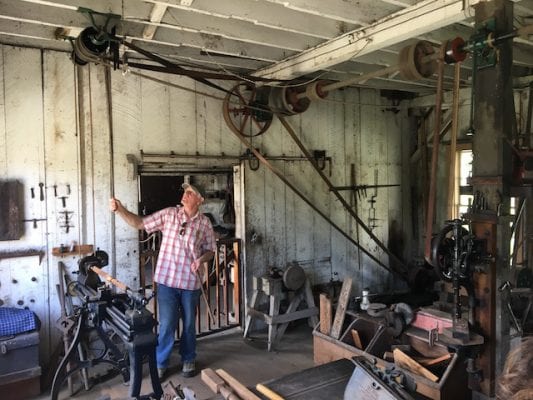 In 1886, Wilder bought two Pelton water wheels. A contraption invented in Gold Country, the Pelton wheel was uniquely suited to arid California's smaller waterways; it ran on the force of the moving water rather than its volume, so as long as you could find a small creek or stream that was moving quickly, you could extract energy from it using the Pelton wheel. Wilder built a reservoir on a hilltop some 9,000 feet from the farm complex and capitalized on the 216-foot elevation drop with an 8-inch pipe full of rushing water that fed the wheels, producing 100 horsepower.
Tours take place every Saturday and Sunday at 1pm, and include a demonstration of a still-functioning Pelton wheel at work in the machine shop. It ran a lathe, sander, drill press and even a coffee grinder (a necessity when you're up at 3:30am to milk cows! Other Pelton wheels around the property, positioned along a network of pipes, ran a table saw, the cream separator and a dynamo that lit up the place with electric lights long before any other farm in the county had them. (Many farms throughout the United States lacked electricity until President Roosevelt's Rural Electrification Administration brought it to them 50 years later.)
With these kinds of innovations in its past, it's no wonder that Wilder Ranch State Park was nearly chosen to be the home of the California Dairy Museum. From 1976 to 1981, the state parks department studied the idea, but eventually decided against it.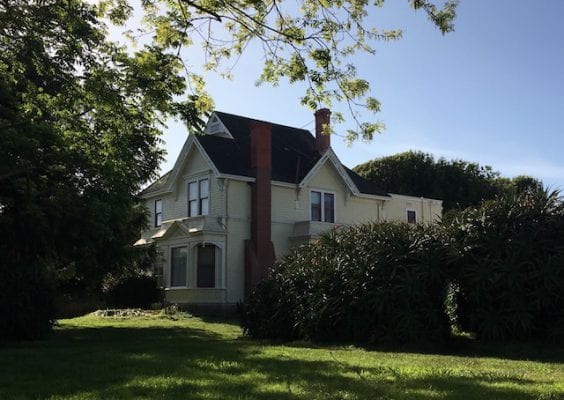 In 1897 Deloss Wilder convinced his son Melvin and his new bride Lettie to come make a life on the family farm. Melvin was a Stanford graduate in electrical engineering with a bright future, so his father had to come up with something to lure him back. He did: the beautiful Victorian that stands in the cultural preserve today. It had electricity, hot running water, redwood cabinetry throughout painted to look like oak, and an icebox kept cool by ice packed in sawdust and brought in from Truckee, 250 miles away.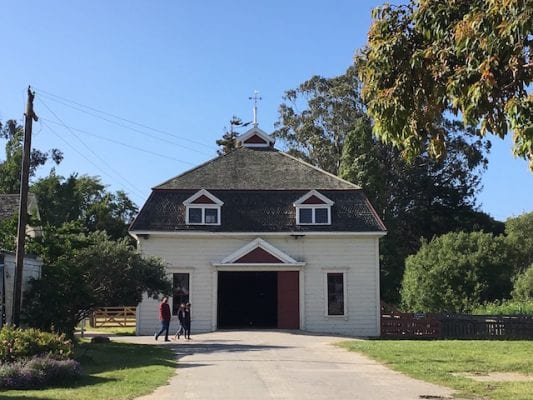 Melvin and Lettie moved in and continued Wilder's tradition of firsts: first gas-powered automobile in Santa Cruz County (a 1903 Knox), first female truck driver in the county (Melvin and Lettie's daughter Ethel), almost certainly the first and probably only earbud-like device for listening to wax recordings. (You can see a photo on the tour of delighted dinner party guests sitting in the Victorian's parlor listening through individual wires to the phonograph.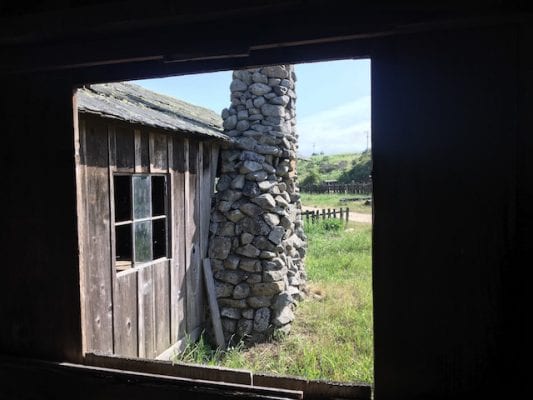 In 1937 the economics of dairying changed, and the Wilders turned to beef cattle ranching. The horse arena and rodeo grounds, which you can see if you follow the road through the complex and through the highway underpass, were known to cowboys on the rodeo circuit for lively practice sessions that went on into the night with gas lights to illuminate the arena.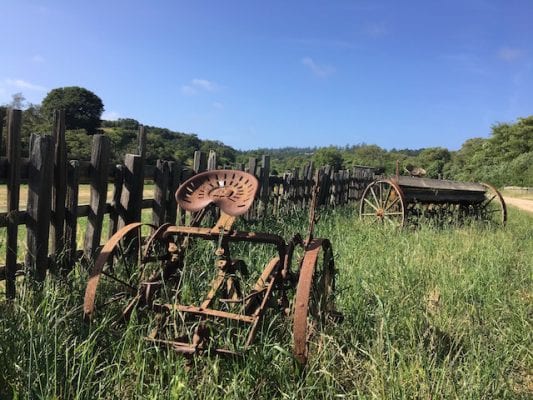 But those economics changed, too, and in 1969 the property taxes outstripped the ranch's profits. It was time to sell. In 1974 the State Department of Parks and Recreation purchased the property.
Lucky us. Thanks to that move, at Wilder Ranch you can step away from it all for a little while and get a glimpse of life back when you could buy a few cows, build a house in the country and make a living on a different kind of California gold.
Wilder Ranch State Park is located 15 minutes north of Downtown Santa Cruz on Highway 1, at 1401 Coast Road. Parking is $10. Ranch tours are every Saturday and Sunday at 1pm; for other activities, including the Independence Day and Heritage Harvest festivals, see the Wilder Ranch State Park website.