It's not just masked superheroes that dazzle audiences in blockbuster movies. Given its cinematic landscape and iconic attractions such as the Santa Cruz Beach Boardwalk, coastal redwood forests, miles of sunny beaches, and the legendary Highway 1, Santa Cruz has enjoyed many starring roles dating back to the early 20th century. In addition to the surfers at Steamer Lane — and surfing seal — featured in "The Endless Summer," Santa Cruz has played host to vampires, Dirty Harry, and even maniacal clowns from outer space. Break out the popcorn and roll out the red carpet, Santa Cruz is taking you to the movies.
The Role of the Santa Cruz County Film Commission
The Santa Cruz County Film Commission is a department within Visit Santa Cruz County. It works to promote Santa Cruz County as a film destination. To leverage its resources, the film commission maintains a membership in the Film Liaisons in California, Statewide (FLICS) which is comprised of film commissioners and film liaisons from around California. While all film commissions work a bit differently, the Santa Cruz County Film Commission primarily serves as a resource for production companies coming to town by providing location and permitting information. It also features film-related listings free of charge for local businesses and freelancers within the county to help support the local film industry. The local film commission receives leads and copies of approved permits from the California Film Commission and other jurisdictions from around the county letting them know where productions have been given the green light to film. The California Film Commission works to approve locations such as state parks, state beaches, and state highways. Although the film commission receives a lot of questions from cinephiles asking if any productions are currently being shot in the county, production companies like to keep their intel under wraps so their projects can proceed uninterrupted.
On Location in Santa Cruz County
Santa Cruz County has played starring roles dating back to 1911 when the San Lorenzo Valley served as the dusty, Old West setting for numerous silent, black-and-white westerns featuring actors such as Broncho Billy Anderson and Mary Pickford. You can view a summary of production credits here.
Here are a few of our more recent faves:
MOVIES
Birdbox (2018)
The story is set in a post-Apocalyptic world and centers around Malorie Hayes, played by Sandra Bullock, as she tries to protect herself and two children from supernatural entities: if you see them, you die. The small group proceeds on a dangerous journey through the forest and down a river to find a place that may offer safety. During the trip, they'll have to keep their eyes covered from the evil that chases them — and complete the trip blindfolded. Portions of the film were set at Henry Cowell Redwoods State Park.
Bumblebee (2018)
In the spin-off of the popular Transformer series, Santa Cruz plays the fictionalized town of Brighton Falls, the stomping ground of a certain shape-shifting, yellow VW bug. Set in 1987, the film featured local extras clad in 80s attire parading around the municipal wharf and Santa Cruz Beach Boardwalk…rather, the Brighton Falls Boardwalk. The film included scenes shot on the Santa Cruz Wharf and at the Santa Cruz Beach Boardwalk.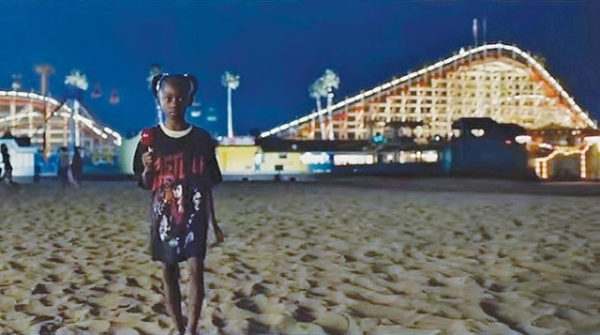 Us (2019)
Starring Lupita Nyong'o, Winston Duke, and Elizabeth Moss, a family sets out for a relaxing beach vacation to Santa Cruz but is followed by a group of threatening doppelgängers. Filmed at the Santa Cruz Beach Boardwalk, Main Beach, and the Seabright neighborhood in Santa Cruz.
Chasing Mavericks (2012)
This endearing film tells the true life story of surfer Jay Moriarity and his quest to conquer the legendary big waves of Mavericks. Unlike most films, Chasing Mavericks was filmed almost exclusively in Santa Cruz, and you can use this map of film locales as a de facto tour of Santa Cruz's vibrant surf community.
Kinsey (2004)
Based on the life of sexologist Alfred Kinsey starring Liam Neeson, Laura Linney, Chris O'Donnell, Peter Sarsgaard, John Lithgow, Oliver Platt, and Timothy Hutton. Scenes were filmed at Big Basin Redwoods State Park.
Frog & Wombat (1998)
Gal pals Alli and Jane (codenames: Frog and Wombat) set out on a mission to detect if their new principal is involved in a murder. In the process, they traipse all over Santa Cruz County including Henry Cowell Redwoods State Park, Santa Cruz High School, and Deer Park Shopping Center in Aptos.
Dangerous Minds (1995)
Based on a true life story, Michelle Pfeiffer plays a teacher to disenfranchised teens who enjoy a break from a hardscrabble life on a field trip to the Santa Cruz Beach Boardwalk, where the class enjoys a ride on the Giant Dipper Roller Coaster.
The Lost Boys (1987)
Perhaps the most celebrated of locally shot films, this 80s staple pairs the two Coreys—Haim and Feldman—with Kiefer Sutherland in the vampire-filled town of Santa Carla. The local classic usually kicks off the free summer movie series at the Boardwalk, and even inspired a drink menu at Abbott's Square's cocktail bar, Front & Cooper. The iconic vamp flick celebrated its 30th anniversary in 2017, and the Santa Cruz County Film Commission honored the occasion with a self-guided film location map.
Sudden Impact (1983)
This 80s thriller made our day when it filmed in Santa Cruz. "Dirty" Harry Callahan chases criminal in the seaside town of 'San Paulo' which shows off West Cliff Drive, Santa Cruz Wharf, the main post office in Downtown Santa Cruz (which doubles as a courthouse) and the Boardwalk. Watch Callahan resolve things with a bang near the historic Giant Dipper in the film's climactic ending.
Harold & Maude (1971)
A cult fave telling a darkly humorous story about an unlikely twosome who play games and whirl round rides at the Boardwalk. The film offers a great peek of the pinball-filled Casino arcade that predates Pac Man and Frogger.
Not every feature filmed in Santa Cruz was an Oscar contender. Here are some fun flicks you may have missed:
Killer Klowns from Outer Space (1988)
The name says it all in this delightfully trashy film where monstrous, circus clown aliens wreak havoc on the small town of Crescent Cove (a.k.a. Watsonville) and the Santa Cruz Beach Boardwalk.
Romeo.Juliet (1990)
Distinguished film actors such as Ben Kingsley, Vanessa Redgrave, and Maggie Smith lent their voices to this Belgian take on the Shakespeare classic whose characters were played by—wait for it—real, live feral cats.
The Tripper (2006)
Big Basin Redwoods State Park served as the setting for David Arquette's campy horror flick that had modern day hippies being terrorized by a Ronald Reagan-masked killer and featured Courtney Cox and Paul "Pee-wee Herman" Reubens.
TELEVISION
It's not just the big screen, either. Santa Cruz has appeared in TV movies such as the Hallmark Channel's 2005 "Annie's Point" whose drama played out along the north coast town of Davenport and which starred Betty White and Richard Thomas.
Santa Cruz County has also been featured on The Weather Channel, The Oprah Winfrey Show, and a "Video Daily Double" clue on Jeopardy!
FASHION FORWARD
Before we roll the credits, there are other productions which have come to the Santa Cruz area for its scenic backdrop. Still and filmed commercial shoots for cars have been produced on our beaches, Highway 9 in the Santa Cruz Mountains, and in Downtown Santa Cruz. In fact, these types of productions are in essence Santa Cruz County's "bread and butter" projects when it comes to filming because of the steady requests for scenic locations and the quick turnaround time for productions from start to finish.
Speaking of stylish, with vibrant colors and a classic look, the Santa Cruz Beach Boardwalk has hosted a number of fashion shoots: the spring 2018 campaign for ModCloth, Vans "Off the Wall", Rocket Dog shoes, Old Navy, Zappos and UK clothier Primark all were set against the Santa Cruz Beach Boardwalk, Capitola Village, and the Santa Cruz Wharf.
Fashion isn't just for the ladies of course! Santa Cruz County has hosted its fair share of stylish gentlemen too.
Monterey-based Robert Talbot Clothiers launched their spring 2018 campaign with a shoot in Capitola Village.
The result was this mesmerizing video whose smartly dressed lads stroll Capitola's easy-on-the-eyes shores. Content was also shared on the bespoke clothing company's Instagram page.
TAKE IT OUTSIDE
No commercial campaign would be complete without the name O'Neill. Late wetsuit pioneer and Santa Cruz local Jack O'Neill called Santa Cruz home and helped bring California's iconic – and official – sport of surfing to the world stage. What began as an experiment with neoprene all because he wanted to stay in the water longer to surf became Jack O'Neill's namesake brand, synonymous with surfing, which his creations helped bring to the world stage. Still headquartered in Santa Cruz, O'Neill wetsuits are a mainstay for surfers around the globe and campaigns are shot regularly at local points of interest and surf spots.
At the beginning of 2020, O'Neill launched its "First Name in the Water" campaign, which combined classic imagery and video from the brand archive projected against world-famous landmarks throughout Santa Cruz County. The Lighthouse at Steamer Lane, Jack O'Neill's cliffside home on 41st Ave, The Wharf, Natural Bridges and more iconic locations synonymous with the brand were used in the shoot.
"We wanted to mix the brand heritage with contemporary surf and do it in a unique way. We also wanted to wrap the campaign around the town of Santa Cruz, the birthplace of the O'Neill brand. That desire is really where the projector concept came from and the use of the projector literally gave us the ability to blend heritage and modern surf on historically significant landmarks. Locations significant not only to Jack O'Neill and his brand, but also the town of Santa Cruz and in many ways, surf culture as a whole," said O'Neill Senior Art Director Deke Angel.
In addition to its beaches, Santa Cruz County's forests have served as a backdrop for commercial shoots. GIRO – headquartered in Scotts Valley – manufactures helmets and goggles for the snow and cycling industry, as well as cycling apparel and shoes, and soft goods for cycling, skiing and snowboarding. GIRO's recognition of Santa Cruz County as the epicenter of action sports – in particular mountain biking – makes area cycling trails and rider-friendly forests a natural backdrop for their campaign shoots.
THE GOLDEN TICKET
A round-up of film projects which featured Santa Cruz County would not be complete without a mention of the work of Visit California. Representing destinations throughout the state as well as attractions, hotels, resorts, state and national parks and beaches, wineries, and restaurants, Visit California regularly films commercials aired nationally and internationally toting The Golden State's appeal to visitors near and far. Through a strong relationship with the state tourism board and because Santa Cruz County represents a "beyond the gateway" destination – generally meaning counties which are not major urban centers and which do not have major airports within their boundaries – Visit California often includes the area in promotional campaigns. An abundance of scenic points of interest, natural beauty, and coastal and redwoods locations also add to the appeal as a filming location for the state.
Santa Cruz County has been featured in three campaigns launched by the state tourism agency including Dream Big's Dreamers – filmed at the Santa Cruz Harbor, Kidifornia's Kids at Play – filmed at Henry Cowell Redwoods State Park, and Dream Big's continuation Living the Dream – filmed at Davenport Beach and Henry Cowell Redwoods State Park. Living the Dream was a 15-day comprehensive shoot alone spanning nine regions throughout the state including 17 cities and 24 different locations. The concept of the "Dream Big" campaign was to show a variety of settings throughout California, with catchy dialogue extolling the laid-back attitude of the Golden State. An elegant table, illustrating a field-to-table dinner set for 200 guests made up the setting at Davenport Beach, where filming took place at sunset. San Francisco Chef Corey Lee, owner and chef of the 3-Michelin-star-rated Benu and In Situ restaurant inside the San Francisco Museum of Modern Art hailed by the New York Times as "America's most original new restaurant") officiates over the setting and delivers the line "Same old, same old." with a shrug of his shoulders as a golden California sunset sinks into the sparkling blue Pacific Ocean.
More recently, Visit California launched Dream With Us in an effort to encourage visitors to plan-now-travel-later and to provide much-needed inspiration as travelers worldwide were sheltering-in-place in spring of 2020 when the global COVID-19 Pandemic hit. The spot ended at the Santa Cruz Harbor's Walton Lighthouse with a peaceful sunset shot.
That's a Wrap!
So the next time you're streaming your favorite flick, see if you can guess filming locations which set the scene for the story:  they may be closer than you think!  Film locations are often identified during the end credits with a shout out to the state or local film commission which helped support the production, which in turn brings a valuable economic boost to that area in the form of overnight accommodations for crew and talent, as well as support services like caterers, equipment rentals for local businesses, and hiring extras for background scenes (not to mention bragging rights for cinephiles everywhere!)
Visit the Santa Cruz County Film Commission online for more information.
See you at the movies!
Updated March 2021