All Photos by Garrick Ramirez
Santa Cruz is world-renowned for its surfing, but there's another local water sport that boasts a similarly rich legacy and devoted following. Peer out over the Monterey Bay and you'll see that sailboats dot the waves nearly as frequently as surfboards. Like other sailing communities throughout the nation, Santa Cruz hosts a weekly fun and informal regatta that trades trophies for bragging rights and seriousness for six-packs. Each Wednesday evening from March to October, colorful, wind-filled sails fill the bay as enthusiastic spectators cheer them on. Here's a guide on how to enjoy the fun, whether you're a seafaring participant or landlubbing onlooker.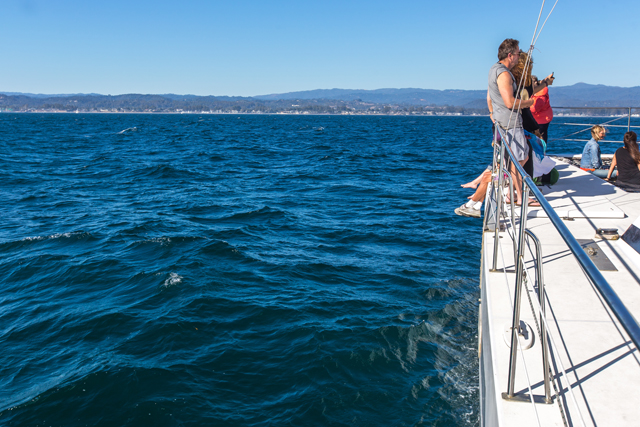 SAIL
The most thrilling place to be during the Wednesday night regatta is on the water. The race is open to all, and it's a great opportunity to spend an evening on the Monterey Bay amidst the seals, dolphins, and whales. If you don't own a boat or know someone who does, there are several charter companies happy to take you out to enjoy the race:
Chardonnay II
This 70-foot sailing yacht-the largest in the harbor-takes passengers out each Wednesday evening to cheer on the race, enjoy the sunset, and chow down on pizza, wine, and beer.
Stagnaro Whale Watching & Fishing Trips
Well regarded for their fishing and whale watching charters, Stagnaro also offers private cruises aboard one of their yachts, the 60′ Velocity and 56′ Legacy. Passengers are encouraged to bring their own food and drink and let the captain and crew handle the rest (alcohol must be purchased from the boat).
Pacific Yachting and Sailing
While primarily a sailing school, this longstanding harbor business also charters yachts for private parties. Gather a total of 6 friends, pack a cooler full of food and drink, and join the race aboard a luxurious, 36-foot yacht.
California Classic Sail
Captain Forest Roberts takes small groups-never more than six passengers-out twice a day on "Sarah", his classic wooden yacht designed in the 19th century. With a long career in boat building and sailing, Roberts is an expert guide who offers insightful narration and tips on how to sail.
O'Neill Yacht Charters
From May through October, O'Neill invites the public to set sail each Wednesday night on its 65′ catamaran. A wide trampoline net stretched over the water, plus $5 drinks from the galley bar, provide the perfect opportunity to stretch out with friends and enjoy the race.
WATCH
If you turn green just from the sight of rollicking waves, there are numerous spots to watch the action from dry land. Anywhere along the shoreline from Lighthouse Point to Twin Lakes State Beach offers a range of spectator possibilities. Pack a picnic and tuck into one of the many scenic overlooks along West Cliff Drive, cheer on from Walton Lighthouse, or huddle around a blazing bonfire at Seabright State Beach. The Wharf and even the promenade at the Santa Cruz Beach Boardwalk's offer additional vantage points for enjoying the race.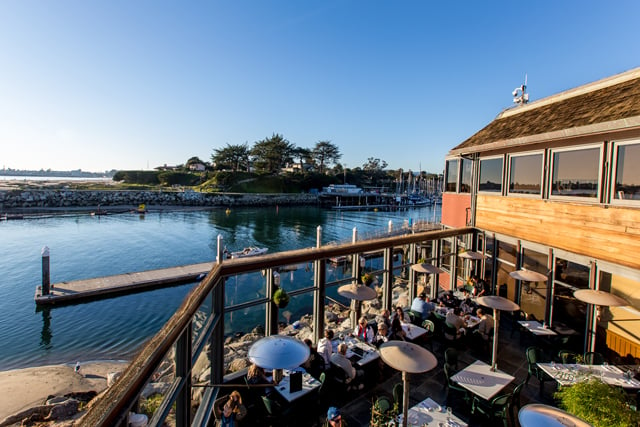 EAT
Want to introduce some fried calamari into your spectator experience? The upstairs Breakwater Bar & Grill at Crow's Nest Restaurant is the unofficial headquarters for the Wednesday regatta. Thanks to an all night happy hour, you'll have your pick of half price appetizers-try their Smoked Salmon-and discounted drinks while watching sailboats cruise out of the harbor. Downstairs, an upscale main dining room offers a more serene viewing experience and lengthier menu.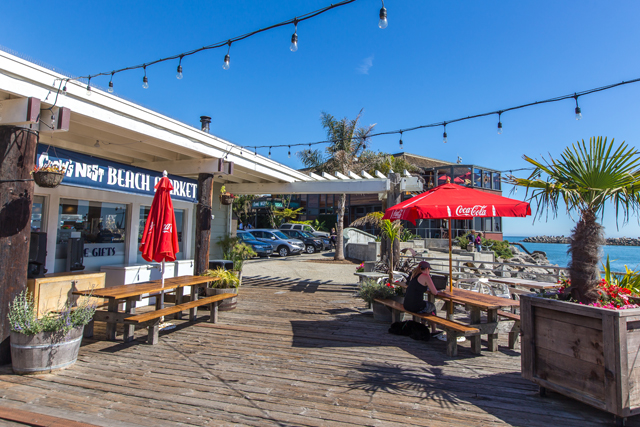 Across the parking lot is Crow's Nest's more casual Beach Market which features a patio perched directly over harbor waters and overlooking the channel. Enjoy wood-fired pizzas, sandwiches, salads and not-to-be-missed soft serve ice cream as you watch racers sail by on their way out to sea. If winds push the regatta further north, the newly reimagined Jack O'Neill Restaurant & Lounge in the Dream Inn offer unparalleled bay views and a contemporary American menu in a stylish, comfortable setting. Or, duck into any number of classic eateries on the Wharf such as Stagnaro's or Woodies on the Wharf for a bowl of chowder and waterfront views from every table. There's also The Picnic Basket for delicious seasonal take-out and a cone of organic, house-made ice cream to enjoy on Main Beach across the way.