Ten miles north of Santa Cruz lies the quaint, 19th century coastal town of Davenport. Perched on dramatic coastal bluffs, the tiny town is home to huge scenery and historic buildings filled with contemporary eateries. Here's what you'll enjoy on a quick stroll through the cozy hamlet.
WHALE CITY BAKERY
What was once a roadside gas station and market is now a central hub for hungry visitors. Grab a seat inside the atmospheric dining room with exposed rafters or outside on the coveted front patio with peeks of the ocean beyond. Just save room for ice cream or a pastry from their bakery counter.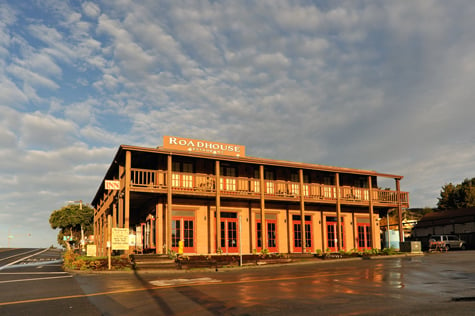 DAVENPORT ROADHOUSE
This is a convivial, all-day eatery housed in the Davenport Cash Store, built in 1977 after the original 1906 structure burned down. The restaurant draws both visitors and a tight community of locals who gather for local dishes. Don't feel like driving? Upstairs, you'll find a handful of guest rooms with views of the crashing surf across Highway 1.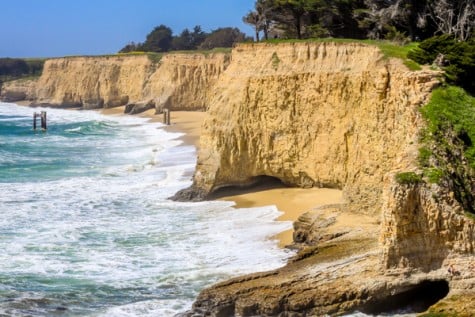 DAVENPORT BLUFFS
Immediately across the road from Davenport's eateries are its picturesque coastal bluffs. Explore the grassy terraces via a trail that winds along the edge with knock-out views of the Pacific. Peer to the north and you'll spy the remains of an old pier rising from the surf.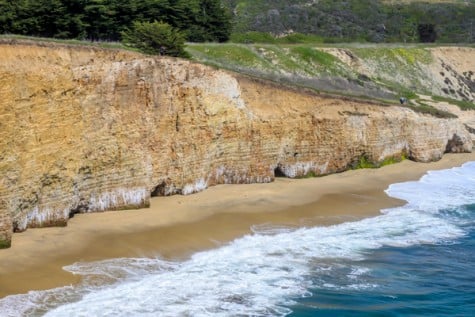 DAVENPORT BEACH
From the bluffs, meander down a dirt path to this wide, scenic beach hidden from view of the road above. Towering, soft stone cliffs rise above the expansive beach, lending it an air of seclusion. When the tide is up, you'll marvel at waves exploding against a slender sea stack nicknamed Shark's Tooth. Seek out an enchanting tunnel, blasted from the cliffside rock in order to carry the San Vicente Creek out to shore. Bring water shoes and follow the dim passageway to the other side for a Goonies-style adventure!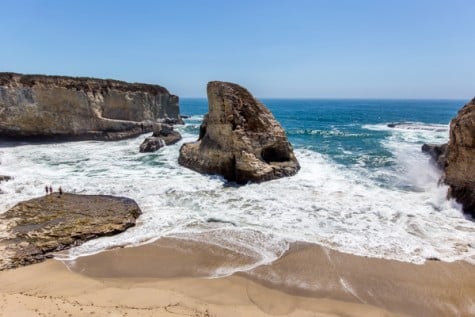 SHARK FIN COVE
Only a glimpse of this beach's striking beauty is visible from the road. As you inch down a dirt path towards the sand, the wow factor gets dialed up pretty quickly. The secluded beach cove could be the setting for some exotic movie locale. Its star is a massive sea stack that sits just offshore and is named for its resemblance to a shark's dorsal fin.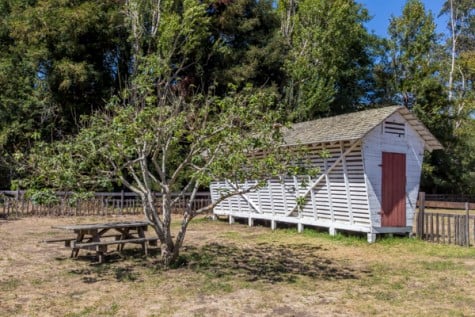 WILDER RANCH STATE PARK
Wilder Ranch is an amazing find, hidden just off Highway 1. The historic property sports beautiful charming old ranch structures, vintage machinery, a 19th century adobe home and a stunning Victorian farmhouse. Little ones can marvel at chickens, goats and horses and frolic in passageways created by overgrown clusters of succulents. The park covers a whopping 7,000 acres but most visitors are content to visit the Cultural Preserve area and stroll the seaside Old Cove Landing Trail. An informative visitors center lends a proper introduction to the history of the ranch and its surroundings.