With its breathtaking setting at the northern end of Monterey Bay, vibrant and progressive Santa Cruz County makes a fabulous and friendly destination for a short getaway. You'll find a wealth of outdoorsy diversions, engaging cultural attractions, and festive dining and drinking spots. For the ultimate weekend adventure, follow this detailed plan for making the most of three days in this LGBTQ-welcoming region that's within an easy 75-mile drive of San Francisco.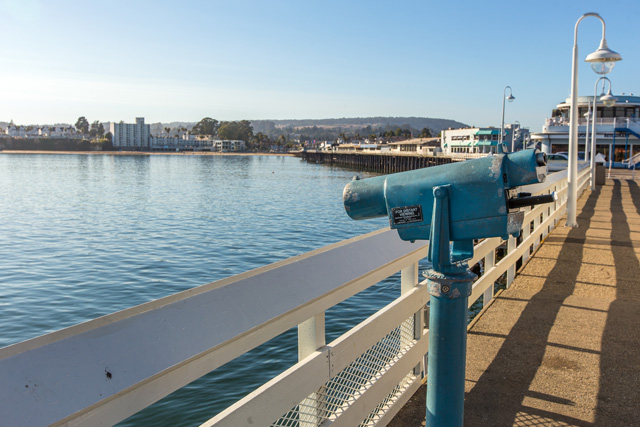 Day 1
After checking into your hotel, head to downtown Santa Cruz's lively Abbott Square, an indoor-outdoor plaza anchored by colorful Abbott Square Market, where food stalls offer up everything from Cajun shrimp-and-corn étouffée to thin-crust Neapolitan pizzas to cardamom tea cakes. Off one corner of the square, check out the always engaging exhibits inside the Santa Cruz Museum of Art & History, whose programming often explores the region's rich cultural diversity. Running through April 24, 2022 and co-created with the city's Diversity Center, the museum is currently presenting "Queer Santa Cruz" among its rotating exhibits—it's a fascinating look into the history, culture, and contributions of Santa Cruz County's LGBTQ community. Just off Abbott Square at the corner of Cooper Street and Pacific Avenue in early June each year, the Santa Cruz Pride Parade kicks off.
Stroll a couple of blocks east and take the pedestrian bridge across the San Lorenzo River, and then continue south along the multiuse Santa Cruz Riverwalk, as it meanders in a southeasterly direction along the levee, over the Branciforte Creek Bridge, and eventually along Cliff Drive. Cross back over the San Lorenzo River via the cantilevered pedestrian bridge that runs alongside a handsome steel-truss trestle bridge built by the Southern Pacific Railroad in 1904. On the other side of the bridge, you'll see before you the colorful rides of the beloved Santa Cruz Beach Boardwalk, where you can experience a slew of adrenaline-pumping amusements—including the fabled Giant Dipper wooden roller coaster—that have delighted visitors of all ages for more than a century.
Beyond the boardwalk, if possible at around sunset, venture out onto the bustling Santa Cruz Wharf, soaking up views of the bay clear across to Monterey—about 22 miles south—and listening to the animated barks of seal lions, which you can view through observation windows, cavorting below the wharf on wooden planks. Keep an eye out as well for harbor seals, sea otters, and even occasional migrating humpback whales in the distance, and if you're feeling hungry, grab a bite to eat at one of the Wharf's restaurants—maybe a bowl of piping-hot cioppino in the Upper Deck Lounge at Stagnaro Bros., or a platter of beer batter–fried calamari at Riva Fish House.
From the foot of the wharf, it's a leisurely 15-minute stroll back downtown, where you'll find a bounty of additional dinner options as well as several lively bars and clubs. Great bets for food include trendy Barceloneta, where you can sup on hearty seafood paella and authentic Spanish tapas, and Laili, a casually smart purveyor of Afghan and Middle Eastern fare—the lamb burger with mint aioli is a standout.
When it comes to nightlife, Santa Cruz doesn't have any gay bars per se, but virtually all of the popular establishments downtown draw a mixed crowd and warmly welcome all. Lupulo Craft Beer House is a terrific place to sample mostly West Coast IPAs, farmhouse ales, and artisanal ciders. The Catalyst nightclub brings in notable live bands and DJs and has often been a party venue during Santa Cruz Pride. And the sleek, contemporary bar at Solaire—inside the LGBTQ-popular Hotel Paradox—is a fashionable spot to wind down the evening with a nightcap.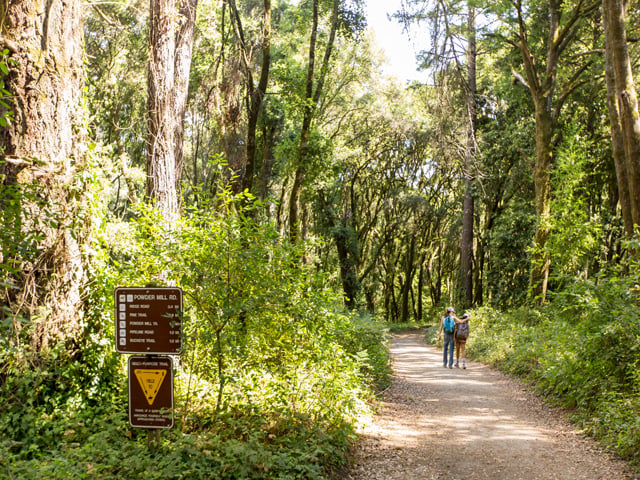 Day 2
The following morning, drive about 7 miles north of Santa Cruz to explore the county's verdant interior of lush forests and historic logging towns. In Scotts Valley, fuel up with coffee (or perhaps a mimosa?) and a plate of huevos rancheros or cinnamon swirl French toast at the Heavenly Roadside Cafe. Drive a few miles west to the friendly hamlet of Felton for a hike through Henry Cowell Redwoods State Park, a 4,623-acre patch of piney fresh air and lush gurgling creeks that's home to a magnificent stand of old-growth California Coastal Redwoods. A 45-minute ramble along the flat ¾-mile Redwood Grove Loop Trail will provide you with an up-close look at the park's most formidable trees, including a 277-foot-tall leviathan that dates back more than 1,500 years. If you have a little extra time—and especially if your traveling wit kids—don't miss the Roaring Camp Railroad, which offers scenic narrated excursions on antique locomotives through the surrounding forest, either up to the summit of Bear Mountain or down the valley to the Santa Cruz Boardwalk.
In the early afternoon, drive back into Santa Cruz and pick up Highway 1 east to charming Aptos Village for a relaxing alfresco lunch at Mentone, where you can sample the tantalizing pizzas, bountiful salads, and refined Italian fare of Michelin star chef David Kinch. Save a little room for a scoop or two of artisanal ice cream across the street at the Penny Ice Creamery, where inventive flavors like caramelized apple walnut and maple shortbread await. Afterwards, drive inland about 5 miles into the foothills of the Santa Cruz Mountains to explore the up-and-coming Corralitos Wine Trail. About a half dozen highly regarded winemakers who produce Pinot Noir, Gruner Veltliner, Chardonnay, and other cool-climate-varietal wines are situated within this pastoral area. The sunny courtyard at Storrs Winery & Vineyards, complete with a full-size bocce court, is a particularly enchanting spot to while away an afternoon of wine tasting.
After resting for a bit back at your hotel, plan for an evening of savoring some of the county's most sensational cuisine—and most inviting settings. Depending on your mood and style, here are two different approaches: For a romantic evening at a remarkable venue, book a table at Shadowbrook, which turns out artfully prepared regional California dishes like creamy artichoke soup and char-grilled filet mignon in a restored 1920s redwood-log home overlooking Capitola's Soquel Creek. Your dinner experience begins with a ride down the hillside to the dining room in a 1958 cable car, and you can make your occasion even more magical by arranging to arrive at Shadowbrook in one of the restaurant's antique checkered cabs.
If it's a more casual, progressive dining experience you're seeking, plan an evening along Swift Street, a lively district of hip bars and eateries on Santa Cruz's west side. Start your night by sampling the organic craft ales at Santa Cruz Mountain Brewing's convivial taproom—the silky Starry Eyed Stout and subtly fragrant Jasmine IPA are both superb. For a bite to eat, hop across the alley of Swift Street Courtyard to West End Tap & Kitchen, which specializes in local beer and wine and also serves up creative comfort food, like smoked-salmon boards and blackberry-glazed smoked pork belly. Or make your way a few blocks south to Venus Spirits Cocktails & Kitchen, which has developed a loyal following for its imaginative cocktails featuring house-distilled gin, aquavit, and agave spirits. On the buzzy patio or inside the airy, modern dining room, you can nosh on marinated-fish tacos and spicy Nashville-style fried chicken with cornbread and chile-honey butter.
Day 3
There are few more glorious ways to spend a sun-kissed California morning than with a bike ride along the coast in Capitola and Santa Cruz. If you need wheels, visit Family Cycling Center, in Santa Cruz near the Capitola border, which rents both cruisers and e-bikes. Before you hit the beach, drop by Gayle's Bakery & Rosticceria for a well-prepared espresso drink and a bacon breakfast burrito or a flaky Kouign-amann pastry. Then pedal your way south to Capitola Beach, cross Soquel Creek, and spend some time exploring Hooper Beach and Capitola Pier.
Continue your cycling tour along the coast, taking picturesque Cliff Drive around scenic Soquel Point and past Blacks Beach, once again passing by Santa Cruz Beach Boardwalk and onward to Lighthouse Point, an excellent place to learn about the region's renowned surfing culture. View the Surfers Monument on West Cliff Drive, a dramatic bronze statue of a striking, handsome surfer standing before his upright surfboard, before visiting the small but fascinating Santa Cruz Surfing Museum, which occupies a small redbrick lighthouse set high on a bluff with great views back toward the city's shoreline and Santa Cruz Wharf. Inside, you'll find a trove of photos, antique boards, and memorabilia that traces the region's nearly 140-year history with surfing.
Depending on how much time you have after returning your rental bike and checking out of your hotel, you might consider extending your coastal explorations by leaving town via Highway 1, which offers a stunning scenic route up the coast toward Half Moon Bay and San Francisco. You'll find numerous beaches to stop and explore along the way, including tranquil if slightly hard-to-find (and clothing-optional) Laguna Creek Beach, which is popular both with the LGBTQ community and fans of birdwatching, and Scott Creek Beach, a more easily accessed swath of sand that's ideal for tide-pooling when the tide is out and wandering along a windswept shore back by sheer sea cliffs.
For a bite to eat out this way, stop in the tiny coastal hamlet of Davenport—10 miles up the coast from Santa Cruz. Here at the inviting Whale City Bakery, Bar & Grill, you can savor a cup of clam chowder or a platter of golden house-made crab cakes, perhaps with one last farewell glass of locally produced wine or beer to celebrate a weekend well spent.