Want to know where locals go for some of the best hikes with striking views in Santa Cruz? From peeks of the Santa Cruz Beach Boardwalk on clear days to large open vistas of the Monterey Bay, Santa Cruz boasts a multitude of short hikes with Instagram-worthy vistas. These routes can be completed in a few hours, giving you plenty of time to explore the rest of Santa Cruz County.
Once a working dairy farm, Wilder Ranch State Park has trails for all abilities from the meandering Old Cove Landing Trail to the calf-burner on Wilder Ridge Loop. Parking is $10 or free with a State Park Pass. Arrive early as the park tends to get busy around nine.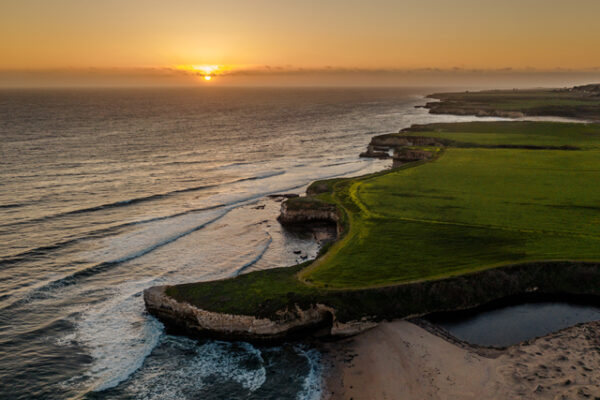 Wilder Ridge Loop Vista Point
Mileage: 4 miles out and back
Climbers are rewarded with sweeping views of the bluffs and Pacific Ocean upon reaching this viewpoint. After walking under the overpass skirt the historic cowboy barn as you start your hike with a steep climb up Wilder Ridge Loop Trail. Winding through Oak trees, the path mellows before you begin your final ascent. Trees draped with Spanish moss lead the way to your viewpoint as hawks often circle overhead. A lone picnic table looks out toward the Seymour Marine Discovery Center. You can also make out the small town of Davenport to the North. Return the way you came or descend via Zane Gray Cutoff which drops you back where you started.
Cowboy Loop Trail
Mileage: 3-mile round trip
This aptly named trail begins behind the old cowboy barns past the visitor center. Please be advised there are no other signs on this trail although it is well kept and easy to follow. After crossing a wooden bridge over a dry creek bed begin your ascent on a wide, dirt path. Keep straight at the fork and continue upward keeping Highway One on your right. As the path evens out turn around to see the ocean opening in front of you as wheat waves on either side of the single-track trail. Continue to the left following the old fence line. After a steep descent the path dips into a grove of redwoods. Follow it back to your starting point.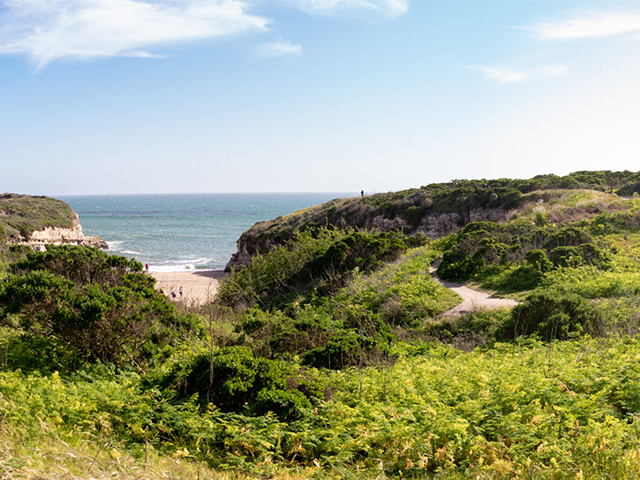 Old Cove Landing Trail
Mileage: 2.5 miles round trip
This kid friendly hike gently follows the curves of the ocean passing by sea caves and fields of artichokes and Brussels sprouts. As an out and back you can decide how far you want to travel before turning around. Most folks make it to Fern Grotto Beach, while others continue on the loop past Sea Plant Beach for the full 2.5 miles. Whatever your style, the crashing waves mingling with the bark of seals and the endless parades of seabirds are sure to inspire.
Eucalyptus Grove
Mileage: 3 miles out and back
The Eucalyptus Grove is perfect for those seeking solitude. From your parking spot on the shoulder of Empire Grade roughly a mile North from the East entrance to Wilder Ranch, hike South toward UCSC and Marshall Field. Be aware the beginning of the trail is not well marked and may require some navigation until reaching Marshall Field. After reaching Marshall Field continue right heading towards Empire Grade. Cross through the open gates arriving at Chinquapin Trail, keeping left to stay on Eucalyptus Loop Trail. Take a right at the large junction and it will be .8 miles to an old grove of eucalyptus trees with views to the ocean on a clear day. Keep an eye out for rabbits and the sound of yipping coyotes in the early evening. A favorite of mountain bikers, be sure to share the trail.
*Insider Tip: best done in early morning or evening before it heats up as part of the trail can be exposed. There are better views in the evening after the fog has burned off.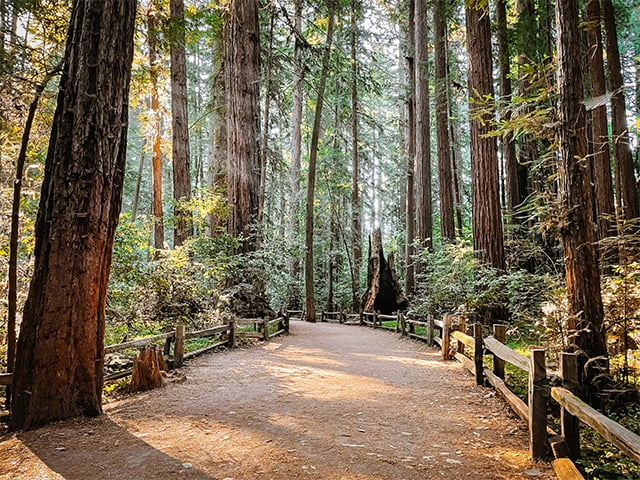 Henry Cowell is full of gorgeous vistas, the mountaintop variety like the ones we're sharing below, but also the lower level views up towards the towering old growth redwoods. Parking is $10 or free with a State Parks Pass.
Observation Deck
Mileage: about 5 miles roundtrip from visitor center, 1 mile roundtrip from Powder Mill Fire Road
You will understand the name once you see the three hundred-and sixty-degree views of the Monterey Bay from the top of the Observation Deck. There are a few ways to get to the Observation Deck, depending on your starting point, but a favorite is the 5.3 mile Observation Deck Loop. This route has it all – redwoods, some steep grades, flat stretches, sand hills, and of course, the payoff of the Observation Deck views. For those short on time start at the campground on Powder Mill Fire Road. Parking is $10.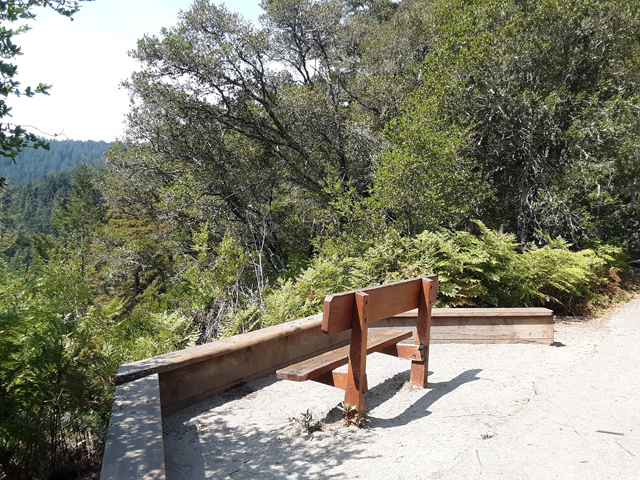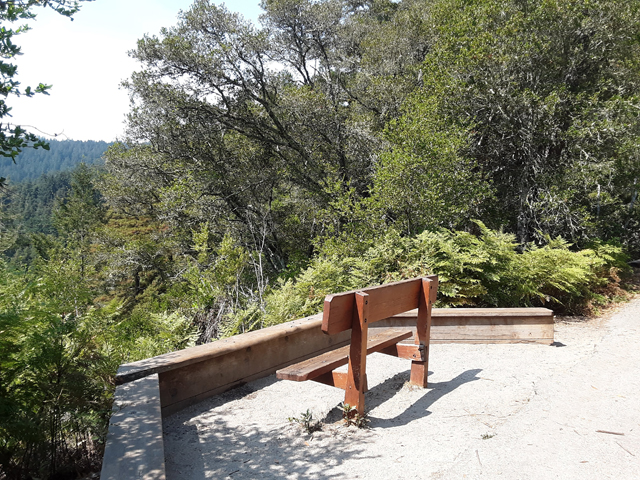 Observation Bench
Mileage: 3.5 out and back
If you don't quite have the time for the above 5+ miler, consider taking the Pipeline Trail from the main parking lot for about 1.75 miles to the Observation Bench. On a clear day you can see the ocean, but this peaceful perch is a great spot for a quiet rest on the trail with great forested mountain views. The Pipeline Trail is dog-friendly so bring along the pooch! The trail is paved and is stroller and bike friendly too, but fare warning, it has some STEEP inclines!
South County is known for its expansive beaches and primo bird watching opportunities, but the lesser-known Byrne-Milliron Forest is not to be missed! There are 402 acres to explore in this South County gem and the parking is free.
AJs Point of View
Mileage: 2.2 miles roundtrip
For those with a sense of adventure who want to explore more of South County head to AJs Point of View located in Bryne-Milliron Forest. This roundtrip gives glimpses of the surrounding wetlands and is well worth the effort of a steep uphill climb through redwoods and Bay Oaks. To reach this scenic overlook take Byrne Trail to Rattlesnake Trail. Be advised the road to the parking area is a narrow, one lane road.