Eating out in Santa Cruz County is about so much more than fueling up for the next adventure. The nation's organic food movement took root here in our county's fertile soil and we banned plastic bags, straws, cutlery and styrofoam take-out containers long before green-living and zero-waste lifestyles came into vogue.
With this history and the acres of agricultural land right in our backyard, you could say that an abundance of farm-to-table restaurants comes with the territory. There are a few local eateries, however, that go above and beyond the required biodegradable take-out containers and expected organic produce. These restaurants plan their menus around the local harvest and are always looking for ways to further shrink their environmental footprint. The innovative culinary creations that result will elevate your dining experience from passive diner to passionate foodie with a taste for local cuisine and eco-conscious dining experiences.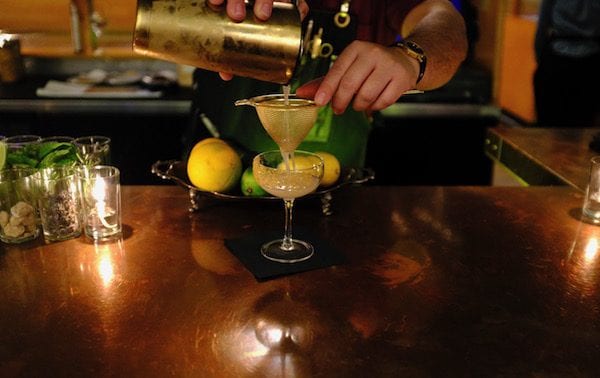 WINE, COCKTAILS, AND DINNER WITH A CONSCIENCE
Depending on which door you walk through, Soif is a wine shop, sophisticated dinner spot, or classy cocktail bar. Door number one opens into the cozy light-filled shop, lined with bottles of Pinot Gris, Gamay, and Syrah. Many of these bottles were harvested from the calcium-rich soil of the Santa Cruz Mountains (although they have a wide selection of international labels as well), and each bottle is carefully selected for both flavor and farming techniques. The wine shop manager's background in biodynamic wineries tips the bottle selection in favor of small growers committed to organic farming practices, as well as wines that honor traditional processing techniques.
Soif also considers the environmental impact of the wine after the bottle is empty. The shop is one of six ReCORK public collection centers in Santa Cruz County. This means you can drop off all your wine corks at Soif and they'll ship them off to be recycled into footwear, yoga blocks, and other cork-based products.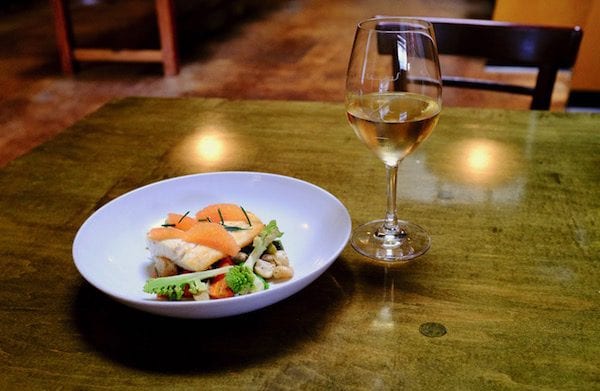 Door number two leads into the main restaurant with rich Merlot-red walls hung with gnarled grape vines. Chef Tom McNary expertly sautes bright green romanesco and deep orange carrots hand-selected from the farmers market. In the next pan over, he sears fresh, buttery halibut caught in the nutrient-rich waters of the Monterey Bay.
As the owner of a local catering company for nearly 30 years, McNary has built lasting relationships with the region's farmers. This fits well with owner Patrice Boyle's commitment to keeping the restaurant's carbon footprint at a minimum, especially with the Downtown Farmers' Market just a few steps down the street.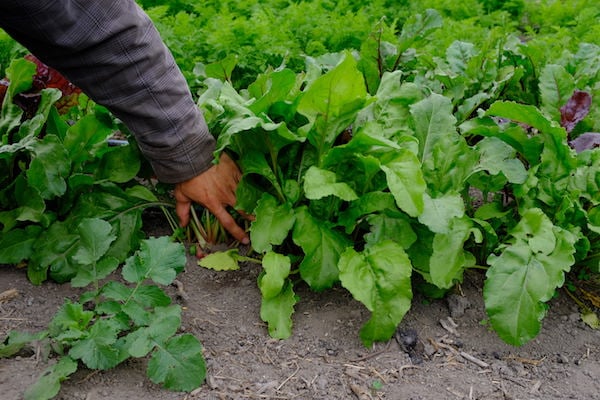 The menu at Soif evolves on a daily basis, driven by that week's harvest from local farmers like Blue Heron Farm and the Homeless Garden Project. When I met with McNary in November, he was working Pan di Zucchero (a long, white Italian variety of radicchio) and purple scallions from Dirty Girl Produce onto that day's menu. He'd also bought a mix of fresh vegetables and citrus from Live Earth Farm to showcase with the local halibut.
Most of the protein on the menu is also sourced locally, even though it comes at a high price. For Boyle and McNary, however, it's worth it to support farmers who raise animals humanely on small sustainable farms like Fogline Farm in the Santa Cruz Mountains and LeftCoast GrassFed in nearby Pescadero.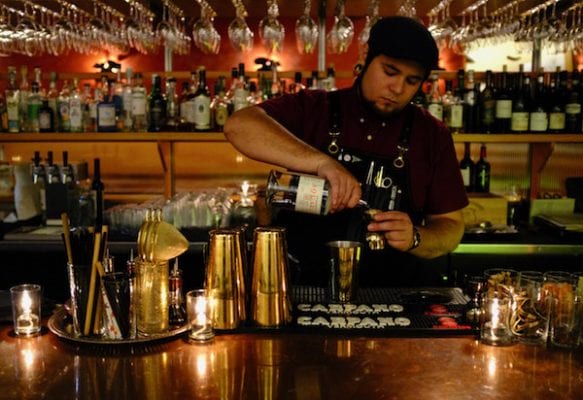 The final door leads you into a hip, urban cocktail bar hidden from the main restaurant by a wall of liquor bottles and hanging wine glasses. Soif's bar boasts a zero-waste policy that extends from the local, organic ingredients to the reusable straws. When creating a cocktail, bar manager Matt Barron finds ways to use every part of the ingredient. Leftovers from their house-made shrubs, for example, are dehydrated into dust to flavor the rim of a drink like the seasonal 105 Marie (a light, refreshing twist on the Bloody Mary featuring gin and local Venus aquavit).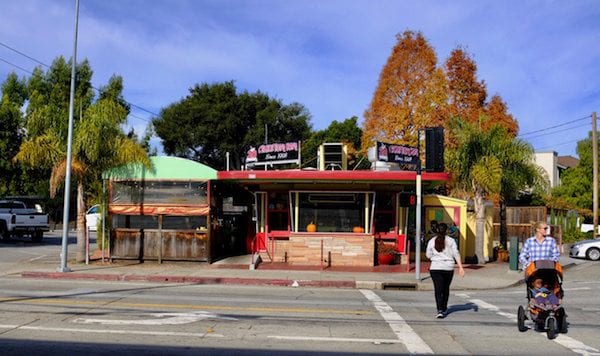 GOOD FOR YOUR HEALTH, WALLET, AND THE PLANET
Charlie Hong Kong serves healthy Asian-Californian street food out of a 1950's ice cream stand. A covered outdoor seating area sports an appropriately green awning to match their impressive list of green business practices. To start, there's the vegan-friendly menu (although you can always add sustainable, hormone and antibiotic-free meat to any dish) featuring all-organic produce from local farms like Lakeside Organics. Popular dishes like the vegan Spicy Dan feature a medley of seasonal, and always organic vegetables. And if you're at all worried about the coconut milk, owners Rudy and Carolyn Rudolph traveled all the way to Thailand to ensure the company met their environmental standards.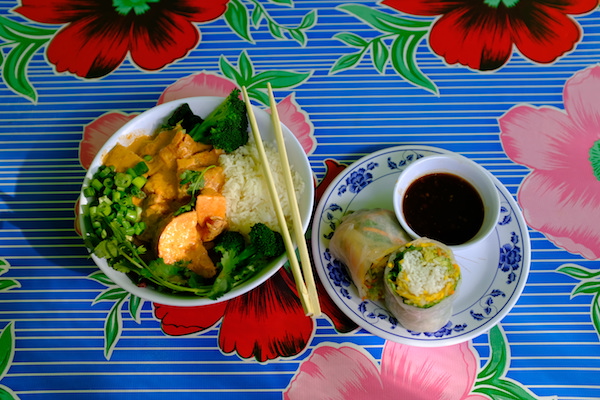 A Green Certified Business, Charlie Hong Kong was the first business in Santa Cruz to stop using plastic takeout bags before the city or state's plastic bag ban went into effect. Owner Carolyn Rudolph even partnered with local nonprofit Save Our Shores to help pass plastic bag ban ordinances in neighboring cities. It should come as no surprise then that you won't find plastic water bottles in their cooler. Instead, choose from a variety of beers and non-alcoholic beverages in glass bottles and aluminum cans. Takeout orders include compostable cutlery, and for those who eat in, all dishes are served in reusable dishware—a rarity for a small, counter-service restaurant.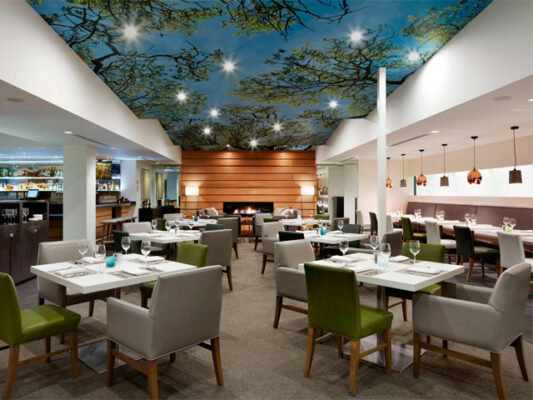 OTHER GREEN RESTAURANTS WORTH A MENTION
Many other restaurants in Santa Cruz County take sustainability seriously. Shadowbrook turned the roof of its kitchen into an organic herb garden and is part of the Monterey Bay Green Business Program. Discretion Brewing is the county's first solar-powered and green-certified brewery and is also home to The Kitchen led by Chef Santos Majano (who also happened to serve as Soif's executive chef for five years). Humble Sea on the Westside frequently hosts events and brews beers that give back to environmental causes. They also feature locally grown produce from the Homeless Garden Project and other nearby farms in a rotating menu of mouthwatering sandwiches and salads.
Your hotel may offer earth-friendly dining as well. The Solaire Restaurant at Hotel Paradox is also committed to local ingredients and a small carbon footprint. They even source hyper-local honey for their innovative cocktails from local hives.