With a show-stopping landscape and temperate climate, Santa Cruz is a bike riding nirvana. The county is laced with trails that lead alongside bay waters, through idyllic farmland, and into atmospheric redwood groves. Plus, a wealth of shops rent bikes and gear for every adventure type and skill level. From casual family rides to thrilling mountain treks, here's where to get rolling in Santa Cruz County.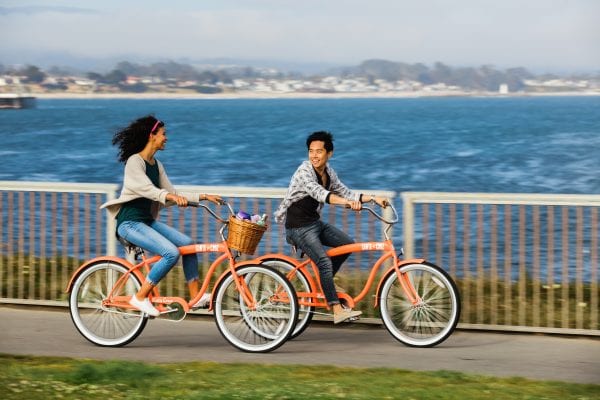 5 ESSENTIAL BIKE RIDES
Seaside Family Ride
If you do one ride in Santa Cruz, make it the waterfront promenade of West Cliff Drive. The broad, roughly three-mile path skirts Monterey Bay as it winds past scenic overlooks and beach coves (as well as numerous pedestrians, so announce your presence and pass on the left). The path ends at Natural Bridges State Beach where you can explore tide pools, seasonal Monarch groves, and the beach's iconic arched outcrop. If time allows, ride through the park to bike-friendly Delaware Avenue which quickly leads to Antonelli Pond, Seymour Marine Discovery Center, and Natural Bridges Farm. Those seeking further adventure can take connecting Shaffer Road to a dedicated bike trail that cuts through verdant farmland, and leads to the historic grounds—and renowned mountain bike trails—of Wilder Ranch State Park.
Easy Coastal Off-Road
Sweeping ocean vistas and a level, hard-pack dirt path make the multi-use Old Cove Landing Trail in Wilder Ranch State Park an inviting option for off-road cycling. The breezy, 2.3-mile loop rides atop dramatic coastal blufftops that dazzle with views of secluded beach coves and scores of sea life including dolphins, seals, and migrating whales.
Beach Cruise
Enjoy a leisurely, beachfront cruise from from surf mecca Pleasure Point to Capitola-by-the-Sea, beginning at East Cliff Drive, a seaside promenade with big bay vistas. Start with a hulking breakfast burrito from the beloved Point Market before cruising northeast along East Cliff, passing famed surf breaks and the former home of legendary surfer and wetsuit inventor, the late Jack O'Neill. When the path curves into 41st Avenue, make the first right on Opal Cliff Drive, a quiet residential street with picturesque coastal homes. You'll eventually join Cliff Drive, and, soon after, descend over Soquel Creek into Capitola Village with its popular restaurants, shops, and namesake beach.
Backroads Loop
Explore coastal farmlands and bucolic countryside on this peaceful tour of northern county backroads. In the former whaling village of Davenport, fuel up at Whale City Bakery before heading north on Swanton Road, a windy country lane that parallels and predates Highway 1. You'll return via a coastal stretch of Highway 1, making sure to stop at the immensely charming Swanton Berry Farm for what is likely the best strawberry shortcake you'll ever have.
Forested Single-Track
Want to zip through Santa Cruz's famed redwood forests on two wheels? The Emma McCrary trail in the Pogonip nature reserve is a great intro for those eager to experience mountain biking. The thoughtfully designed flow trail is easy on beginners, yet offers enough downhill berms to lure the pros. For more detail on the Emma McCrary trail, as well as more advanced trail options, check out our guide to mountain bike trails.
WHERE TO RENT BIKES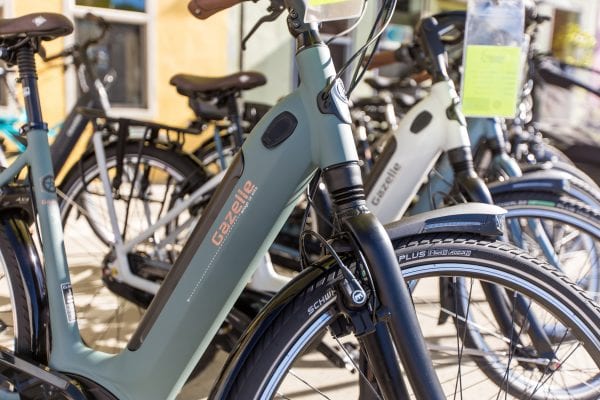 Discover the growing electric bike scene at this welcoming downtown shop that stocks drool-worthy, high-end models for purchase or rent. With premium brands such as Gazelle and Riese & Muller, offerings range from comfort bikes to full-suspension mountain bikes to tricked out cargo bikes that can accommodate kiddos and/or goods. The class 1 bikes are pedal-assist—an adjustable power source kicks in when you start pedaling—and are legal on local bike trails. The pro staffers can get you set up with the right bike, as well as expert advice on routes to explore.
The Aptos locale of this local shop offers an sweeping selection of Trek mountain bikes available to rent. Families and casual riders will enjoy pedaling out to the lush redwood groves of the adjacent Forest of Nisene Marks. For those en route to the celebrated single track Flow Trail at Soquel Demonstration Forest, they offer a seasonal shuttle that delivers you and your bike to the hilltop, saving you roughly 14 miles—and 2,500 feet—of climbing!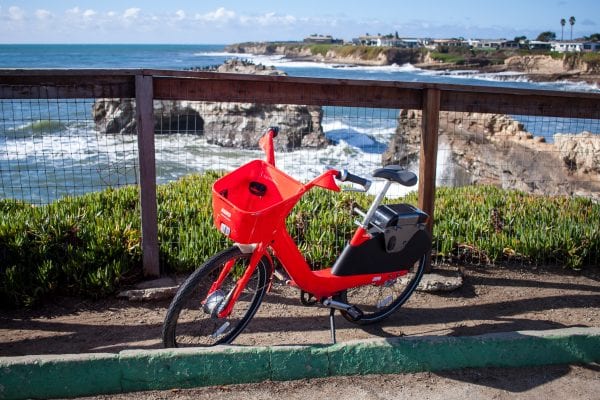 JUMP Bikes
You're likely to see many of these fire-truck red, electric bikes scooting around town. The bike share service launched locally in May 2018, and has hubs dotted across Santa Cruz. Great for short jaunts, the bikes are easily rented on the fly via the Jump Bikes app.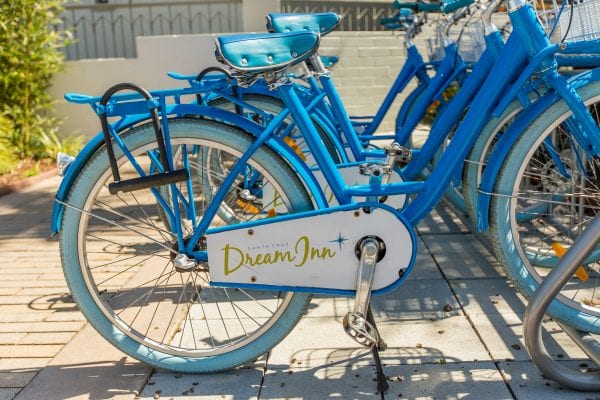 Complimentary Bikes for Hotel Guests
Among the many perks offered at the Dream Inn, overnight guests have access to a fleet of dreamy, retro cruisers. Thanks to the hotel's enviable setting along West Cliff Drive, visitors can quickly reach the Santa Cruz Beach Boardwalk – just leave your ride at one of the many bike racks which face Beach Street near Neptune's Kingdom and Entrance 3 (by the Carousel) – the wharf, and miles of bayfront bike paths. The same can also be said of West Cliff Inn, situated directly across from the Dream Inn, and offering TKbikes to guests. Over at Hotel Paradox, six beach cruisers (free for the first 2 hours) and a pair of Blix electric bikes (rental fees apply) make the short jaunt to the Boardwalk and Main Beach a breeze.
BIKE TOURS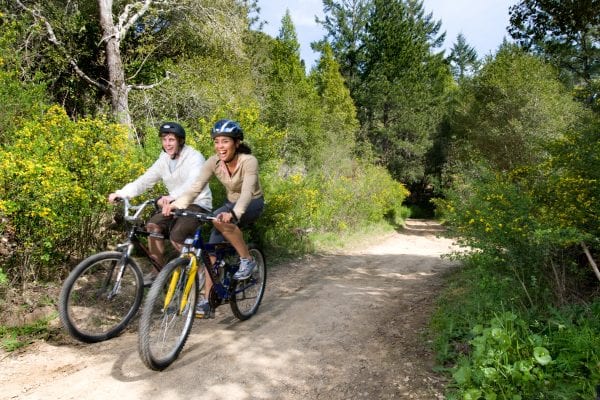 Whether you're an expert mountain biker looking to shred local single tracks, or just interested to get introduced to the sport, Dave Robinson is your guy. The knowledgeable nature conservationist is deeply ingrained in the local mountain biking community, and has literally helped dig the region's world-renowned trails. Robinson customizes mountain biking excursions for groups, whether it's a team from a big tech firm or a family from abroad. He'll round up the bikes, fill your trip with insight into Santa Cruz's natural history, and pedal alongside you from the trailhead to a post-ride pint at a local brewery.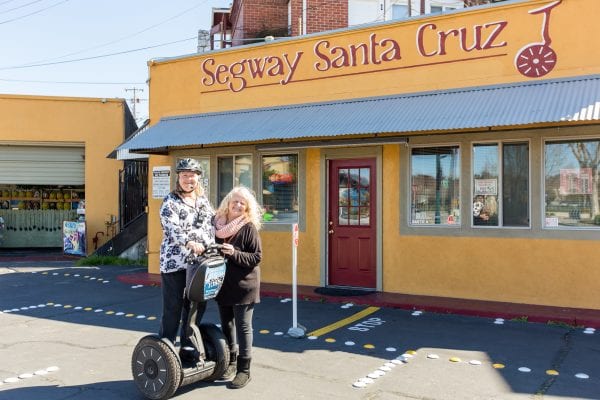 While not technically bikes, these hi-tech wonders offer a fun new way to scoot around town on two wheels. Situated one block from the Santa Cruz Wharf, Santa Cruz Segway Tours trains newbies on their mini raceway like track, before heading out to the seaside splendor of West Cliff Drive. Best of all, your guides are the mother-daughter owners, Chappell McPherson and Tami Buttenhoff. If you're not having a blast with this fun-loving duo, you might need to check your pulse!