Santa Cruz has a remarkable number of ways to indulge your sweet tooth. When in town, I'll rationalize a stop at one of the following spots for an afternoon pick-me-up. Like Jerry Seinfeld commented on his way to a cronut shop, sweets are like "mini vacations in your stressful day." Here then are five suggestions for a delicious, bite-sized getaway: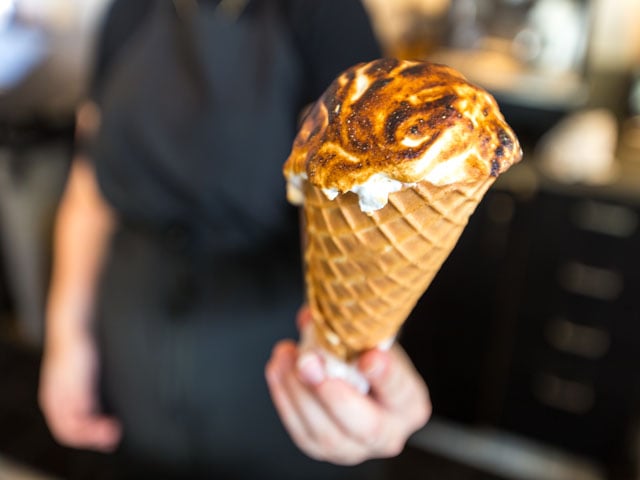 The Penny needs no introduction to Santa Cruz ice screamers. But did you know it's the only Northern California shop that makes their ice cream from scratch? And they partner with local food providers for fun, uber-fresh flavors. Think Verve Coffee, Strawberry Pink Peppercorn, Black Tea Plum, Brown Sugar Oat Walnut, Fresh Mint Chip and even Vanilla Ricotta Raspberry. More traditional (yet still extraordinary) flavors are always on the menu too like their Tahitian Vanilla Bean and Dark Chocolate Sorbet. You can find them in four locations: Downtown Santa Cruz, Pleasure Point, Aptos, and Scotts Valley. Bonus: Ask for the decadent flame-torch toasted marshmallow topping!
Look to the cookie: An asteroid-sized cookie adorns the wall at this family-owned spot that's been baking cookies in town for over 40 years. Among their 13 varieties, the classic Chocolate Chip still reigns supreme. But don't overlook the Lemon Drop or mint-chocolate chip studded Mint Condition. Bonus: they also stock a cold case filled with Marianne's Ice Cream ready to scoop.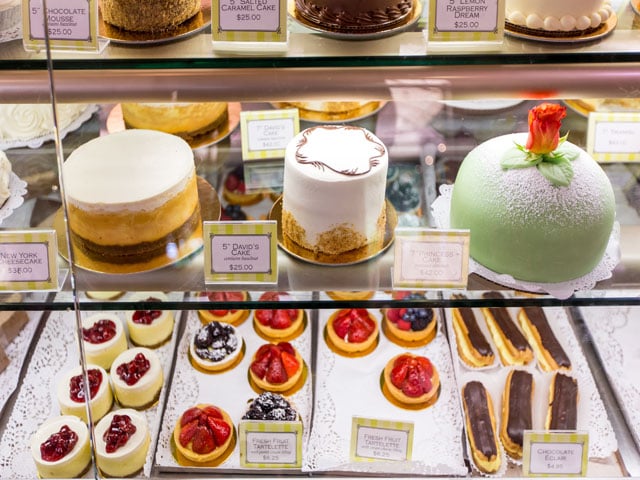 Grab a ticket at this buzzing bakery and wait for your number to be announced via microphone like Willy Wonka calling his next golden ticket holder. You'll need the extra time to decide since the glass counter of cookies, cakes, pies and pastries stretches for roughly one mile. Key Lime Pies and Eclairs keep the regulars coming back, but I love the Strawberry-Shortcake Cookie paired with a cold glass of milk. Bonus: If you crave it, chances are Gayle's has it. Go beyond sweets with fresh-baked bread loaves, rotisserie chickens, sandwiches, salads and everything in between.
If Santa Cruz was a Candyland board, the Santa Cruz Beach Boardwalk would be its magical terminus. The Boardwalk takes fair food to the 9th degree with standards like funnel cake, candy apples, dipped cones, and taffy plus advanced options such as deep-fried Oreos and Dippin Dots, the "ice cream of the future." Bonus: With the chimes of the carousel and the roar of the Giant Dipper as your backdrop, somehow something as suspect as deep-fried Twinkies feels just right.
Looking for a treat that will satisfy even the most sophisticated of sweet tooth palates? Mutari Chocolate has been dazzling dessert connoisseurs since their opening in 2015. Their "Bean to Bottle and Bar Craft Chocolate" approach takes on a less is more philosophy by using fewer ingredients of better quality. They don't stop at hot chocolate and chocolate bars though. Discover seasonal treats like truffles, Salted Lavender Caramels, Sea Salt & Nib Craft Chocolate Dark Glazed Brioche Donuts, Epic Brownies, Single Origin Chocolate Chunk Cookies, Plant Based Mutari Craft Chocolate Soft Serve, and more! Shop online anytime and look to their website for current operating status and pop-ups.