"People in Santa Cruz do not eat cookies; this is a carrot cake town." Before Pacific Cookie Company opened, Cara Pearson says that many people told the family things like this and warned they would not be successful. The popular family-run business gains new fans every day, proving these skeptics wrong.
Cara first worked at PCC as a 13-year-old. She worked at the Capitola retail bakery scooping dough, baking cookies, and serving customers. That location is no longer there, but the sweet memories remain. In college, she managed the flagship retail bakery in downtown Santa Cruz. "Then I left the business to work in local restaurants and other odds and ends until I was lured back in 2001 to work in upper management," says Cara. Today, she serves as President and Co-owner of the women-owned business (she and her mother Shelly own the largest portion of PCC).
Cara and her husband James have two daughters, Lily and Mila. They love spending time in the outdoors. "We take advantage of the redwoods by hiking and mountain biking and we love the beach too – including surfing and boogie boarding." When they are not outside, you can find them in downtown Santa Cruz eating, shopping and enjoying "any local event. First Fridays are our favorite because they are so lively, and we explore the MAH and all of the locations with art."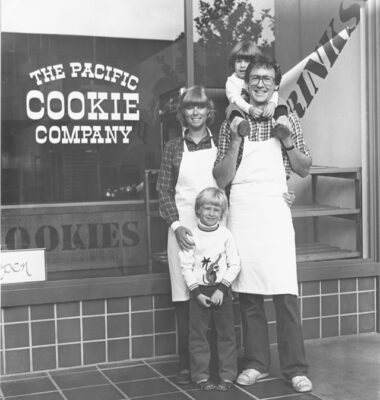 Cara's parents Larry and Shelly opened PCC in 1980. Shelly serves as Vice President, and is consulted on all major decisions, while Larry is CEO and is involved with the day to day business. The company employs about 45 people; it varies depending on the season.
"Our story is an entrepreneurial one; we don't come from a long line of bakers," says Cara. A former Naval Officer and golf professional, Larry lost a job while the family lived in Carmel. "They wanted to launch their own business and had seen a cookie store concept they didn't think would be too hard to pull off," says Cara. "They started baking. My mom had spent her summers here in Santa Cruz and spoke to my dad about Pacific Avenue. They came to visit and fell in love with the outdoor mall." Larry, Shelly, Cara and her sister Stacy moved to Santa Cruz. A few months later, the doors of PCC were open. "In the beginning we sold cookies, ice cream and milk. Shortly after, we started to sell to wholesale customers in the Monterey Bay area out of the back of our family wagon." Early on, they had additional retail locations at the metro center in Santa Cruz, in Capitola, and in Chico.
The 1989 Loma Prieta earthquake had a significant impact on business. "Our bakery building was condemned; we had nowhere to bake. Erik's Deli was kind enough to let us bake at nights in their kitchen to keep our wholesale business going." Without a retail location, they grew their wholesale business and ultimately expanded, including opening their current wholesale manufacturing facility at the Sash Mill. "Since then, we have been steadily growing as a small business to expand into four areas of business: retail, wholesale, foodservice and online." They reached a milestone in 2006. "That's when we led the industry in the change to remove all trans fats from our cookies."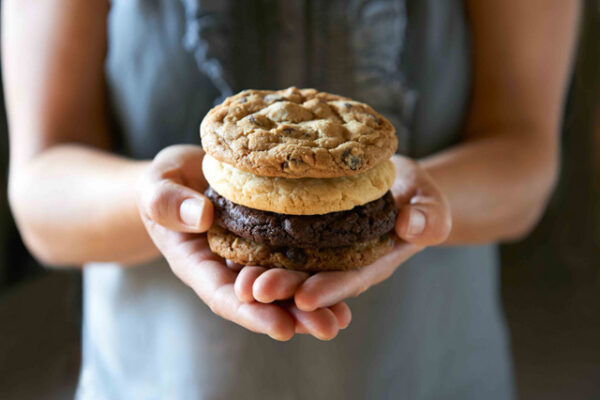 Chocolate Chip cookies, one of the five original flavors when Pacific Cookie Company opened, are still the customer favorite by a landslide—accounting for half of all cookie sales. Runners up include oatmeal raisin, peanut butter and Dr. Midnight.
There have been challenges over the years, culminating in 2020 with a worldwide pandemic and local wildfires. "COVID-19 forced us to increase our wholesale direct delivery to grocery stores and build a new website because of the decrease in foodservice business." When the fires occurred, Cara and her team stepped up and created a fundraiser for Community Foundation Santa Cruz County's Fire Relief Fund. They took their best-selling gift item, Surf City Sweets Cookie Gift Tower, and temporarily renamed it "We Love Santa Cruz." It sold out in a week, and they donated $5,000. After the fundraiser ended, the product went back to its original name and customers can buy it as part of PCC's regular inventory. The uniquely Santa Cruz gift features an image of the iconic West Cliff surf statue plus our local Boardwalk and redwood trees.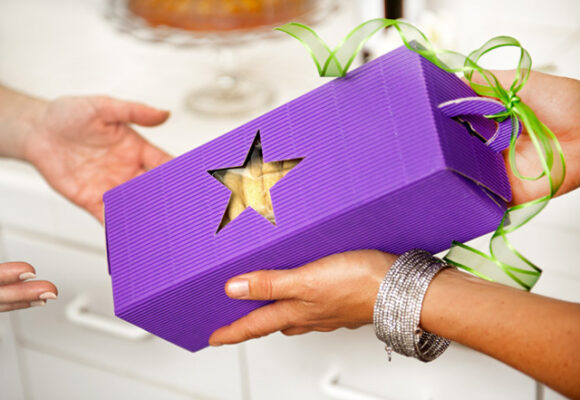 PCC regularly supports the community by donating cookies to local events and fundraisers. "We have always supported schools first, and then the many nonprofits in our area." In addition, they donate one dollar of all gift order purchases to Cookies for Kids' Cancer, which funds pediatric cancer research.
Cara and her parents love getting to run Pacific Cookie Company in beautiful Santa Cruz County. "Our downtown bakery will always be the heart of our business and we love Downtown Santa Cruz. It is the center of government, business, schools as well as tourism. Our downtown is unique with the variety of retail and restaurants as well as cultural events. It is home."