As a California State Parks Interpreter, a redwood forest serves as Rhiannon Sims' office. She manages interpretive projects, such as special event planning and wayside panel design, and media outreach for state parks in Santa Cruz County. Rhiannon brings the unique and extraordinary nature of local state parks and cultural history to visitors and locals by combining the best of traditional interpretative techniques with the latest innovative technology. There's "downtime" too, like when she facilitates campfire programs under an old-growth redwood forest canopy – complete with s'mores!
We checked in with Rhiannon to find out more about her love of the outdoors.
Where did your interest in state parks begin?
I've always loved spending time outdoors and visiting historical sites. As a new transplant to Los Angeles in 2007, I signed up for volunteer training at Topanga State Park (I was interested in learning about the local plants and wildlife) but was encouraged to apply for a seasonal job at the end of the training.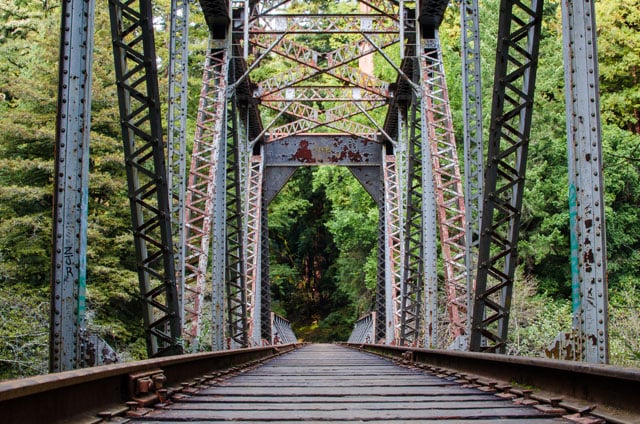 What does a state park interpreter do?
A State Park Interpreter helps park visitors experience, understand, and appreciate our state parks more fully.
Describe your "typical" day as a state park interpreter.
It really depends on the season! In the summer, I get to lead guided hikes and host campfire programs where I talk about the nature and history of the park. During the rest of the year, I help administrate different interpretive programs, like Kids2Parks, a park access equity program for local Title I schools. I'm also currently involved in the renovation of the Big Basin Nature Museum, helping to design new exhibits. Interpreters do a little bit of a lot of things, and that's the way I like it!
What do you hope a visitor's experience at one of our state parks is like?
I hope they are inspired and refreshed by their visit and come away with a greater knowledge of why these natural and cultural sites have been preserved.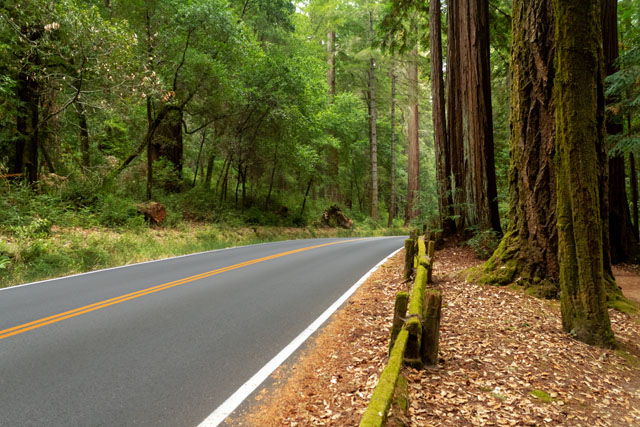 What was one of the more original questions about our state parks you've heard?
At Big Basin Redwoods State Park, someone once asked me if there have been any Bigfoot sightings.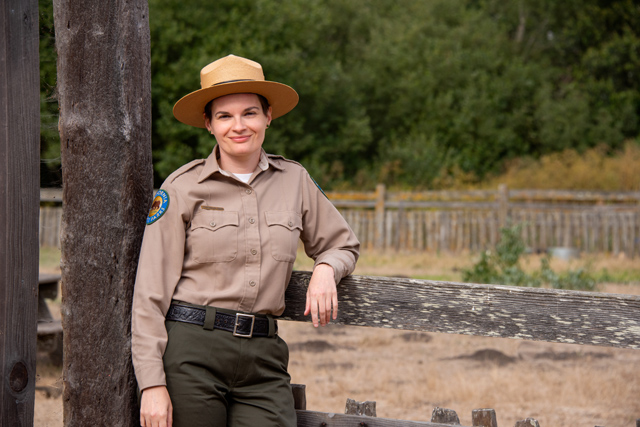 Can you tell us about your uniform?
Well, there is a dress uniform and a field uniform that California State Park Interpreters wear. We wear many of the same uniform items as rangers, which are law enforcement officers, so I have what I need to do my job with me at all times. I never have a problem deciding what to wear for work this way!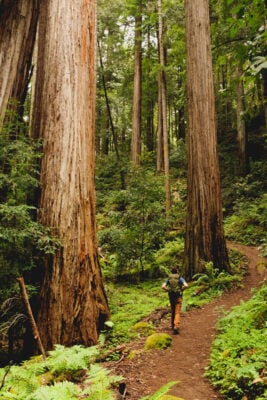 What is so unique about our local state parks?
Santa Cruz's local state parks are a diverse and amazing collection of California's history and natural landscapes! We have the oldest State Park (Big Basin Redwoods) and also one of the newest: Castro Adobe State Historic Park. We draw visitors from across the globe and long-time locals because our state parks have something for everyone to enjoy.
When not working, how do you like to spend your time in Santa Cruz County?
Hiking in my local state park, of course. I also love to do dinner and a movie on Pacific Avenue or visit our local museums.
What is one thing not a lot of people know about you?
I'm learning to paint with watercolor.
If you didn't work for California State Parks, what other career path do you see yourself on?
It's hard to see myself anywhere else, but I've always thought I'd enjoy being a librarian or working in graphic design.
Updated August 2020