Santa Cruz is known near and far for its surfing legacy. Surfer Magazine named Santa Cruz the best surf town in the U.S., we are home to countless iconic surfers including Jay Moriarty, whose story was featured on the big screen in Chasing Mavericks, and we even have a Surfing Museum that presents our rich history. But there is another water sport that finds a niche on our coast, with a similarly devoted following. Sailboats dot the waves almost as frequently as surf boards here, benefiting from the tides and currents that make this beach town so special. So it is no surprise that the Santa Cruz Harbor and the Santa Cruz Yacht Club have become a nexus for the sailing community, with a calendar packed with activities and a weekly regatta, which brings out even the biggest land lover to admire the race every Wednesday.
SAIL
There is no question that the best place to be during the Wednesday night sailboat race is in the race itself. However, if you don't have your own boat, or aren't lucky enough to have a friend with one, there are several options for getting up close and on the water.
O'Neill Yacht Charters, Chardonnay II, Stagnaro Whale Watching & Fishing Trips, Pacific Yachting and Sailing, and California Classic Sail are all local, longstanding charter companies that offer sunset sailing for groups from very small to very large. This is a great way to be out at sea, with an expert as a guide to educate, narrate and even instruct on how to sail with hands-on tips, depending on which company and group size you choose.
Captain Forest Roberts of California Classic Sail has a long career in boat building and sailing. He takes people out twice a day on "Sarah", his classic wood yacht designed in the 19th century. He says that being out on the water "is completely different," compared to watching the race from the shore. "You have that element of having left the day behind, you're not standing around with a bunch of people looking at something. Some people will put their cell phones away or not take them at all, which is not a bad idea because you really get a sense that you can't be reached…the way you left it is how its gonna be."
WATCH
If, on the other hand, you prefer to stay on dry land, there are numerous scenic spots to watch the action from afar. Anywhere along the shoreline that spans from Lighthouse Point down to Twin Lakes State Beach and beyond is fair game for viewing. That means you have a wide range of spectator possibilities. Plan a romantic picnic on West Cliff Drive or a bonfire cookout at Twin Lakes or Seabright State Beach. Take a walk along the Santa Cruz Beach Boardwalk's Promenade or stroll the Wharf. Since the regatta course changes every week depending on the wind currents, the best spot to cuddle up on the sand to watch can be a last minute decision at the 5:30pm start time. And don't worry about trying to stick it out to the very end if a chill is in the air. Captain Roberts says there is no firm finish line and the fun spirit of this "beer can race" is that nobody is really tracking who wins. "The race is to the bar at the yacht club," he says.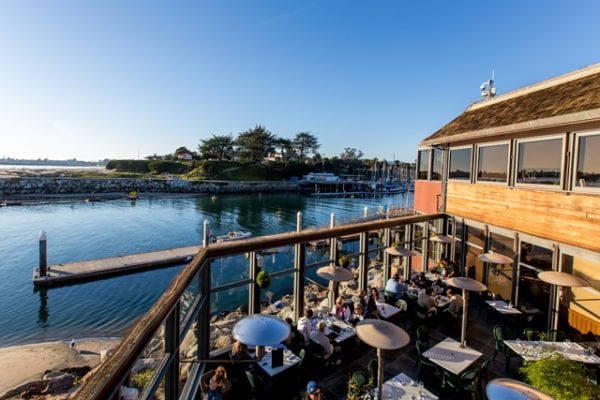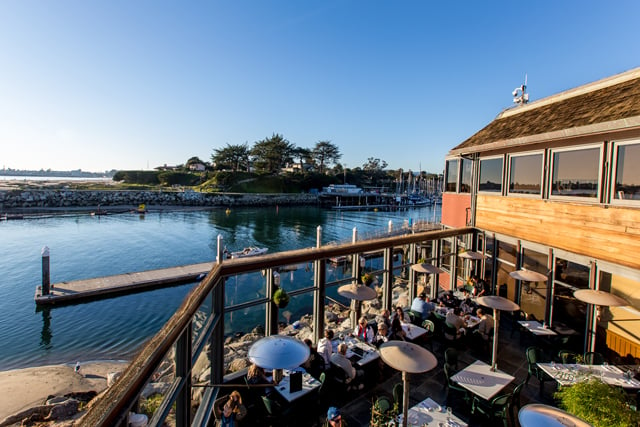 EAT
Speaking of bars, the one spot that is unarguably THE place to take in the race is upstairs at the Breakwater Bar & Grill perched on the second floor of the Crow's Nest Restaurant. Arrive early to snag a seat, as it is no secret that this is the place to be on Wednesdays, when happy hour lasts all night long. Order from the long list of half price appetizers and discounted drink deals while watching the sailboats line up directly down below at the mouth of the harbor. Downstairs, the main restaurant is not a bad place to be either, if a more serene viewing experience and lengthier menu is more your style. The ocean view and addictive squaw bread rolls can't be beat.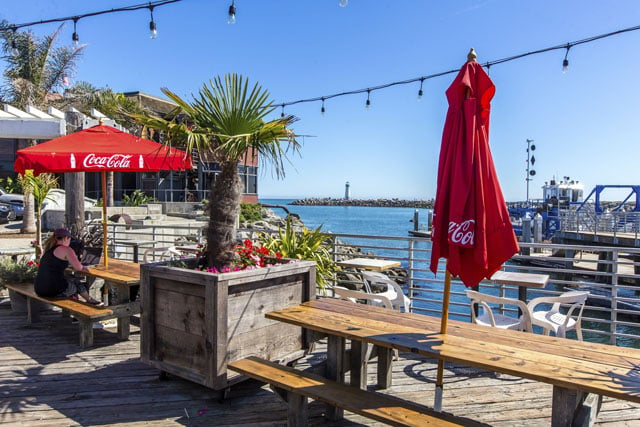 Across the parking lot is Crow's Nest Beach Market which features wood-fired pizzas, sandwiches, salads and not-to-be-missed soft serve ice cream. While you wait for your order, peruse the well-stocked gift store selections, and then take your food out to the wide sunny deck right along the water to watch the racers sail by on their way out to sea.
If the wind is blowing north, there are many more options that present a place to watch the race over a meal, if a little bit more removed. The Jack O'Neill Restaurant & Lounge located inside the Dream Inn is primed to offer a contemporary menu and glittering upstairs views. Or duck into any number of classic restaurants on the wharf like Stagnaro's or Gilda's for a bowl of chowder and views from every table. Along the Boardwalk on Main Street, Ideal Bar & Grill are also great places to get a glimpse, or stop by the The Picnic Basket for some delicious seasonal take-out and a cone of organic ice cream to enjoy on the beach nearby.