All Photos by Garrick Ramirez
Do you know about Santa Cruz's pioneer cemetery, Evergreen? The Gold Rush era treasure is a stone's throw from the free samples at Costco, yet it's possible you've zipped past it on Highway 1 without realizing one of California's most enthralling historic sites was hidden in plain view.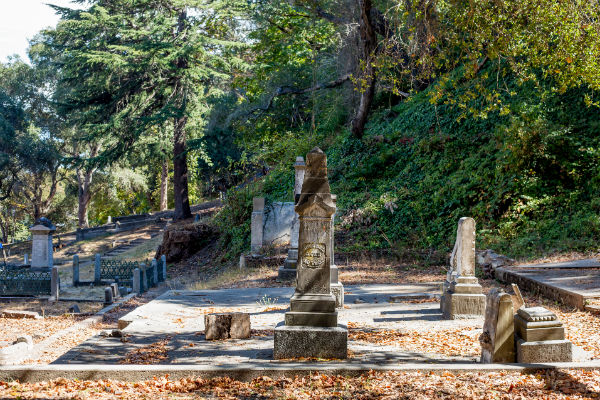 Tucked into a forested hillside adjacent to Harvey West Park, the atmospheric cemetery was founded in 1850 making it one of the first cemeteries in the state (California became a state a few months after its founding). It's owned and managed by the Santa Cruz Museum of Art & History (MAH) and tended to by an active committee of volunteers. They have a wonderful vision to restore the grounds and create a virtual historical sculpture garden — each ornate grave marker a meaningful art piece — where residents and visitors can learn about Santa Cruz's history in a setting that literally holds the town's former residents and their stories.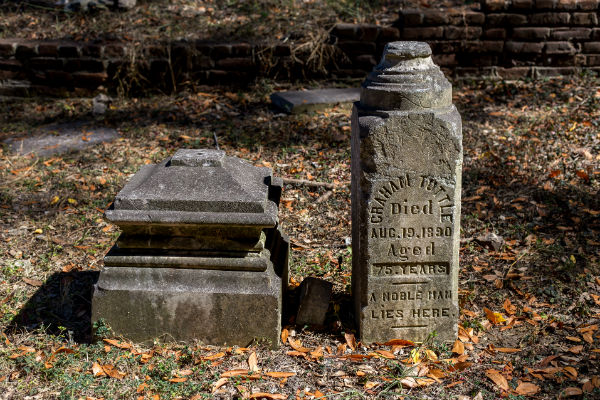 NOTABLE RESIDENTS
The cemetery would make for a heck of a cocktail party if its residents were above ground. It holds a wildly diverse cast of characters who transformed the seaside town of Santa Cruz from a mission into a city. As you stroll its grounds, you'll note early pioneers, Civil War veterans, and Chinese immigrants amongst the 2,000 people laid to rest there. Here are just a few of the stories that you might discover:
Louden (London) Nelson was a slave from North Carolina who arrived in Santa Cruz in the early 1850s as a free man. He bought land near what is now the Main Post Office. Saddened by the closure of an adjacent two-room school, the illiterate Nelson bequeathed his entire estate to the Santa Cruz School District which resulted in the school's reopening.
Isaac Graham epitomized the popular perception of the lawless Wild West. Before earning a street in his name, the gun-toting mountain man helped overthrow a Mexican governor, ran a distillery and helped found the first water-powered saw mill in Felton. Along the way, he made his fair share of enemies and was believed to be poisoned to death in San Francisco.
Marie Holmes was an alleged prostitute who at the age of twenty-one committed suicide via carbolic acid along Pacific Avenue. But like many individuals buried at Evergreen, her headstone went missing at some point during the cemetery's neglected years. Two years ago, a hiker found it laying on the side of steep forested hill near Bonny Doon, some 12 miles from the original site. It was restored in 2013.
AJ Sloan was a Private in the Mexican American War and is commonly credited for being the famous ghost of Arana Gulch. Legend has it that he was murdered in the gulch and his ghost has haunted the area ever since. Yet an Evergreen volunteer recently found evidence that his death may have been faked. This of course suggests that early sightings of his "ghost" may have actually been the actual living person.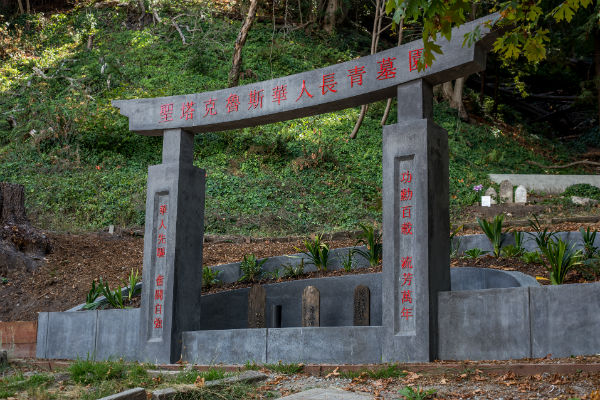 Visitors to the cemetery will notice a beautiful 17-foot Chinese Gate that serves as a monument to the roughly 100 early Chinese immigrants who were buried at Evergreen — most with wooden markers that did not survive. It is also meant to memorialize the many Chinatowns that once thrived in the area and had a significant impact on Santa Cruz but whose legacy has since been erased from sight.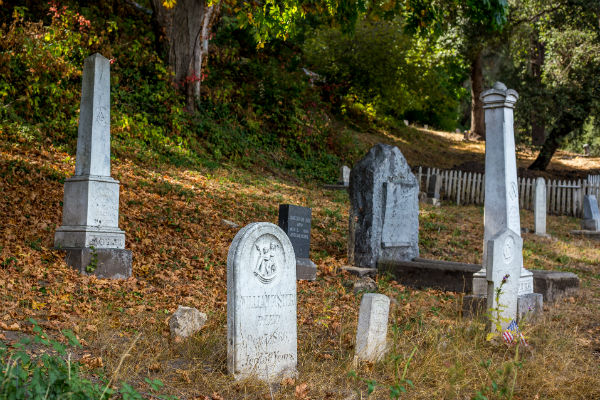 EVENTS
Lest you think Evergreen sits lonely and dormant, there are numerous events where the public can actively engage with the site and its history.
Dia de Los Muertos
On November 1st, the MAH will celebrate the Day of the Dead — the Mexican holiday to honor the dead — with a procession that leads from the museum to the cemetery where a number of gravesites will be decorated. Click here for event information!
Legacy Day
Each September, the MAH identifies a family name from Evergreen and invites the family's living descendents to come out for a day of storytelling — both from memory and written archives — and a restoration of the family plots.
Memorial Day
Evergreen is the site of Santa Cruz's primary Memorial Day celebration. It takes place at the Grand Army of the Republic section which contains the plots of more than 30 Union Civil War veterans. It draws a large crowd — including period dress and historic re-enactments — to honor veterans from local community.
HOW YOU CAN GET INVOLVED
Join a Restoration
Come out any Monday throughout the year and join a restoration effort from 9:30 a.m. – 1:00 p.m. Choose from a wide variety of work that best suits your interest and ability: constructing retaining walls, pushing back brush, restoring headstones, or even playing archaeologist and searching for hidden grave markers. Lunch is provided.
Take a Tour
There's a great, informative self-guided walking tour that you can download from the MAH's website. You can also arrange a private tour through the MAH's volunteer committee. Tours last one hour and are led by trained docents. For more information, call 831-429-1964 x 7020 or email education@santacruzmah.org.