Tap into the Santa Cruz beer scene and experience what locals have embraced: a craft brew renaissance. Like their boutique winery counterparts, Santa Cruz County's craft breweries are small, locally-owned – and produce outstandingly creative pilsners, ales, lagers, stouts, porters, and malts. With a dozen new ale houses dotting the county, there are plenty of places to get your pour on!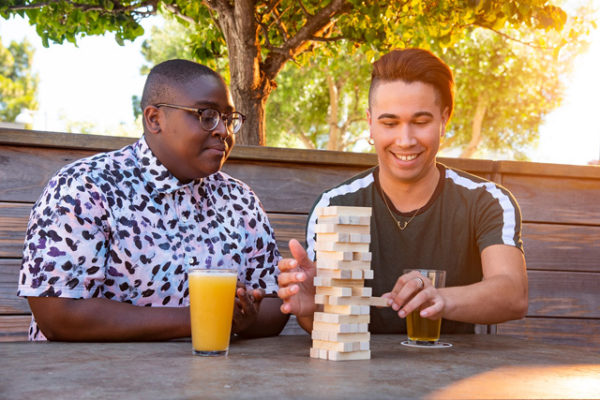 Beer lovers can't pass on the award-winning Sante Adairius Rustic Ales, voted 9th in the WORLD for best beer. Sample fine organic beers at Santa Cruz Mountain Brewing on the Westside – and feel free to bring the pup. Can't decide? Head to Downtown Santa Cruz and try Lupulo where they have a constantly rotating selection of 16 small-production beers on tap and over 100 bottles priced to go or drink in-house.
Want to relax during your visit to the "micro-capitol" of the Central Coast and the breweries that call it home? Get on board with Brew Cruz, a stylishly renovated vintage 1989 Thomas International school bus and tour an array of microbreweries.
LOOK FOR
The fenced-in dog run at Soquel's Beer Thirty, where customers of the canine persuasion can kick it with their suds-loving owners.
Peaches the Pig, the official mascot and greeter at the Corralitos Brewing Company in mid-county.
The hip south county spot, Beer Mule, where the brew is plenty and the food trucks do follow.
A Boardwalk Blonde! Marilyn Matthews modeled for the Santa Cruz Beach Boardwalk in the 1950s. Now her glamorous image graces the label on Santa Cruz Mountain Brewing's Double Blonde Ale, a seasonal brew with aromas of wildflowers, featuring locally harvested honey.
The pour-it-yourself taproom in Downtown Santa Cruz where you can sample several types of beers, ciders, and wines.
DID YOU KNOW?
You can pair a Shimmer Pilsner at Soquel's Discretion Brewery with a side order of chicken and waffles, served with pecans and spiced maple syrup.
Santa Cruz Mountain Brewing released a double IPA – the DIPA – to celebrate the Giant Dipper Roller Coaster's birthday at the Santa Cruz Beach Boardwalk.
The refurbished school bus affectionately named Betty Jane and now used for Brew Cruz was once home to Corpus Callosum, a local San Francisco band, which used it to tour the U.S.
Seabright Social is Santa Cruz's longest running brew pub; check out its history and raise a glass with friends on their expansive, pet-friendly patio!